Key Takeaways
I1 and I2 diamonds are the lowest grades on the GIA clarity scale and, for obvious reasons, offer the fewest eye clean choices of any other grade.
These diamonds present obvious inclusions under 10x magnification.
Some I1 diamonds will appear eye clean, but you'll have to look a lot harder – and may not find any good options unless you're looking at a pretty low carat weight.
Creating an affordable ring is possible without sacrificing on eye cleanliness, and increasing your search parameters to the SI range will make your job a lot easier.
I1 and I2 diamonds can work for some people, but it's far better to raise your sights a little. There will be many more choices a little way up the scale.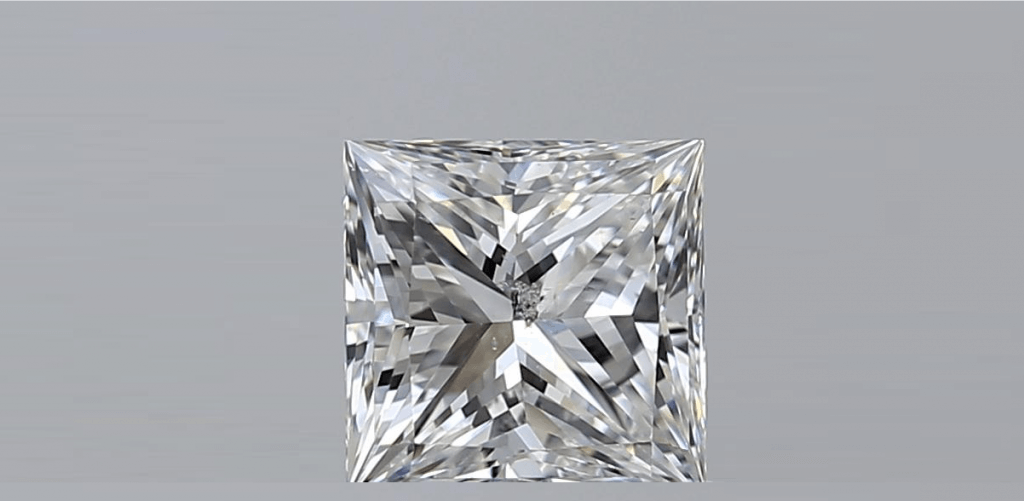 In the past, we've talked at length about how diamond inclusions – that is, those natural faults and blemishes that occur within the internal structure of the diamond during its long development under the earth's surface – exist on a spectrum, and how many diamonds will appear flawless until you get them under powerful magnification.
This is, of course, in the shopper's favor. Unlike collectors, you're not looking for a 'prize specimen' – you're looking for a beautiful diamond that won't force you to go thousands of dollars outside of your original budget.
Still, there inevitably comes a point where 'perfectly imperfect' becomes, well, imperfect. Included diamonds (known via the GIA Clarity Scale as I1 and I2 diamonds) represent a definitive no-go area for anyone looking to create the perfect engagement ring – here's why.
What is I1 I2 Diamond Clarity?
An abbreviation of 'Included', I1 and I2 diamonds represent the first and second degree of the lowest grade on the GIA Clarity Scale. They follow on from SI, or 'Slightly Included', diamonds.
By now, you may know a little about what inclusions really are. In essence, the term represents a variety of different flaws that can occur within the diamond – from black pinpoints to clouds and feathers. Most diamond's inclusions are not visible to the naked eye, and require strong magnification – and maybe even an expert eye – to spot.
If visible, however, these can interfere with a diamond's sparkle – not to mention the beauty of an otherwise clear and beautifully cut stone.
According to the GIA's own definition for I1 and I2 Diamond Clarity, these stones will feature inclusions that are 'obvious' under 10x magnification – the standard strength of magnification used to determine all diamonds' clarity grades. In this category, any diamond with significant and obvious inclusions will be found, making it the least advantageous place to look for your piece.
Is I1 I2 Diamond Clarity Good?
Unfortunately, no – and we would never recommend anyone looking to find a diamond for use in jewelry (and particularly not an engagement ring) invest into diamond clarity I1 or I2.
The GIA Clarity Scale is, inarguably, the most trusted and widely used method for ascertaining the quality of diamonds bought and sold around the world. Its scale runs from the flawless grades FL and IF (Internally Flawless) through what are, in general, the 'eye clean' grades: VVS1 and VVS2, VS1 and VS2 and, in many cases, SI1. All else being equal, the price of any diamond will decrease as it goes further down the scale.
As you can see, according to this scale, there are many opportunities to find an eye clean diamond (and at increasingly affordable prices) before you reach the visibly imperfect diamond clarity I1 or, worse still, I2.
Is an I1 Diamond Eye Clean?
In all likelihood, no – I1 diamonds will feature numerous flaws significant enough to be seen without 10x magnification, unless the diamond in question is very small.
Eye clean diamonds are, in a nutshell, diamonds that appear flawless even though inclusions have been identified under 10x magnification by diamond grading experts. They are an excellent example not only of the long spectrum that exists between FL graded diamonds, and diamonds that appear flawless, but also of the quality those on tighter budgets can still find.
One important thing to note is size. Just as smaller SI1 diamonds can be eye clean, and larger SI1 diamonds tend to show their inclusions, so too can I1 and I2 diamonds.
In general, diamonds with a clarity grade of I1 will only stand a chance of appearing eye clean if they are very small – below, say, half a carat. Obviously, with the average engagement ring being 1 carat or higher, this means a much smaller size than most shoppers are looking for.
The best way to determine if an I1 diamond really is eye clean is to check out the diamond's GIA Report, and compare the diamond with the plot provided.
Also, never purchase a supposedly 'eye clean' diamond online – particularly if the price seems too good to be true.
Will an I1 I2 Diamond Sparkle?
Yes, but it is unlikely to sparkle anywhere near as much as an eye clean diamond of the same cut and shape.
We've said it before, and we'll say it again: cut is by far the most important feature in any diamond when it comes to maximizing sparkle.
This 2.01 G-VS2 Round Diamond is an example of a diamond cut to ensure the most brilliance possible – meaning that, on the finger, it will create a dazzling light performance of bright flashes and shimmers. At the other end of the scale, this 2.01 Carat H-VS1 Emerald Diamond, while featuring a higher clarity grade, will shine a little differently and, while beautiful, without the electric shimmer of the round cut.
Nevertheless, in extreme cases, clarity does matter to sparkle. While, provided you choose an eye clean diamond, you won't need to worry about any loss of brilliance, fire or scintillation, visible inclusions can derail the journey light makes through the diamond, and, as a result, impair sparkle.
Don't get us wrong – unless you've got a cloudy diamond on your hands, it'll still have plenty of shine to its name, but nowhere near as much as it could have.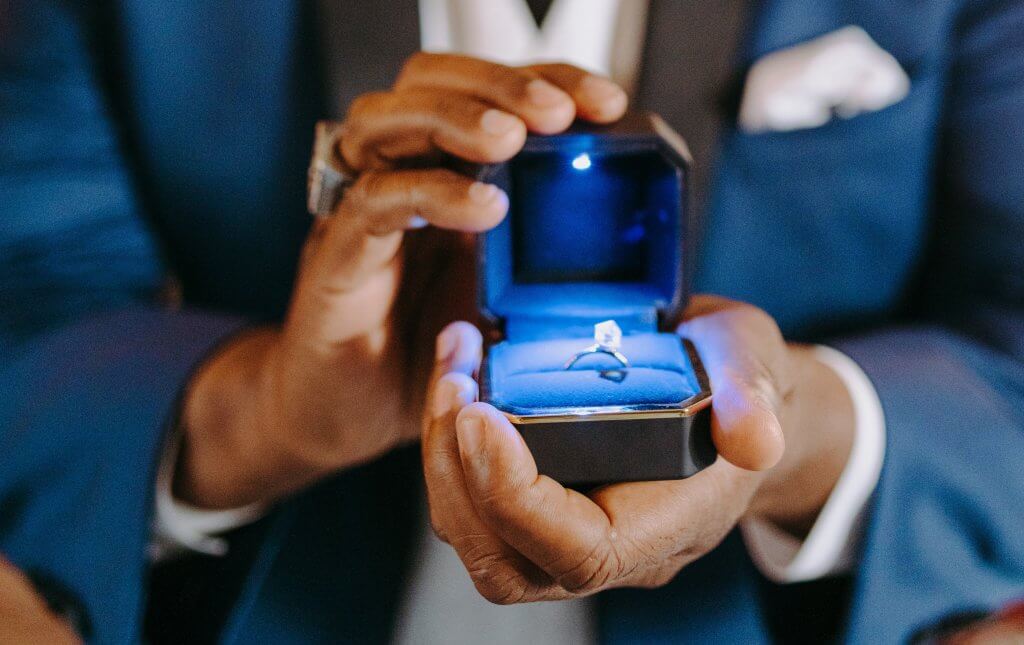 How Much is a 1 Carat I1 Diamond?
Despite their visible flaws, I1 diamonds will still typically cost around $2,000+ — although they will of course cost less than comparable diamonds with a higher clarity grade.
Yes, opting for a diamond with a clarity grade of I1 is a surefire way of saving a little money, the reduced price is pretty unlikely to be worthwhile. After all, included diamonds still hold plenty of value – just not for fine jewelry.
In other words, while there is (obviously) a noticeable difference in cost between an I1 diamond and an eye clean SI1 or VS2 diamond, that difference is not as significant as some people might imagine it to be. You won't necessarily be saving thousands and thousands of dollars – particularly when you consider the fact that even SI1 diamonds offer plenty of eye clean options at an affordable price point.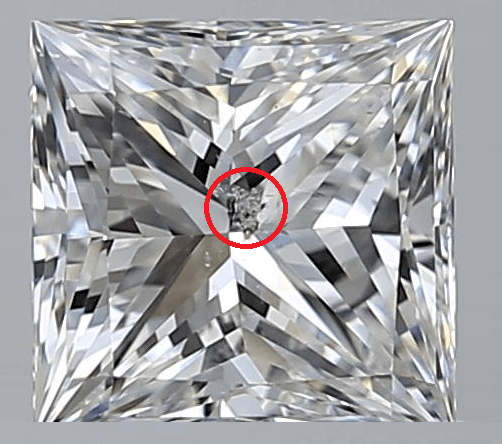 So, is Diamond Clarity I1 or I2 Bad?
It's far from ideal, particularly when you are looking to find the right center stone for your engagement ring. While a lucky few might find a passable diamond at this clarity grade, it's highly unlikely, and may require some pretty big sacrifices on your part.
We're not saying that every I1 or I2 diamond ever purchased was a total flop. We are, however, saying that making an investment of this size into a diamond that, in all likelihood, features inclusions large enough to register with the naked eye, is definitely a big risk.
Those looking for diamond engagement rings don't need to decide whether they're a part of the (very, very small) minority who can afford flawlessness, or, alternatively, a part of the majority who have to settle for visible imperfections.
Also, by now – and even if you're daunted by the prospect – you've probably already got a few ideas in mind for the sort of ring you want to present to your future bride. If you're forced to curtail your creativity and work to hideyour diamond's inclusions, it's pretty likely that you won't be able to stick to that original vision.
Even if you feel okay with a visibly included diamond right now, this is not the sort of purchase you want to be having second thoughts over. Eye clean diamonds are great because, once purchased, we can forget all about any inclusions marked down within their GIA report – although the same can't be said for I1 and I2 diamonds.
Don't feel discouraged – creating an affordable engagement ring is definitely possible, but it should never be at the sacrifice of eye cleanliness. For that reason alone, consider I1 and I2 the wrong place to start – or end – your search for a diamond.