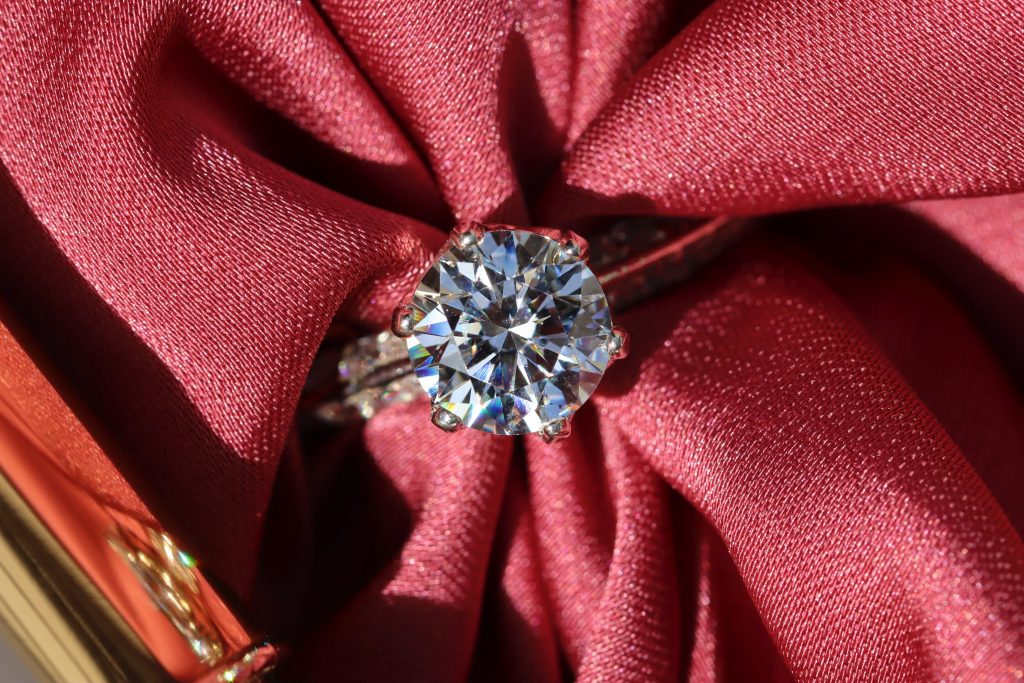 Who to Shop with, How Much to Spend, and What to Buy
A diamond engagement ring might just be the most important purchase of your life. Of course you're likely to eventually buy a car, a home, and family vacation packages but before any of that, you'll have to secure a life-partner. You've already used your charm (and devilishly good-looks!) as bait, and reeled her in with your Dad-jokes and Michelin star Kraft Dinner, but in order to lock it down and seal the deal, you'll have to find her the perfect diamond ring. But how?
Finding a diamond ring is a piece of cake, but finding her the RIGHT diamond engagement ring is a whole different story. You'll have to consider her personal taste and the latest trends, but make sure it's something classic that won't go out of style. They say that shopping for jewelry is even more personal than clothing, so if finding a sweater she likes is already such a challenge, how on earth are you supposed to pick the right ring? Which begs the question…
Is it OK to look at engagement rings together or should your girlfriend pick out her engagement ring?
Listen. Men are many things, but mind-readers, they are not. Nor should they be. That's why many couples today opt for a more collaborative engagement ring-buying process. It's important to remember that there is no one right way to shop for an engagement ring. When choosing to shop together or solo at your local diamond jeweler, only you will be able to determine what works best for you and your significant other. But it's nice to know that there are options.
Pros and Cons List to Engagement Ring Shopping TOGETHER:
PRO:
Familiar with the frustration of scrolling through Netflix together, unable to decide what to watch? What about the need for a United Nations summit on where to order Postmates from every Taco Tuesday and Wing Wednesday? Well, one thing's for sure: when it comes to choosing her diamond engagement ring, she'll magically transform into the most decisive person you've ever met. Even if she wavers between options, the decision will ultimately fall on her, and she's guaranteed to be satisfied with her choice.
PRO:
Like any major decision, taking part in the engagement ring shopping experience together will further create closeness and bonding. The teamwork involved in weighing your options and figuring out what works best for you, as a couple, is bound to encourage a sense of partnership. After all, you are choosing to partner up with this person because you make a good team. Bouncing ideas off of your partner, in general, is a winning strategy.
PRO:
Preparing for your proposal when shopping together for a diamond engagement ring can be quite romantic. Whenever a man devotes quality time with his sweetheart, especially when it's focused on his love for her and their future relationship, somewhere up above, an angel gets his wings. Just kidding. But in all seriousness, pairing your ring appointment at your local jeweler with a charming mimosa-filled brunch, or a saucy Italian dinner by candlelight is just the ticket to elevate the day and make it just as memorable as your proposal will be.
CON:
By now, we've all seen enough RomComs to understand the formula. The second we see the "meet-cute" happen when the woman accidentally spills coffee all over the man at a busy New York intersection, we know they'll end up together. We still feel satisfied when they finally kiss but it's definitely expected. Picking out a diamond engagement ring together is similar. Although you'll be able to surprise her with how and when you propose, she'll obviously know it's coming.
CON:
Part of the fun, excitement, and satisfaction of presenting your partner with a diamond engagement ring is surprising them with something specifically tailored to their style, that they had no part in choosing. Similar to a birthday present or special gift, it takes knowing someone very personally and lots of forethought to pick the perfect piece. If you go diamond ring shopping together, you won't be able to show her how well you know her and ultimately, that you were willing to put in the time and effort to figure out what she'd like.
CON:
Although you can help make the diamond engagement ring buying process more romantic and fun by calling ahead and making sure they have a bottle of bubbly you can indulge in while browsing, at the end of the day, it's still a transaction. Shopping together has the potential to take a hint of the romance out of things. True, there are moments when women like having jewelry purchased for them and even in front of them, but most women still want to get away from the feeling of a monetary purchase and be swept away in romance, especially with a proposal.
Once I picked it out: Can I show my girlfriend her engagement ring?
Generally speaking, once you spend all the time and effort picking out the perfect diamond engagement ring for your future fiancee, it's best to save the big reveal for the moment of truth – the proposal.
But in order to avoid being added to a proposal fails video compilation, here are some tips and tricks to tell what kind of ring she wants:
If she's not this season's Bachelor villain, she's likely to have a few solid girls in her crew that have the inside scoop on what ring she's been dreaming of. Invite a couple of them over for a bottle (or two) of wine, and have them walk you through her fave styles.
Careful with this one! You still want to respect her privacy, but see if she has a Pinterest board or follows certain engagement ring related Instagram accounts. You'll get a good idea of what she's been looking at. But remember, that's all you're looking for!
Show her a picture of three engagement rings your "friend" is deciding between for his "significant other". Though in reality, your friend's real significant other may go by the name of Playstation or Xbox, if you've got a good poker face, she'll give her opinion on which ring she likes best, which is a great place to start. Be sure to inconspicuously ask her questions about what she likes or doesn't like about each one. You've got this!
Women are masters of dropping hints. The question is: are you paying attention to pick up on them? Yes, it's true that if she's in a bad mood, sometimes "fine" actually means "not fine" but when it comes to diamond engagement rings, the writing's on the wall. You'd be surprised at how many women admit to strategically placing a magazine left open on the kitchen counter to a certain page for their partners to happen upon.
How much should a man spend on an engagement ring?
Ultimately, there is no strict rule you should adhere to when determining how much to spend on your partner's engagement ring. There are so many variables that factor into your diamond ring decision, and price point is an imperative one to initially consider. Of course, there's the age old "three months salary" rule that yes, many people use as a benchmark, but at the end of the day, your own specific financial situation is what you should examine.
Many of our local jeweler partners will be happy to direct you to a ring within your preferred price range, whether it be between $3,000-$5,000, or closer to $16,000-19,000. There are obviously plenty of Americans who find their dream ring for around $1,000 as well, so nothing's off the table in terms of how much or little to spend when you're working with a trusted local diamond jeweler.
What are the best fake diamond rings?
Trick question. The coupling of the words "best" and "fake" is a contradiction in itself. Fake, as defined by Merriam-Webster dictionary, means a worthless imitation passed off as genuine, and when it comes to your diamond engagement ring, you're going to want the real deal.
Of course, there are fake diamonds out there, also referred to as faux, imitation, or simulated diamonds, but at the end of the day, they're just not diamonds. They're rocks that resemble diamonds in appearance, but not completely. They 'simulate' diamonds and cost a fraction of the price, but they'll eventually reveal their true nature which is incomparable to a true diamond.
The most popular of these faux diamonds are moissanite, white sapphire, and cubic zirconia, all of which, needless to say, are not as hard as a real diamond. Moissanite, although labeled "colourless", can emit a yellow or grayish tone, whereas a diamond has a sparkling white hue. Even a moissanite's glimmer gives away that it's not real since it's much more colourful than that of a diamond. White sapphire tends to look cloudy and milky while cubic zirconia scratches more easily, leading to its eventual dull appearance.
Since diamonds have traditionally been the ultimate symbol of love and commitment between two people, an imitation will simply never be as meaningful. When you inherit a simulated diamond ring, you can, of course, hold onto the piece for sentimental reasons but it won't retain as much value as a real diamond ring. Also, it might sound funny, but it's important to take into consideration the awkward feeling that's likely to come up when excited friends and family admiring your ring make comments assuming it's a diamond. To tell, or not to tell… that is the question…
Bottom Line:
If you're working with a trusted local diamond jeweler, you're guaranteed to get the best advice and top-quality service when choosing or custom-making your diamond engagement ring. Whether or not you choose to head there together, your preferred local jeweler will take your budget into deep consideration, steering you away from fake diamonds and guiding you towards REAL diamond jewelry that will last you a lifetime. Find your perfectly matched local diamond jeweler today at https://willyou.net/jewelry-stores.