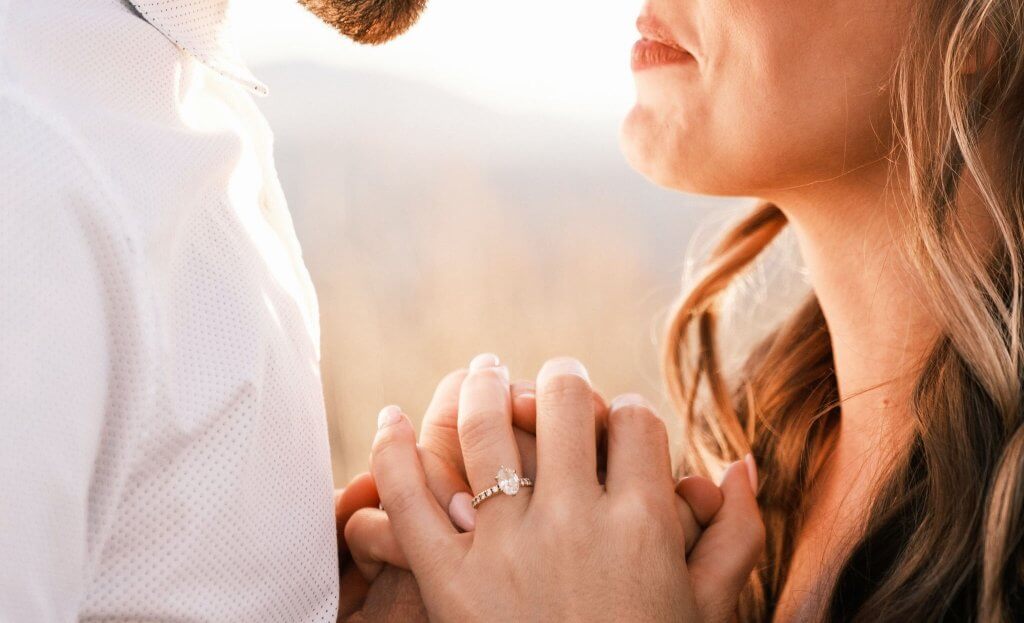 Roses are red, violets are blue, and it turns out engagement rings can run pretty expensive.
Still, like anything in life, a high price tag doesn't mean that dropping thousands of dollars in savings is an essential step in getting that ring in your pocket – and then getting it on her finger.
Each year, thousands of couples get engaged. The national average currently sits at around $5,500 but, here's the thing: in order for American shoppers to create that average, there has to be plenty of couples spending way below $5,000, just as there are plenty spending thousands – or even tens of thousands – of dollars more.
Long story short, it's perfectly feasible to find affordable diamond engagement rings that live up to her hopes and dreams without forcing you into the red. You've just got to be wise about it.
How Much Money Should I Spend on an Engagement Ring?
It doesn't matter. Your budget is your business, and there's no rule about how much you should feel obliged to spend.
The idea that men should be spending one, two or even three months' salary on an engagement ring was dreamt up by a pretty shrewd marketing team in the 1930s – after that, the jewelry market exploded with a newfound enthusiasm for spending way beyond your means.
The only trouble? It's an easy way to feel like getting engaged is a test or a burden when, in reality, the only expectations it needs to live up to belong to you, and your bride-to-be.
You can get beautiful engagement rings at any price point, although you will need to do your research to make sure you're spending your money in the best way possible. The same rules apply to those spending $1,000 – $1,500 as they do to those looking to make good use of a $3,000 – $5,000 budget, just with a couple extra compromises.
The most important thing is you have a budget. Without that, you'll be lost at sea – no matter how much research you do.
How Big of a Diamond Can You Get for $2000?
While the cost of a diamond is calculated based on cut, clarity, and color as well as, $2,000 is sufficient to get a good quality diamond around 0.75 – 1 carats in weight.
More importantly, don't fall into the trap of thinking you should be blowing your entire budget on the diamond. While the setting and band typically take up a much smaller percentage of a ring buyer's budget – and the diamond is obviously the first thing on any of our minds when we decide to go off in search of an engagement ring – you can't leave the ring itself to spare change.
You can get a beautiful diamond for less than $2,000, provided you know what features to invest more money into, and what features you can save your money on…
What is the Most Affordable Way to Buy a Diamond?
Prioritize cut and, to a lesser extent, size – don't focus too much on clarity or color. The diamond is the central focus, but the ring can be designed to get the most out of the diamond, even if it's not perfect.
Are diamonds expensive? Yes. Not only are they pretty rare, but they're also in demand throughout the year – especially from loved-up couples across the world.
But, is it impossible to get a beautiful diamond on a tight budget? No. The term 'rare' can be a little misleading here, as the market is full of diamonds with relatively minor blemishes, inclusions, and flaws that, as a casual buyer rather than a collector, you're unlikely to care about.
The difference between one clarity grade and another is far more subtle than the price difference. An SI1 (slightly included) diamond will probably wind up with a much more affordable price tag than a VS1 (very slightly included) diamond, but you're pretty unlikely to notice a difference.
The same goes for color, though we recommend going no lower than a K diamond, unless you like the 'antiquated' look of a lower grade diamond.
Cut makes a much bigger difference to the ring's appearance – and it's probably preying heavy on your mind that you don't want to go too small on the diamond.
Your best bet here is to take a look at our Diamond search engine and scope out what you can get when you start to lower the grades, then work out what's available to go see at jewelry stores local to you.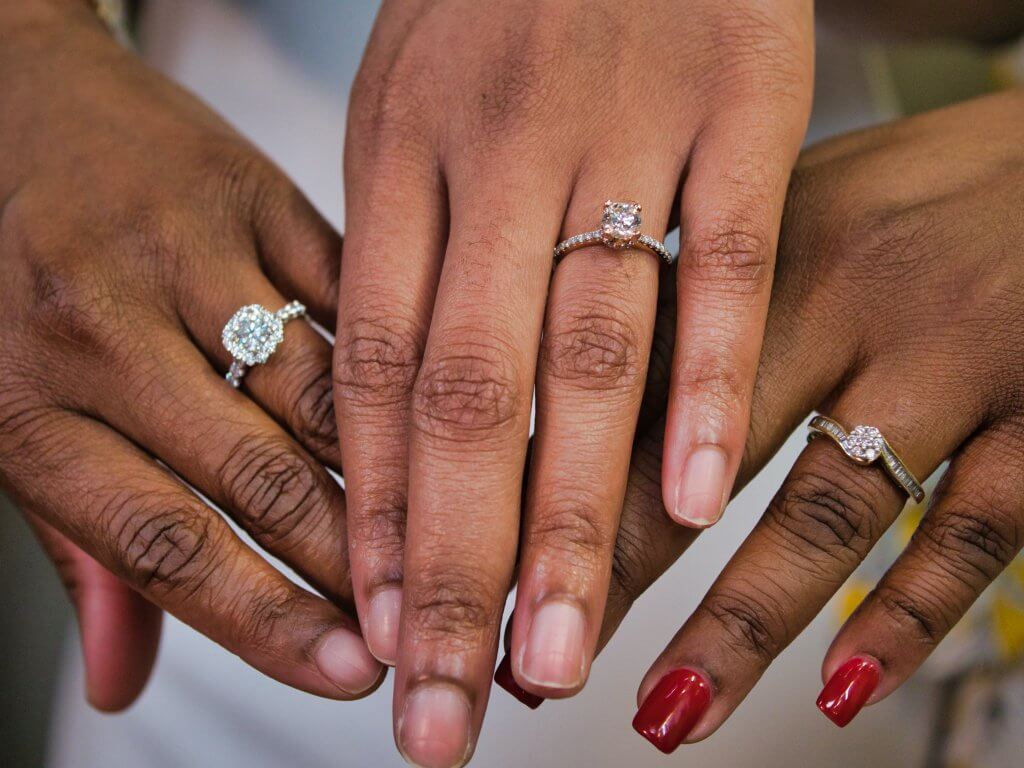 What is the Best Month To Buy a Diamond Ring?
While jewelers often experience a lull during September, and a rush to put out good deals during holiday periods, there really is no ideal month for you to consult with your jeweler on finding the perfect affordable diamond engagement rings.
We talk much more about this in our article on the best times to buy engagement rings but, in a nutshell, the beauty of shopping from brick-and-mortar establishments and, more importantly, real life jewelers (rather than online-only brands) is the fact that you can work together to bring your vision to a fitting price point, and negotiate a good deal for yourself in the process.
If you set your price range on a digital store, you'll only get to see what they've priced that way. If you talk to someone in person, you can enjoy a much more personal experience.
So, How Can I Get a Nice Engagement Ring for Cheap?
Affordable diamond engagement rings can be found in reputable jewelry stores up and down the country, provided you've done your research. Don't fall for the cheap online deals, or you could end up losing out on quality.
The trick is to understand what factors determine a diamond ring's price point and, as we said above, which of those factors you can pay less attention to when you're on a budget.
Again, a reputable local jeweler will be your best friend when it comes to reaching a strong deal without receiving a ring that turns out to be poorly made, or falsely advertised.
Our key takeaways here: make a budget, try not to be swayed by old wives' tales (or, in this case, outdated marketing techniques), do your research, then book a consultation with your jeweler and aim to be as honest as possible, so they can put their expertise to use as you start browsing.