Key Takeaways
While the box isn't the most important part of the proposal, it is the first thing your partner will see (aside from you getting down onto one knee), which means it's probably the first thing that'll give the game away, and set her heart racing.
You don't have to use the box the ring comes in. You can get creative and make or commission something special.
Get the ring box in plenty of time before the proposal, so you can figure out how (and where) to carry it before the moment itself.
Don't overthink it – it won't get too much attention when it's holding her dream diamond ring.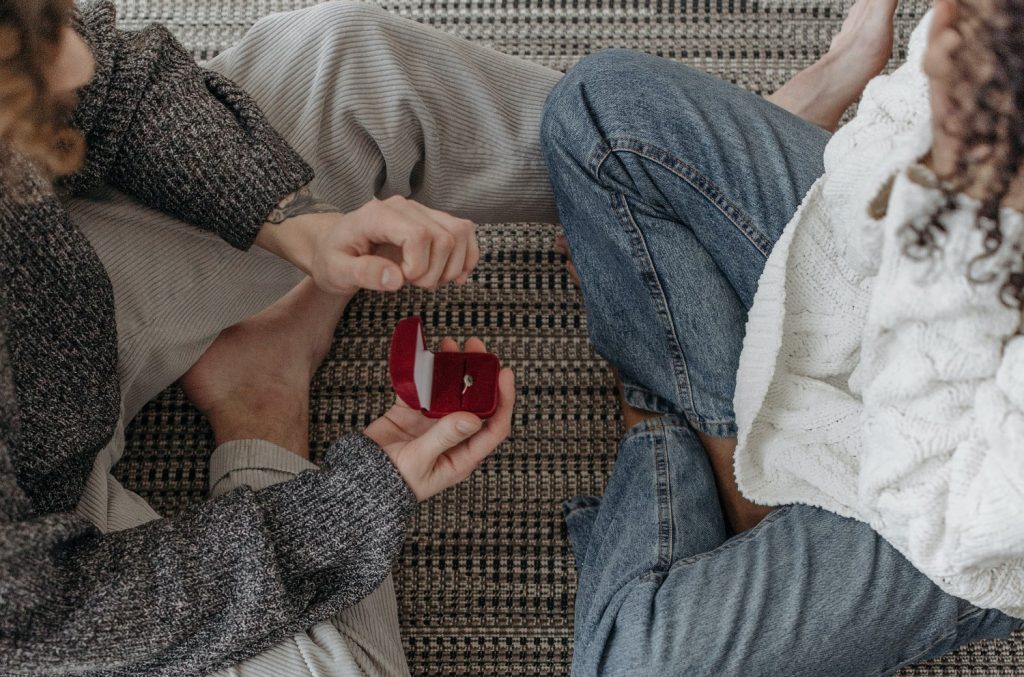 Unless you're planning on having the waiter bury your ring in dessert, or in place of the cherry on her ice cream sundae (we would like to take a moment to point out that this is not something we recommend) then the exalted little ring box is one of those all-important finishing details that really shouldn't be overlooked.
Why? Because, unless you're incapable of keeping secrets, the moment the ring box appears is going to be the moment she catches on. Even if the candlelight dinner, the perfectly-timed walk along the beach at sunset, or the mid-afternoon trip to the manicurist are already elevating her suspicions, the ring box is the thing that will clinch the deal, and get her heart pounding.
As a result, it can't just be any box – it's got to be special enough to live up to what's contained inside.
Hadn't got round to thinking about it yet? Here's our guide.
Does the Engagement Ring Box Matter?
Yes and no. One the grand scheme of things, the ring box will only ever be a minor detail – but perfecting even those small details is one of the things that will make your proposal even more special.
There's no denying that plenty of things matter more than the box. The ring, your words, the location – and, obviously, her emphatic 'yes' – all mean a lot more than the packaging.
But, if you're planning on using the engagement ring box during your proposal, ensuring that it hints at something special is something we would always recommend you doing. It doesn't have to be flashy, or even all that unique. It does, however, need to suit the occasion, and the beautiful ring housed within.
It also needs to be secure. Let's say you're proposing on vacation, and that diamond has to make its way through baggage claim, or a search of your hand-luggage. You want to be able to place 100% confidence in the box, or you'll spend the entire flight jumping at every bit of turbulence.
Can You Propose Without the Ring Box?
Absolutely. This is your proposal, and you call the shots. Getting down on one knee and opening the ring box to reveal the ring is, admittedly, one of those classic Hollywood moments we all know – and many of us love – but it's not the only way to do it.
There's plenty of reasons for and against using the box.
One con to consider is the fact that a ring box can make a pretty noticeable bulge in the pocket of any sports jacket, shirt, suit – pretty much anything that isn't already a couple inches thick with padding. For this reason alone, plenty of people will leave the box at home and keep the ring in an inner pocket – somewhere it'll be safe and discrete.
However, this relies on you being able to reach into your pocket and pull the ring out in one smooth motion. All it takes is imagining that sinking feeling of not being able to find your $10,000 engagement ring straight away, and you'll know why plenty of guys put up with the added bulk of a ring box.
If you're going ahead without the box, then take it from us and practice beforehand.
Then again, some people worry over what they're supposed to do with the box after she says yes. If you're focused on getting that ring onto her finger, do you really want to mess around putting the empty box back into your pocket, or are you just going to drop it on the floor?
It's a case of weighing up the pros and cons and, most importantly, visualizing how you want the big moment to go. If you choose to use one, then the best engagement ring box will be one that you feel comfortable (and safe) carrying around with you.
How Can You Hide a Ring Box?
You can opt for a 'slim fit' ring box, which will sit flush in your pocket, or you can keep the box in the same pocket as your keys, wallet, or phone in order to keep it subtle.
Now that we've scared you over the thought of just slipping the ring box into your blazer, it might be a good time to point out that some ring boxes are specifically designed to blend into your outfit, and fend off any suspicions before you're ready to get down on one knee.
These boxes feature rotating mechanisms, which enable the ring to 'stand up' at that all-important moment.
Alternatively, if you're using a family get-together as the perfect excuse to propose, why not enlist the help of a parent or sibling to carry the box on your behalf? All it takes is one unexpected hug – or, worse still, her asking to wear your jacket – and the game is up.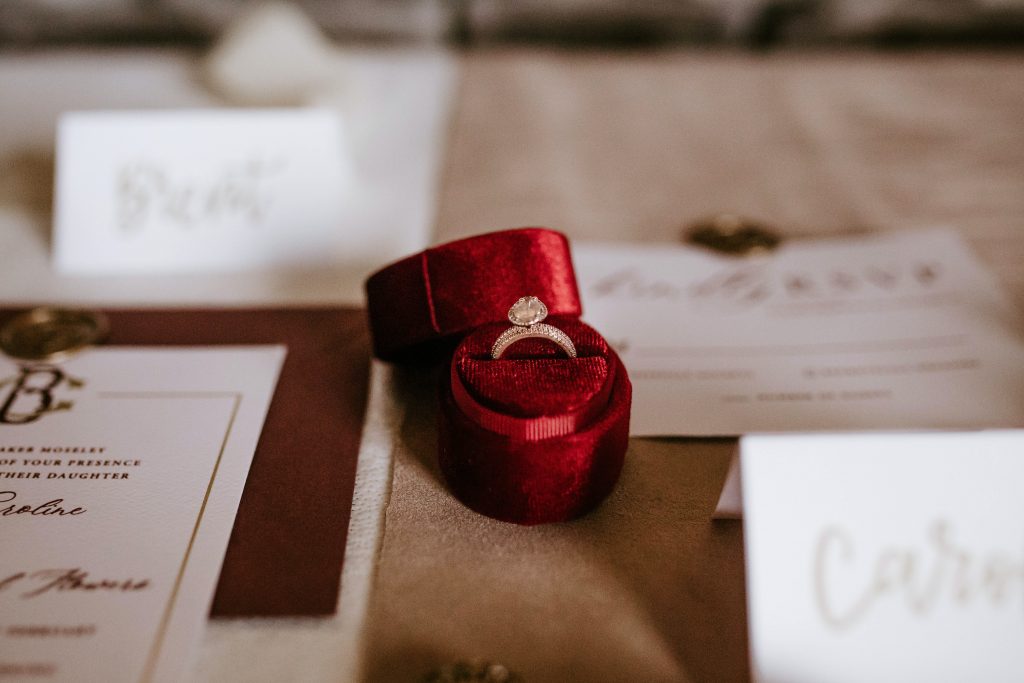 Do Engagement Rings Come With a Box?
Yes, a jeweler will never just hand an expensive diamond ring over without first putting it in something that will keep it safe and secure.
You may want to switch-up the box ahead of the proposal, but this isn't a necessity. Some people like to add a personal touch, and create or commission something a little more unique – maybe even something that doesn't give the game away before you have the chance to pop the question – while others prefer to go the traditional route.
Either way, your ring will have a safe place to stay until it winds up on your fiancée's finger.
How Big is an Engagement Ring Box?
Ring boxes can be any size but, traditionally, they're a couple inches all the way around. If in doubt, stand in front of the mirror with the box in your pocket and see if it's noticeable.
There's no rule stating you have to go with the ring box given to you by the jeweler, and some might be able to give you a choice of a few different styles, shapes, and sizes.
Don't get too hung up on the box, but remember that it can play a pretty pivotal role in a proposal, if you want it to. The best engagement ring box will be one that fits with your plans, and lives up to its contents, so sort out the practicalities, ensure she won't immediately spot that unmistakable square in your breast pocket, and choose a style that appeals to you. That way, you can't go wrong.