Key Takeaways
There's no exact definition of 'dainty' when it comes to engagement rings, but generally we'd expect these rings to feature a particularly small diamond, and very delicate metalwork.
Keep in mind that there's no minimum carat weight required for center stones, but that dipping too far below the one carat mark will mean you miss out on sparkle. Consider the differences in light performance between a 1 carat diamond, and the melee stones used in a pavé setting.
Remember that a smaller diamond will look better (and, of course, daintier) with a skinny shank.
Filigree is great for adding very feminine, dainty details to a ring without over-burdening it with metalwork.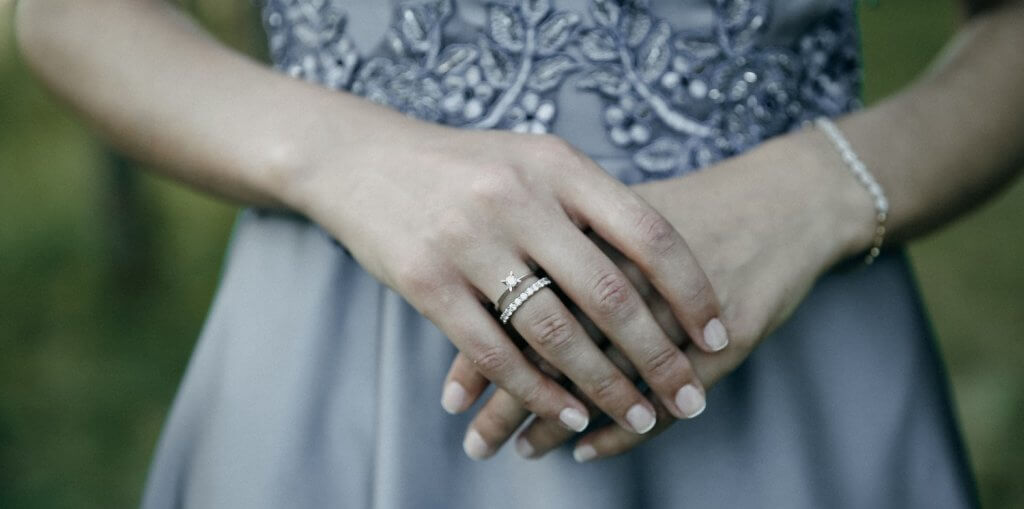 It's not always the case that the most beautiful rings feature the biggest and most impressive diamonds and metalwork. Sure, most of us are easily drawn-in by them, but there will always be something unquestionably chic and tasteful about dainty engagement rings.
There is no official 'definition' for a dainty engagement ring. It's not tied to any single setting style or design – and, in many ways, remains up to the interpretation of the wearer or designer of any ring ever made.
At the same time, however, there are a few things most of us can agree on. Dainty engagement rings tend to be smaller, more intricate, featuring more petite details that remain powerful and beguiling enough to draw the eye in, rather than go unnoticed.
After all, dainty engagement rings can be as seductive as the boldest designs out there. Done right, they make a clear statement – one that is perfect for more understated styles, but they're also great for more limited budgets.
What is Considered a Dainty Ring?
Dainty engagement rings tend to favor smaller diamonds, and settings that contribute to the intricacy and detail of the ring without overwhelming the center stone with metalwork and additional stones.
As we mentioned, there is no predetermined 'design' that you need to follow in order to create a dainty engagement ring. There are, however, some features that tend to unite many of the dainty rings we have seen over the years…
The Diamond
Even in the most delicate of designs, the diamond can (and, in our opinion, should) remain the center focus of the design. Not only will this help you to create something dainty without losing the 'vibe' of an engagement ring, but it will ensure that, when the time comes, there's an obvious difference between the engagement ring, the wedding band, and, eventually, the eternity ring.
Keep this in mind as you think about the design. You don't want to sacrifice the essence of an engagement ring for the sake of simplicity.
Does the Size of the Diamond Matter?
Yes, but it's also important to remember that there's no 'right' carat weight. Smaller diamonds are the key to creating a perfectly dainty and delicate ring, and they're growing in favor among brides and grooms for the elegant designs they can be used in.
Larger diamonds will never fall out of favor. Shoppers around the world are willing to pay a high premium for diamonds that fall above 1 carat mark, and we're convinced that our fascination with diamonds that attract attention from across crowded rooms will continue to grow over the years.
But, at the same time, shoppers who are worried about going below that 1 carat mark don't need to worry that they're derailing the proposal before it even happens or making some kind of fine jewelry faux pas that will haunt them forever.
Every dainty engagement ring requires a dainty diamond, so commit to the cause and sacrifice carat weight for delicacy.
Is a 0.5 Carat Diamond too Small?
Not if your ring is specifically designed to accommodate (and make the most of) a smaller diamond.
While a 1 carat round diamond tends to be around 6.5mm in diameter, you can expect a properly proportioned 0.5 carat Round Brilliant to be a fraction over 5mm. On paper, there isn't a huge difference to be found between the diamonds' face-up appearances, but you will find the difference to be more noticeable when you're actually looking at the diamonds themselves.
Remember, this difference doesn't matter unless you think it matters. At the same time, however, if any part of you feels unsure about how major the difference will be, we would advise you to consult with your jeweler and ask to see the two weights side by side.
Remember that, when we're thinking about the face-up appearance, some shapes appear larger than the Round Brilliant. Elongated shapes like the Oval, Marquise, Pear and Emerald can all give the illusion of greater weight, provided they're cut to the right proportions.
What is a Peekaboo Diamond?
These rings feature a small accent stone that can only be viewed from certain angles. Most commonly, a peekaboo diamond is set beneath the center setting, so that it can only be viewed when the wearer raises the ring to eye level and looks underneath the ring's main diamond.
A peekaboo diamond is an excellent detail to add into a ring, particularly if you are worried the design is too simple, but don't want to overwhelm a smaller center diamond with too many extra elements and features.
Many engagement ring designers use the peekaboo as a signature detail in their work, like Vera Wang and her ultra-recognizable peekaboo sapphire, but we would generally advise you talk to your jeweler about creating a custom design from scratch instead.
The Band
When it comes to elegance and simplicity, the most obvious choice is a plain solitaire engagement ring. This style is pretty much the classic choice, and looks beautiful even with smaller diamond, but you don't need to play it quite so safe if you don't want to – even if you're eager to create the daintiest design possible.
What is a Thin Band Engagement Ring?
Also known as skinny band engagement rings, thin bands tend to be no thicker than 2mm. They appear incredibly delicate and traditionally feminine but, at the same time, they are definitely stronger than they look.
This is an excellent idea to go to your jeweler with, and proof that you really can make a statement by going smaller, rather than bigger. You can read our full guide to skinny band engagement rings if you're tempted by this setting style.
What is a Filigree Ring?
Filigree is a technique used to create delicate designs within the metalwork of your ring. This often creates patterns reminiscent of fine lace, even though the jeweler is using precious metal threads and beads rather than silk or cotton.
It's a great option for adding more detail into your ring, without detracting from the diamond itself, since the diamond's sparkle and positioning will always stand out more than the metalwork (unless, of course, that metalwork totally overwhelms the stone and obscures it from view, which is unlikely).
Filigree is intricate and skilled work, so it will raise the price of your design a little – but it's always better to pay more for your jewelers' talent, than to pick a mass-produced design from one of the big names in engagement ring design.
Are Micro Pavé Diamonds Good?
Micro pavé is very effective at adding sparkle to the shank of a ring, without adding any unnecessary bulk.
It's the perfect option for adding more detail to a skinny band engagement ring, while still keeping it as lightweight and dainty as possible.
Our full guide to micro pavé is available here, if you're interested in learning more about this setting.
What is a Knife Edge Band?
A subtle twist on a traditional band, for which the cross-section is triangular, rather than domed or flat.
In other words, the band features a ridge that runs all the way around the finger. It's a relatively small change, but it's great for adding more detail into even the simplest ring design and making the entire shape as sleek as possible.
The Setting
Yes, the diamond is the most important feature of the ring, but something has got to keep that diamond in place. Whether it's 0.5 carats or ten times the size, a diamond needs to be secured in place, so how do you keep the metalwork to a minimum, and the design dainty?
Are Four-Prong Settings Secure?
Yes, a well-crafted four-prong setting will be very secure – secure enough to keep your diamond safe.
Then again, some people do prefer the added security of a six-prong setting. It may not be the right choice if your diamond is smaller, however, or if you're trying to keep metalwork around your diamond to a minimum.
Read our guide to 4 prong vs 6 prong settings first.
How Much Bigger Does a Halo Make a Ring Look?
It depends on the size of the melee diamonds used within the halo, since some halos can be very delicate, while others can add a lot of weight to the setting and create the illusion of a much larger ring.
If you're trying to keep your ring as simple and dainty as possible, then a halo might not be the best choice, since it naturally adds weight. If you've chosen a lower carat weight specifically for a daintier design, then the halo could negate that choice.
An alternative is the hidden halo, which sits below the center diamond and doesn't interfere with the face-up view of the ring. It adds sparkle and detail without competing with the diamond for attention.
Another alternative is the diamond accent…
What are Diamond Accents?
Smaller, secondary diamonds used on either side of the center stone., If used correctly, they will emphasize the center stone, rather than overshadowing it.
Like a halo, they add sparkle to the face-up view of the ring but, unlike a halo, they don't encircle the diamond in more than it can handle. Instead, they sit on either side.
Round Brilliant accent diamonds add the best sparkle, while Marquise diamonds can be used to create the illusion of petals or leaves (great alongside some floral-inspired filigree), and Baguette cut diamonds can add a touch of mid-century elegance that perfectly complements a more sparkly diamond at the ring's center. They're all capable of transforming the ring's style without overwhelming it with extra weight and size.
Our Summary
Dainty engagement rings come in all shapes and sizes. There are no rules, and you can utilize as many (or as few) design elements as you want to create something that suits the ring's intended wearer, and their personality. This is, after all, one of the most rewarding parts of working with your jeweler to create a custom design.
Embracing the daintier elements of ring design offers a lot of freedom. Freedom from the idea that you have to get the biggest diamond in your price range, and from the idea that only the blingiest, bulkiest ring will do.
It's a great way of going against the grain without ending up with something totally off the wall. You can continue to embrace all the cornerstones of engagement ring design, but in a way that suits your partner, rather than the idea that a ring has to overwhelm any finger it's placed on. The smaller details are just as important – if not more important – than the big and obvious features.
So, as always, do your research, and talk through all the elements that appeal to you with your jeweler.