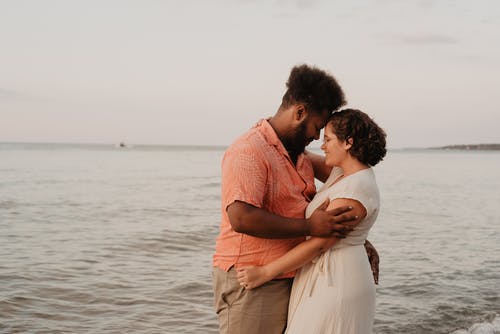 It's the first question your friends or colleagues will ask you when trying to set you up with someone. It's something you most definitely will want to be asking yourself while going on dates and meeting potential suitors. Before getting a diamond engagement ring at your local jewelry store, you'll have to find a partner, and in order to do so, you'll have to answer. Go ahead and ask yourself: what are you looking for in a partner?
Willyou.net asked some of our customers what they were looking for in a boyfriend, girlfriend, and ultimately, what they found in their respective spouses. We also reached out to potential future customers who are still looking for love. Ladies, are you looking for a guy who has sense of humor or the strong, silent type? Do you want a man who is confident and driven? Gentlemen, do you want a nurturing and sensitive woman or someone playful and easy-going? Which character traits are most important to you? Which can you part with? Here's what we got:
Pilar: I'm looking for a genuine soul. I think, nowadays, it's become increasingly rare to find someone who can just look you in the eye and be real… whatever that means. I guess it's a feeling of really getting to know someone on a deeper level, like they have nothing to hide. Authenticity. That's what I'm looking for.
Melissa: I think the most important quality I look for in a man is a sense of humor. I know a lot of women say that but are secretly also looking for a Brad Pitt type. I want someone I can joke around with. Now that doesn't mean they have to be able to put on a stand-up comedy routine for me every night, but I do want to laugh together. I mean, I also want to make them laugh. I want to be able to giggle about all kinds of things and not take everything so seriously. After the initial honeymoon stage passes, and certainly as you grow old together, looks fade and you just want to enjoy the company of the person you're with. That's why I want a funny, goofy guy.
Alan: I want to meet a girl on my level. I mean, I don't even know what that level is. I know that I like a woman who has a witty sense of humor. Makes me feel like I have to keep up. Like I have to be on my toes and work. Maybe I want to be on her level. I just want to "get" each other. I've found it here and there but I know there's someone I'll really click with one day, and I'm looking for her.
Andrew: I'm looking for a good person. Someone who has empathy and considers others, even when nobody's watching. That shows character. I always take notice of the way women treat servers or bartenders on dates. It says so much about someone. Call me a softy but I really want someone with a big heart.
Nate: I guess I'm looking for a woman who's kind, extraverted, funny, and attractive. I mean, that's more than one characteristic but hey, it's what I want and I don't think it should be that hard to find. Do you know anyone?
Log onto Willyou.net and let us know what you're looking for! When you find it, let us help you seal the deal with a ring. Ring fingers crossed!