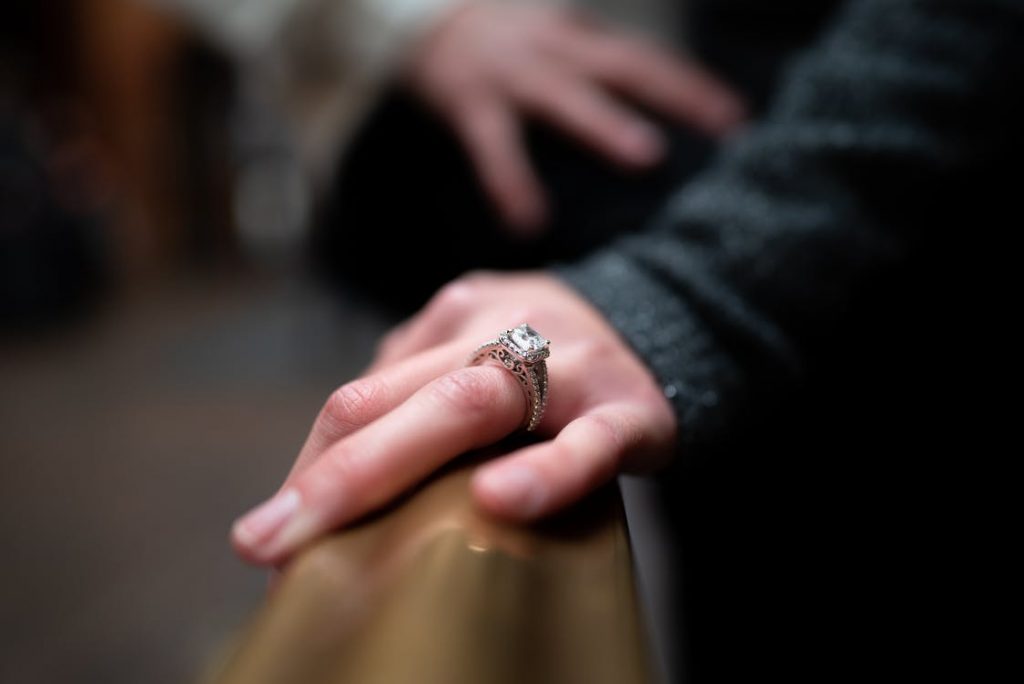 With so many things to consider when embarking on your engagement ring quest with a local diamond jewelry store, it can be difficult to know where to start. Carats, color, clarity, and cut, are, of course, things to take into deep consideration, but what about the forgotten C: cost? Willyou.net wants to share some insider information so that you can find or create her dream ring and not break the bank.

1. What's the first thing a man should do once he's decided to buy a diamond ring?
The moment you decide you're ready to take the plunge and buy a diamond engagement ring, start exploring. You want to open yourself up to the world of diamond rings and boy, is it a big world! Stroll into different jewelry stores and just poke around. Sales people will be glad to take you on a tour and give you a crash course in diamonds and diamond engagement rings. You can also use the internet to browse different websites and start looking at different ring styles.
Next, figure out your budget. Again, don't pull a number out of nowhere, but see what the market is like. So many men have no idea what a diamond engagement rings cost, so get to know what prices you're looking at so there won't be any surprises. That will also help you budget for this big investment.
Lastly, shop around. Like with any big purchase, don't just go for the first ring you see. Compare prices and do some work so as to maximize the money you're working with. Everyone loves a good deal, so find one, without compromising on her ring.
2. On a budget, what can a guy do to lower the ring's price?
Maximize your budget by educating yourself on what really matters when purchasing a diamond engagement ring. Diamonds are categorized by their flaws, but many of these 'inclusions', they're called, can only be seen with the help of a microscope. So two diamonds might look almost identical to the naked eye but have insane differences in price. If you know what to look for, you can save yourself a lot of money and still have a gorgeous diamond.
Also, working directly with a professional, pre-screened local diamond jeweler means you get to make your own decisions regarding stone and setting. If you buy a pre-made, preset engagement ring, the jeweler has made all those decisions for you. By collaborating with a local jeweler, you could potentially save a lot of money and what's more, you'll have a unique diamond engagement ring, that you made yourself, to be proud of.
3. What's the biggest misconception men have about engagement rings?
Most men think that buying an engagement ring will be horribly stressful when in reality, it can be super chill and exciting. Your engagement ring-buying journey doesn't have to feel like studying for the bar exam, staying up all night and popping pills to focus. You can begin familiarizing yourself with what's out there on your computer or even on your phone while wearing sweatpants and snacking on a bag of chips. You don't need to be a GIA certified gemologist to know what to look for. You just have to go and see one, eventually, to help you make decisions.
Over the past few years, there have been incredible technological advancements that make the diamond choosing process way easier. Willyou.net, for example, offers an impressive 3D diamond display that enables you to experience diamonds better than you would through a jeweler's loupe. Don't worry about understanding the details of a diamond certificate. Entrust professionals with the hard stuff so that you can enjoy the ride. It's fun to pick and choose this diamond or that setting, especially when local jewelers make you feel like you're on the ball, which they will.
4. How can a guy figure out her ring size without being obvious about his intentions?
You don't have to hire a private investigator to find out her ring size. You just have to be a bit stealthy. Option one is to find a ring that you've seen her wear on her ring finger. That's easy. Then just take that to a ring store and ask a sales person to help you figure it out. You can also request a ring sizer from a local jeweler (Willyou.net sends them out for free!) and check the ring yourself when you have a private moment.
If measuring a ring isn't an option since she doesn't wear any rings on that finger, you can ask a friend or relative to help. For example, you can get a girlfriend of hers to show off a new ring she got, and she'll take it from there. Girls often remove their rings to let their friends try them on. If it's a smaller ring, which it should be, your partner will automatically keep trying other fingers to see which one the ring does fit on. It's just a thing women do.
Lastly, and this does require some secret agent type focus, VERY carefully, tie a string around her ring finger while she's sleeping. take a felt pen or sharpie and mark the string so that when you take it off, you're left with an exact measurement of her finger. If she's a light sleeper, forget it. And if you have shakey hands, well… lay off the caffeine!
5. How do you know what metal, setting, and diamond shape she wants?
Think about her personality and fashion sense. Is she very liberal and open or more conservative? Is she modern or super old-school? Traditional or quirky? These questions are a great place to start. Also, you can't go wrong with a classic solitaire round cut diamond engagement ring because it's so timeless, but then again, maybe she has her heart set on a super glitzy pavé set halo pear shaped diamond engagement ring. Face-palm.
The best thing to do is to ask someone close to her. Her best friends, sister, or mother will be sure to know what she likes. Jewelry is such a personal thing, so don't beat yourself up if you can't figure it out all by yourself. That's why there are other people there to help!
6. How much should a man spend on a diamond ring?
Let's get one thing straight. There is no "right" amount to spend on an engagement ring. It's a very personal choice that varies from person to person. Whatever price you spend, whether it's 3 months worth of salary or not, a ring is a symbol of love, and that's the important part.
7. How long before a guy proposes should he buy the engagement ring?
As long as you give yourself enough time to do the appropriate research necessary and take creation and delivery time into consideration, you should be good. Get the ring in your hands first, and then worry about the proposal, especially if your proposal involves booking things in advance.
8. What's the most important thing men forget to do when buying an engagement ring?
Across the board, men forget to enjoy the process. Like cooking, you gotta put some love into your ring creating process. Have fun! She'll feel it when you give her the ring.