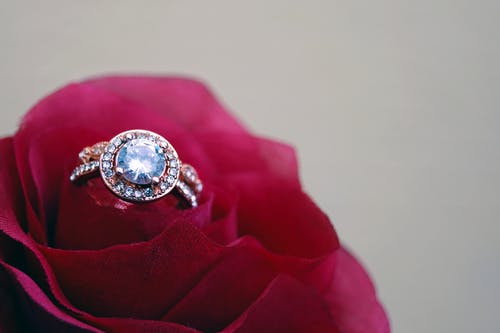 Although it may seem like 'vintage' has become popular only as of late, this couldn't be further from the truth. Vintage, when talking about engagement ring styles, or fashion in general, has been trendy for quite some time. When we see a celebrity sport a certain style, whether in jewelry or clothing, that trend ends up skyrocketing in sales to the general public. We saw this happen after Kate Middleton's stunning engagement ring, which once belonged to the late Princess Diana, was photographed after Prince William's proposal. The breath-taking 12-carat oval blue sapphire encompassed by 14 diamonds drew inspiration from the brooch that Prince Albert had custom made for Queen Elizabeth in 1840. Today, the majority of authentic vintage pieces are heirlooms, passed down from generation to generation, or carefully preserved at an antique jeweler.
When it comes to purchasing a vintage engagement ring, you can be sure to run into a variety of rings at several different price points. It's important to note that you can very easily custom make your diamond engagement ring to look like it's vintage or have your jeweler create a vintage style design to save on costs. You don't have to actually find a ring dating back to Shakespearean times. That would cost you more than a pretty penny.
Ring designers use all kinds of special tools and advanced machines to recreate the romantic detail that vintage rings so beautifully display. Many of these brand new rings look just as authentic as those seen in Victorian museum displays. So what exactly makes a ring look vintage?
Most of the vintage inspired rings you'll see today have what's known as a pavé setting. This means that the band itself is covered in diamonds. Contemporary styles are cleaner in design and have a sleeker, more modern finish. Pavé settings, contrarily, have the detail that any older piece will showcase, not only due to its diamond crusted band but also because of the beaded embellishments in the metal. Any intricate design or carving is a dead-giveaway that a ring is 'vintage' or at least designed to look like it.
It's important to note that authentic antique rings might already have something engraved on them. This could add a lot of meaning to your ring, especially if, say, her initials are the same as the former owner. Even if you can't find a direct correlation between the engraving and your partner, the mere fact that it's a piece of history that you're passing on to your loved one is meaningful. The idea that the ring was a symbol of someone's love for his wife so long ago, and that another love is being cherished with the same ring is wildly romantic. Love is eternal, like this vintage style.
Antique styles often times have gems of other colors as well, not only diamonds. Don't let this deter you. It's just as romantic, if not more. Rings with other stones complimenting the centre stone are quite unique. Paired with romantic, lace-like patterns on the band, these vintage engagement rings will have her saying 'yes' forevermore.