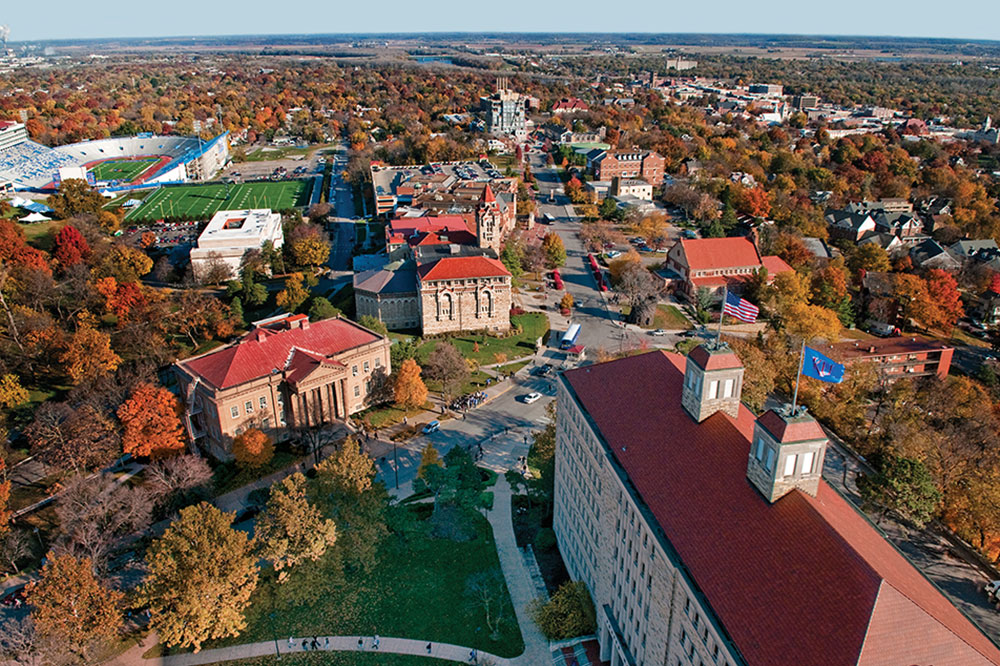 Lawrence is a city located in the northeastern region of Kansas, also known as 'The Wheat State'. Through "Bleeding Kansas" and the rest of the Civil War, Lawrence became home to many impassioned anti-slavery activists. Today, our esteemed museums help remind us to be compassionate and our diamond jewelry stores in Lawrence, KS, allow us to look towards a future of love.
Your local diamond jeweler will, of course, be able to help you navigate through all your diamond ring options. What most people don't realize is that in addition to their diamond expertise, your jeweler will have the inside scoop on anything engagement related. We asked our local diamond jeweler partner where the best place to propose in Lawrence, KS, was and this is what they had to say:
Local Diamond Jeweler
"We are located in Lawrence, which is located between Kansas City and Topeka. There are many options in both big cities when it comes to the most romantic proposal locations, especially with landmarks and restaurants. Since the year 1880, Marks Jewelers has been serving the community with our excellent knowledge of diamonds and jewelry. Located in Lawrence, KA, we believe in the integrity of craftsmanship and aim to be the jewelry store your family keeps coming back to, generation after generation. Marks Jewelers is the 14th oldest jewelry store in the United States. Your proposal and engagement mean the world to us, so we'd love to have your trust and patronage through the next meaningful milestone of your life! No matter where you end up proposing!" – Marks Jewelers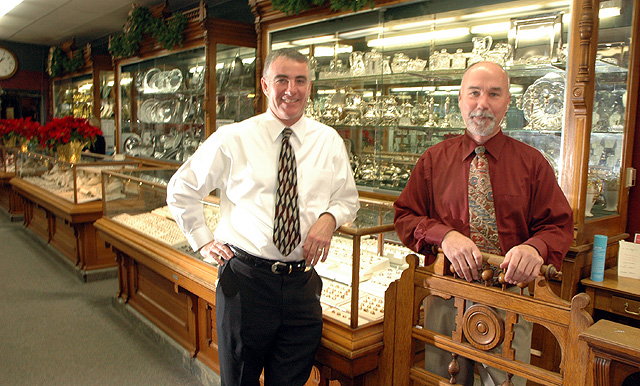 We met with the store's manager, Alexandra Pohorecka, and asked: What is the most memorable proposal story you heard from a Lawrence, KS customer?
"One customer surprised his fiance's first-grade classroom with a book he wrote and had illustrated. The story ended with him proposing, much to the delight of the students (and his fiance, of course)! It was a fantastic proposal and very emotional." – Alexandra P
Best Places to Propose in Lawrence, KS
1. Massachusetts Street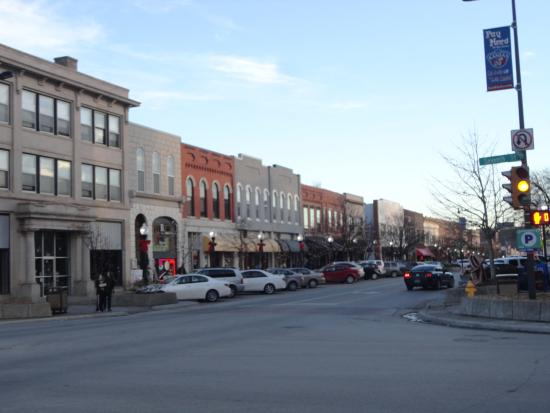 Begin your journey together by proposing to your bride-to-be on Massachusetts Street, Lawrence, KS, 0.9 miles (3-minute drive) from Lawrence, KS, where you'll find several charming restaurants, vibrant bars, and quaint shops.
2. KU Natural History Museum — Dyche Hall
Or, you can pop the question after an immersive tour of our KU Natural History Museum–Dyche Hall, 1345 Jayhawk Blvd, Lawrence, KS, 1.4 miles (5-minute drive) from Lawrence, KS.
Lawrence, KS, Love Story and Proposal : Caitlyn and James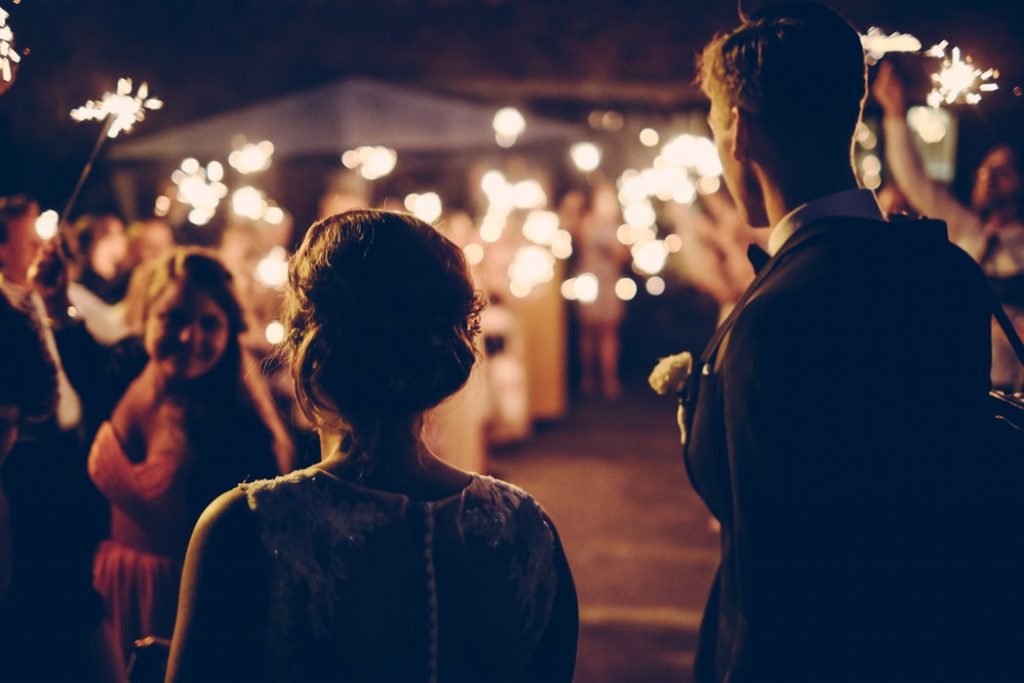 How They Met:
Caitlyn and James met each other in the spring of 2017. She had been in Vegas competing for the title of Miss USA and was in no way, shape, or form, looking for a relationship.
She had just returned home to Lawrence, KS, and on her way home from the airport, she decided to download a dating app and start swiping away. She matched with a guy but didn't know about it because she forgot to go back onto the app! The match expired and she was none the wiser but lucky for her (and him!) he extended his match just in time for her to check back in and finally message!
After messaging back and forth on the app a bit, James asked for her number, and they continued texting for about a day. Then, the clouds parted, and from the heavens appeared a real man when he finally decided to call her! They spoke non-stop for about 5 days, straight, when he finally asked her out on a date.
He was supposed to drive to Lawrence and take her out to dinner but three hours before his set arrival time, he texted Caitlyn to let her know that his tire blew out and it was going to be a while if she still wanted to go on that date. She thought he was lying until he sent a picture.
She said she didn't mind driving to meet him, which he appreciated. He cooked her dinner and the rest is history.
How They Asked:
James and Caitlyn knew early on that they would marry each other, they just didn't know when. Lucky for James, Caitlyn's family was planning a little reunion so that all her 6 siblings could be home at the same time and meet a new nephew of theirs. They drove two hours to her parents' place and when they arrived, James mentioned leaving something in the car.
Caitlyn continued on inside by herself and brought her bags in for the weekend. She started talking to her mom in the kitchen and all of a sudden noticed that the house was incredibly quiet to have so many siblings visiting. Her mom said that everyone was just hanging out in the backyard but quickly asked her to go check on the dog. Caitlyn did, without questioning it, but as she came back to the kitchen, she noticed her mom wasn't there. She continued on outside and saw everyone waiting there for her with sparklers! There was a beautiful path of roses on the deck leading down the grass and into their gazebo. All of her family members lined the path, each handing her a note to be read out loud as she made her way to James who was standing at the end. Each note made Caitlyn cry even harder, the last one, given to her by James himself, which read "Will you marry me?". It was the proposal of her dreams, and the best part was that her family was such a big part of it. How moving.
Bottom Line…
Our city has lots to offer, so come and find her dream ring in one of our local shops and get engaged in Lawrence, KS. Log onto Willyou.net and find your dream ring with one of our trusted local diamond jewelers.