Key Takeaways
If there's a better holiday to gift that special someone an equally special piece of jewelry, then we haven't heard of it.
Think about your partner's style, their preferences for metal and, of course, your budget. Diamonds say plenty, which is particularly useful if you're not big on writing poetry or making big, romantic speeches, we we'd always recommend you toward a pair of diamond earrings or a classic tennis bracelet.
Reconsider your plans to buy her a special ring unless you're actually planning to propose. On the day of love and romance, bringing out a fancy looking ring box is only going to achieve one thing – and it may not be what you're aiming for.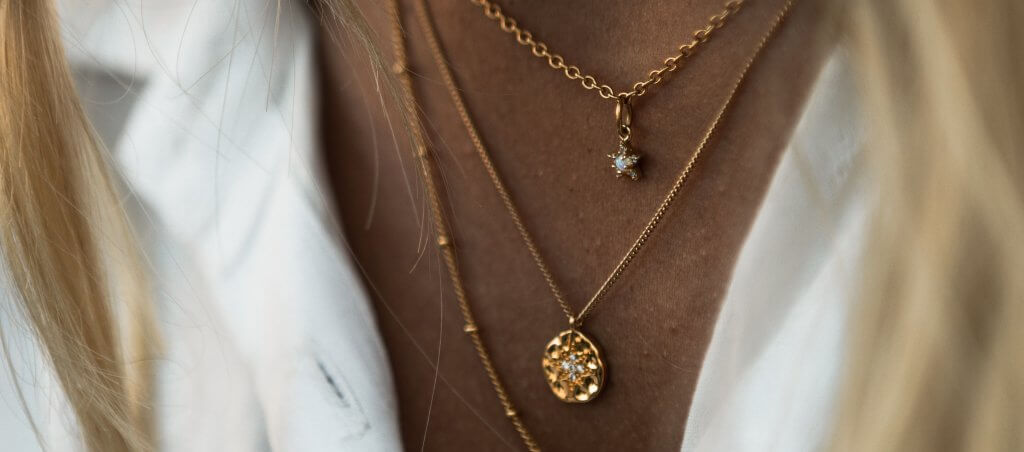 Whether an entire 24-hour stint dedicated to romance makes you starry-eyed or a bundle of nerves, there's no denying that, for anyone in love, a certain amount of pressure is inevitable. First off, there's the pressure to plan – to get in early with a reservation and an order for flowers. Next, there's the pressure to find a gift that is as romantic as it is meaningful – something that simply says more than a box of chocolates ever could.
And, to cut a long story short, you're here – and that fact alone means you're already headed in the right direction.
Here's our guide to buying jewelry for valentine's day.
Is Jewelry Good for Valentine's Day?
Yes, and we're convinced that it always will be. while valentine's day may be a day devoted to cliché, there is nothing formulaic about investing in a beautiful piece of jewelry for your partner.
Jewelry has become such a great gift option for many reasons, and not least among them is the fact that it can be kept forever, and is capable of taking on even more sentimental value than financial value. Jewelry is a gift that does all the talking on your behalf – and even for many years after you've gifted it.
Are Earrings a Good Valentine's Day Gift?
Yes, provided you're confident in your abilities to pick the right style. For some women, studs are the only comfortable option, while others are happy to wear heavy hoop or drop earrings.
And, while we probably don't need to say it, we're going to point out that earrings are only a good gift if your girlfriend's ears are pierced. It might seem like a pretty basic oversight, but we're pretty confident someone, in the history of Valentine's Day, has purchased a pair of earrings for someone whose piercings close up in the sixth grade.
For those who are sure, our advice is to get to know the different types of earrings. Hoops are pretty much the classic, and can be created using a delicate diamond pavé for a really special gift, although a pair of diamond studs featuring the classic Round Brilliant or Princess will offer even more sparkle in a very versatile style.
'Dangly' earrings include the drop and chandelier. These are a little more elaborate, a little less versatile, and better suited to wearers who get dressed up pretty often.
What Jewelry Should I Get My Girlfriend for Valentine's Day?
Bracelets, earrings, rings, and necklaces all represent great options, but there's a few questions you'll want to ask yourself before you settle on one over the rest…
Does She Wear [Earrings/Rings/Necklaces/Bracelets] Often?
Your girlfriend may not have explicitly stated her preference for bracelets over necklaces, or rings over earrings, but the proof lies in what she tends to gravitate towards when she's searching through her jewelry box.
On the flipside, some women have already settled on a particular piece that they don't intend on removing. So, if your girlfriend spends every day, night, shower, and beach day wearing a particular necklace, for instance, attempting to replace it with another special piece of jewelry may not be the best approach.
Does She Wear Gold or Silver?
There's more to fine jewelry than straightforward yellow gold and sterling silver, but starting off with this question is the best way to start yourself off on the right track. Many women hold a preference for the cooler hues of sterling silver, white gold, and platinum – or, alternatively, for the warmer tones of yellow or rose gold.
She might have a mix of yellow gold jewelry, silver and white gold, and platinum – in which case, you've got free rein – but, if not, we'd recommend sticking to theme on this one.
Classic Staple, or Statement Piece?
There's a major difference between a simple tennis bracelet and a heavy, bold cuff, for instance. One can be worn every day, alongside workwear, casual clothes, or formal dress; the other is going to be reserved for special occasions that call for a bigger statement.
For Valentine's Day, most shoppers are looking to find classic piece – something that will last the wearer many, many years – and outfit changes – so we'd usually recommend you stick to the simpler designs: tennis bracelets, pendant necklaces, stackable rings, and earrings that she will be able to wear with anything.
How Do You Make it Special?
Some people are worries about sticking to the classics, at the risk of picking out something unremarkable and unexciting. This is where picking out a truly special focal point – a design or gemstone that transforms a simple piece into something that will be treasured for decades.
There are a few elements that have come to represent the staples of fine jewelry, and one of those elements is, of course, diamond.
The great thing about diamonds, aside from their versatility, is the fact that they are irrevocable classics for the jewelry world. Unlike pearls, which tend to come in and out of style – sometimes favored, sometimes demoted to 'old-fashioned' – their popularity and emotional significance is unmistakable, and perfectly suited to the most romantic day of the year.
Does it Have to Be Designer?
While some women enjoy collecting designer pieces, it's a common misconception among first-time jewelry buyers that you need to go for one of the big, distinctive brands to find something beautiful. Our opinion? You'll spend a lot of money on the branding – a barely-visible stamp on the jewelry, and a box that will be stashed away in a draw for many years to come.
When you shop from local jewelry stores instead, you don't have to pay a premium for a name or brand – but you do get to take advantage of a high level of craftmanship and value for money that you may not otherwise get.
The Elephant in the Room: Should you propose on Valentine's Day?
Maybe – but don't be fooled into thinking February 14th is the best or most romantic time to pop the question.
Chances are, if you're looking into diamond jewelry, the thought has already been planted in your head. Proposing on Valentine's Day is the obvious choice for the fact that it represents an entire day devoted to the theme of love and commitment.
The trouble is, for many people, proposing on Valentine's Day feels like a cliché now. Your news is apt to get lost in a sea of romantic posts on social media, and two important days for any couple – Valentine's, and the anniversary of your engagement – will be combined together, rather than celebrated on their own.
For many, the appeal of a Valentine's day proposal tends to lie in the offers and deals put out there by the big chain stores and online retailers in the weeks leading up to February 14th. The thing is, working out the best time to buy an engagement ring is a little more complicated than 'three weeks before Valentine's Day', and it's worth getting that question answered before you drop thousands on a Cupid-themed proposal.
Our Summary: Is Jewelry the Way to Go?
Of all the gifts given on Valentine's Day, jewelry is arguably the most meaningful.
Yes, it may be a common trope for February 14th, but you can make it your own by putting hours' worth of thought into the piece you're going to pick out for her – and those hours will pay off for many, many years to come.
Jewelry is a timeless gift. It's romantic without being sappy, and capable of taking on more and more significance for her as your relationship moves forward for plenty more milestones to come.