Key Takeaways
$5000 is a great budget for an engagement ring, giving you flexibility to find that perfect diamond and a beautiful setting.
Whilst it is short of the 1 carat range, a sub -1 carat diamond is not a bad thing.
It is important to keep focused on the clarity and color of the diamond. Inspect it in person for eye cleanliness. Potential for saving money here is incredibly high.
Do not sacrifice on cut quality. Always go for Excellent or Very Good.
Whilst $5000 is still below average, you should be able to find an excellent jeweler who can help you attain a perfectly good engagement ring.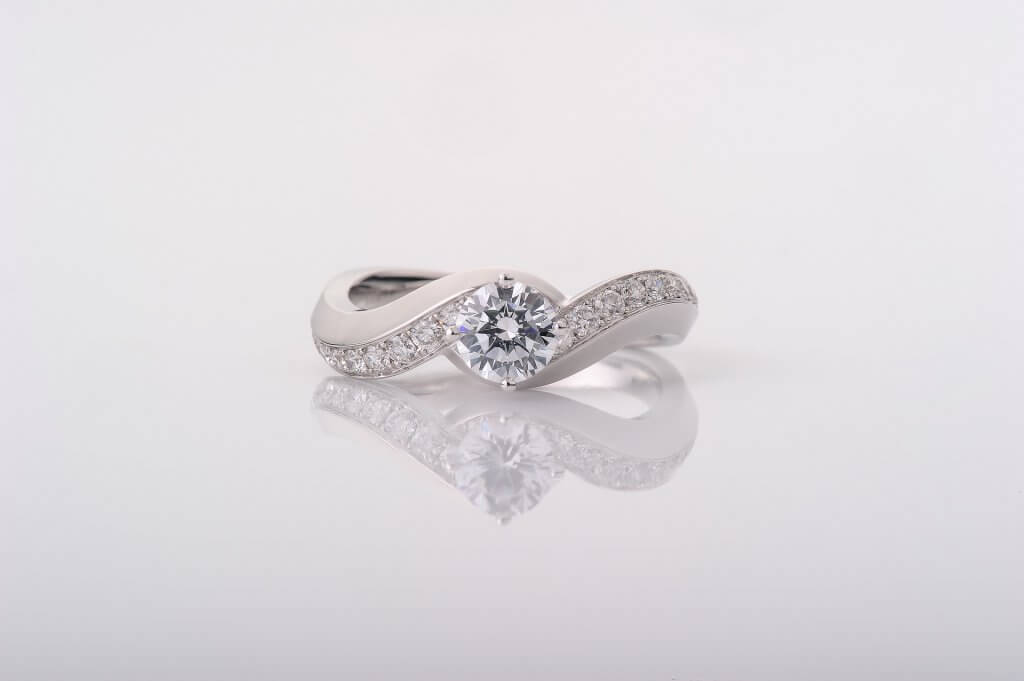 While it's true that most journeys begin with a single step, the journey to proposing begins with a single number. Before you take on the yellow vs white gold debate, Brilliant vs the Step Cut, Solitaire vs ornate double halo setting, down-on-one-knee vs any other position…there's the question of establishing a workable and realistic budget for yourself and your jeweler to work to.
Sure, unless you've got the healthiest savings account in the world, it's more fun to gloss over the prices during that early stage of research but, if you want to get the best without draining your finances, it's better to keep your head on your shoulders from the very beginning.
$5000 is a great budget for an engagement ring, and it'll offer plenty of flexibility for you when it comes to finding a diamond and creating a beautiful setting with your jeweler. Sure, as you're probably aware, it's a little below average, but the most important thing to keep in mind is that it's still possible to check every box, and meet every single expectation, even if you're having to pull on the reins a little more than the 'average' shopper.
Here's what you need to know.
Is $5000 Good for an Engagement Ring?
$5000 is a great budget for finding a beautiful diamond ring but, as always, you'll want to understand how to get the best for your money. There are plenty of poor or sub-par $5,000 options out there, but many, many more beautiful, dream-worthy options for those who know how to find them.
So, how do you find them?
First, don't go for the cheapest options out there. Online vendors are famous for being cheaper than bricks-and-mortar jewelry stores, but money isn't the only factor you need to consider here. Online vendors aren't a like-for-like replication of traditional jewelers, and any shopper should consider the expertise and personalized help of a real jeweler to be an indispensable part of finding a beautiful ring.
Sure, if you look at the numbers alone, then an online vendor makes a lot more sense. But 'low numbers' are not synonymous with 'wise investments', and we consider the full experience of visiting a jeweler (and everything that happens throughout your consultation and the creation of the ring) to be a worthwhile part of your investment, even if the numbers wind up marginally higher.
Second, learn how to get the most impressive diamond at any given price point. Two diamonds featuring exactly the same price can be different in every single respect, from size, weight, and shape to visual quality (and non-visual quality). Making the most of your money means knowing where the best diamonds can be found, at any price point.
And, thirdly, know how to divide up your budget. The diamond is undoubtedly going to be the biggest expense of all, but it's not the only thing your budget needs to cover, so working out what money needs to go where is key…
The Diamond
For a $5,000 budget, you should aim to spend around $4,000 on the diamond. You may get away with spending two to three hundred dollars more if your ring design is going to be on the simple side – say, a solitaire, or something without major embellishments. If, however, your vision for the ring itself is a little grander, you may need to spend a little less on the diamond.
In either case, make sure you talk to your jeweler first about the expected cost of your ring (more on that below) before you buy the diamond, or you might wind up discovering that you've spent less (or, worse, more) of your budget on the diamond alone than you should have.
Carat Weight
A $5,000 budget is a little short of the 1 carat range. The cost of a 1 carat diamond ring tends to fall between $6,700 and $8,700 and, while you will be able to find 1 carat engagement rings for less than that, keep in mind that diamonds are not priced arbitrarily. If a 1 carat diamond ring is priced at $5,000 or less, then you should scrutinize the GIA report (if it even has one) and identify the reason behind its low price.
Keep in mind, however, that a sub-1 carat diamond is no bad thing. While it's the national average, there's only a minor difference in size between, say, a 1 carat and a 0.75 carat diamond. The difference in price is much more significant, since so many shoppers automatically focus on the 1 carat range.
If you're interested in saving a little money on carat weight, take a look at our guide to small diamond engagement rings. We tend to consider anything lighter than 0.75 carats to be 'small' – but, as always, that's totally open to interpretation.
Nevertheless, $5,000 is a healthy enough budget that you won't need to make any significant sacrifices on carat weight, even if you don't quite reach the 1 carat threshold.
Clarity and Color
This rings even more true when you consider the differences between a VVS1 diamond and a VS2 or SI1 diamond, or a D, E, or F color diamond and a G, H, or I color diamond. Provided you inspect it in-person for eye cleanliness, the potential for saving money (at no visual sacrifice) is incredibly high.
Our advice is to focus on the VS1 – SI2 range for clarity, and the Near Colorless grades (and to never commit to a diamond without seeing it first).
While VVS diamonds seem like the obvious choice – after all, you don't want to overspend on a truly flawless diamond, but you don't want to risk any noticeable flaws, either – it's still overkill, even if your budget is relatively healthy for your desired carat weight. If you're finding desirable diamonds at VS or SI clarity are priced a little below your budget, then consider looking at stones of a slightly higher carat weight, instead.
Cut
Don't sacrifice on Cut quality – always go for Excellent or Very Good – and, of course, only consider diamonds with GIA certification (or, failing that, AGS).
Shape
If you're already totally set on your diamond's shape already, then don't talk yourself into changing it just for the sake of a few extra savings – but, if you're still open-minded about shape, it can be helpful to know where money can be saved, and where more needs to be spent.
The Round Brilliant is the most expensive diamond shape for a long list of reasons. Its high popularity, the difficulty cutters face when trying to make the most of the rough stone when cutting this shape, and its superior sparkle all mean that it comes at a premium when compared with the other shapes out there.
The Princess cut is one of the most economical for cutters, making it a much more affordable choice. The lower popularity of the Emerald cut, too, makes it a cheaper option. In general, however, forgoing the Round Brilliant will always open you up to greater savings, so, unless you're totally devoted to this shape, taking one of the paths less travelled can be a great option for any shopper on a budget.
How big a diamond can you get for $4000?
It varies tremendously. You could get a poor quality 1 carat diamond for $5,000, or a much better quality diamond that is significantly lower in weight.
Remember that not all diamonds are created (or cut) equal. With a high carat weight representing a priority for a lot of shoppers, some diamonds are intentionally cut to poor proportions (or with major inclusions) in order to preserve as much rough diamond as possible. This means you could feasibly find a $5000 diamond significantly larger than the rest, but that it would be incredibly unwise to hand over any money for it.
We'd recommend you focus your attention on the 0.75 carat range – maybe a little higher, provided it's eye clean and free from noticeable color (and, of course, cut to a high standard).
Again, online vendors will be able to offer a range of diamonds that are, on the whole, a little larger than the diamonds you will encounter in person. The trouble with this is that you're sacrificing the in-person inspection – something that, in our opinion, is as important to buying a diamond as the money you're spending.
The Ring
If you follow our advice, you'll likely have around about $1,000 to invest into the ring itself. This is a great budget if you're open to designing a unique setting with your jeweler – arguably the best way to get something unique, and perfectly tailored to your partner's style.
One thing we would advise you to steer clear of are the big 'designer' names in engagement rings. There are a number of well-known B2B brands (meaning that they work through affiliate jewelers, rather than directly with the public) that produce countless rings every year and, while they're not necessarily poor quality, our experience has taught us that it's generally the inferior choice.
For starters, the big designers are able to charge a premium, simply because of their prominence. If you're a loyal follow of the brand, there's nothing wrong with this – just as there's nothing wrong with paying thousands of dollars more to shop at Tiffany & Co. or Bvlgari – but it's important that you're aware of the investment you're making into the name, rather than the ring itself.
What's more, using a brand that operates through jewelers means you're adding in an extra step, and losing the ability to talk directly with the person who will be making your ring. In some cases, these brands are so large that they are mass producing designs, rather than designing and crafting them by hand, which means you're paying a lot for an option that, to us, seems second best.
Also, keep in mind how the right design can help you to emphasize the size of your diamond, and compensate for any loss in carat weight that may be weighing on your mind. A halo will add bulk, for instance, without blowing the cost of your ring out of the water
Our Summary
$5,000 is a great budget for an engagement ring. Sure, it's a little below the national average (which currently sits around $6,000), but that $1,000 difference is not enough to compel you to feel lost or uncertain about the type of ring you can afford to bring home.
As always, you'll want to start off by figuring out how much of your budget can be spent on the diamond, and what type of diamond that figure is likely to get you. Any shopper will, at some point, have to set their own expectations, and it's always better to do so sooner rather than later.
Fortunately, the same rules apply to shoppers on $5,000 budgets as they do to shoppers on any other budget. It's all about finding the best value for money, which boils down to understanding the benchmarks of diamond quality – and, of course, which aspects don't need to be perfect in order for the diamond to be perfect for you.
An excellent jeweler and a solid understanding of diamond prices – coupled with a list of everything your ring's designer needs to know about the intended wearer – are the keys to finding a beautiful engagement ring within your $5,000 budget, and to making the most of every cent of it.