Key Takeaways
It's perfectly possible to find a great looking, eye clean diamond for well below the $10,000 mark, even though 1 carat diamond prices can run up into $20,000+.
In fact, most shoppers looking in this category will end up spending between $6,000 and $8,000, is a lot more manageable than the average spend on a diamond twice that weight.
1 carat diamonds are certainly big enough to impress. Even in a simple solitaire setting, a 1 carat diamond will make a strong impact.
As always, to get the best price possible, look for eye clean 1 carat diamonds with a clarity grade no higher than VS1, and a color graded from the Near Colorless range (G-J). A high Cut grade is essential, or you won't get the light performance you're looking for.
We all know that, while size isn't the be-all-and-end-all of a beautiful engagement ring, it's definitely one of the most central features. While diamond shopping is all about the Four Cs, it's very important we all keep in mind those first three things any bride-to-be will notice when the ring box is first opened: sparkle, shape and, of course, size.
It's no surprise that so many of us start our searches off at the 1 carat mark. After all, not only is it the current 'average' for US shoppers, but it also guarantees a beautiful, sizeable ring design for any diamond shape. Whether round, square, rectangular or something a little less regular, a 1 carat diamond is capable of making a statement, even in a more modest solitaire setting.
That's not to say that you won't eventually gravitate towards the larger carat weights in time. Nevertheless, the 1 carat diamond offers an excellent yardstick in terms of cost and appearance for you to get familiar with before you find your ideal carat weight.
What is the Average Price of a 1 Carat Diamond?
On average, a 1-carat diamond ring of high grades will cost anywhere between $6,700 – $8,700.
Remember, of course, that this price can go a lot higher, and a lot lower, and that learning what is 'okay' to sacrifice – in terms of cut, color, and clarity – is essential. Finding a much lower price may feel like hitting gold but, in reality, diamonds aren't just given super low prices for nothing. There is always a reason behind their lower value.
Also consider the fact that this price only applies to the diamond itself, and not the cost of the ring setting or any other extras, like accent stones.
So, to get started, here's what you need to understand about the diamond's price – minus the ring itself.
Is 1 Carat a Good Size Diamond?
1 carat is a great size for an engagement ring. It'll look beautiful and prove comfortable to wear on a daily basis.
1 carat is also the national average for diamond engagement rings – which just so happens to be considerably bigger than many other parts of the world – so there's definitely no question that this weight represents a great search point for many soon-to-be fiancés.
The Four Cs and Price
Many factors help determine the cost of a 1-carat diamond ring, and no shopper can hope to make a sound investment into their ring without understanding all of them.
Why Are Diamond Prices Different?
Two diamonds of the same carat weight can differ in price by thousands of dollars, based on the diamond's 4 C's; carat, cut, color, and clarity.
If you came to this article in the hope of finding an answer to the questions, 'How much does a one carat diamond cost?' then, in all likelihood, you're already realizing the truth is going to be a little more complicated than you first thought.
The reasoning behind this stems back to the rest if the all-important Four Cs – color, clarity and cut. These vital features play pivotal roles in determining a diamond's price, meaning that a handful of one carat diamonds could feature remarkable differences totally thousands and thousands of dollars.
Diamond Price Per Carat Calculator
We mentioned above how it's entirely possible (and likely) that two 1 carat diamonds will have incredibly different prices, depending on their grading of (primarily) these 4 factors. Therefore, it becomes almost impossible to compare two, 1-carat diamond rings which are completely different in color, carat, clarity or cut grades. Every difference, however minor, affects the price of the diamond.
That being said, if you are looking for a diamond with high GIA certification grading, the average price range will look something like this:
A 0.5 carat Round cut diamond price is $2,000 – $2,500
A 1.0 carat Round cut diamond is $6,700 – $8,700
A 2.0 carat Round cut diamond is $11,300 – $15,000
A 0.5 carat Other shaped diamond's price is $2,000 – $2,500
A 1.0 carat Other shaped diamond's is $4,900 – $6,100
A 2.0 carat Other shaped diamond's is $9,700 – $13,000
So, while you can't predict the exact cost your diamond will have until you see it for yourself, it's certainly possible for you to gain a very keen understanding of the parameters each carat grade typically adheres to. Yes, there will be some exceptions – at both ends of the scale – but, for the most part, the categories above represent a great starting point for any first-time shopper.
The 1 Carat Diamond Price Chart
The diamond price chart, or the Rapaport Price List, is a chart that provides a benchmark to a diamond's value based on its 4 C's (cut, color, clarity, and carat). It was started by Martin Rapaport, who began in the diamond industry as a cleaver and rough sorter in Antwerp, Belgium. In 1975 he began brokering rough and polished diamonds in New York City, and then in 1978, he created the Rapaport Prices List.
Each Friday the list is released and is used as a standard for pricing all loose diamonds sold as individual stones. The diamonds are generally I3 or better in clarity and M or better in color. Here's an example of the Rapaport price chart for round diamonds 1.00 to 1.49 carats.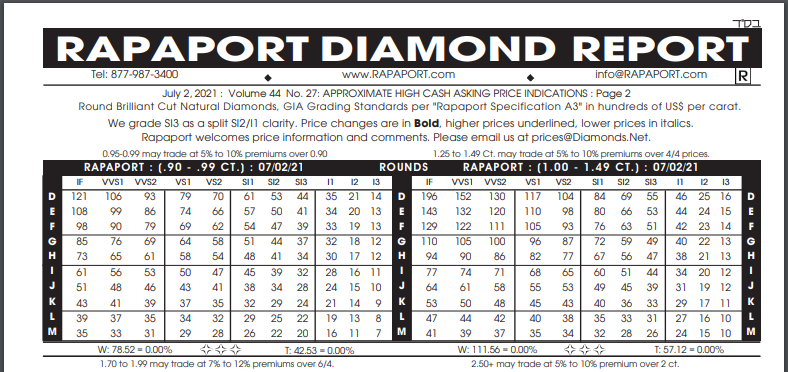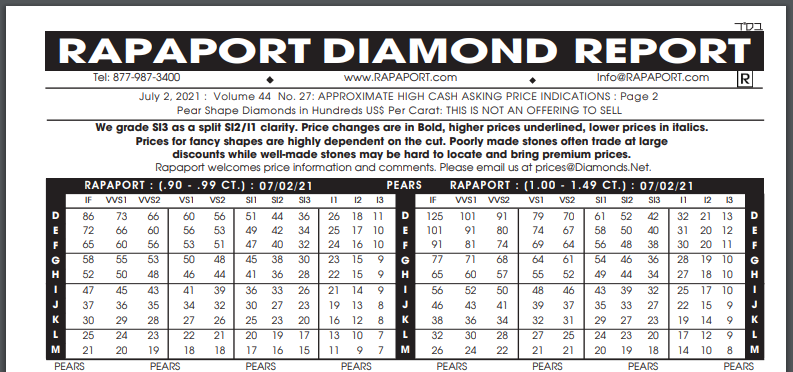 How Do I Read the Rapaport Diamond Report?
If you take a look at the highlighted cell in the following table, you will see that a 1-carat diamond with G color and SI1 clarity will cost around $7,200. This white diamond can work beautifully with both white gold and yellow gold bands.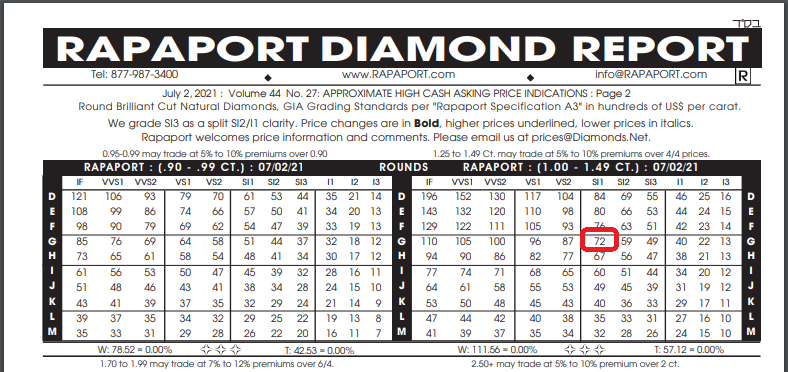 As you can see, prices are determined by carat – but the price-per-carat changes quite dramatically depending on other factors like clarity and color.
As of July 2021, a 0.9 carat G color VS1 diamond of would have been worth $6,400 per carat (around $5,760) whereas a 0.9 carat M color VS1 diamond (with the only difference being color) would have been worth around $2,900 per carat – or around $2,610.
Why do Bigger Diamonds Cost More?
For the simple reason that larger diamonds are seen as far more desirable – and therefore far more valuable – than smaller diamonds. There's a certain amount of prestige attached to imposing, weighty engagement rings that we just can't seem to shake.
You may have noticed by now that the Rapaport Diamond Report clearly notes that diamonds featuring a carat weight between 0.95 and 0.99 'may trade at 5% to 10% premium over 0.90' – and a similar statement for other carat weights that sit just below magic weights like 1 carat, 1.5 carats, 2 carats and 3 carats.
This is precisely why a 1.5 carat diamond is not worth twice as much as a 0.75 carat diamond, or that a 2 carat diamond is worth way more than double the price of a 1 carat diamond – and why attempting to save money by looking at 0.99 carat diamonds instead of 1 carat diamonds, or searching 'almost one carat diamond', is not always going to prove all that effective.
So many of us are hoping to design an engagement ring that looks as impressive and beautiful as possible that two carat diamonds are seen as way more desirable than one carat diamonds. As a result, it makes perfect sense that value increases exponentially with weight, rather than gradually.
It's a hard lesson to learn for a lot of shoppers, but one of the most important pieces of knowledge you can keep front and center in your mind as you shop.
How Often do Diamond Prices Fluctuate?
For almost a decade now, diamond prices have increased at an average of roughly 4% each year.
There are slight changes in price per carat more regularly than that – which is precisely why the Rapaport Diamond Report is issued each week – but these are relatively minor changes.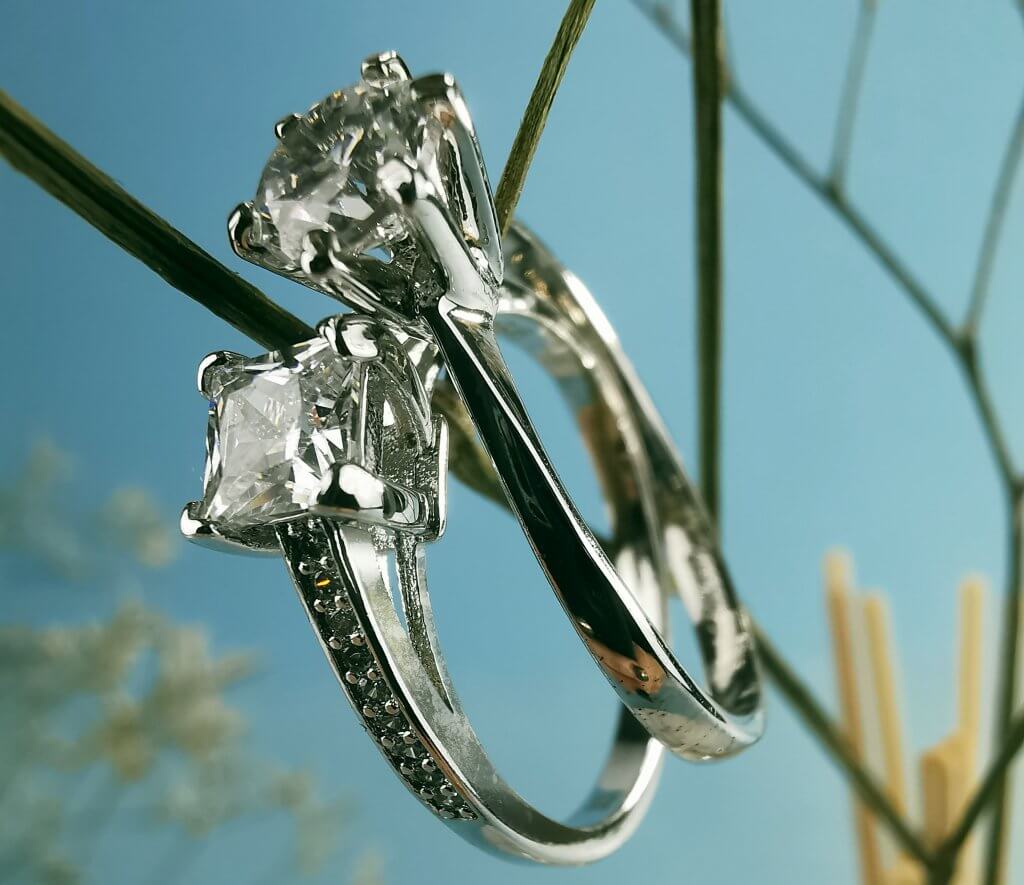 Are 1 Carat Diamonds Cheaper Online?
Yes, it is possible to find these diamonds at a slightly lower cost online, but the negatives far outweigh the benefit of a few hundred dollars (potentially) saved.
There are a few things we can't face buying online. High ticket items – and, of course, items that are expected to hold a high sentimental value – demand a more personal experience.
Engagement rings represent both camps. Not only are they expensive investments, but they're one of the most important things you will ever buy, given that they represent your commitment to and love for your future bride.
Diamonds sold online are cheaper because the sellers can make a larger number of daily sales without the cost of running a brick-and-mortar business, or offering that highly important, in-person expertise and guidance to shoppers who would rather take their time than race to the checkout.
These are billed as major savings but, in reality, the amount you save will represent only a minor part of your overall investment – and at the cost of an experience tailored to your questions, ideas and vision.
1 Carat Diamond Rings
So, you know what you need to know about the diamond itself – but no diamond acts alone when you're down on one knee, popping the question. It's just as important to understand the specifics of creating and paying for a complete 1 carat diamond engagement ring as it is to understand the 1 carat diamond on its own.
Is a 1 Carat Diamond Big?
Yes and no – it's all relative. While A 1 carat diamond will appear pretty modest alongside 2, 3 and 4 carat diamonds, it is certainly enough to turn heads and draw eyes from across the room.
A 1 carat Round cut diamond will measure approximately 6.5 mm in diameter – provided, of course, that it's cut to the right proportions. The wrong proportions could yield a much larger face-up appearance, but at the cost of the depth needed for a Round diamond to produce that characteristically bright and fiery sparkle.
Is 1 Carat Big Enough for an Engagement Ring?
Yes, a 1 carat diamond of any shape will look beautiful in an engagement ring – although it always falls down to personal preference in the end.
The past few years have seen a growing number of couples looking to embrace larger diamonds, likely inspired by celebrities who have done the same.
We mentioned the average surface measurement of a Round cut diamond just above. For comparison, an Emerald cut of the same weight generally weighs around 7mm x 5mm, giving it a longer, narrower appearance – again, on the proviso that the diamond has been cut to a high standard.
Still, whatever diamond shape you choose to go with, it remains true that a one carat stone is more than capable of commanding its fair share of attention on the finger of your future bride.
Even so, you might also benefit from learning a little more about 2 carat diamond prices, too.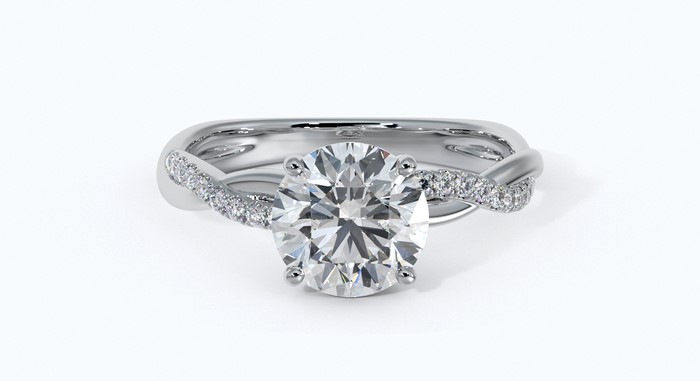 How Much is a New Engagement Ring Setting?
A typical ring setting will cost around $1,500 – $,2000 – although, for most shoppers, it's easier to think of their ring setting as representing around 15% of the total spend, with the diamond representing the other 85%.
Again, there's no single, straightforward answer to this question – unless, of course, you go to your jeweler and ask them directly. There are, however, plenty of factors to consider:
Consider the fact that the level of craftmanship, creative flair and originality – not to mention the sheer number of hours – that need to be put to use to create a ring setting will differ significantly, even in two pieces created by the same jeweler, and to the same high quality.
While creating an impeccable Solitaire Engagement Ring is no easy task, it will be simpler than creating a more ornate and unique piece designed to the buyer's specific requirements. A design will need to be drawn up, modified, and created from scratch.
You likely know already that gold, as one of the most coveted precious metals, it's a pretty expensive choice – but, as a matter of fact, platinum tends to come out the more expensive choice, despite the fact that, per gram, its market price is lower.
This is because platinum jewelry features a much higher purity – around 99%, in most instances – whereas gold is rarely used at a purity higher than 18k (75% gold to 25% alloy), because of its natural softness and vulnerability to damage.
The price of your diamond ring will also depend on its CTW, or Carat Total Weight, which is a number used to represent the combined carat weight of an item of jewelry featuring a number of accent (or 'melee') diamonds.
If, for instance, you were to choose this Round Halo Engagement Ring in Yellow Gold, then the CTW of the ring would be calculated based on the combined weights of each individual stone in the halo and pavé.
The combined value of the smaller, accent stones is, of course, likely to be far lower than the value of the center diamond, but it is still a factor to consider when calculating the potential price of your engagement ring.
Our Summary: How Much is a 1 Carat Diamond Ring?
A good price for a 1-carat engagement ring, including the setting, is around the $8,500 mark, for an ideal cut diamond of G/H color and SI1/VS2 clarity.
The diamond will, of course, represent your biggest expense. It is important to keep this in mind, and use that 75% as a rough guideline for your search, or you could end up saving too much on your diamond, and finding that you could have invested into a larger or higher quality stone.
Whatever your budget, breaking it down into these two separate expenses can be a useful way to frame your search for the right diamond. Comparing 75% of your budget against an up-to-date resource like the Rapaport Diamond Report can make it a lot easier for you to figure out the sort of diamond you can hope to afford, and where to start looking.
Remember that saving as much money as possible is never the aim of the game, whether you're looking at 1 carat diamonds or 10 carat diamonds. You don't want to save money at the expense of cut, eye cleanliness, or the jeweler's expertise, for instance.
At the same time, it's important to know how you can get the best deal possible. Read up on our guide to the Four Cs to learn about what's important and what can be dropped to the bottom of your priorities list.
You can take a look at our full range of GIA certified one carat diamonds here, then connect with a local jewelry store certified by WillYou.Net to check it out in person.
1-carat diamond examples to be set in engagement ring