Key Takeaways
The mineral rights for the diamonds discovered during the early twentieth century in Namibia were primarily given to their German rulers. That occupation ended in 1915, but South Africa quickly had control. The De Beers Mining Group founded a 50/50 collaborative relationship with the government soon after Namibia's independence in 1990.
Much of Namibia's diamonds are discovered in marine deposits and alluvial deposits. As such, Namibia is unique. Many major African diamond industries have land-based diamonds.
The diamond industry offers the country many employment opportunities. There is work being done to expand their processes beyond production to sorting, cutting, and polishing to improve further.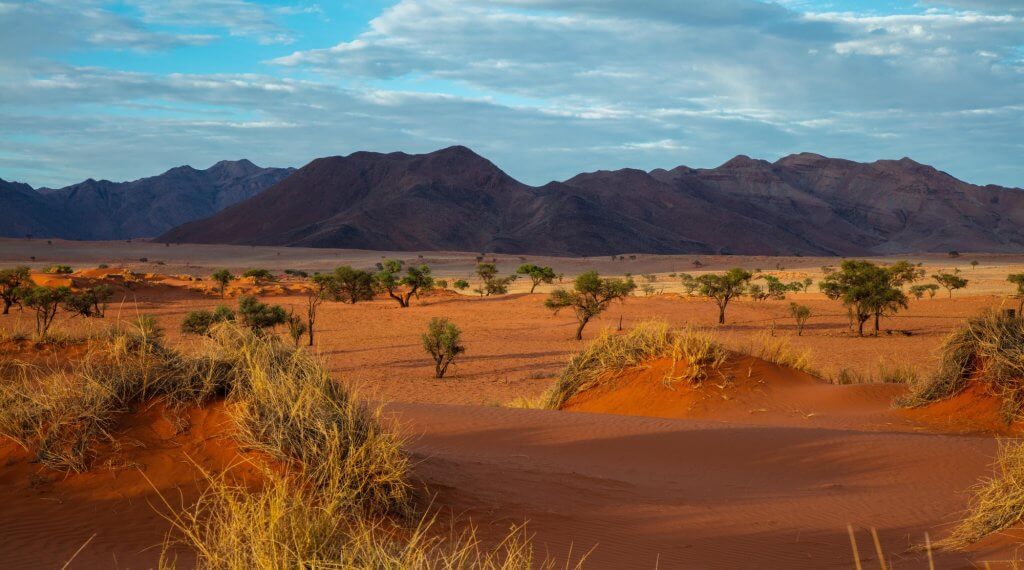 The Republic of Namibia, located in southern Africa, is dominated by the Namib desert – an area, meaning 'Vast Place', which eventually meets with the coast of the Atlantic Ocean. The Namib contains some of the most arid places in the world. Warmed by the sun, cooled by the winds off the see, it is also presumed to be the oldest desert in the world, having been dry for more than 55 million years.
It is true that much of Namibia is desert. Between the Namib and the Kalahari, the country sees very little rainfall, and much of the land remains uninhabited – a fact which explains its relatively low population, at just over two and a half million, in spite of its incredible size.
But there is a great deal more to the country than arid desert. Inhabited since prehistory, the country is able to offer incredible insight into the natural and human worlds, as well as some highly unique environments and mineral deposits. In fact, one of the country's most profitable industries is mining – mining for precious and base metals and, of course, diamond.
The Background
The first documented discovery of diamonds occurred in the early twentieth century, when the country was still under German rule. These diamonds were discovered in the form of alluvial deposits. Alluvial deposits can be found on riverbeds, in flood plains, or anywhere else touched by waters. In Namibia, these deposits were found in places from which the ocean had receded – as well as along the Orange River and, eventually, in the ocean floor along the country's coastline (otherwise known as marine deposits).
In fact, rumors are that the early prospectors who flocked to uncover Namibia's natural riches themselves could simply come across diamonds sitting on the earth's surface, shining under the light of the sun. Whether or not that's a poetic spin, it remains true that a rush of interest turned towards Namibia – and some areas that had proven barely hospitable.
As a result of Germany's rule over Namibia, the country's mineral rights were primarily handed to the German Diamond Corporation, who began gathering the deposits made by the Orange River.
While German rule ended in 1815, the country fell almost immediately under the rule of South Africa, leading to many years of political unrest. Eventually, control over most of the country's diamond production fell into the remit of the De Beers mining group, who eventually entered into a collaborative relationship with the Namibian government, following its independence in 1990.
Fortunately, despite years of unrest, Namibia's diamond industry managed to evade the same fate that befell Sierra Leone and Angola, among others.
As a result, the industry represents a bedrock for the country's economy. While Namibia does not stand among one of the largest producers of diamond in the world – or even Africa, where it is surpassed in terms of production by Botswana, Democratic Republic of the Congo, Angola, South Africa, and Zimbabwe – the taxes it is able to generate from this highly profitable industry means that the country has largely benefitted from diamond production.
What You Need to Know
Like many African countries, Namibia's ecosystem is fragile and needs to be treated with caution by any mining effort. Fortunately, the collaborative approach taken by the Namibian government and De Beers has ensured that a proactive approach to protecting the environment – and those who depend upon its careful balance – has been taken.
Namibia is a little different to some of the other countries we've looked at already. More of the country's diamond production stems from marine deposits than land-based mines – something that sets Namibia apart from places like Botswana and South Africa, which boast rich natural sources in the form of kimberlite pipes.
This calls for a more unique approach – one that has been led by Debmarine, which represents a 50/50 venture between the Namibian government and De Beers. The company is dedicated to ensuring that the unique ecosystem found off the coast of Namibia is protected, and that all efforts to recover the rough diamonds deposited within those waters by the Orange River are sustainable and safe.
Nevertheless, the key to a strong diamond industry is about more than leaving no trace on the country in question – but to bring genuine and lasting benefits to the surrounding communities. This is incredibly important in Africa, where many countries are still working not only to move on from pasts of political unrest, but also to establish and build stronger economies that they can continue to grow.
Fortunately, these ideas are precisely what Namibia's diamond industry has been, and continues to be, built upon.
Beyond the direct benefit gained through taxation, Namibia's ties with the diamond world have proven highly valuable, particularly during the Covid-19 pandemic. In 2020, De Beers announced it would provide $2.5 million to support the response and recovery of Namibia and Botswana's communities, and its economy – just one example of the strength that can be gained from a robust and sustainable diamond industry.
Boosting Employment
In any country capable of keeping a firm hold on their diamond industry, one of the greatest benefits it brings is an array of employment opportunities in many different areas of the supply chain – and for a wide variety of prospective employees.
Namibia is still struggling with a high level of unemployment, but a lot of work is being done to turn that around and not only ensure that people find a route into employment, but also that there are opportunities to grow and develop careers.
These opportunities can work to overcome poverty, but also stigma. For instance, Natural Diamonds reports on the opportunities created for disabled people struggling with Namibia's employment issues, and social stigma.
The Namibian Diamonds Trading Company (NDTC) was established in 2007 with a view to bolstering Namibia's own involvement with many stages in the diamond supply chain, rather than just mining alone. It continues to augment the country's capacity for sorting, cutting, and polishing – to name just a few – with a view to creating more and more opportunities for Namibian workers.
It is, of course, a process that will occur over years – not just over night – but promises to add many more strings to the bow in terms of GDP and employment.
Where Was the First Diamond Found in Namibia?
Lüderitz, southern Namibia, in 1908.
Lüderitz is a small town on Namibia's coastline – once heavily involved in the diamond rush in the first half of the 1900s, and under the control of the German colonial government. These days, it sits on the periphery of the diamond industry – a place of history and conservation.
However, as is the case in so many countries, the first diamonds were likely seen by indigenous groups long before these stones garnered commercial interest.
Are Namibian Diamonds Conflict Free?
Yes, Namibia has been a member of the Kimberley Process Certification Scheme since the early 2000s.
When the country gained independence in 1990, the new, Namibian government was able to immediately start work on bolstering its diamond industry, and ensuring that the income generated through it was able to support the country's economy, rather than fueling political unrest.
Our Summary
Diamond mining in Namibia is a fascinating subject. With tens of millions of carats deposited in the ocean floors along the country's coastline, the country's diamond industry has already demonstrated a remarkable propensity to adapt, get creative, and ensure that Namibia is equipped to handle continued growth and development within this industry in the future.
As with any country, it is absolutely imperative that efforts to gain the most possible benefit from Namibia's natural resources are tempered with an understanding and respect not only for the environment, but for the people living within it.
Fortunately, Namibia is one of the world's leading examples of how a fruitful diamond industry can bring long term benefits to a country. While unemployment remains high, the country remains open and ready for some significant growth – particularly when it comes to engineering new ways of improving underwater mining systems.
The sheer scope of Namibia's marine deposits promise to keep the country's diamond industry profitable and scalable long into the future, and create new opportunities for great swathes of Namibia's population. By increasing the country's capacity for mining, sorting, cutting, and selling diamonds onto the global market – a task accomplished through continued interest from consumers around the world – Namibia will stand to benefit more and more from its natural mineral resources, and generations of skilled workers.
While its diamond industry is not the largest in the world – or even in Africa – Namibia's ability to reclaim this natural resource from the hands of conflict and greed is a heartening example of the good diamonds can bring to entire communities. There is still progress to be made, and ongoing support for this country's invaluable industry is essential to ensuring its growth, development, and continued success into the future.
At WillYou.com, all the diamonds we list are conflict free and ethically sourced – and every jewelry store we recommend has been carefully selected by us, based on quality, traceability, and trustworthiness. You can use our Jewelry Store Locator to find a reputable diamond expert near you.