Key Takeaways
Milgrain is a very traditional design feature – an intricate embellishment created using delicate metalwork.
It's a great feature if you're looking to create a ring that features vintage elements. Even so, more and more designers are finding new ways to utilize milgrain in more contemporary designs.
Milgrain is also a great option if you want to add a little more intrigue to your ring's design, but don't want to rely on additional diamonds.
It pairs well with a Cathedral setting, since the extra height of the center setting creates more space for metalwork underneath.
An experienced jeweler will be able to draw up a unique design for your ring. Milgrain offers the perfect combination of subtlety and intrigue, and suits many different types of design.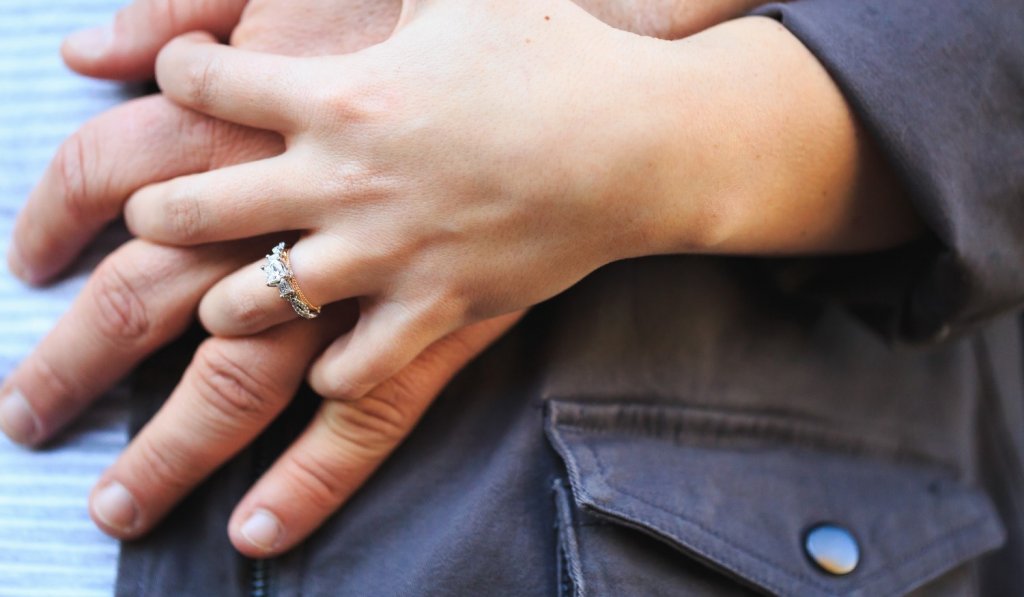 At WillYou.Net, we're definitely suckers for the classic solitaire engagement ring design. We also fall pretty easily for the contemporary and ultra-minimalistic skinny band or floating engagement rings. But, even so, there's something about the more traditional, old-fashioned design staples that can get our hearts fluttering, too.
We're not alone. Vintage engagement ring designs are some of the most popular out there. Sure, every year brings with it new trends, new 'fan favorites' and new leaders of the pack, but the vintage styles never seem to go out of popularity, no matter how much time passes.
Milgrain, like filigree, is one of the most popular metalwork techniques for creating an antique vibe on the ring's shank.
Here's what you need to know.
What is Milgrain design?
Milgrain is characterized by rows or clusters of tiny metal beads. They're often located along the outer edges of a shank, or combined with other features (like filigree) to create intricate designs.
The word 'Milgrain' comes from the French mille grains, which means a thousand grains. The technique has been used in jewelry making around the world for hundreds of years, and across so many different eras that it's impossible to tie it to just one.
You'll find plenty of examples of milgrain in Edwardian and Victorian jewelry, but also as a key part of styles popularized a lot later, like the Art Deco movement of the 1920s.
It is great for adding detail to a ring without overwhelming your diamond with accent stones. While pavé, for instance, is a popular technique for decorating the shanks of engagement rings, some people prefer to keep things a little simpler, and milgrain is the perfect option for them.
When was Milgrain invented?
Archaeological records show the technique being used in the 8th century BCE.
The technique has been found on artefacts from Southeast Asia, as well as China and India, from that time onwards.
What is the difference between filigree and milgrain?
While milgrain simply refers to metal beading, filigree can take on many forms. It is essentially metal lacework, used to create intricate and, often, botanically-inspired shapes and patterns on a ring or other piece of jewelry.
Since both techniques are commonly associated with vintage ring designs, they're often used together, which is why shoppers can easily feel confused between the two. Combining milgrain with filigree is the best way to sneak extra detailing into every aspect of the ring, ensuring it's beautiful and intriguing from all angles.
Is Milgrain out of style?
No, milgrain is never considered out of style, simply because it's such a versatile staple in jewelry making.
Sure, there will always be times when popular opinion leans toward simplistic, streamlined, minimalistic ring designs – plain gold or platinum bands with no unnecessary detailing – but milgrain is not as ornate and 'obvious' a design choice as, say filigree.
When it's added into a design thoughtfully, it can be perfect for capturing that traditional, age-old-romance vibe that so many people want to find in their ring.
Keep in mind that there are many different ways to use milgrain. It can be used to create ring designs inspired by vintage styles, or used to add a final touch to the edge of a plain band. One of the less-popular uses for milgrain is to 'fill in the gaps' between pavé diamonds in lower cost jewelry. There's nothing wrong with this, and it can be done tastefully, but it's generally regarded as a technique for 'tricking the eye', rather than creating beautiful pieces.
Is Milgrain durable?
Yes, when created by a skilled jeweler milgrain is very durable, although, like most things, it won't last forever.
Remember that milgrain is created using the same metal that the rest of the ring is made of. For bridal jewelry, this usually means gold – typically either 14K or 18K – or platinum. All of these options are very durable, even for everyday wear, so you don't need to worry about your milgrain wearing away in a matter of months.
As we mentioned in our full guide to gold jewelry, a 10K or 14K gold will offer the most durable option for any features on your ring, like milgrain. 18K gold is durable enough for bridal jewelry, but it may wear out a little faster than the other two options. Your jeweler will run through these options with you, and help you figure out what fits best with the wearer's lifestyle.
Besides, if it ever comes to it, a skilled jeweler can patch up milgrain that's been subjected to too much wear and tear…
Can you add Milgrain to a ring?
Yes, milgrain can be added to a later date. This is a good option to keep up your sleeve if you think your partner would like a ring featuring this technique, but aren't totally sure.
As we mentioned above, it's also a great option if you're hoping to restore an old, heirloom piece to its original glory. While it takes many, many, many years, milgrain can wear away. Some people love how this looks, since it proves the ring's age and how much it has been worn over the years, but it's worth keeping in the back of your mind in case a restoration is on the cards.
So, is Milgrain for You?
Maybe, maybe not. There's a lot to love about milgrain, and there's no denying it's a mainstay of jewelry design, but its long-standing association with vintage ring designs means it's not the right choice for everyone.
As we mentioned at the very beginning of this article, rings featuring a milgrain design are pretty much located on the opposite end of the scale to the simple solitaires and minimalistic designs popular right now.
While, at the moment, ring trends tend to center on the more minimalistic designs, milgrain is simple and subtle enough that it won't just go in and out of style like some features. Go with what works for your vision, and use milgrain as the perfect finishing touch for a variety of designs.