Key Takeaways
There are countless options for engagement ring settings out there, and you'll want to gather as much knowledge and inspiration as you can ahead of your consultation.
It can help to figure out what type of style you're aiming for, in order to shrink down your list of options. In other words, are you going for modern or vintage, minimalist or maximalist, ornate or simple?
While beauty will be your top concern, spare a thought for practicality. If your partner has an active lifestyle, some settings will prove less comfortable/safe than others.
While the diamond will be your top concern, don't overlook the importance of fine-tuning every detail of the ring's design with your jeweler.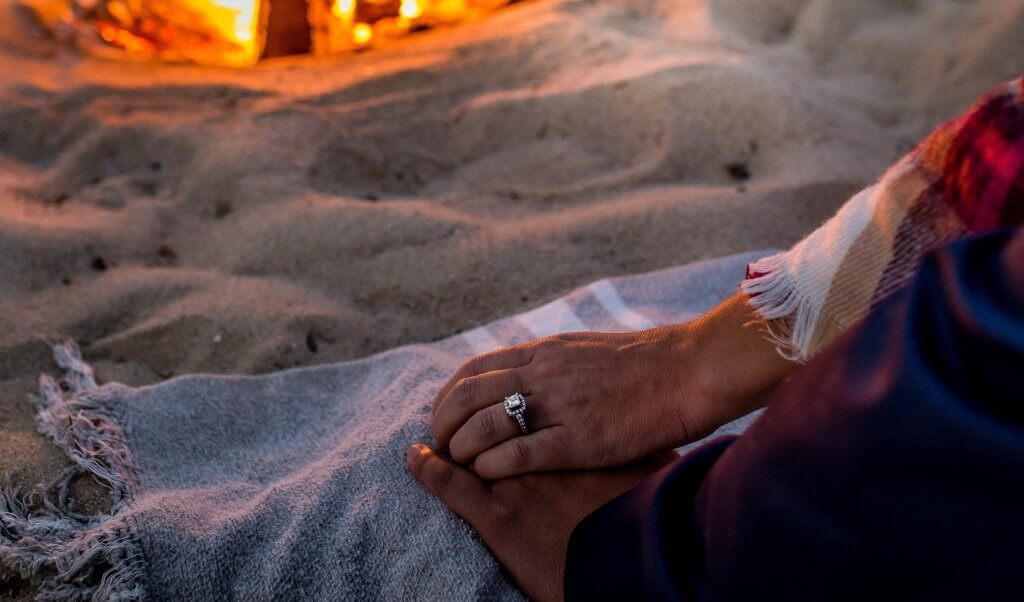 When we talk about buying an engagement ring, we're really talking about a process of two halves: buying a diamond, and buying the ring setting – AKA, the part that will actually get that diamond to sit on her finger.
How you pick each of these features depends on the other—and this can get a little confusing. We'd recommend waiting to settle on your diamond until after you've picked your setting – although it's a good idea to get a rough idea in your head about what kind of diamond you want before you pick your setting.
Overwhelmed? Don't be. Start off by getting your head around the different types of ring settings there are, then move onto experimenting with the different characteristics different diamonds bring to those settings. For instance, an Emerald Cut Halo Engagement Ring looks totally different to this one, featuring a Marquise Cut Halo – but more on that below.
The Basics
For now, put your diamond checklist to one side and focus on the bigger picture. There'll be plenty of time to work through the four Cs and buy the perfect diamond later but, for now, you've got to walk before you run, and work out where that diamond is going to go.
What is a Ring Setting?
The metalwork surrounding the diamond, and the metal band worn on the finger. It's there to keep the diamond safe and secure, to transform it into a wearable piece, and, of course, to look beautiful in the process.
From the strikingly simple to the sparklingly intricate, the sheer amount of choice on offer for anyone picking out a ring setting is, at first, pretty overwhelming.
Once you start getting to know these different styles, however, you'll begin to see better just how much a ring can change with only a small modification to the setting. You'll also start to realize that, while every setting is beautiful in its own way, only one or two will feel 'right' for your bride-to-be.
The choice becomes easier as soon as you start to unravel the mystery of 'ring settings'.
What are the Different Types of Ring Settings?
The diamond solitaire is likely the first to come to mind when you think of an engagement ring, but the chances are that you'll have encountered the halo setting, pavé setting, three stone setting cathedral setting and split shank at some time or another – even if you didn't realize it at the time.
Each one makes a totally unique impression on the finger, and will subtly influence which of your chosen diamond's qualities are made most obvious. Some can be combined together within a single design, while others stand in direct contrast to one another.
The good news is, there are no right or wrong answers to the question, 'Which one is right for you?' The only mistake you could make is not reviewing every one of your options…
In a Word: Classic
Characterized by a single diamond held in place by prongs, without any extra embellishment or adornment around the diamond, solitaire diamond settings bear the most traditional shape for engagement rings in many parts of the world.
Perfect for any diamond shape, and for getting the maximum light performance out of the stone since it leaves much of the top and sides of the diamond exposed to the light.
This setting is also occasionally called a 'prong setting', although jewelers tend to go by the name 'diamond solitaire'.
In a Word: Architectural
The cathedral setting raises the diamond high above the shank (band) of the ring using an elegant arch evocative of the architecture of the world's most impressive cathedrals. Diamonds are usually held in place by prongs, but the cathedral can be used alongside more unusual settings, such as the bezel.
The cathedral setting may also be combined with other features – such as pavé or halo – to create a much more ornate piece, or used on their own to give more height to the traditional diamond solitaire – like this Princess Cut Cathedral Engagement Ring.
In a Word: Luxurious
If you've only ever seen a handful of engagement rings in real life before, then we're willing to bet that at least one of them featured a halo setting.
By wrapping the diamond within a delicate line of smaller accent stones, jewelers are able to introduce a new dimension of sparkle to the ring. Halos follow the shape of the center diamond, which means that they can be circular (arguably the most common), square or rectangular, or follow one of the fancy cuts, such as the pear or marquise.
This style can comprise a single, double, or triple halo, depending on your preference.
In a Word: Discrete
For the more understated among us, the hidden halo adds a beautiful touch of detailing to a ring without interrupting the simple beauty of a plain diamond.
Characterized by a much smaller halo of stones placed underneath the diamond visible only from the profile of the ring, and not from any other angle, this setting is one of those finishing touches that's hard to pass up.
It's placement also lends a little extra sparkle to the ring, by directing light up into the diamond – an added bonus for what is already a stunning feature.
In a Word: Sparkly
Before you say it – yes, all diamond rings will be sparkly. The pavé settings are, however, the ultimate way to get extra sparkle into a ring (especially if they're paired with a halo).
Both pavé and micro pavé rings feature a band inset with many small diamonds, which are held in place with very fine metal prongs or beads. The effect is a shank that flashes and sparks in countless ways with every move the wearer makes – and one of the most popular engagement ring styles of the twenty-first century.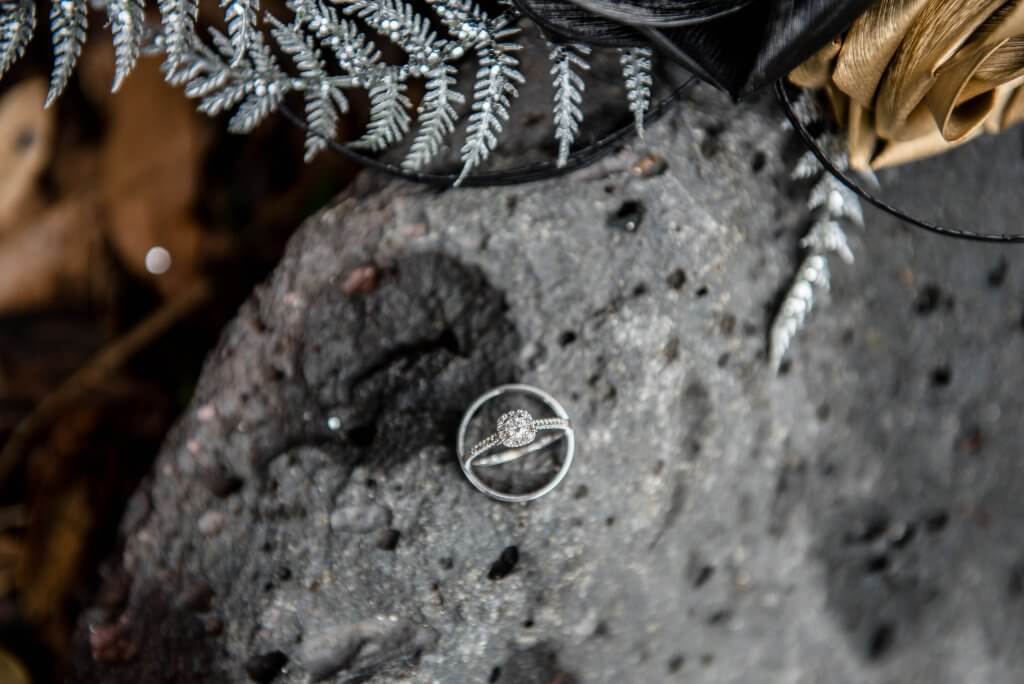 In a Word: Unforgettable
As the name would suggest, the tension setting holds the diamond in place using the opposition created intentionally between two parts of the shank. This avoids the use of prongs, bars, or a bezel (more on that below), while also creating an incredibly modern and striking piece.
This is one of those styles that you will be incapable of getting out of your head – either because you're head over heels for it, or because you can't quite believe something so simple is actually capable of holding that diamond securely in place.
For the slightly more cautious, tension style settings are also available. These settings mimic the shape and sleek appearance of the tension setting, but secure the diamond in place using a number of prongs.
In a Word: Modern
A total 180 on the usual settings used to hold the diamond on the shank, the bezel is about as 'against the grain' as any design could get. Rather than prongs or bars, the bezel surrounds the diamond in solid metal, typically a couple millimeters thick, and slightly overlaps the edge of the diamond in order to stop it from going anywhere.
The most important thing to know about the bezel setting is the fact that it does impact the diamond's ability to sparkle. Other settings, such as the prong, are specifically designed to encroach on the diamond as little as possible, while this one represents more of a feature in and of itself.
They create highly unique pieces, ideal for anyone who prefers to be a little different – and to do the unexpected.
In a Word: Intricate
Another design that totally works against the 'expected' is the cluster setting, which utilizes a lot of smaller diamonds in place of one large, central diamond. As a result, these settings are almost always considerably cheaper than most rings – and a little less desirable.
The cluster can feature diamonds of the same size, which create a circle or oval and mimic the appearance of a single, large diamond, or they can be used to create more unique shapes, such as the flower setting.
In a Word: Spacious
A split shank is pretty self-explanatory – rather than sitting on top of one solid band, the center setting is held by two bands, which join together at the inside of the finger. This gives the ring a wider base, and more surface area on which to add more design features, such as pavé.
If you needed another reason to check out the split shank setting, then we'll clue you in on the fact that Beyoncé's engagement ring features a split shank, embellished with pavé diamonds.
In a Word: Symbolic
While the simple, understated beauty of the diamond solitaire will never be unseated from the height of popularity among brides and grooms, the three stone setting is certainly a close runner up.
Featuring a central diamond, flanked by two diamonds that are slightly smaller, or (more though less commonly) the same carat weight, this setting is more than the sum of its parts. Thought to the represent past, present and future of a couple's love, it's a truly romantic choice for any starry-eyed pair.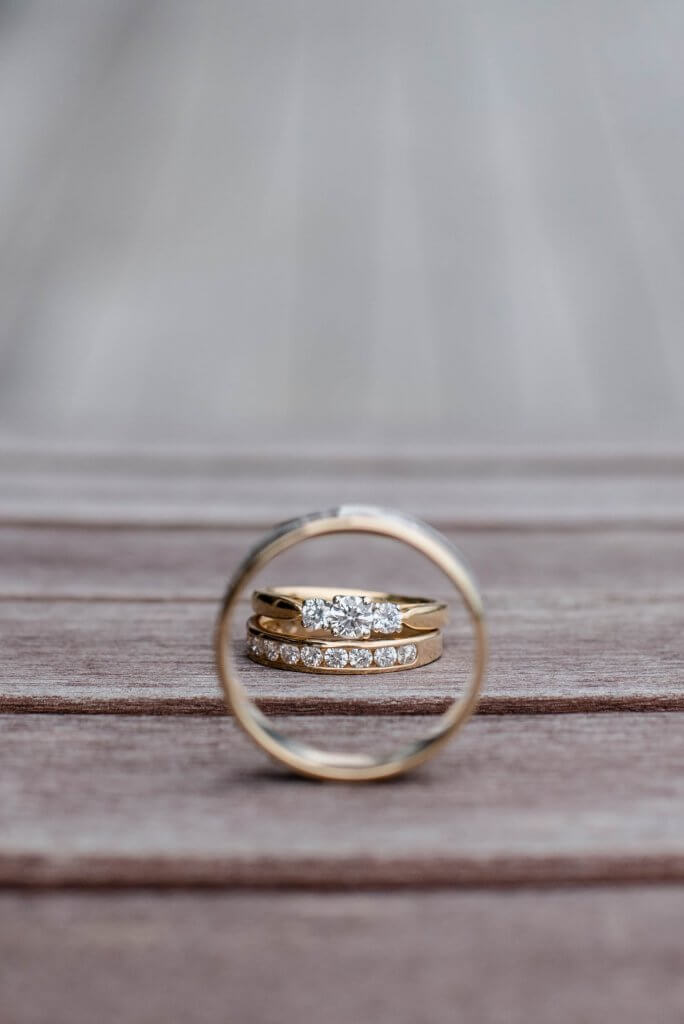 In a Word: Rare
Yes, the bezel and the cluster setting are both pretty 'out there', but nothing is further out than the flush setting, which has been known to make an appearance in engagement rings and wedding bands alike.
While almost all of the types of rings settings used in engagement rings are designed to hold the diamond above the finger, and make it (or them) the key feature for the entire piece, the flush setting keeps the diamond on the same level as the setting itself.
The top of the diamond is all that's visible here, with the rest buried in the gold or platinum of the shank.
In a Word: Bold
A bar setting is featured along the shank, a little like a pavé or channel setting. The small, vertical bars that feature on either side of these tiny accent diamonds (what gives the setting its name) are there to hold them in place, while leaving the top and bottom of each diamond exposed.
This ensures maximum light reaches the accent stones, and a pretty modern look for any bride-to-be with more contemporary tastes.
In a Word: Secure
While the pavé and bar settings are among the most popular ways to embellish the shank, the channel setting has become highly popular for its security, durability, and ease-of-wear.
The jeweler cuts a narrow channel into the shank, with a tiny (though very important) groove capable of holding the diamonds in place, and making it basically impossible for them to slip out. Without prongs, the shank won't catch on clothes or bedding, and with more coverage than the bar setting offers, the diamonds are more secure.
The Twisted/Infinity Setting
In a Word: Elegant
Like the split shank, twisted setting engagement rings feature a shank that has been divided into two equal sections. As the name suggests, however, these two sections are then twisted around one another in a way that appears to be almost organic.
This design is also known as the infinity setting because of the resemblance it bears to a sideways figure eight – a symbol for endlessness and, in particular, endless love.
In a Word: Reminiscent
The term 'vintage' covers a long list of styles and pieces but, in this instance, it typically refers to rings that have been designed according to older, more antiquated styles and fashioned, such as filigree and small beads of metal known as 'milgrain'.
Vintage engagement rings are often highly intricate, although they will all feature significant differences. While one ring could be designed according to the straight lines and geometric shapes of the mid-century, another could be designed around the flowing, botanical style of Edwardian jewelry.
Can You Customize Your Own Ring?
Yes, this is an excellent way of combining multiple design elements together, such as cathedral and pavé, to create something perfectly suited to your partner's tastes.
If you're tempted to go down the customization route, the most important thing to remember is this: only a jeweler with many years' worth of practical experience in the design and creation of fine jewelry will be able to guide you through the process.
Maybe you've got the ideas already – then again, maybe you haven't. Either way, you'll need to collaborate with the jeweler to harness those raw concepts into something strong, beautiful, and unique.
Some websites offer a customization platform but, in our experience, this is only ever useful for gathering your ideas and learning the basics of engagement rings. When the time comes for you to part from your money and hold that ring in your hands for the first time, it should only ever be with a real jeweler, in a reputable local jewelry store.
The Practicalities
Take your mind off sparkle, shine, style and symbolism for a minute, and review some of the more practical factors involved in picking an engagement ring setting.
What is the Most Durable Engagement Ring Setting?
The bezel setting, although any well-crafted setting from a reputable jeweler will last for decades, if properly cared for.
Prongs are perfectly capable of holding a diamond in place, even if they look like they're just barely pinching the narrow edge of the stone. This is part of the beauty – the ability to look delicate while exerting a great deal of strength on the diamond.
They can, however, occasionally snag on clothing, or work themselves loose over time. A trip back to your jeweler once every twelve months will ensure they're checked, and that they won't suddenly fail on you at the worst possible moment.
They also leave a significant amount of the diamond exposed – a big benefit if you're looking for maximum light performance, but a worry if your bride-to-be follows a particularly active lifestyle.
If this is the case, we'd always recommend she take it off for any high-risk activities – but, if you think the bezel setting is up her street, this ensures a huge amount of protection for the diamond, and an additional line of defense against the setting failing.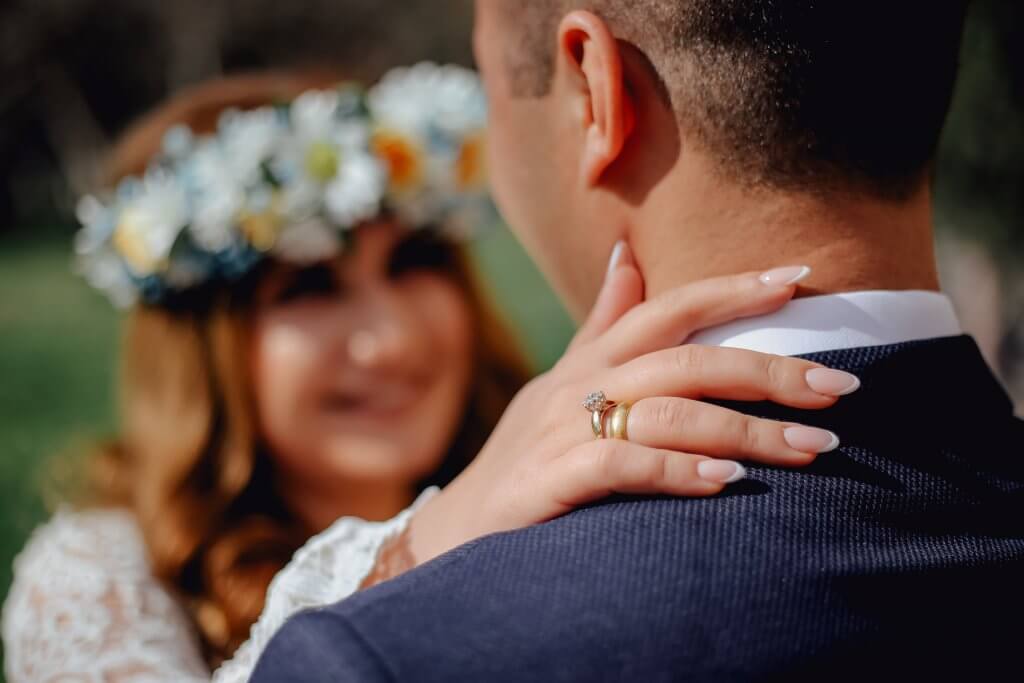 Do Engagement Rings Get Caught on Everything?
Prongs shouldn't catch or snag and, if they do, you can take them to your jeweler to have any minor imperfections filed down. Some more prominent diamonds, such as those held on top of a cathedral, will take some getting used to. With time and wear, however, they will begin to feel more natural on the finger.
The bigger the diamond, the more it's going to 'stick out'. Those first few days after the proposal, your bride-to-be will no doubt be hyper aware of her new ring; putting on a sweater, reaching down into her handbag, or even just running her fingers through her hair will definitely feel a little more difficult at first.
Still, hundreds of thousands of women wear their engagement rings every day and, after only a few days, it's natural to get used to having it there.
Once again, however, if you find a particular prong is constantly snagging on loose threads and clothing, it's worth taking it for a quick tune-up with the jeweler who created it.
What Ring Shape is Most Comfortable?
Provided the ring fits her finger well, and any accent stones have been carefully placed so that they sit smoothly along the shank, any of the most popular engagement ring settings are comfortable to wear.
While it is possible to find bands that are not round, the overwhelming majority of designs available from jewelers are perfect circles, designed to sit securely on the finger. It should be tight enough that it doesn't 'swivel' wrong side up – or, of course, slide off – and loose enough that it doesn't hurt to pull it over her knuckle, or wear for many hours each day.
Rings can be resized, but some settings (like the channel or the tension setting) make it much harder to do so. Your jeweler will make sure you have the correct size for her left-hand ring-finger before they progress with the design.
For added comfort, you might want to opt for a half-pavé, which will leave the part of the band facing the palm smooth, although a well-made pavé setting won't cause any discomfort.
How Much Should You Spend on an Engagement Ring Setting?
Less than you spend on the diamond, since that will always be the most expensive – and, arguably, the most anticipated – part of the ring.
A well-made ring setting can cost anywhere from four figures to six, depending on your budget and your expectations. It's impossible to put a number on it – that part will come when you have your consultation with the jeweler.
But, whether you're looking to make good use of a $10,000 budget or something even higher, one thing remains the same: the diamond should see the bulk of that investment.
Is it Expensive to Change Ring Setting?
It can be, although the cost will vary significantly depending on the new setting – what metal (or metals) you pick, and the level of time and craftsmanship it takes to draw up and execute the design.
While it is definitely possible to transfer a diamond into a new setting, it is much better to put a little more time and care into picking the setting that your bride-to-be will see when you first open that box.
The Diamond
While actually shopping for the diamond is a whole other story – one that begins over on our GIA Diamond Look Up, and ends with your local jeweler – it's important to consider what kind of diamond you're looking for, and how your setting can complement its shape and size to the fullest.
What is the Best Setting for a Round Diamond?
A four prong setting securing the diamond at the apex of an elegant cathedral setting will ensure that the diamond gets the very most light at all times – and, as a result, that the wearer always gets an unrivalled amount of sparkle.
You don't have to know much about diamonds to know that the round diamond represents the most popular choice because of its unparalleled sparkle. While this is undoubtedly true, your ability to get the most out of the round cut depends on the setting you choose.
All settings interfere with sparkle to some extent since all settings have to touch the diamond and block some of it from the light.
Four prongs are your best bet, although a round cut will suit any setting. For a more modern look, consider the tension setting instead.
What is the Best Setting for a Square Diamond?
A glittering halo is a great accompaniment to a square diamond, particularly if it follows a step cut (such as emerald or Asscher), since the extra diamonds will balance the subtler sparkle of the center stone.
All diamond cuts are highly versatile, and create highly unique designs with just the subtlest changes to the ring's anatomy. A Princess Cut Solitaire, for instance, creates a striking impression without any extra embellishment, and an entirely different impression (though equally striking) in a bezel or tension setting.
What Diamond Setting Provides the Most Sparkle?
Again, a four prong setting will ensure maximum sparkle.
However, the answer to this question does depend on the type of sparkle you're looking for. While a diamond solitaire enables the gemstone to be held in place while retaining as much of its natural sparkle as possible, other settings create more sparkle overall.
For instance, a cluster setting will generate a massive amount of sparkle, although these flashes will behave a little differently – and in a way that many jewelers and shoppers consider inferior.
The halo, coupled with a pavé shank – like this Rose Gold Oval Halo Ring – offers the perfect compromise here. By utilizing a large, center diamond and embellishing it with many, many smaller stones, you'll be able to get the best of both worlds.
Also, remember what we said about that hidden halo? Allowing your diamond to draw in even more light from a greater number of angles (in this case, from beneath) means an even more complex light performance for you and its wearer to enjoy.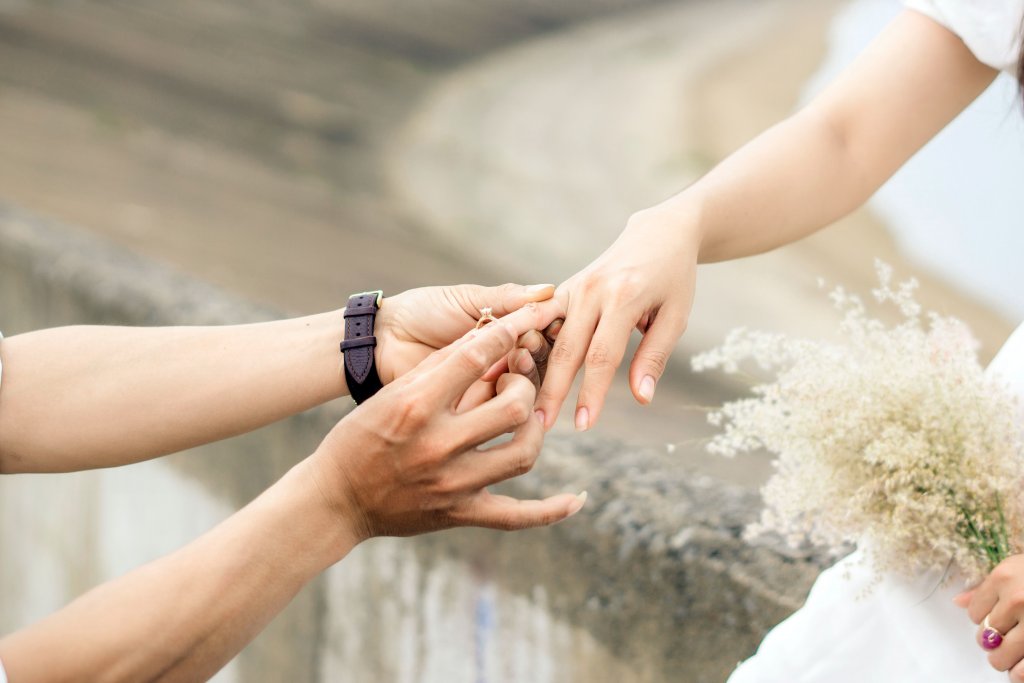 In addition to being beautiful, the right metal will be strong enough to look after your diamond, easy to maintain and capable of withstanding many years' wear.
What Are Precious Metals?
Rare, natural, beautiful, and highly valuable, precious metals include gold, platinum, silver, and palladium.
A picture alone is enough to give you a pretty good idea of the superior luster and almost luminescent quality of precious metals, but you really do have to see them in person to believe quite how exceptional they really are – especially in fine jewelry.
Gold or platinum, as both of these precious metals strike the perfect balance between beauty and strength.
Platinum is naturally strong, and will last for decades on the finger. Gold, on the other hand, is made strong. From the ground, it is far too soft to be used in jewelry. First, it needs to be alloyed (mixed) with strengthening metals, which will lower the karat of the gold while making it strong enough to be worn on the finger.
This is why 18 karat will be most commonly offered to you by quality jewelers – it is close to pure (24k gold = pure), but much, much stronger.
Some buyers wonder about sterling silver (that is, silver that has been alloyed for strength), but this metal doesn't offer the durability of a platinum or 18k gold ring, and is not advisable for your engagement ring.
Does Yellow Gold or White Gold Make Diamonds Look Bigger?
White gold, like platinum, can create a highly reflective setting capable of reflecting more light into your diamond, and making it look bigger and more sparkly.
For this effect, a higher karat white gold – ideally, 18k – will do the most for your diamond.
Still, there is something incredibly enticing about the contrast created between a diamond and a warmer hued metal like yellow or rose gold.
What's more, yellow gold is a much more traditional choice. It has stood as a symbol of enduring love for thousands of years, and represents the number one choice for anyone looking to create a more traditional piece for their bride to be. Jewelers only figured out how to use platinum in jewelry in the late 1800s – much more recently than gold.
Does Yellow Gold Affect Diamond Color?
Yes, which is why it's important to pick a diamond with a good color rating if you're planning on setting it within a yellow gold ring.
The brightest and most dazzling setting will be made from a bright, cool toned metal like platinum. This Platinum Pear Halo Ring is a great example of the dazzling, star-like qualities that are brought out of the diamond when it's set in a metal this cool.
Don't let that talk you out of the warmer hues – especially if your bride-to-be frequently chooses yellow or rose gold jewelry.
The amount a yellow gold setting will impact your diamond depends on the diamonds quality (something within your control), and the jeweler's ability to complement the gemstone. It's not going to turn your diamond yellow and, besides, many people fall in love with the unique way diamonds interact with their colored settings.
If you're still worried about it, but want to incorporate a little gold into the design, then a mixed metal engagement ring could be right up your alley.
Is Rose Gold Real Gold?
Yes – or, more accurately, it's an alloy of gold and other metals, like copper and silver, just like any yellow or white gold used in jewelry.
We mentioned above how gold has to be alloyed with other metals in order to be strong enough for daily wear, and it just so happens that alloying it with certain metals can change the hue of the metal altogether.
Copper's bright and rich pinkish-orange color combines with the yellow of pure gold to create something that is not only strong, but also a beautiful blush color.
So, how much gold does rose gold have? Up to 22 karats, but more typically around 18 karats. While rose gold is not pure gold, neither is any other gold used in the creation of engagement rings. It remains a beautiful and highly coveted choice for fine jewelry.
Can You Resize Gold and Platinum Rings?
In general, yes, though some setting styles can make this a much more difficult process.
As we mentioned above, ring settings that rely heavily on the precise placement of accent stones, or on the tension between two ends of the band, may need to be drastically altered in order to change the size.
In principle, however, both gold and platinum can be resized – it's just the rest of the ring you have to look out for.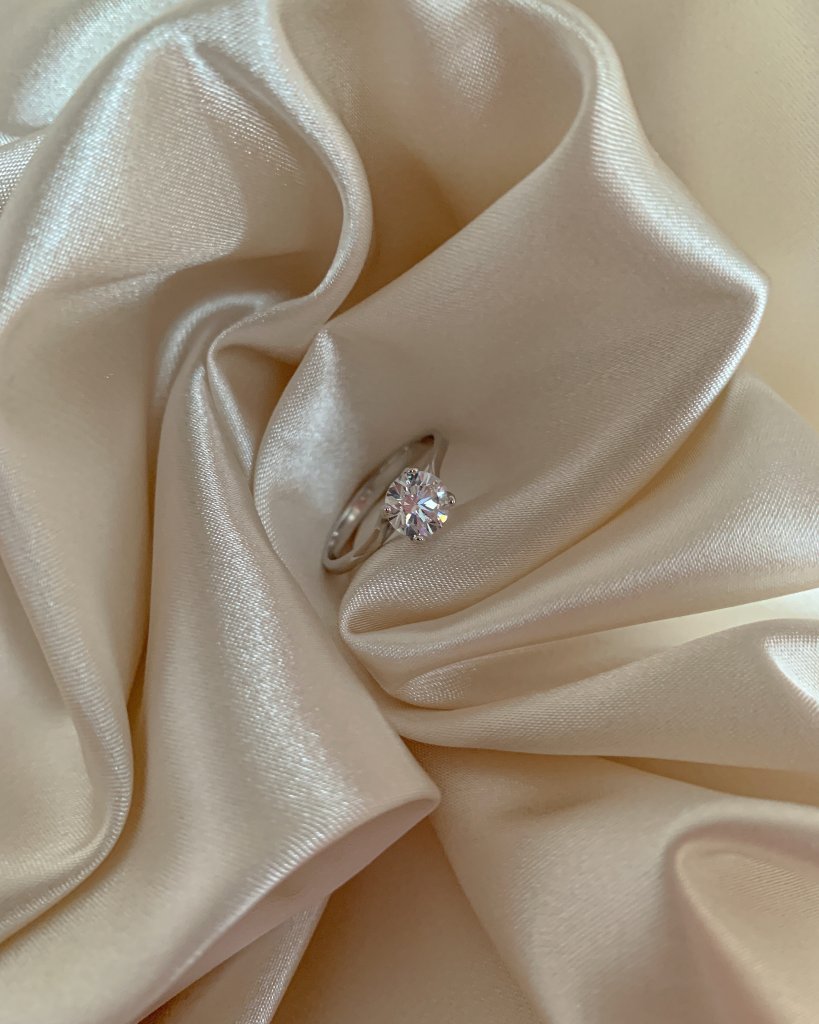 Finding The One
So, you've made it this far – and, while you're (hopefully) a little wiser to the differences between the most popular engagement ring settings, you're probably still totally in the dark about how to apply this knowledge to your partner
Picking anything for someone else is pretty tricky, but nothing puts you under more pressure than picking out an engagement ring for the love of your life. Not only does it have to be beautiful enough to convince her to say yes (although here's hoping you're enough to sweeten that deal on your own) but it also has to be something that she is excited to wear day in, day out, for the rest of her life.
What is the Most Popular Engagement Ring Setting?
Over the past century, the diamond solitaire has always remained the top choice for proposals. Still, in recent years the halo, pavé and cathedral have risen to the height of popularity.
With a beautiful diamond at its center, a solitaire engagement ring will never go out of style, or fail to dazzle her when you draw back the lid of that ring box.
Nevertheless, one of the biggest engagement ring trends of 2021 falls in favor of those little details, and how they can be used to create something entirely unique. The hidden halo, for instance, means that the ring will charm from every angle without losing the simple, understated look of the diamond solitaire from above.
Don't feel compelled to embrace the intricate details, and to pack as many accent stones and embellishments onto that ring just because. Remember that the diamond will do all the talking, and that even the plainest diamond rings look truly spectacular for that reason alone.
It's all about knowing your bride-to-be. Figure out whether her style is more understated and modern, or a little more 'out there', then work from there.
How Do I Know What Kind of Ring She Likes?
Talk to her friends and family, take a look at the styles of rings she frequently wears or keeps in her jewelry box, pay close attention when she talks about friends' engagement rings (does she like them, or just one particular feature?) and, of course, start putting her style into words.
We go into this in much more detail in our guide to finding the perfect ring for her but suffice to say that there are many, many avenues to explore – and that's before you consider the fact that she might want to have an open conversation about it.
Chances are, she's dropped at least a couple hints in the past – that, or you'll be able to gauge where she stands on the 'surprise' vs 'no surprise' debate by talking to her mom, sister, or best friend.
But, even if you can't extract many details from the people around you, your best port of call will be your jeweler. Provided you can summarise your girlfriend's taste to them, they will have plenty of valuable information to start with. You can work together on this – another valuable reason to shop with a local jeweler.
Should I Let Her Choose the Ring?
Yes, if you're both in agreement on it. If you'd rather keep it a surprise, consider talking to her about styles she likes, but going to the consultation alone.
If you're asking this question, chances are she's already dropped some hints about wanting to be involved in the process. It's important you're both happy with what you decide to do, but remember that this is a ring that she'll wear for decades to come, so her happiness with the design is what matters most.
Plenty of couples choose the engagement ring together these days, so you don't need to adhere to any 'tradition' for the sake of it. Come to this decision as a couple.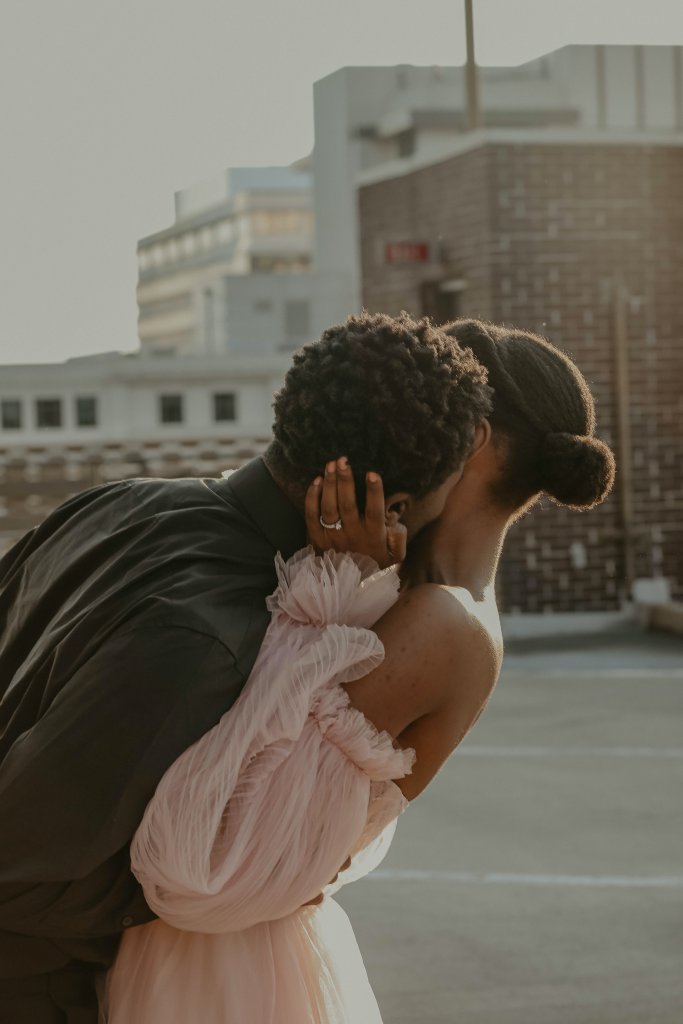 What is the Best Ring Setting?
For the classics at heart, the diamond solitaire, but other settings are capable of offering the perfect modifications to this traditional shape for anyone looking to introduce more sparkle, a sense of modernity, or even a more antiquated look into their ring.
The best ring setting will obviously be the one that appeals to your partner's unique tastes, fashion sense and, of course, her own expectations of what will be waiting for her inside that ring box. For you, this means that the best ring setting will be the one that you researched, felt inexplicably drawn to, and cherry picked with her at the front of your mind.
In a more practical sense, it will be one that has been designed and hand-made by a jeweler who has spent years honing their craft, and who is truly dedicated to the process of making a unique, strong, high quality and irreplaceable ring for your partner to wear for the rest of her life.
There's no need to feel overwhelmed by this part of the process; with research and time, the perfect choice will jump out at you, and, after that, you won't need to look back.