Key Takeaways
Wider shanks are a great alternative, particularly if your partner wants to make a bolder statement with their engagement ring – or flatter a slightly larger hand.
Generally, people prefer to keep the band of their engagement ring thinner than the band of their wedding ring, since both hold different levels of significance. This is not a definitive rule, but it is something to keep in mind while you're working on the design for the engagement ring.
Wider bands offer more scope for accents and intricate design work, and don't need to look super bulky or heavy.
Keep in mind that smaller diamonds make look even smaller if they're set against a particularly wide band. Balance is key.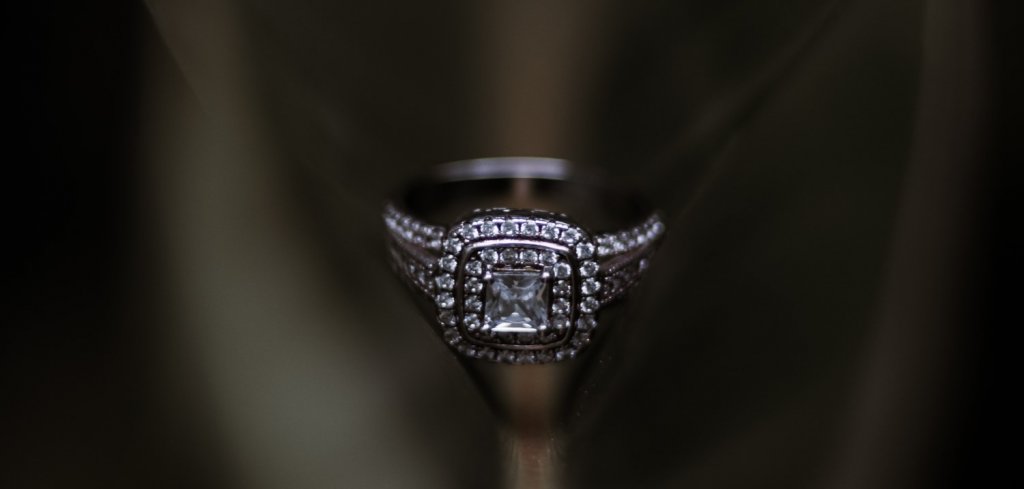 Wide engagement rings are a staple at any jewelry store. While they may not fit the bill of the 'traditional' engagement ring, they offer a lot of benefits that plenty of shoppers will feel drawn to.
Here's everything you'll want to know.
What is considered a wide band ring?
Generally, we'd say a thick band is anything above 2.5mm in width. It could be a lot more – closer to 5mm.
There's no universal opinion on what makes a ring band skinny, normal, or wide, and it doesn't matter which 'official' category your ring fits into. One ring could look wide on one finger, but normal on another, so it's just about what kind of style you're looking for, and how you describe it to your jeweler.
Is an 8mm ring too wide?
Not necessarily. 8mm is a more common size for men's wedding bands, since a lot of women prefer a daintier band, but there are absolutely no rules when it comes to personal preference.
Obviously, 8mm is going to make a pretty big statement, so we wouldn't recommend it for an engagement ring unless you're sure the ring's intended wearer will definitely appreciate it. If you're not so sure, stick to the 3mm – 5mm range, just to be safe.
Should the wedding band be wider than the engagement ring?
There's no hard-and-fast rule about this, but, for the most part, couples do prefer to keep the shank of the engagement ring narrower than the wedding band.
This is symbolic, more than anything else, since the wedding band is regarded as the 'more important' of the two rings. It also tends to look better and more organized on the finger. The wedding band traditionally sits at the base of the finger, with the engagement ring on top, so stacking them in order of size looks the most cohesive.
Then again, plenty of people have gone against the grain here and chosen a wedding band skinnier than their engagement ring. It's not a big deal, and it doesn't negate the meaning of either ring.
One thing to keep in mind, if you are planning on sticking with tradition, is that you could wind up running out of room on the finger. If your engagement ring shank is, say, 4mm, and your wedding band is 5mm, then that's a lot of skin covered. Plan ahead, and talk to your jeweler if you're confused.
Thick Band Engagement Rings: Positives
There's plenty of reasons to explain your attraction to wide band engagement rings. Here are some of our top arguments in favor of adding a little extra weight into the shank.
Thick Band Engagement Rings: Negatives
Any design choice you make will have its downsides – even if you opt for the simplest solitaire design possible. Here's what to consider for a wider shank:
A higher cost
The cost of any engagement ring is determined by a lot more than just the size of the shank, but a larger shank does mean that, in the very least, you're going to have to invest more into the materials your jeweler needs in order to create it.
If you're looking at a pavé or channel setting, or any decorative filigree or milgrain, then covering a wider shank will also take a higher investment. The difference may be relatively minor, but, if you're on a tight budget, it's important to consider this beforehand.
Less space
As we talked about earlier on, a thicker band inevitably requires more real estate on the wearer's finger, which means there's less space for the wedding band and, eventually, an eternity ring. There are ways to work around this (for instance, giving up on the tradition that says wedding bands have to be the larger piece in the collection), but the solutions aren't for everyone.
Can make a diamond look smaller
This one all comes down to perspective. If you hold a one carat diamond against a 0.2 carat diamond, it's going to look pretty big; if you hold it against a 5 carat diamond, on the other hand, then it's going to look like a pretty modest stone.
The same goes for your ring design. A floating diamond, or one held in place by four prongs instead of eight or ten, is going to appear bigger than one that's swamped in metalwork.
Similarly, a diamond with a diameter of 6mm is going to look a lot more impressive against a shank with a width of 2mm than it is against a shank of 6mm.
It's not always as cut-and-dry as this. A higher setting can be the solution, or something like a halo, but it is something to keep in mind.
Not as 'dainty' as a regular or skinny band
Bulkier rings are great, but they're not for everyone. A thicker band can lack the same elegance and svelte appearance that other ring designs achieve, which will mean that they don't appeal to everyone.
In this instance, it's all about knowing your partner – what they like, how they dress, and whether or not they are hoping for a ring that breaks from tradition, and makes a bolder statement on their finger.
Can be less comfortable
Yes – even though we put 'comfort' in the plus column, the feel of a wide engagement ring on your finger can also be a negative. Our skin needs to breathe, and, for some people, a particularly wide band can get uncomfortable throughout the course of the day.
If this is the case, it could just be that you'll want to lose one or two millimeters. You don't necessarily need to drop right down to the minimum shank width your jeweler will allow, but find a comfortable middle ground between the two extremes.
So, How Wide Should an Engagement Ring Be?
There is no right or wrong. You want the ring to be comfortable to wear, flattering on the finger, and to look great. Most importantly, you want it to be perfectly suited to the wearer, which means there is no universal 'right' or 'wrong' here.
Wide engagement rings are not for everybody. In terms of beauty and comfort, it's a case of approval being in the eye of the beholder (or, in this case, the wearer).
Then again, a lot of people love wider engagement rings. They're bold, blingy, and very flattering.
For you, this means doing your own research into your partner. Take a look at their existing jewelry collection, find a way to tactfully broach the subject, and figure out for yourself whether it's the right call or not.