Key Takeaways
The Baguette cut is unique, in that it is very rarely used as a center stone. All of the other shapes we talk about on WillYou.Net are used to great effect, even in solitaires, but the Baguette tends to take a backseat.
This is primarily down to the very low number of facets the shape features. With so few facets, it produces a very low key light performance – even in comparison to other step cuts, like the Emerald cut.
The Baguette is best used as an accent stone. Its structure is highly reminiscent of Art Deco styles, which makes it perfect for bringing vintage engagement ring designs to life.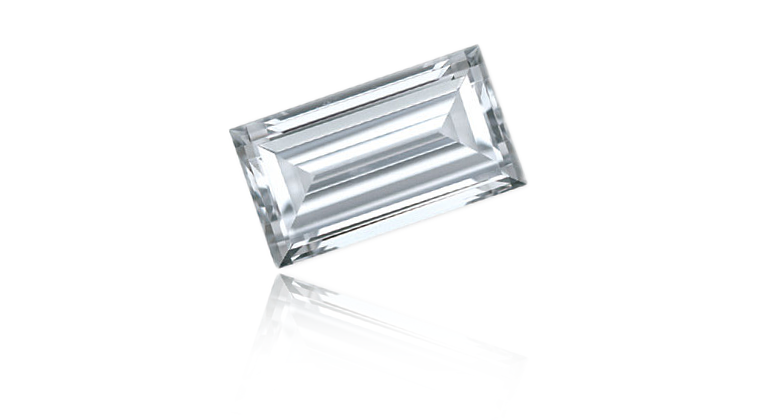 One of the first things on shoppers' minds when they start looking for a diamond is shape. Unlike aspects of quality (like the Four Cs), shape is something we can feel certain preferences toward whether we know everything there is to know about diamonds, or nothing more than the absolute basics.
It's also likely to be one of the things your partner has hinted her preferences for in the past, since simply altering the shape of a diamond can have a profound impact on the ring's entire vibe. The Round Brilliant may be the most traditional, for instance, but the Emerald is the most vintage.
And, finally, it matters because shape influences sparkle significantly. Most of us know that the Round Brilliant wins on sparkle, but there's a long spectrum of options between that and the more elegantly subdued Emerald and Asscher. Whether they come and go with the trends, or remain evergreen, every shape gets its time in the sun.
Then again, there's the Baguette cut to consider. While it's a common sight on engagement rings and other diamond jewelry, the Baguette rarely takes center stage. It's beautiful, sophisticated, and highly effective when used, but it's almost always thought of as a better accent than center stone.
What Does a Baguette Cut Look Like?
The Baguette cut is a rectangular step cut, which means that its facet pattern is similar to that of the Emerald and Asscher. Its facets are longer, and there are far fewer of them – fourteen to be exact, which is significantly less than the super-sparkly Round and Fancy cuts, which tend to have more than four times as many. Also, unlike the beveled corners of the Emerald cut, the Baguette's corners are pointed.
The Baguette can be a perfect rectangle, or it can taper off at one end, creating an elongated trapezium shape.
The main thing to note about the Baguette, however, is the fact that you are pretty unlikely to see one large enough to feature in the center of the diamond. They tend to be of a much lower carat weight – although not as low as melee diamonds, which are commonly used in halos and pavé settings – and used as accent stones, or channel set within the shank.
One of the best examples of this is Princess Grace of Monaco's Cartier engagement ring, which featured an Emerald Cut diamond flanked by one Baguette cut diamond placed on either side of the center setting. This created a very sophisticated shape reminiscent of Art Deco architecture, and an elegant alternative to the highly brilliant Round cut stones so often used in settings.
After all, owing to the fact that the shape features such a small number of facets, another defining characteristic is its lack of sparkle. The shape catches the light beautifully, but using it to flank your center stone will not create a ring that erupts with brilliance and fire whenever the light hits.
Baguette Cut History
The Baguette Cut was first introduced in the 1920s, when fashions favored simplistic lines and geometric shapes. They represented the total opposite of the Round Brilliant – the most recent version of which was being developed and perfected around the same time.
Not only were they favored for their simplicity, but also for their versatility. Their small size and regular shape meant that they held a lot of potential for creating unique designs, while retaining a more minimalistic, symmetrical aesthetic.
Baguette Engagement Rings
As we mentioned above, it's very rare for Baguette diamonds to be given 'center stage' in jewelry. It's not totally unheard of, and some designers have been paying closer attention to the cut in recent years. For instance, Suzanne Kalan has been dubbed the 'Queen of Baguette Diamonds', as a result of her work with the often-underappreciated shape.
For the most part, however, if you like the shape of the Baguette you'll want to discuss ways of incorporating it into your design with your jeweler, rather than designing the entire ring around it.
You can do this in a number of ways…
Channel Set Baguette Engagement Rings
A channel setting is an excellent alternative to the more common pavé. Rather than being held in place by prongs, channel set diamonds are held in place by invisible grooves (or channels) cut into the shank (band). This creates a much more minimalistic appearance without any extra metalwork intruding on the diamonds themselves.
Baguette diamonds can be channel set East-West, meaning that they run horizontally across the band, or North-South, which can have a more elongating effect on the wearer's finger.
This option makes for a great design element for both engagement rings and wedding bands.
Three Stone Engagement Rings
The three stone design is highly versatile, and looks totally different depending on the shapes, sizes, and arrangement of the three center diamonds. Jewelers will often recommend that you give greater priority to the center stone, and opt for the two side stones to be slightly smaller – although defying convention also creates some captivating results.
The Baguette shape pairs well with other step cuts – and, in doing so, you can easily achieve those Art Deco styles we mentioned above. Utilizing a tapered Baguette on either side can create the illusion of a larger or more prominent center setting, which is great for drawing the eye to the main diamond.
But it also pairs well with the Round or Fancy cuts, and offers a great contrast between the vivid sparkle of the center stone, and its own graceful shine.
For a more modern look, you can consult with your jeweler about changing the orientation of the Baguette diamonds. While vertical and horizontal arrangements are more common, diagonally-set stones are great for putting a twist on tradition.
Baguette 'Ballerina' Cluster Rings
We've written about cluster rings in the past, and the fact that they're typically associated with lower cost designs that utilize smaller, cheaper diamonds instead of one larger, center stone. They're seen as less desirable for the simple reason that, the smaller the diamond, the harder it is for the wearer to appreciate the beauty of the stone, or its light performance.
There are, as always, plenty of exceptions to the rule, though, and cluster settings can be designed to great effect.
But what is a ballerina setting? One that features a center stone, surrounded by a solid ring of Baguette diamonds, said to resemble a ballerina's tutu when viewed from above. These Baguette diamonds typically vary in length, and that helps to create the more irregular, tufted shape of a tuille skirt in motion.
Similar in style to the Flower setting, the results can be spectacular, and often resemble some of the more ornate, vintage designs of the twenties and thirties.
Something to note about Ballerina rings, however, is the fact that they're a lot more vulnerable to breaking or snagging than some of the more popular engagement ring shapes. Baguette diamonds aren't the strongest cut, as a result of their pointed corners, and the irregular edge of the setting means that the wearer will be far more likely to damage it throughout the day.
Are Baguette diamonds out of style?
No. The Baguette is one of the simplest shapes out there and, while it may not be worthy of the center setting of your ring, it's got a lot to offer ring design.
Sure, we're a lot more likely to make a beeline for the more brilliant, fiery shapes, but there's something to like about a shape that isn't expected to be the most important part of an engagement ring. Its value as an accent stems from its versatility, and that offers anyone interested in designing a ring from scratch a long, long list of options.
We doubt a shape like this could ever be considered in or out of style. It's far too useful and, like the Solitaire itself, far too simple to float in and out of favor.
Is the Emerald cut the same as the Baguette?
No. The Emerald cut has more facets – typically 57, which is 43 more than the Baguette – and beveled corners. It's also far more commonly used as a center stone in engagement rings, or other pieces of diamond jewelry.
There are, of course, some similarities, but the two shapes offer totally different benefits on the jeweler's bench.
Our Summary: Should You Go for a Baguette Diamond?
If the sort of ring you're after needs a strong accent, then yes – but don't focus your entire search around the Baguette cut.
It's very useful to keep your knowledge of the Baguette cut in the back of your head while you think about the sort of design you'd like to create or find. It's a great option for any sort of accent, or for decorating the shank of the ring, but it's not worth committing to the idea of utilizing the Baguette right from the very beginning.
Why? Because it's pretty much a given that another shape – the shape of your center stone – will matter a lot more than the Baguette, and that this unique and handy little shape will complement, rather than take center stage.