Key Takeaways
A ring's prongs may not seem like the most pressing concern at the beginning, but it is a part of the metalwork which should have your focus.
They can add a beautiful, contemporary feature to your diamond.
There are many options, including round prongs, claw prongs, tulip prongs, V-shaped prongs and flat prongs.
Any of these will offer a great bit of extra detail to your ring, and most importantly, they will be a good complement for the diamond center piece.
Make sure to look closely at the diamond and work out which of the prongs will work best with it.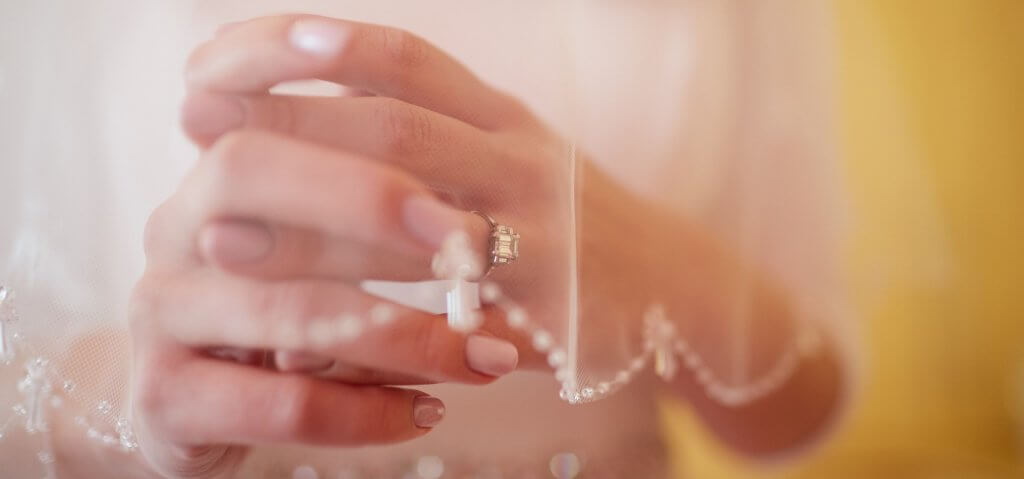 The process of picking out an engagement ring tends to start off with a focus on the bigger picture. Most people take on the task of finding a diamond, picking out a style of ring, a metal, and their accents before they ever start to home in on the smaller, finer details. It's understandable – and, if you ask us, the best way to do it.
But, if you've made it this far, chances are you're ready for some of the intricacies associated with creating a ring.
So, while your choice of prong may not have started out feeling like the most pressing concern, the time has come to focus all your attention on this tiny (though truly vital) bit of metalwork. Responsible not only for keeping your diamond central, but for keeping your diamond from disappearing between the floorboards, down a steam grate, or into that void between the platform and the subway, you've got to place a lot of faith into these little drops of metal.
Beyond the pragmatic, however, prongs can add a beautiful, complementary feature to your diamond, and reviewing all the options is the best way to ensure every element of your ring's design is perfect.
Round Prongs
The classic design feature, round prongs offer little in the way of decoration, but they certainly do the job – and they do it discretely enough that the diamond is left as open to the air and light as possible.
Rings can feature four or six prongs – or more, if you want to turn them into a design feature, rather than have them as nothing more than a technical requirement of the ring – and the number you settle on will depend on your own preferences. More prongs limit sparkle (though, admittedly, only marginally), while fewer prongs make the diamond slightly more vulnerable to chipping or falling out (though, once again, only marginally).
Round prongs are, as the name suggests, smoothly rounded – a little like a tiny drop of water. They create a small overlap at the diamond's edge and, as with any prongs, conceal a small 'groove' that the diamond's girdle sits within, to ensure a tight hold on the diamond.
Are Round Prongs Secure?
Yes, round prongs are very secure. They have been used to keep countless diamonds safe on their owners' fingers for generations, and shouldn't be underestimated simply because they are small and unobtrusive. Sure, you'll want to get your prongs checked over by a jeweler for early signs of wear – generally, every six months or so – but that's no big deal, and doesn't necessarily mean your prongs are wearing themselves out.
Pros: classic, unobtrusive, and very secure.
Cons: some people will consider them a little 'middle of the road' since they're the obvious choice – particularly for the traditional solitaire.
Claw Prongs
Claw prongs bear a resemblance to round prongs, although they add a little flash of modernity to the design. As you can imagine, claws are slightly more elongated and pointed than round prongs. Shaped a little like canine teeth, they typically overlap the diamond a little more, but sit a little closer to 'flush' with the diamond's surface.
Again, there's no specific rule stating how many claws you need on your ring, although four typically remains the standard. Some designs utilize just three, but this is definitely a bigger risk – and, for obvious reasons, fewer than three is a definite no-go.
Since claws overlap the diamond a little more, four tends to be the favorable choice, or the diamond's definition could risk being obscured.
Claw prongs look great alongside a knife-edge shank, which can mirror the edgier shape of the prongs for a wholly contemporary look.
If you're particularly fond of the claw prong setting, then you might consider a double claw, which creates more of a focal point at the ring's edge.
In general, yes, they're a little stronger than other prong types, simply because the nature of the design means that these prongs reach further over the diamond's crown than, say, round prongs. The added security is relatively minimal, and you don't need to feel as though the claw prong is the only safe option out there – but, if you're a known worrier, then claw prongs might offer the extra security you need for your diamond.
Are Claw Prongs More Secure?
Pros: a little edgier and more modern than round prongs – and particularly striking in a contrasting metal, like rose or yellow gold. Plus, they're very secure.
Cons: typically, they do cover a little more of the diamond, simply because of their elongated shape.
Tulip Prongs
For something that adds an extra element to the center setting without overwhelming the diamond in metalwork or accent stones, tulip prongs are a great choice. From the face-up view, these prongs look practically indistinguishable from traditional, round prongs but, from the side view, you'll notice a distinctly floral look.
A tulip prong is created using two separate pieces of metal, set in a petal-like shape, which join at the top and create a single prong. It's a little like a basket setting, but with that distinctly floreated silhouette that enhances the diamond, rather than competing with it.
Keep in mind that, to realize the full potential of the prong shape, it's typically the case that these designs will feature six to eight prongs, rather than four.
Pros: one of the best ways to make a real feature out of your ring's prongs, and a great touch for anyone with a feminine, floral style.
Cons: not quite as subtle as the more traditional options, so don't consider it if you're looking to keep the ring's design minimalistic or streamlined.
V-Shaped Prongs
V-shaped or V-prongs are used to protect the corners of a diamond. Princess and Marquise cuts, along with Pears and Hearts, all feature delicately pointed corners that can be vulnerable to chipping or breaking during usual wear.
The best way to protect against this is to place a prong over the vulnerable corner, in order to prevent it from getting knocked or scraped.
For a lot of shoppers, this can feel like a setback, since covering the corner with a rounded prong inevitably obscures the sleek, sharp shape of the diamond.
V-shaped prongs form a right or acute angle that perfectly mirrors the original shape of the corner or point, while offering an excellent level of protection against the outside world. The effect is a little like a very small open bezel, although it leaves plenty of the diamond open to the light.
A V-prong is a little more obvious than a subtle round prong, and, in the case of shapes that feature a combination of curves and points (like the Pear), you will have to combine a v-prong with another type of prong.
Pros: modern and sleek, the v-prong accentuates the shape of the diamond while offering a strong protective layer between the diamond's weak spots and the outside world.
Cons: not as subtle as some of the other options on this list, and can only be used exclusively on symmetrical shapes like the Princess.
'Tab' or Flat Prongs
Flat prongs are a lot less conventional than round or claw prongs, but they're a great, contemporary alternative that can prove a lot easier to wear – and, at the same time, offer a great contrast in shape to the softer cuts like the Round Brilliant and Oval.
Flat prongs behave like any other prongs but, even more so than claws, sit a lot closer to flush with the diamond's crown. While still offering a lot of strength, flat prongs appear a lot thinner.
They can appear a little like tiny leaves curling over a flower bud, or they can appear a lot more modern and geometric, depending on the rest of the ring's design.
How do you smooth out a prong?
A jeweler can use a special file to gradually smooth out a prong. Some people choose to have this done after the ring has already been made, since it can help to minimize any snagging that the wearer is experiencing.
Pros: great at protecting the diamond's girdle, and avoiding any annoying snags against clothing. It's a good alternative to a bezel if you like the vibe of the setting, but don't want to cover too much of the diamond against the light.
Cons: The angular shape they create can look at-odds with some diamond shapes, but this depends on how the individual ring is designed. For instance, four straight, square tab prongs on a Round Brilliant may create a more angular illusion – or conceal a Cushion's characteristic, round corners.
Our Summary
Your ring's prongs might not be at the very top of your list of priorities when you first start out looking at engagement rings. After all, in a lot of designs, the aim is to minimize their impact on the diamond as much as possible – to limit the extent to which we notice them, and encourage us to 'overlook' their existence altogether.
There's nothing wrong with that and, for a lot of people, that will be the aim of the game. Some people choose to combine white gold or platinum prongs with a yellow gold shank, for instance, in the hope of camouflaging the prongs against the white of the diamond.
For others, however, the prongs themselves offer a great extra detail – and a good complement for the diamond. The popularity of the famous Tiffany setting from world-renowned jeweler Tiffany & Co., for instance, is testament to the fact that prongs can – and frequently are – seen as one of the best aspects of a ring's design.
As always, it all comes down to personal preference – what you think will complement your diamond the most, and what you think your partner will prefer to see when you pull back the lid of the ring box and pop the question.