Key Takeaways
The Channel setting shares some similarities with the more common Pavé setting but, once you know the difference, you'll find it easy to distinguish between the two.
The Channel setting is ideal if you want to decorate the shank of your ring with diamonds, but don't want to stick to the usual round melee stones. Consider a Princess or Baguette cut diamond for something more unique.
It does prevent even more of the diamond from being exposed to the light, which, in turn, reduces sparkle, but the light performance created by these smaller stones is still very beautiful.
The Channel setting is also very secure, since the stones aren't held in place by only a small prong of metal (which can, eventually, be warped or bent).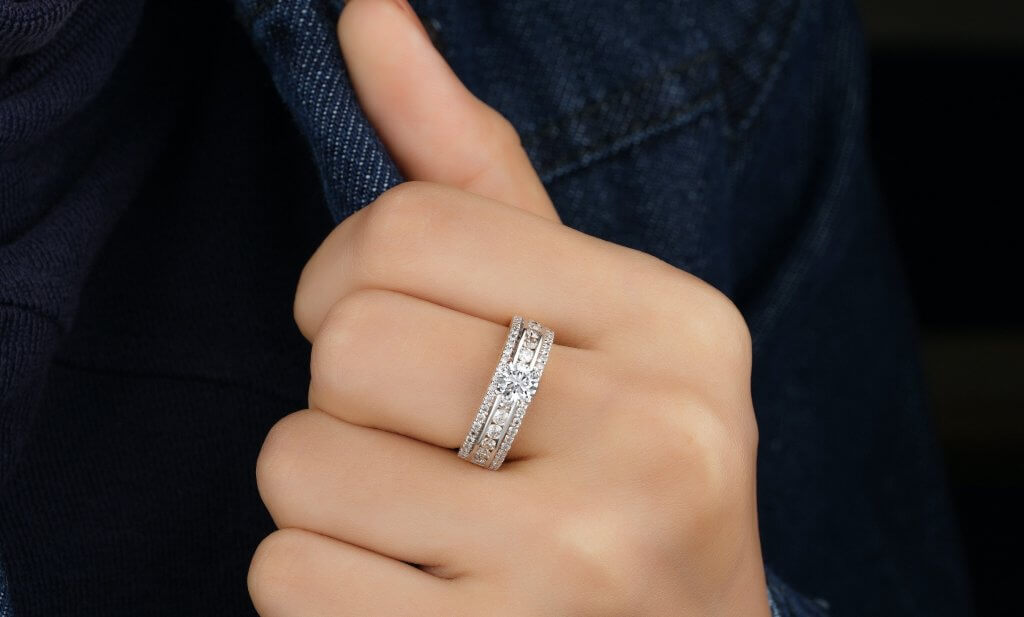 One of the most effective, timeless, and elegant ways to introduce a little more sparkle into your ring's design is to add a series of smaller diamonds into the shank (band). In the majority of rings we see day-to-day, this is achieved using the pavé setting, which utilizes tiny prongs or metal beading to keep those tiny diamonds in place.
The result is, of course, beautiful. It's one of the daintiest, most intricate options for creating a piece that sparkles with fire and brilliance from every angle.
There is, however, an equally attractive alternative. The channel setting shares a lot of similarities with the pavé setting, but once you understand the difference you will find it easy to differentiate between the two – and to understand why some shoppers prefer it.
What is a Channel Setting Diamond Band?
A band decorated with a series of small accent diamonds, held in place within a narrow channel cut into the band itself, rather than any additional metalwork. The edge of the channel protrudes very slightly over the edge of the diamond, stopping it from falling out.
The style is great for engagement rings and wedding bands, and it's the likelier choice if you want your shank to be decorated with diamonds that aren't Round Brilliant.
While Round diamonds can (and often are) used in the channel setting, Princess or Baguette cut diamonds are not typically used in Pavé settings, so this is the more versatile choice in that respect.
What is the Difference Between Channel Set and Pavé?
Pavé uses prongs, while channel set diamonds are held in place by that narrow protuberance at the edge of the channel.
From a distance – say a few yards – a channel setting will look pretty much identical to a pavé setting. Often, the diamonds used are a little larger – and sometimes a different shape, such as Baguette – but, for the most part, the casual onlooker won't spot a glaring difference.
Up close, however, the story is pretty different. As we mentioned above, pavé diamonds are secured in place by tiny prongs or beads. For some people, this adds to many additional details into the ring, and appears too ornate. While jewelers invest a lot of time and skill into keeping metalwork to a minimum, the setting requires a certain amount to be present between each diamond.
The channel setting is an excellent alternative. The diamonds are very secure, but they also appear to be floating in place. This also means that the setting can be a little more comfortable to wear, as it's not going to snag on clothing, which can be a slight issue for some owners of pavé rings.
Do Channel Set Diamonds Sparkle?
Yes, but you may notice a slight loss of sparkle when you compare a channel set ring with a French pavé ring.
This is simply because of the fact that a French pavé setting allows a lot more light to reach the diamonds, particularly on the sides. Designed to expose a 'v' shape side profile of each pavé diamond used, this setting is a lot more delicate than the channel setting, but will help the stones' light performance play out better.
In a channel setting, only the table and crown of the diamonds are visible. When light moves across the surface, it will sparkle and reflect off the diamond, but light performance will be a little more limited.
Still, the effect is beautiful, and if you've got an excellent center stone, a slightly more subdued sparkle from the accent stones shouldn't be a dealbreaker for you. As you can imagine, Baguette diamonds will sparkle less than Princess cut diamonds, and Round cut diamonds will sparkle even more than that. It'll be subtle, but powerful.
FAQ
While there are a lot of benefits to picking the channel setting, no choice comes easy when you're shopping for an engagement ring. For that reason, here are the most frequently asked questions about channel settings, answered.
Can diamonds fall out of channel setting?
It's very, very unlikely to happen, since the diamonds are held in place by a single 'lip' of metal, rather than individual (and very small) prongs.
We're not suggesting that the pavé isn't a safe and secure choice for an engagement ring, because it is. Provided you pick a good jeweler, either a pavé or a channel setting will be a very secure choice – even for a ring that's going to be worn every single day.
In both cases, you'll want to remove your ring for sports, showers, baths, and bed – primarily to avoid dust, dirt, grease, and grime from gradually accumulating around the tiny diamonds.
Can you resize channel set ring?
In some cases, it's a possibility, but if the entire band is channel set, then it's unlikely you will be able to get it resized.
This is why a lot of people prefer not to get the entire band channel set. A half eternity band, where the channel setting ends halfway around the finger, and covers the 'shoulders' of the shank, is the safer choice if you're not totally sure about your partner's ring size, or would like to ensure that it's possible to resize the ring in the distant future.
It's an unfortunate misconception that any ring can be resized. In extreme cases, you'll want to get the diamonds reset within a new ring design, but this is significantly more expensive than getting the band resized – or, better yet, measuring the wearer's finger carefully before heading into the jewelry store.
Can you clean channel set rings?
You'll be able to give the surface a clean, and soak the ring in warm, soapy water to remove some grease and grime, but the channel setting may require the skill of the jeweler to clean.
This is because tiny bits of dust and grime can get into the channel, build up and, over time, dull the shine of your ring. This isn't a big deal, since it's a very good idea to bring your ring into the jewelry store for an inspection and more thorough cleaning every six months or so anyway, but it's something to keep in mind.
Jewelers have some advanced tools at their disposal, capable of deep cleaning jewelry without causing any damage or wear to the metals and precious stones. So, while you can do plenty at home, you can't overlook the value of returning to the jewelry store every once in a while.
Is the channel setting better than pavé?
It comes down to preference. Pavé is easier to clean, and generally produces more sparkle, but channel set diamonds are more secure, and the setting is more versatile for non-Round diamonds.
You'll never reach a definitive answer to this question, since countless rings are made using both settings each year – and both pavé and channel set rings will continue to represent some of the most popular and timeless styles around.
If you're eager to make the most secure and comfortable setting possible, even if it risks losing a little sparkle, then the channel setting is the way to go. Since the diamonds will be set almost flush with the shank, the wearer will be less likely to feel them rubbing or snagging during the day.
If you want to see as much of your accent diamonds as possible, and create the daintiest setting you can, then pavé might be the better option. While channel set shanks can be pretty slender, the technique of micro pavé enables jewelers to use very small diamonds – diamonds that might look a little lost under the lip of the channel.
Is Channel Setting Right for You?
Channel settings are classy, elegant, and great for adding a little extra sparkle into your ring without creating the 'glittery' effect of pavé, since you will find the diamonds to be a little more subdued within this setting.
They are a particularly good choice if the ring you're designing features an art deco style, since you can utilize the sophisticated Baguette cut to great effect there. This technique looks particularly striking against a white gold or platinum shank, although creating that contrast with yellow gold (or even rose gold) will make for a classic backdrop for your diamond.
Channel settings are also great choices for wedding bands, and eternity rings. The added comfort created by the diamonds sitting more or less flush with the shank means that wearers don't need to worry about the diamonds rubbing between their ring and middle finger, for instance.
In other words, the channel setting is a very strong choice. It's a little less common than the pavé setting, but it's important to keep in mind that part of the reason behind this is sparkle. With more light reaching pavé diamonds than channel diamonds, you'll want to make sure you've weighed up your options thoroughly before settling.
Your best bet? Ask your jeweler to show you an example of both setting styles before you settle on one or the other, and let your heart guide you the rest of the way.