Key Takeaways
Purchasing the right wedding band is just as important a task as purchasing the perfect engagement ring, but it's typically a much easier process, since wedding bands are a little less ornate and detailed than engagement rings.
Most couples choose to browse and pay for one another's wedding bands together, rather than keeping it a secret.
Wedding bands don't have to match, and can reflect both of your unique personalities.
It's best to return to the same jeweler who created your engagement ring, since you will already have that rapport that is so important to a big, monumental purchase like this.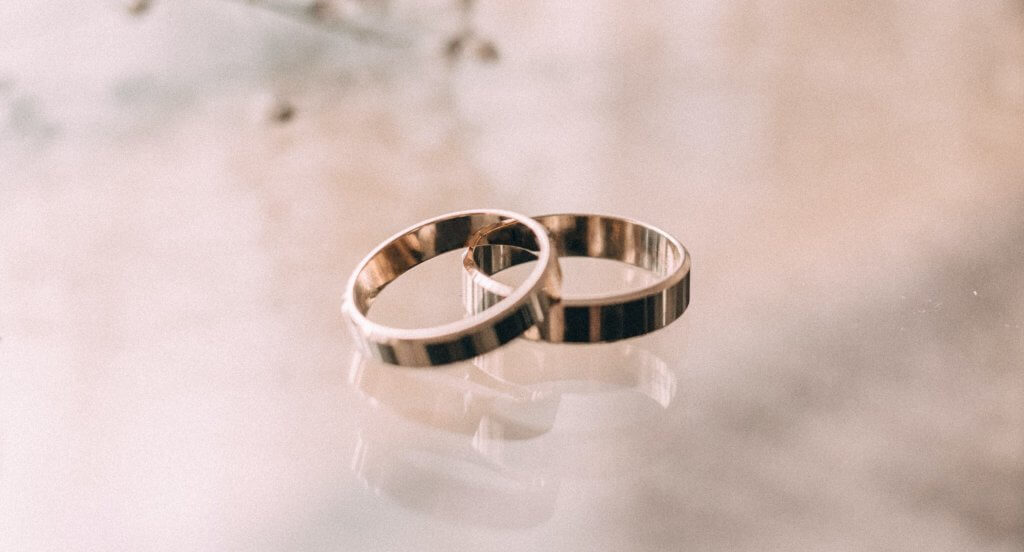 From the hindsight, wedding bands seem like a pretty simple subject. Unlike the engagement ring, they don't tend to feature any elaborate designs, or any larger diamonds. What's more, they don't need to be purchased in secret, so all discussion over metals, engravings, accents, sizes, and shapes can be kept out in the open.
Then again, these are rings that you will both wear for the rest of your lives. For both of you, picking out something comfortable, something that sits comfortably and aesthetically alongside your bride's engagement ring, and something that lives up to your expectations of what a 'wedding band' should really look like.
Taking all that into account means that picking out wedding bands isn't as simple as choosing between gold and platinum. It takes thought, and a little more of that ring-buying creativity you've acquired in recent months.
The Basics
Even the most basic wedding bands require plenty of thought. Get your head around the basics before working through the design.
What's The Difference Between A Wedding Ring And A Wedding Band?
These days, the two terms are used interchangeably, although 'wedding ring' actually refers specifically to a shank that has been decorated with small diamonds, creating a pavé or channel setting.
The most traditional choice is the wedding band: a plain, solid metal ring.
Where Should I Buy My Wedding Band?
Your local jeweler – preferably the same jeweler who designed and created your engagement ring – will be your best bet, as you can trust in the level of service they provide.
We've already mentioned how wedding bands are nowhere near as complex as engagement rings. For the most part, they're plain – or decorated only with a small flush-set diamond or pavé setting. And, unless you're specifically designing your wedding band around the shape of your engagement ring, they are typically a simple circle shape – something that's comfortable to wear day in, and day out.
The simplicity of the band you have in mind is not an invitation to skimp. A solid gold or platinum ring will always cost you, since these metals are both considered highly valuable. Cheaper alternatives tend to be gold plated, vermeil or "gold-filled" – all options that will start to lose their beautiful appearance after as little as a few months' of solid wear.
If you were over the moon with your engagement ring, then why put a strong relationship with your jeweler to waste? Returning to their shop is a great moment to celebrate this next milestone, and make sure that your wedding bands are in good hands.
How Soon Should I Buy the Wedding Rings?
Most wedding planners would recommend that you go and order your wedding bands at least three months before the big day itself, if not a little sooner.
Unlike the wedding dress, which needs to be fitted as close to the wedding day as possible, the wedding bands are safe to purchase and bring home in plenty of time. Sure, most jewelers will be able to hand them over to you in a matter of weeks, rather than months, but that's not taking into account the time you spend thinking over designs, costs, and metals.
Nobody wants to have to rush through this important step, so give yourself – and your jeweler – plenty of time.
The Design
While there will always be plenty of traditionalists out there, there is absolutely no need for your wedding band to conform with tradition, or meet expectations. Your jeweler will be able to talk through your ideas – and propose a suitable design – but here are a few of the most common questions from soon-to-be brides and grooms, answered.
Should a Wedding Band Have Diamonds?
It's up to the wearer. While undecorated wedding bands are traditional, plenty of men and women have elected to add a little something extra to the design – whether for style, or meaning.
Diamonds are by no means limited to engagement rings – or even just the brides of the world. For a groom, opting to have your jeweler create a flush setting with two small diamonds offers the perfect opportunity to represent you both within the band, without getting too flashy.
For brides, opting for a pavé shank can be a great way to complement the sparkle of your engagement ring, but you might want to consider how it'll sit alongside an eternity ring in the future.
What Shape Should a Wedding Ring be?
While most wedding rings are round, plenty of brides choose the chevron instead, as this shape can stack comfortably alongside her engagement ring.
This isn't always necessary. While a bulky halo setting may mean that you need to think about designing the wedding band around the engagement ring, something that holds the center diamond higher above the finger (like a Cathedral Setting) will probably fit fine alongside a round wedding band.
For rings that take up more space, you might want to consider talking to your jeweler about designing bridal set for maximum comfort. Besides, an irregularly shaped wedding band can look extremely modern and elegant, so don't feel stuck on the round band.
What Does It Mean When A Man Wears A Black Wedding Band?
There's no specific meaning behind black wedding bands, and the choice tends to come down to personal preference more than anything else.
Black wedding bands are pretty dramatic. Masculine, modern-looking and bold, they are the perfect choice for any groom looking to pick out a wedding band that really speaks to his own sense of style. There's nothing wrong with breaking from tradition and ditching gold and platinum in favor of a black titanium, black stainless steel, or tantalum instead – and, if you have a strong sense of what you like and don't like, it's by far the better option.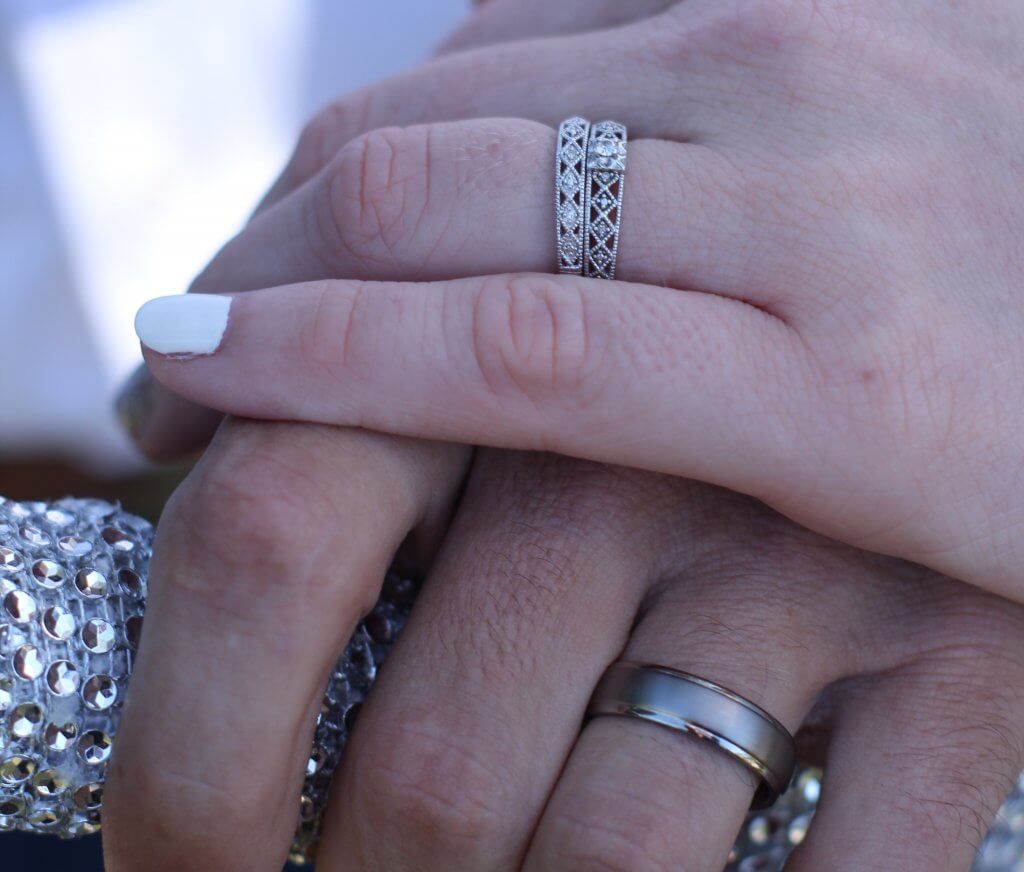 Can a Bride and Groom Have Different Colour Rings?
Yes! It's far better to embrace your differences and pick out two styles that suit each of you equally than to force yourselves to match.
If your bride-to-be wears gold jewelry, then chances are that you picked out a gold engagement ring, and that she'll want to keep the cohesiveness going and pick out a gold wedding band, too.
If you prefer the brightness of white gold and platinum – or the uniqueness of a tungsten or stainless steel band – then there's no use you settling with a gold wedding band for the sake of it. These two rings hold their meaning beneath the surface, and the way they look has nothing to do with what they represent, so don't get caught up on matching if you and your partner have different senses of style.
Wedding Ring Etiquette
Buying the wedding bands isn't just about booking up another consultation with your jeweler. Whether your family wants to be involved, or you're worried about another big spend, here's what you need to know…
Who Should Pay For Wedding Bands?
It's up to you as a couple to decide, but most couples elect to treat them like gifts, and purchase one another's rings.
In some families, the parents of the bride and groom like to take over a lot of the most important costs, and this might include the wedding bands – although we'd recommend waiting until they come to you, rather than the other way around.
If the two of you are taking on the bulk of the wedding costs together – or you just want to keep the rings, one of the most meaningful aspects of the ceremony, between the two of you – then heading to the jewelry store together and paying for one another's rings can be a great experience, and ensure you're both happy with the designs.
How Much Do You Spend On Wedding Bands?
Unless you're after a highly complex design, we'd recommend you set aside between $750 and $1,000 to cover the two bands. You might not need to use the whole budget, but it's better to set aside a little too much (and put what's leftover toward the honeymoon) than not enough.
Wedding bands are a lot cheaper than engagement rings, but, as we mentioned above, there are certain features you do not want to skimp on.
For a lot of people, gold is the obvious choice, but working out what karat type is right for you isn't quite so easy. You can take a look at our guide to gold before rushing to any conclusions, since balancing cost with beauty is key here. Again, never be lured in by gold filled or plated jewelry; even if you're opting for a 10K gold wedding band, you want it to be solid.
Also keep in mind that platinum and palladium are much more expensive choices than, say, 14K white gold, but definitely worth it if you can saddle the extra cost.
Our Summary
Taking on the wedding bands is a great moment for any couple. A lot of the wedding planning process centers on things that will last for that one day – the cake, the music, the dress, and the entertainment – but the wedding bands will last longer than all of that stuff combined.
For any couple, returning to the same jeweler who designed your engagement ring is not only the best way to ensure the same excellent quality and aftercare, but also to celebrate another milestone and to make a mini celebration out of the process.
Online, there are plenty of offers, but some of them are too good to be true, and the rest mean that you miss out on the experience of picking out your rings together, and looking forward to the day that you put them on for good.