Key Takeaways
The eternity ring is the ultimate gift for your partner, whether you've been married just one year, or fifty. Or, alternatively, it's a great way to celebrate the birth of your first child, and to thank your partner for the family you have created together.
Typically, eternity rings are decorated with a full or half pavé.
Since it uses melee diamonds, pavé tends to be significantly more affordable than a single center diamond, even though you will, of course, need more of them to cover the ring's shank.
Half pavé tends to be the more comfortable choice, so stick with this one if you're worried your partner will struggle to get used to wearing a full pavé band.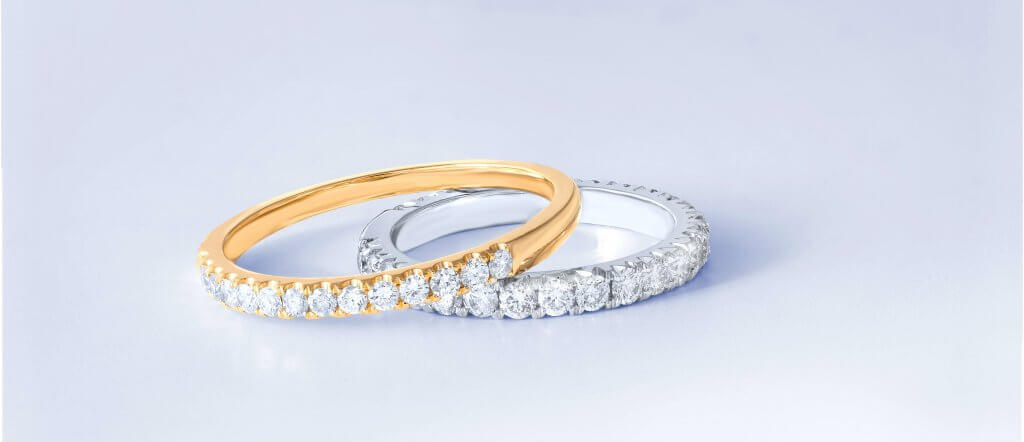 While promise rings, engagement rings, and wedding bands may steal the limelight when it comes to the romance of fine jewelry, the significance of eternity rings also holds a very special place in our hearts – even if we can't all agree on their exact meaning.
Delicate, meaningful, and, of course, beautiful, presenting your partner with an eternity ring is a great way of completing her bridal jewelry set, and marking another special moment in your lives together.
Still, the expectation for eternity rings is nowhere near as clear as it is for an engagement ring or wedding band. Here's everything you need to know, all in one place.
The Meaning
Eternity rings are rooted in ancient customs and rituals, although their precise meaning – and significance for couples – has changed dramatically over the years. This is, of course, part of their charm: commitment and love can be celebrated at any point in a couple's relationship, and the eternity ring is the perfect symbol of that celebration.
What Does an Eternity Ring Symbolize?
As the name suggests, an eternity ring is intended to signify your endless love and devotion to your partner, although the reasons for giving it differ from person to person.
As is the case with wedding bands, the unbroken circle of the eternity ring's band represents endlessness, while the small diamonds found along its edge represent love itself.
When Should You Receive an Eternity Ring?
While there is no specific time, most people regard two important milestones – a special wedding anniversary, or the birth of the couple's first child – as the 'right time' for the ring to be given.
Traditionally, the eternity ring was intended to be a gift presented after ten years of marriage, but this tradition has been modified and adapted by many, many couples over the years. For this reason, it is now seen as a fitting commemoration of the moment a couple become parents together, and a new symbol for their growing family.
The most important thing to remember is that there are no rules when it comes to eternity rings. Their meaning is open to interpretation, although their significance will always remain high.
Do You Have to be Married to Wear an Eternity Ring?
No. While many still choose to mark a wedding anniversary with an eternity ring, you might choose to commemorate a milestone in your relationship before you get engaged – or at the arrival of a new baby.
It all depends on your relationship, and how traditional your partner's approach to the stages of a relationship is. If you think a ring box is going to set her head spinning, then we would recommend that you think about getting a promise ring instead. This represents a milestone in and of itself, and one more fitting if you're planning on getting married further down the road.
Which Finger do You Wear an Eternity Ring on?
Traditionally, the eternity ring is worn on the left ring finger, on top of both the engagement ring and the wedding band.
The wedding band is worn closest to the heart, with the engagement ring in the middle. Together, the three rings represent the three most important milestones in any couple's life together.
Then again, for some women, wearing three rings on one finger is not the most comfortable. If her engagement ring features a particularly large setting or diamond, then you might consider getting her eternity ring specially designed to fit around the engagement ring as part of a bridal set.
If you're not sure that's going to work, then we'd recommend going with the traditional design and simply wearing the eternity ring on a different finger.
What is a Half Eternity Ring?
This is simply a modification of the eternity ring, featuring melee diamonds on the upper half of the band, and also commonly referred to as a half-pavé.
Whether you opt for a half eternity ring, or a full band of diamonds, the meaning remains the same. This is simply down to the preference of the wearer, and is often chosen as a more comfortable alternative to a full band of diamonds.
The Design
An eternity ring typically features a full or half-pavé band, with no center diamond. It is intended to sit comfortably alongside the engagement ring, much like the wedding band, without rivalling it for space or attention on the finger.
What is the Best Setting for an Eternity Band?
A pavé setting will capture the perfect combination of sparkle and subtlety that eternity rings tend to carry, although you do have other options that will produce similar results.
Pavé is a French term meaning 'pavement', and refers to a band that has been paved with many small diamonds (known as melee diamonds). In pavé, the diamonds are often Round Brilliant or Oval in shape, and are held in place by incredibly small prongs – sometimes known as beads'.
While Round Brilliant melee diamonds appear the most traditional, some buyers prefer to use diamonds of other shapes, like the Princess or Emerald. In these cases, a channel setting is often used instead, where the diamonds are held in place by a small channel within the band, rather than prongs.
Both create beautiful, though very different, results. Keep in mind that, just because the pave setting is the most traditional, that's not to say it's the best choice for your partner.
How Many Diamonds Are in an Eternity ring?
This can vary from less than ten to twenty, thirty, forty, or even more – depending on the size of the diamonds chosen, and how many rows are used.
The traditional design of an eternity ring features one or more rows of melee diamonds set within the band – but, beyond that, the specifics of the design are simply down to personal preference.
How Do I Choose an Eternity Ring?
Unlike an engagement ring, an eternity ring is not subject to the same level of secrecy and surprise, so many couples choose to pick out this ring together.
Then again, you might be intending to surprise your partner with an eternity ring as a holiday, birthday, or anniversary present. In which case, you'll want to consider many of the same details that would have applied when you picked out her engagement ring:
Setting Style
While channel set and pavé rings may sound similar, they're actually very different. One is better suited to creating a dazzling, all-round sparkle, while the other is better suited to showcasing a more unusual cut without adding extra metal between the stones.
Full or Half Pavé?
Don't be deterred by the phrase 'half eternity' – these rings are still as meaningful and special as a full band of diamonds.
Metal Color
While, traditionally, the eternity ring features a full pave – meaning that those melee diamonds will represent the focal point of the ring – your choice of metal will still peak through the sparkle and impact the ring's appearance.
Most people will choose the same metal they used in the design of their partner's engagement ring and wedding ring – or, of course, promise ring.
Platinum is the most expensive option, but it boasts a brighter shine than white gold, but can't rival the romantic, warm hues of yellow or rose gold if that
Size
By now, chances are that you know your partner's ring size. It's important to keep in mind, however, that pavé or channel set rings are very difficult to resize, so ensuring you've got the right fit before the ring is made is essential.
Budget
There's no price limit for eternity rings, and, as with any piece of diamond jewelry, it's easy to un up the cost significantly. Consider your budget, and use that as a guide.
How Much Should You Spend on Eternity Ring?
As with an engagement ring, there is no specific price anyone should pay for this piece of jewelry. Most eternity rings cost between $1,500 and $3,000, but they can cost significantly more for pieces with a higher CTW.
When it comes to eternity rings, CTW, or Carat Total Weight, is a very important subject to understand. Unlike rings that feature one solitaire diamond at the center, the value of eternity rings will be determined by the total weight of every melee diamond used in the band.
A CTW of, say, 0.5 tends to cost less than a 0.5 carat diamond, so these rings are often significantly less expensive than engagement rings, but a high CTW will mean spending substantially more on your ring.
As with any piece of fine jewelry, you want to invest into the craftsmanship that goes into it as much as the materials themselves, so we would always recommend you reach out to a trusted local jeweler, who can advise you on the specifics of your design, and what you'll need to pay.