Key Takeaways
The Marquise is a great shape with a lot of history behind it, but it's not one of the most popular shapes for an engagement ring. As a result, it's pretty affordable.
This makes it the ideal shape for making a statement, and creating something a little less conventional. While it's an old shape, it's perfect for ring designs with a modern, edgy vibe.
Thanks to its elongation, the Marquise is vulnerable to the bow tie effect – a band of reduced light that runs across the center of the stone. Not all bow ties are dealbreakers, but there's a fine line between a 'good' bow tie (one that adds depth to the stone) and a bad one, so don't overlook this important consideration.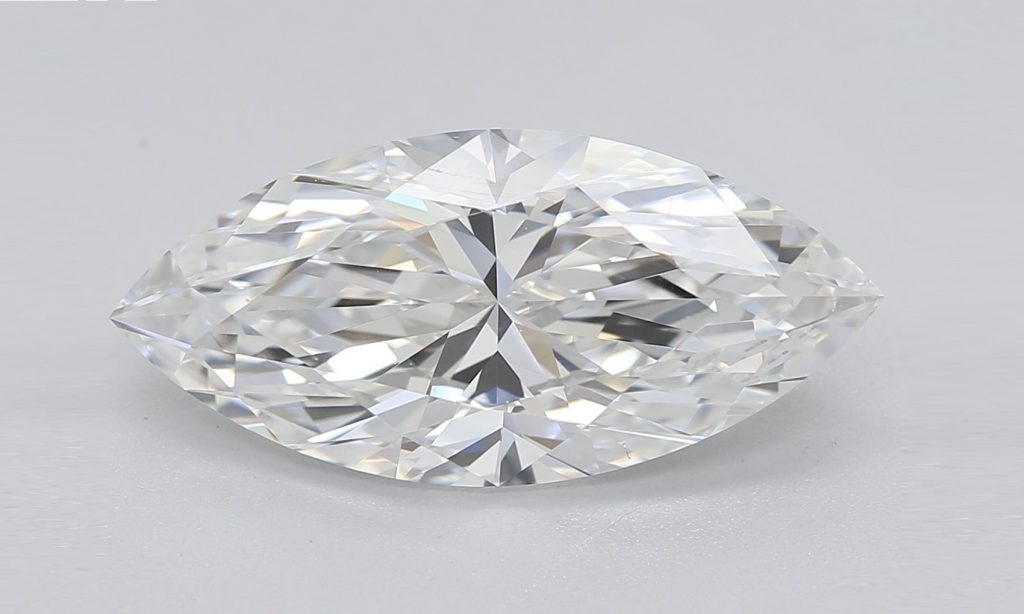 Every diamond shape boasts a rich backstory. Whether you're thinking of the mathematically engineered Round Brilliant, or the royal Asscher, the level of skill and ingenuity it takes to break new ground and create a never-before-seen shape will always entail a fascinating history.
However, the Marquise is one shape that inarguably stands head and shoulders above the rest in terms of its narrative – and, specifically, how it came to be.
But the Marquise's story is not all it has going in its favor. An incredibly beautiful and elegant cut, it remains one of the less popular choices for engagement rings – making it a perfect choice for anyone whose style tends to go against the grain, while still remaining chic and refined…
What Does a Marquise Diamond Cut Look Like?
Longer and thinner than the Round Brilliant, the Marquise cut was intended to resemble a closed mouth.
The Marquise shape is a unique, modified brilliant diamond cut that combines the length of the Marquise shape and the point of a pear shape on both edges. A marquise cut generally has 58 facets and an elliptical shape with pointed ends, leading to its nicknames as the football shape, boat shape, or eye-shaped diamond.
It also boasts the largest crown surface of any cut, thanks to its long and narrow size. Due to its unconventional shape, the marquise shape isn't the most popular diamond-shaped engagement ring.
This cut is typically worn vertically, although it can be mounted in an East-West configuration. It is favored for its length, which enables it to appear larger than many other diamond shapes, even when they share the same carat weight.
As a result of its status as a modified brilliant, the Marquise boasts a high degree of brilliance and fire and, thanks to its unique shape, a mesmerizing light performance that looks incredibly striking on its own, or surrounded in a halo of accent stones, like this striking Marquise Halo Engagement Ring in Platinum.
Marquise Diamond History
The Marquise shape dates back to the 18th century, when King Louis XV of France commissioned a jeweler to design a cut that resembled the lips of his mistress, Jean Antoinette Poisson, the Marchioness Madame de Pompadour. The "marquise" is a hereditary namesake between a duke and a count, and those with the title often times wore a marquise-shaped diamond. Marquise diamonds are known as "navette" diamonds, which means "little ship" in French. The marquise cut is also widely used with other stones such as rubies, emeralds, and sapphires.
Celebrities with Marquise-shaped diamond engagement rings, Victoria Beckham, and Catherine Zeta Jones, definitely stand out from the crowd with their stunning cut.
What Does Marquise Diamond Mean?
A 'Marquise' is a noble rank, used to refer to the wives of Marquis.
Here, the scandalous beginnings of the Marquise diamond cut are alluded to. Jean Antoinette Poisson was herself a Marquise, but the romance between her and King Louis XV is what made the history books – and many diamonds in the centuries that followed.
Is a Marquise a Vintage Cut?
Yes, it's considerably older than some of the diamond cuts that are popular today.
Yes, the reign of King Louis XV lasted between 1715 and 1774, which narrows down the timeframe for the cut's creation. That said, it doesn't have to be reserved solely for vintage engagement rings anymore, and a good jeweler will have the right eye for creating something much more modern…
Marquise Diamond Engagement Rings
The Marquise is striking and dramatic enough on its own, but, as one of the less conventional choices for popping the question, it's good to get to know the specifics of creating a Marquise diamond engagement ring before you jump to any conclusions.
Are Marquise Diamonds in Style?
Marquise diamonds are not consistently popular, although they never go out of style.
Marquise diamonds have been around since the 18th century. For hundreds of years, they have offered a classic and highly refined choice to those looking for something slightly more unusual. These days, they also offer an edgier alternative to the more traditional styles, breathing new life into what was once considered a pretty antiquated shape.
The sleek, minimalistic lines of this Platinum Marquise Cathedral Engagement Ring, for instance, are incredibly modern and dramatic – the ideal choice for a bride who likes to combine classic silhouettes with a more modern vibe.
Alternatively, this Twisted Rose Gold Marquise Engagement Ring lives up to the romantic history of the cut, lending a rosy blush to the diamond and a more vintage feel to the ring.
Do Marquise Diamonds Sparkle?
Yes, as one of the modified brilliant cuts, Marquise diamonds create a great amount of sparkle.
Obviously, none of the modified brilliants will sparkle quite as much as the Round Brilliant – but the Marquise is more than capable of creating a stunning light performance, with a great deal of fire, brilliance, and scintillation.
Of course, finding a sparkly Marquise certainly depends on its Cut quality. Symmetry, polish, and proportions all matter significantly to the overall beauty and brilliance of the diamond, and, below, we've provided charts to help you stick within those 'ideal' cut proportions.
But, given the diamond you choose is of good quality, the short answer is yes – Marquise diamonds have a great amount of sparkle.
So, fortunately for those considering the Marquise, it's possible to take advantage of a much lower price for a higher quality diamond.
What is Special About a Marquise Diamond?
Not only does the Marquise diamond possess a highly compelling backstory, but its shape is bold and rare enough that it'll always stand out.
It's pretty uncommon to run into someone wearing an engagement ring that features a dramatic Marquise diamond at its center. Even a ring that features this distinctive shape as an accent stone possesses its fair share of drama and flair.
In a way, this is similar to the Heart shape, which doesn't tend to 'fill many seats' when it comes to engagement rings. What sets it apart from the Heart cut, however, is the fact that its shape is far more versatile.
With the right ring setting, you could make the Marquise look as romantic and timeless as a Round or Oval cut. But, on the other hand, you could also design your ring setting specifically to show off an edgier and more contemporary side to the cut. Yes, it's much older than the 80s favorite, the Princess cut, and much more recognizable from its silhouette than, say, the Cushion or Radiant, but it's also open to interpretation.
In essence, the Marquise offers the best of many worlds. It can be vintage, modern, romantic, bold, take center stage or create the perfect accent to another diamond. Beyond the history and the first-impression, it has a lot going in its favor.
Is the Marquise Diamond Fragile?
Somewhat – and more so than some of the more robust shapes.
Given diamond's reputation for strength and resilience, their fragility and vulnerability to breaking is not the first thing that comes to mind. Still, it is important to take into account the fact that the Marquise two sharp points are far more susceptible to chipping or breaking than, say, the smooth and rounded corners of the Cushion, for instance.
The case is the same for the four corners of the Princess cut – they represent a weak spot, since the diamond is polished to a very precise point – as well as the characteristic point of the Heart.
This point can also snag on clothing, which is also something to keep in mind.
However, the right jeweler will prove to be your best ally here. It's possible to protect the vulnerable points of the Marquise using two extra prongs – which, themselves, have to be placed very cautiously – at the points of the shape. Contrary to what you might think, this barely encroaches on the diamond's beauty – and, with the right amount of skill, can complement it very nicely.
Nevertheless, if your partner leads a particularly active lifestyle, the Marquise may not be the best idea. It's perfectly possible to keep one of these diamonds looking beautiful for many, many decades, but that's not to say that it's totally impervious to damage.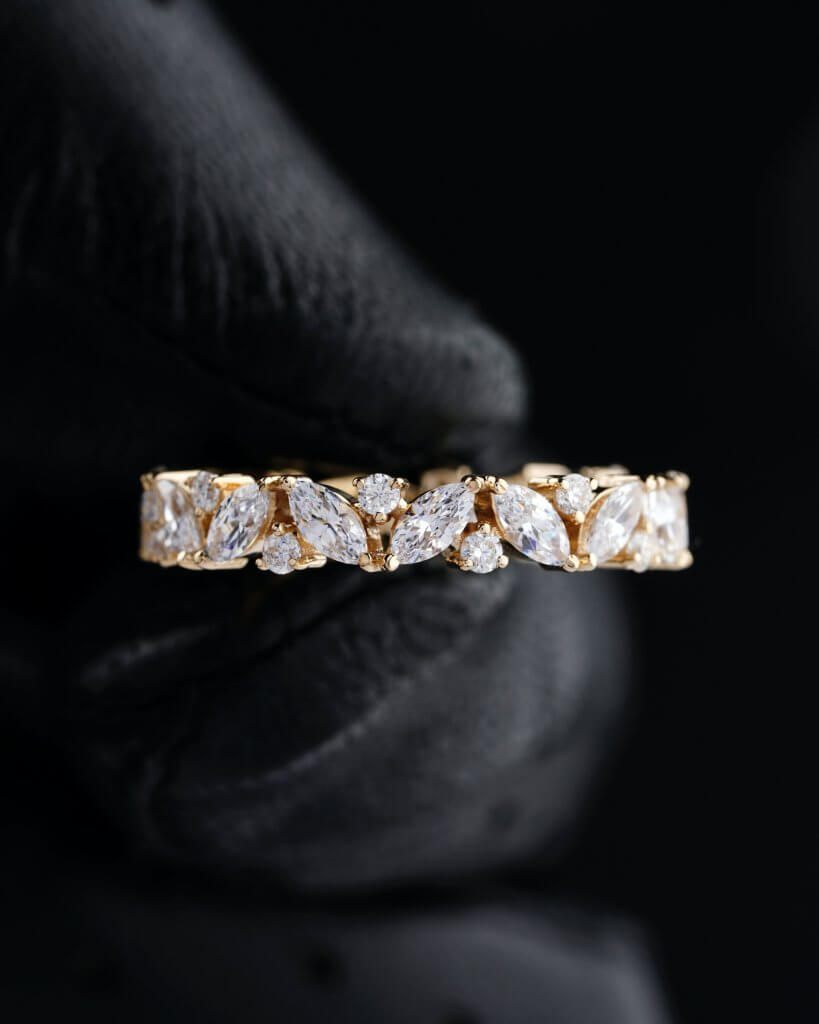 What Does Marquise Ring Say About You?
Those who choose a Marquise ring are likely to be a little different and edgy, but still pretty traditional at heart.
There's no denying the vintage roots of this shape, but, in the right design, even the Marquise can be transformed into something totally original and creative.
Is a Bowtie in a Diamond Bad?
Bowtie in a diamond is considered less desirable, but is easy enough to avoid once you know what you're looking for. Most Marquise diamonds will have this feature, but, in many cases, it's subtle enough that it doesn't infringe on the appearance of the diamond.
This effect, found in certain fancy cuts like the Marquise, Oval and Pear, is named after its resemblance to a black bowtie. It runs down the center of the diamond and, in extreme cases, can create a very dark ribbon that impacts the beauty and shine of the stone.
This is not something that will be noted specifically within your diamond's GIA report, which means that choosing a Marquise diamond that is not tainted by an obvious bowtie falls down to your own appraisal of it – and, of course, the opinion of an experienced jeweler with a keen eye.
This is why we would never recommend anyone buy a Marquise diamond without seeing it first, and why avoiding the online retailers is so important for all buyers.
Marquise Diamond Cost
A Marquise diamond is a great choice for anyone who wants to get slightly more for their money, as it's not considered one of the more expensive shapes. Nevertheless, you'll want to make sure you're in the right ballpark before you commit…
How Much is a 1 Carat Marquise Diamond?
You can expect prices to start at around $3,500 dollars, and increase from there depending on the quality of the diamond.
AS always, the value of any diamond is set based on many factors, including carat weight.
The clarity and color grades, and cut quality (symmetry and polish) of the diamond can influence its value by thousands of dollars, and, in a diamond of this size, it's very important to scrutinize each aspect.
If you haven't done so already, you should read up on the importance of eye clean diamonds – and, of course, what they even are – in order to get your head around how to choose a beautiful diamond, and, also, how to get a beautiful diamond for a lot less money than you might think you need right now.
Doing so will give you the scope to invest in a slightly larger carat weight , which is particularly beneficial with a cut as impressive as the Marquise.
Below, you'll find our guides to ensuring great quality for Cut, Color and Clarity – whatever your chosen carat weight.
Why are Marquise Diamonds Cheaper?
The main reason behind the Marquise diamond's lower cost is that there is much less demand for diamonds of this shape, when compared with the demand for Round Brilliant diamonds.
The main reason most shoppers are looking to buy a diamond is, of course, to create an engagement ring – and, for the overwhelming majority, the tradition of using a Round Brilliant center stone is too significant to pass up.
However, plenty of people prefer the more unusual shapes. From the Heart to the Pear, there is something undeniably compelling about these cuts – not least of all the fact that they create something more unusual, and altogether unique, for your partner to wear.
Are Marquise Diamonds Valuable?
Yes, all diamonds are valuable. They might not be as popular as the Round Brilliant, but they are still highly coveted by collectors and jewelers.
While it is true that, relative to some of the more popular shapes, a Marquise represents a pretty rare cut, that's simply down to the fact that the world of engagement rings is led by just a handful of shapes. More than half are Round Brilliants, followed (not so closely) by the Oval and Princess.
This accounts for the Marquise's rarity – not the fact that it is lacking in value, or admirers.
Choosing a Marquise Cut Diamond
Choosing a Marquise cut is more out of personal preference on how narrow you want your diamond to be. Many buyers tend to like the fact that the Marquise cut offers a flattering effect for the finger, making it appear longer and slimmer.
The classic length-width ratio ranges from 1.75 – 2.15, with symmetry being the most important factor. The two endpoints should align perfectly, and the sides should be mirror images of each other. Watch out for chips from the sharp ends of the cut. The corners should have protected prongs to keep them safe.
Color and clarity are subjective when choosing a Marquise. Diamonds in the D – F range are considered the premium cost range. When it comes to clarity, customer generally has a personal preference for the clarity of the diamond.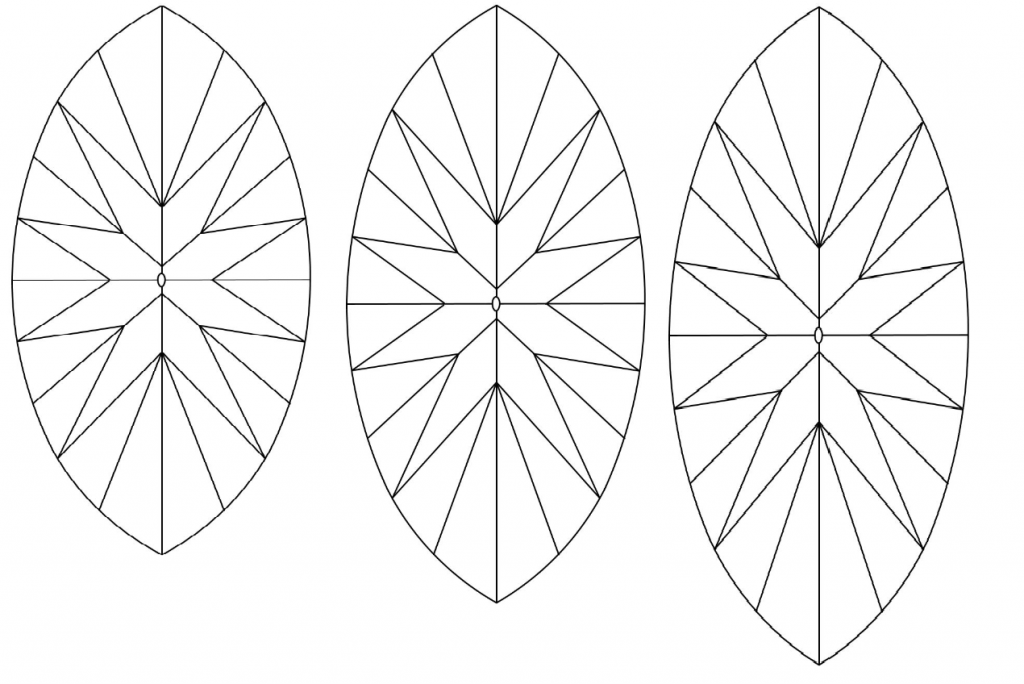 Marquise cut diamond ratio LW – 1.75, 1.95, 2.15
The following cut, color and clarity guides should be taken into consideration when choosing a Marquise cut diamond:
Marquise Cut Diamond Cut Guide
The cut attributes of a diamond contribute to its sparkle, brilliance, and bling. Most knowledgeable buyers would choose attributes from the Excellent – Very Good columns.
Excellent
Very Good
Good
Fair
Poor
Table %
53 – 65.9
52 – 52.9
or
63 – 65.9
51 – 51.9
or
66 – 68.9
50 – 50.9 or
69 – 70.9
<49.9
or
>71
Depth %
58 – 62.9
56 – 57.9
or
63 – 65.9
53 – 55.9 or
66 – 70.9
50 – 52.9 or
71 – 74.9
<49.9
or
>75
Girdle
Very Thin to Slightly Thick
Very Thin or Thick
Very Thin or Very Thick
Extremely Thin or Extremely Thick
Culet
None
Very Small
Small
Medium
>Medium
Marquise Cut Diamond Length-to-Width Guide
A classic Marquise cut has a length-to-width ratio of 2.00.
| | | | | | |
| --- | --- | --- | --- | --- | --- |
| | Excellent | Very Good | Good | Fair | Poor |
| Square | 1.90 – 2.00 | 1.75 – 1.89 or 2.01 – 2.15 | 1.65 – 1.74 or 2.16 – 2.30 | 1.55 – 1.64 or 2.31 – 2.45 | <1.55 or 2.45 |
Marquise Cut Diamond Symmetry, Polish, Cut and Fluorescence Guide
Our experience suggests that Cut, Symmetry, Polish, and Fluorescence contributes to a diamond's brilliance so that most buyers will choose Excellent – Very Good and Fluorescence None – Faint.
| | | | | | |
| --- | --- | --- | --- | --- | --- |
| | Excellent | Very Good | Good | Fair | Poor |
| Cut | Excellent | Very Good | Good | | Fair – Poor |
| Polish | Excellent | Very Good | Good | | Fair – Poor |
| Symmetry | Excellent | Very Good | Good | | Fair – Poor |
| Fluorescence | None | Faint | Medium | | Strong – Very Strong |
Marquise Cut Diamond Color Guide
Most buyers prefer size over color hue and will buy a diamond of G color
| | | | | | |
| --- | --- | --- | --- | --- | --- |
| | Excellent | Very Good | Good | Fair | Poor |
| <0.50 ct. | D – G | H – I | J – K | L – M | > N |
| 0.51 – 1.00 ct. | D – F | G – H | I – J | K | > L |
| 1.00 – 2.00 ct. | D – F | G – H | I – J | K | > j |
| >2.00 ct. | D – F | G – H | I – J | K | > j |
Marquise Cut Diamond Clarity Guide
Most buyers prefer size over clarity cleanse and will buy a diamond of SI1 Clarity.
| | | | | | |
| --- | --- | --- | --- | --- | --- |
| | Excellent | Very Good | Good | Fair | Poor |
| <0.50 ct. | FL – VS1 | SI1 – SI2 | | I1 – I2 | >I2 |
| 0.51 – 1.00 ct. | FL – VS2 | VS2 – SI2 | I1 | I2 | >I2 |
| 1.00 – 2.00 ct. | FL – VS2 | VS2 – SI2 | SI2 | I1 | >I1 |
| >2.00 ct. | FL – VS2 | VS2 – SI2 | SI2 | I1 | >I1 |
Marquise Cut Diamonds Pros and Cons
There are advantages and disadvantages to every cut, and the marquise is no different.
Advantages include:
More diamond for your money. The carat weight can be the same as other cuts, but because of its longer shape, it will look bigger.
Another major benefit to the marquise cut is the fact that, due to its slim and elongated shape, it gives the optical illusion of a slender, long finger. Many people gravitate towards this cut for this reason.
It's also more affordable. The cut tends to be priced lower than other cuts like the round brilliant, but not at the sacrifice of the brilliant cut. This means a beautiful and high quality diamond, with some pretty dramatic savings.
Disadvantages include:
The bow tie effect. Because of its narrow shape, the marquise cut can produce an area of reduced color in the center of the gem, which resembles a bow tie and, in extreme cases, undermines the beauty of the stone.
Also, the diamond's vulnerability to breaks it makes it a less desirable choice for people who lead active, busy lifestyles.
Our Summary: Is Marquise a Good Cut?
Absolutely. It's a great choice for anyone who loves for their jewelry to tell a story – and, even if you're not into retelling 300 years' worth of history, the Marquise is a dramatic, elegant choice that is bound to suit a wide range of styles.
Don't let the fact that the Marquise isn't the most popular choice for engagement rings put you off. This cut is still super romantic, refined and, of course, sparkly. It's a great shape for reinventing the classic engagement ring solitaire shape, or for indulging your love of glitter and luxury with rows upon rows of pavé diamonds.
As always, there are some things to keep in mind. For instance, those characteristic points at either end of the cut are a little more vulnerable that, say, the beveled corners of the Emerald, or the rounded corners of the Cushion – or, of course, the softly curved edge of a Round or Oval. Also, a prominent bow within the diamond could prevent it from looking as bright and brilliant as you envision it looking.
Nevertheless, these are factors that an experienced jeweler can talk you through as you start your journey, and move further into the ring's design process.
For now, you can take a look at our substantial collection of GIA graded Marquise diamonds here, then take advantage of our substantial database of trusted local jewelers who can guide you through the exciting – if a little daunting – process of creating your Marquise diamond engagement ring.
Hand-Selected Marquise Cut Diamonds