Key Takeaways
Tiffany & Co are one of the most luxurious brands one can buy from, only eclipsed by Cartier. There is no argument about the quality of the diamonds, nor the stylings of signature setting and heart charms. The price, however, takes into account both the quality and the luxury of the name.
Their luxury focus extends to the experience of buying the ring itself. They place an emphasis on visiting their brick-and-mortar stores, talking to their knowledgeable sales associates. They will give you time to think and treat you like the highly important customer you may not be used to.
Tiffany & Co. only accept 0.04% of the world's gem grade diamonds. Additionally, they don't use recognized grading labs like the GIA. Instead, they grade in-house. The 'Tiffany' standard is a limited standard, ignoring viable and great diamonds in favor of their own prestige.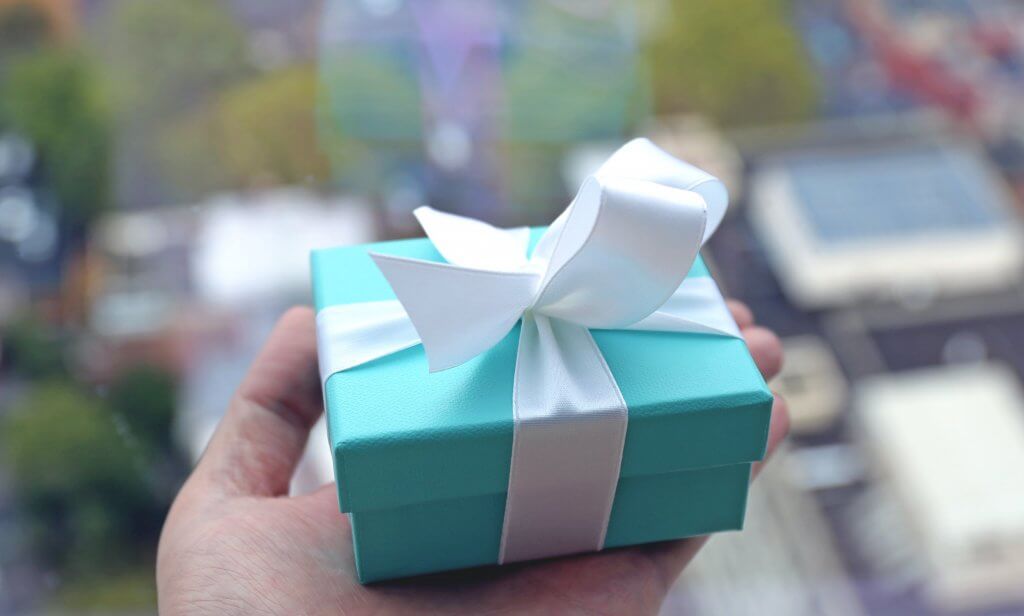 There aren't many jewelers in the world quite as recognizable as Tiffany & Co. While Cartier, jeweler to royals from every corner of the globe, may have made it all but impossible for anyone else to make as much of an impact with the word 'Love', the sense of luxury that is tied to Tiffany & Co can be evoked without any single piece of jewelry at all. All it takes is that little blue box.
Tiffany and Co has plenty of signatures. From their 'Return to Tiffany & Co' heart tag charms to their subtle-yet-distinctive 'T' hallmark and exclusive "Tiffany Setting", Tiffany's pieces range from the obvious to the subtle.
There's definitely a lot to love about this brand. Anyone sentimental for the classic styles of Hepburn, or the modern opulence held by some of the brand's leading lights right now – lights as bright as Beyonce and Jay-Z – will feel drawn toward Tiffany & Co.'s 5th avenue flagship.
Before you blow your savings on a Tiffany diamond, however, there are a few things you should know about buying an engagement ring from this world-famous jeweler.
Our rating: 3 stars
The positives: quality, luxury, and a highly personalized in-person shopping experience
The negatives: a high price for quality available up and down the country, and a limited selection of diamonds that will stop many shoppers getting the most out of their money
The Brand
Tiffany & Co has risen to the very height of popularity as a result of a combination of luxury and exclusivity. Its pieces reflect a level of quality that anyone preparing to spend thousands of dollars will want to find – if not, it's unlikely they would still hold the same level of esteem from customers around the world.
You can feel confident that any engagement ring purchased from Tiffany's will be of a high quality, and will last for many, many years.
The catch? The mere fact that Tiffany & Co. is a luxury brand.
Like Cartier, shrewd branding and marketing is central to Tiffany and Co.'s success. They have built a level of exceptionality and matchlessness around their name – something that many of us find hard to resist – and a sense of authority within the world of fine jewelry that shoppers feel drawn to them.
After all, it's hard to argue with the fact that sitting down to dinner and bringing that 'robin egg blue' box from your suit pocket would be a pretty spectacular moment. But, let's say you took that same Tiffany diamond engagement ring and moved it into a less distinctive box – is the moment really going to be any different?
In all likelihood, no – and sacrificing that brief flash of Tiffany blue it could save you thousands (and thousands) of dollars on your engagement ring.
The Experience
The important thing to note here is that Tiffany & Co is an experience. While they have an online store, their engagement rings typically require a phone call, and most of the emphasis remains on their bricks-and-mortar stores. Why? Because a large part of the luxury of their brand stems from a classic approach to discussing design details with customers – something we wholeheartedly agree with. They offer appointments with a diamond expert, and plenty of opportunities to get to know their rings' journeys.
In our experience, walking into Tiffany & Co. is a little like stepping back into a time that only ever existed on the silver screen of the 20th century. There's a sense of 'slowing down', and of being given the time to think – something that the online retailers, so directed toward efficiency and ease, can't emulate. The sales associates are knowledgeable and, most importantly, it's clear they are dedicated to continuing Tiffany & Co.'s legacy of luxury with every customer.
Of course, we're not celebrities, and even the most starry-eyed of customers would be conscious of the fact that their approach to a sale is as much a part of their personal branding as the little blue box itself. Most of us aren't used to being treated like 'big spenders' but when in Rome…
Tiffany also promises a lifetime of aftercare for their engagement rings – a great plus, whether you need it or not.
The Cost
What we're not so hot on is the pricing. While it's an excellent brand for celebrities with near-unlimited budgets who want to capture a little of that exclusivity and prestige, the rest of us will have to choose between that blue box and getting the best diamond possible at our price point.
Buying a diamond isn't a complicated process, provided you understand what you should expect to pay for certain different levels of quality, and different carat weights. It's perfectly possible to get a stunning diamond for a great price that sits around the middle of the average price range for that carat weight, whether it's 1 carat or 5, and getting your head around how to do that is a great way to ensure your budget goes as far as possible. That's the same for those working to $10,000 as it is for those working to $100,000.
At Tiffany & Co., a lot of that final price tag will be a result of their branding – of the story and opulence surrounding their brand. That hallmark doesn't come cheap.
Undoubtedly, there's more to a Tiffany & Co. engagement ring than the box it comes in, but we don't believe they are offering any more than what hundreds of other bricks-and-mortar stores across the country are able to offer, and at a much, much more realistic price.
The Diamonds
Tiffany & Co. proudly state that they only accept 0.04% of the world's gem grade diamonds. It sounds great – guaranteed high quality, even for a diamond novice – but, given the fact that a diamond can easily be of 'low quality' and still eye clean, bright, brilliant, and beautiful, it's not necessarily a perk for shoppers.
Another important thing to note is that Tiffany & Co. do not use any of the leading diamond grading labs like GIA or AGS. Their grades for Cut, Clarity and Color follow the same format as GIA, but each diamond they receive is graded by their own in-house team.
However, Tiffany & Co. is a reputable jeweler, and they have enough confidence in their own methods that they clearly state they will 'hold themselves accountable for the accuracy" of the grades they give to their diamonds. Keep in mind, however, that the GIA only grades loose diamonds, so you won't be able to send your Tiffany ring into one of their labs.
When it comes to clarity, 'Tiffany Standard' only covers grades down to VS1 – despite the fact that shoppers can find many eye clean options at VS2, SI1 and even SI2 clarity. Similarly, their color grades considered 'Tiffany Quality' go as far as I color diamonds, which means they don't even include the entire 'Near Colorless' range in their offerings.
At no point did it feel like they were trying to dupe customers into overpaying. It's simply a fact that Tiffany & Co. is dedicated to its own branding – its own persona. They don't need to offer diamonds of VS2 clarity and lower because their 'target' clientele are willing and able to pay more for the prestige of the branding – and that's part of what makes it such a coveted brand.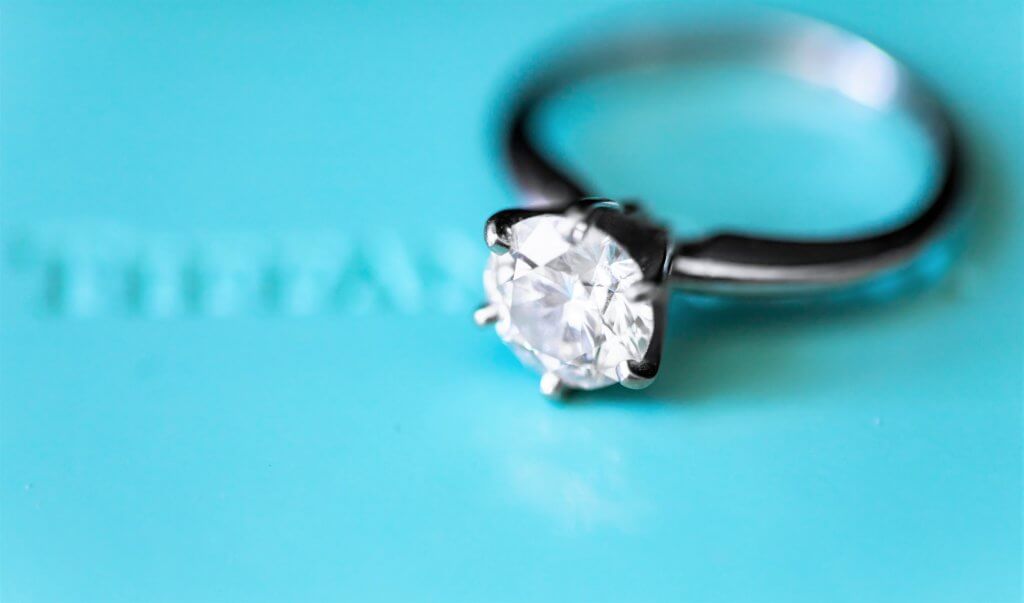 FAQ
Learning more about luxury brands isn't always enough to drive you out the door (literally, or metaphorically) completely. It's natural that most of us feel attached to the prestige of household names like Tiffany and Cartier but, when reality hits, it's clear that there are far better options for anyone working to any kind of budget.
Does Tiffany and Co. Sell Real Diamonds?
Yes, Tiffany & Co.'s diamonds are real, and graded for quality by their in-house lab.
Each diamond is accompanied by a Tiffany Gemological Laboratory Report, and a Diamond Registration Number. They do not offer lab grown diamonds, although they do uphold some rigorous standards when it comes to diamond traceability.
Are Tiffany Diamonds Good Quality?
Yes, Tiffany imposes very high standards on their diamonds – standards that are, in our opinion, too high.
We don't believe that Tiffany's decision to use their own in-house laboratory, rather than a respected third-party like the GIA, is their attempt to pull the wool over shopper's eyes and sell them lower quality for higher prices. In fact, their grading system has never really been pulled under any scrutiny, and chances are that their grades would hold water against another lab's grades.
However, if you've done any research on diamond quality already, you'll know that lower grades are generally a way better choice for shoppers – and the reason so many can afford to get a bigger diamond in the end.
Ruling out some of the lower clarity grades – and, to a lesser extent, the J color grade – means ruling out a lot of great options for shoppers who want to get the most impressive diamond possible for their proposal.
So, yes, we're very sure that every diamond Tiffany has in stock right now is high quality, but that, for a lot of shoppers, their selection is totally wrong.
Is Tiffany's Overpriced?
Not if you're aware that you've got to pay a premium price for their brand. If you're just looking to choose an exquisite ring, however, they are way overpriced.
There's nothing wrong with marketing your brand so masterfully that people are willing to pay thousands of dollars more for your pieces than virtually identical pieces sold elsewhere. It's the reason Tiffany & Co. is such an esteemed name, and why it will always have a loyal clientele scattered across the planet.
There is something wrong, however, with thinking that their high costs are related to quality, and that the only way to attain that level of quality is to shop for a smaller diamond – a simpler ring – and to pay an astronomical sum for it.
Masterful and skilled jewelers can be found elsewhere – they don't all work at Tiffany & Co.
Is Cartier Better Than Tiffany?
Cartier is arguably even more revered than Tiffany & Co., but Tiffany rings tend to be much more affordable – even if they're not the best prices on the market.
Both of these establishments stand at the very height of luxury within the world of jewelers and, if you've got the limitless budget to pay for their branding, there's no doubting you'd struggle to choose between the two.
Cartier is, however, generally the more expensive choice, primarily owing to the fact that it is one of the 'go to' choices for royalty, and has been across many generations.
How Much is a 1 Carat Diamond From Tiffany's?
Prices tend to be by request, and vary significantly depending on quality. Some shoppers find diamonds between $6,000 and $10,000, but many of their 1 carat diamonds are priced above $10,000.
There's no denying that a Tiffany diamond will feature exquisite quality – and, naturally, their prices reflect that. But, as we've mentioned several times in this article, exquisite quality is a waste of money for many shoppers.
Just as admirers of your engagement ring won't be able to tell that it's a Tiffany ring unless you show them the hallmark, or the box it came in, it's also true that they won't be able to tell whether it's a VVS1 or an SI1 diamond unless you show them the grading report, or lend them a magnifying glass.
So, the alternative answer to the question, 'How much is a 1 carat diamond at Tiffany's?' is this: more than you need to pay for a 1 carat diamond.
Our Summary
There's no arguing with the fact that Tiffany & Co. engagement ring is an exciting prospect, but any buyer tempted toward their storefront should remember that much of that excitement stems from the jeweler's clever marketing strategies over the years. True, the rest stems from being able to hold a truly stunning engagement ring, but that same level of beauty and quality remains available from jewelers up and down the country – jewelers not charging the same premium price for their branding.
A beautiful jeweler with a unique and romantic significance in popular culture, but their pieces are far too pricey – and their diamond selection far too narrow – to entice us past the window displays.