Key Takeaways
Wedding bands are different to engagement rings. They don't need diamonds or any sort of glamorous design. Instead, they can be simple, easy, and most importantly they can be bought out in the open, without any need for secrecy. This makes it far easier to find a design perfect for you.
Your wedding bands don't necessarily have to match; they can be anything that suits the personality of the wearer, perhaps even adorned with a flush setting to represent the love between you both.
Yes, wedding bands are less expensive than engagement rings, but this means you should pay closer attention to the type of metal you are choosing. These are going to be worn forever, so make sure you get the perfect wedding band for you.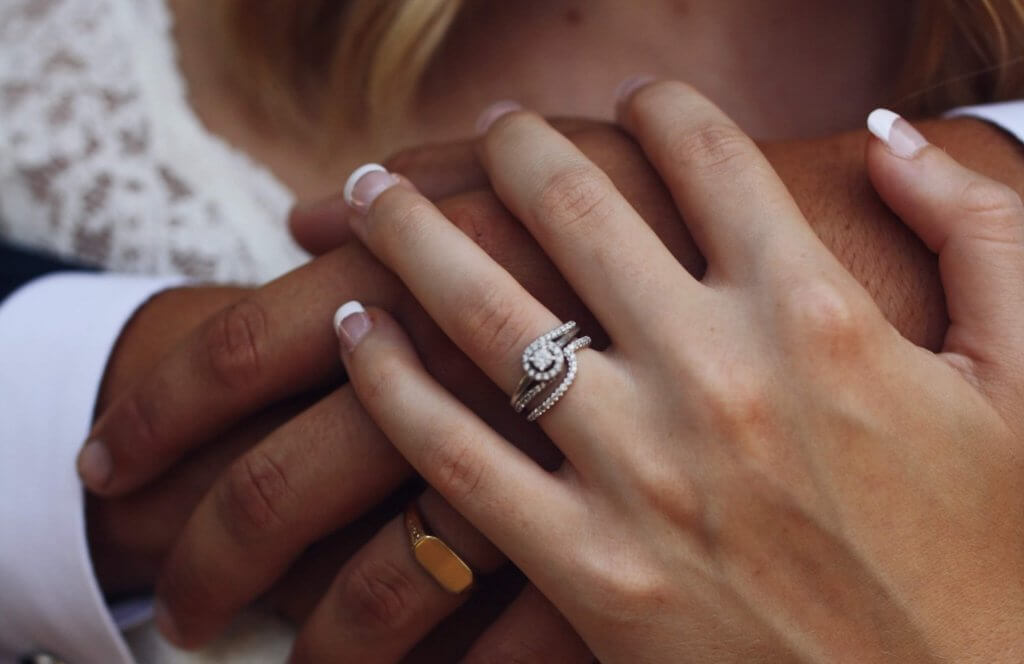 It's safe to say that the halo setting is one of the most popular styles for engagement rings today – and has been for quite some time.
Their ability to look both classic and modern stems from the precise, orderly placement of the accent stones, which follow the line of the center diamond faithfully. While this pretty ornate decoration around the center stone is evocative of the more traditional ring designs, that clean outer line – whether rounded or square or any other shape – creates a modern, streamlined look that so many ring buyers (and wearers) find impossible to turn down.
Regardless, when it comes time to begin shopping for a wedding band, the added bulk of the halo can make it very difficult to track down a design that will sit comfortably alongside the engagement ring, without being overshadowed or, worse still, rubbing or clashing against it and causing damage to both rings.
Fortunately, there are plenty of ways around this – and they're all as beautiful as they are wearable.
What are Contoured Wedding Bands?
Perfect for those wearing halo engagement rings, these bands feature a strategically placed curve, specifically designed to accommodate the unique outer shape of your engagement ring.
You can't fit a square peg in a round hole, and you definitely can't fit a new band alongside a halo without making a few modifications.
The contoured wedding band represents an ideal solution for any bride who has tried on wedding bands at the jewelry store, only to find that the halo setting on their engagement ring overlaps the new band, either hiding it or creating an uncomfortable clash between the two. It may even squeeze the wedding band down and pinch the skin.
By disrupting the circular shape of a traditional wedding band, and creating a silhouette that faithfully traces the profile of the engagement ring, brides can avoid any of that discomfort and find that the two pieces slip together nicely.
A contour can be created to accommodate any setting shape, though some – for instance, the flower setting – can be much trickier, and will require more time and skill from the jeweler creating it. You may need a square, oval, or heart and, for that, a pretty unique design.
One disadvantage to this style of wedding band is that, on its own, it may look a little strange. If you're designing your wedding ring around a halo, you may feel as though you need to wear that engagement ring all of the time.
What Are Chevron Wedding Bands?
A ring classified as a chevron will feature a 'V' shape, designed to accommodate a more prominent setting, such as a halo.
They are pretty similar to contoured wedding bands, and follow the same principle, although the style is totally different, and most brides will have a clear favorite when shown a sample of each one.
The chevron is generally bolder than the gentle curve of a contour ring, as it comes to a definitive point rather than following the exact shape of the halo.
These rings are also known as wishbone rings. Just like contoured wedding bands, the main downside is the fact that they may not look 'right' if they're ever worn without the engagement ring.
What is the Purpose of a Ring Guard?
A ring guard plays two major roles. First off, it's an alternative to the traditional wedding band, and is placed on the finger during the wedding ceremony. Secondly, it's there to create a more robust barrier around the engagement ring, and protect it from damage.
Ring guards are created in a single piece, though they will be worn on either side of the engagement ring. A small groove between two conjoined bands 'hugs' the band of the engagement ring, and keeps it secure.
These pieces can be highly decorative, and add further decoration to the original design of the engagement ring, or they can be plain and simple.
They tend to be created as bespoke pieces, in order to create the perfect shape to fit the silhouette of the engagement ring. For this reason, they're a highly practical and popular choice for those looking for a more protective wedding bands for halo engagement rings.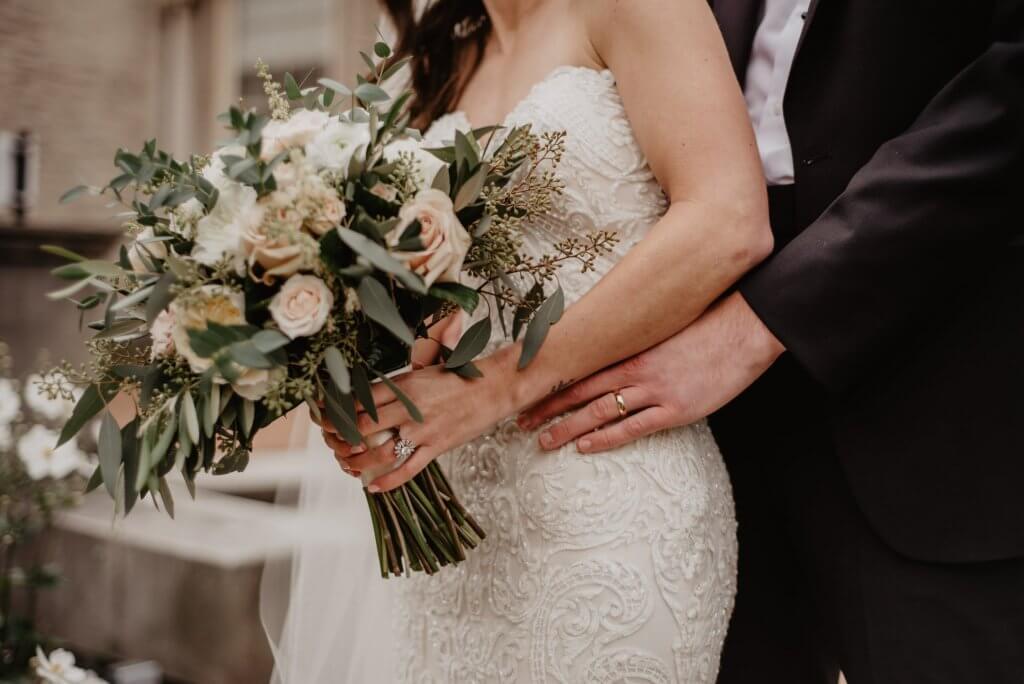 Is it Possible to Wear a Straight Band with a Halo Engagement Ring?
Yes – some halo settings are raised high enough off the finger to leave a space for the wedding band to slide comfortably underneath the diamond's overhand. In this instance, you might opt for a flat or micro pavé wedding band.
Just because many women choose to add a notch, chevron, or curve into their band, doesn't mean this is the only option. Halos that sit higher on the finger, such as those supported by a cathedral setting, won't clash with a wedding band.
If your halo setting is a little closer to your actual finger, however, you'll probably want to set aside plenty of time to sit down for a consultation with your jeweler and try these rings on, in order to find one that sits flush with the finger.
Keep in mind that this will mean at least a part of your wedding band will be concealed by the halo. There's nothing wrong with this being the case, but it's a personal choice, and not worth making if you're going to end up disappointed over the fact that your wedding band is being 'pushed down' by your engagement ring.
What is a Halo Wedding Set?
A wedding set includes two coordinating rings for the bride – an engagement ring, and a wedding band – as well as a wedding band for the groom. In a halo set, the bride's two rings will be specifically designed to accommodate the halo setting on her engagement ring to avoid any setbacks during the run up to the wedding.
This is just a simpler way of ensuring that, on the wedding day, her new band will coordinate with her engagement ring – both in terms of appearance and, perhaps more importantly, shape.
As we mentioned above, you can easily purchase a contoured wedding band separately, and don't have to pay for the full set upfront – but, if you're confident in choosing your bride-to-be's wedding ring too, a wedding or bridal set is a great choice for avoiding a potentially long search for separate wedding bands for halo engagement rings.
Do Wedding Rings Have to Be Circular?
No, there's no rule stating that a ring has to be a perfect circle. Some people see it as a representation of endless love, but many couples prefer to go for what they love, and what feels comfortable, instead of sticking to any particular tradition.
Remember that a wedding ring represents your commitment to your spouse, not your ability to adhere to tradition.
These days, wedding rings can feature contours, chevrons, notches, and asymmetric curves, whether for practical purposes (such as accommodating a halo engagement ring) or simply out of a love for embracing new design trends, and going against the grain.
You're the one who's going to be wearing this ring for the rest of your life, so don't limit your choices.
Should You Solder Your Wedding Rings Together?
Maybe, but it's a big decision to make. While soldering your wedding and engagement rings together after the wedding has plenty of benefits, there are still a couple downsides you should be aware of before making up your mind.
For some brides, wearing their wedding and engagement rings side by side is not as comfortable as they'd expected, even if they had them specifically designed as a coordinating pair. The solution – or one of the solutions – to this issue it to have both rings soldered together by a jeweler, meaning that they can't slide around separate from one another or cause any pinching on the finger.
What's more, preventing the two rings from rubbing together will mean that each one will experience less wear and tear from the other – and you'll spend less time flipping a wonky diamond back into place.
Even so, soldering your engagement ring makes it much harder for you to eventually pass it down, as it seems pretty unlikely you'll want to pass your wedding band down along with it. Separation is possible down the line, but it does put the two rings at risk of some damage. This process should be carried out by a highly experienced jeweler.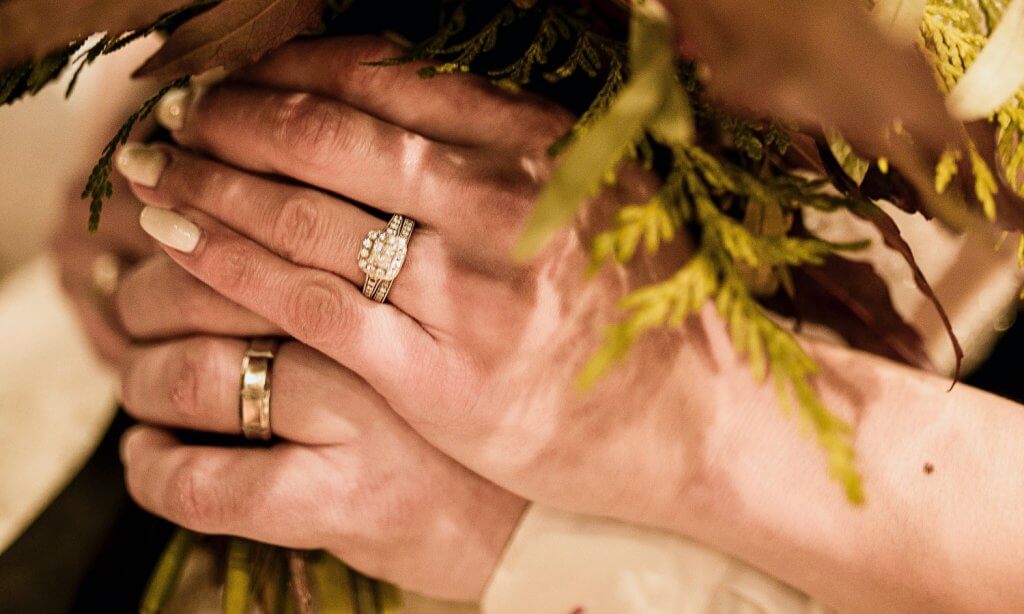 Are Halo Engagement Rings Tacky?
Not at all. They're a classic setting style for any diamond cut or size, and ensure a great amount of sparkle to compliment the center stone.
Some people feel deterred from wearing a halo engagement ring, despite loving the design, just because they have no idea how they'll wear it day in and day out alongside their wedding band.
Thankfully, you don't have to sacrifice your perfect ring for comfort – the two aren't mutually exclusive. Instead, you can return to your jeweler for a fresh consultation on designing the band around the diamond, and finding cohesion no matter what shape you are working with.