key Takeaways
It's very important that you get the ring size as accurate as possible. Luckily, there are plenty of ways to figure out your partner's ring size.
Remember that every finger is a slightly different size. If you're using one of your partner's other rings to get an accurate measurement, take note of which finger she wears it on. Her index finger won't be the same size as her ring finger.
Your partner's mom, sister, or friend will probably have a better idea of her ring size.
Don't risk measuring her finger while she's sleeping if you think she might wake up. It'll give the whole game away.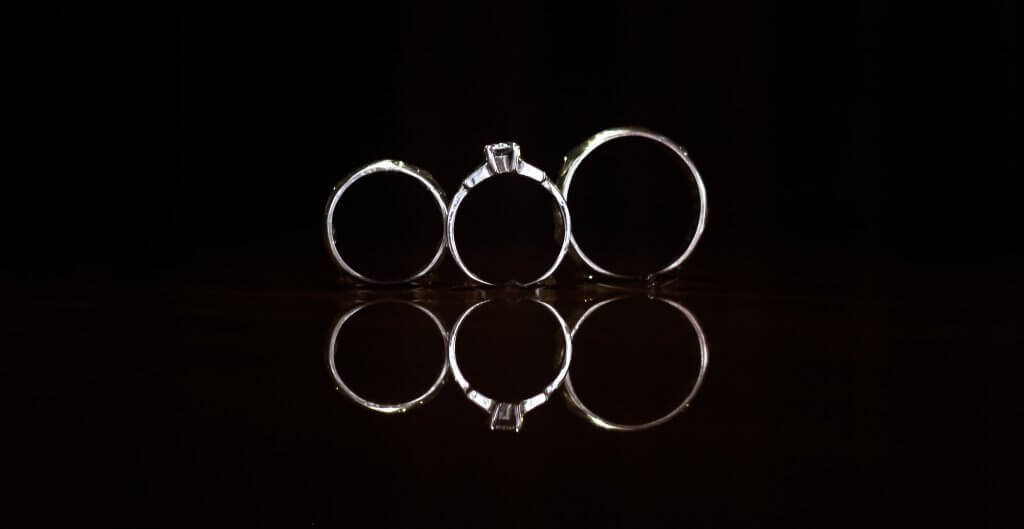 Like shoes, pants, hats and shirts, rings need to be sized perfectly to fit our fingers. A ring that's too small will prove uncomfortable to wear – or, even worse, it will lead to an awkward tussle to get the thing past her finger knuckle, while you're down on one knee and a crowd of well-wishers are eager to start congratulating you.
That's not to say that a ring that's too big is any better. Trust us, there's nothing romantic about clinging onto an engagement ring during the post-proposal photoshoot, hoping that you won't suddenly look down and find that your diamond has disappeared within twenty minutes of receiving it.
Sure, you can get a ring resized (with some exceptions), but there's a lot to be said for getting it right the first time, and making sure that the big moment – those pivotal few seconds after she says 'yes' – aren't ruined by a ring that won't sit where it's supposed to.
This isn't a game you want to guess at but, if you're going the traditional route and planning this all behind her back, it's not a game you want to give up on by asking her straight-out, either.
Here's what you need to know.
Finger Sizing
While cheaper, everyday jewelry tends to run in Small, Medium, and Large, fine jewelry is sold in a much more comprehensive range of sizes to ensure the best fit possible for any wearer. It makes the process more complicated, but it's the only way to ensure a Cinderella-worthy fit when the time comes to get that ring on her finger.
What Are Ring Sizes?
Ring sizes differ around the world, but generally correspond to either the circumference of the finger, or its diameter.
In Europe, for instance, ring sizes run alphabetically from F through Z, with a few half sizes too. In the US, however, ring sizes are presented numerically. They generally run from 3 to 14, with half sizes in between – and, unlike clothing, the sizing system is exactly the same for both men and women.
US ring sizes correspond to the circumference and diameter of the finger as shown below:
| | | |
| --- | --- | --- |
| Circumference | Diameter (internal) | Ring Size (US and CA) |
| 44.2 mm | 14.07 mm | 3 |
| 45.5 mm | 14.48 mm | 3 ½ |
| 46.8 mm | 14.88 mm | 4 |
| 48.0 mm | 15.29 mm | 4 ½ |
| 49.3 mm | 15.70 mm | 5 |
| 50.6 mm | 16.10 mm | 5 ½ |
| 51.9 mm | 16.51 mm | 6 |
| 53.1 mm | 16.92 mm | 6 ½ |
| 54.4 mm | 17.32 mm | 7 |
| 55.7 mm | 17.73 mm | 7 ½ |
| 57.0 mm | 18.14 mm | 8 |
| 58.3 mm | 18.54 mm | 8 ½ |
| 59.5 mm | 18.95 mm | 9 |
| 60.8 mm | 19.35 mm | 9 ½ |
| 62.1 mm | 19.76 mm | 10 |
| 63.4 mm | 20.17 mm | 10 ½ |
| 64.6 mm | 20.57 mm | 11 |
| 65.9 mm | 20.98 mm | 11 ½ |
| 67.2 mm | 21.39 mm | 12 |
| 68.5 mm | 21.79 mm | 12 ½ |
| 69.7 mm | 22.20 mm | 13 |
| 71.0 mm | 22.61 mm | 13 ½ |
Is it Better to go Bigger or Smaller on Ring Size?
A ring that is slightly too big is better than a ring that is slightly too small, since shrinking the band is much easier than adding additional metal into it.
It is possible to make a ring bigger, but it's a much more demanding process than making it smaller. And, in the very least, a ring that is slightly too big will still be able to sit on her finger for the post-proposal photo session. While far from ideal, it's preferable to not being able to squeeze the finger past your nail bad, and having to save all the photos for later.
What is a Normal Ring Size For a Woman?
In general, bridal jewelry tends to fall within the range of 6 – 8 for US ring sizes.
Remember that the ring finger is typically the second smallest we have, after the pinky.
Also remember that an average offers a great frame of reference, but it's not the key to working out your own partner's ring size. Averages are made because plenty of people fall above and below that range, so don't assume you'll be 'playing it safe' just because you've hedged your bets and gone for a US ring size 7.
Figuring Out Your Partner's Size
Plenty of couples now make picking out an engagement ring a team exercise, leaving no room for misinterpretation of ring size. For the rest of us still working to tradition and attempting to keep it a surprise, however, second guessing our partner's preferences for diamonds and designs is only half the battle – the other half lies in picking out the ideal band size for their finger.
How Can You Tell a Woman's Ring Size?
There are a few different ways to do this without raising your partner's suspicions, and one of the most effective is to take an existing ring to be measured against the jeweler's ring sizer for the most accurate reading possible. There is, however, one major caveat to this approach…
Most women avoid buying rings specifically for their left-hand ring finger, because of the fact that it's generally 'reserved' for just the engagement ring, wedding band, and eternity ring. Why does this matter? Because every one of our fingers is a different size, and taking a ring your partner wears on her right-hand index finger is going to land you far away from where you need to be when it comes to creating an engagement ring.
Then again, the right hand can offer a pretty accurate picture for the left hand, so a ring she wears on the index finger of her right hand could prove very useful to you and your jeweler.
If that's not going to work out for you, however, there are plenty of alternatives…
The Up All Night Approach
Is your partner a heavy sleeper? Or, in the very least, could they sleep through five minutes' worth of finger-fumbling and torch light? If so, it's not that difficult to get their ring size. While a tape measure will do the job, we're recommend you pick up a special ring measuring tape from your local jewelry store, as they're smaller and easier to wrap around the finger, or just use a piece of string and measure it against the tape straight after.
Pros: It's quick, easy, and will give you a very accurate measurement for her finger without raising any suspicions – provided you remember to hide the ring measuring tape afterwards.
Cons: She could wake up and have you fumbling for an excuse in the middle of the night – and, trust us, there really are no fitting excuses for measuring your partner's hand when you should be fast asleep.
The Indirectly Direct Approach
Let's say your mom's birthday is coming up, or you're looking for a gift idea for your sister – why not start soft-balling the idea of jewelry, then gradually working up to the idea of buying them a ring? Sooner or later, you'll have to ask your partner for 'advice' on sizing.
With the topic raised, there's plenty of natural ways for you to squeeze that information out of your partner. Whether you have her measuring her fingers to reference, or she willingly drops her sizes into conversation, you could get exactly what you want without raising any suspicions.
Pros: If you can make it convincing, you'll get exactly what you need without setting her alarm bells ringing.
Cons: There's a chance she could catch on. Plus, if it doesn't work, and she fails to 'take the bait', you can't try again without making your secret pretty obvious. Also, there's a slim chance she'll have her own ring size wrong – or have the right size, for the wrong finger.
The Mother Knows Best Approach
Moms keep hold of a long list of information. From blood type to the date your partner lost her first tooth, there's a good chance her mom has that vital piece of information burned into memory – including ring size.
If you're ready to let the secret out to someone, and know that your future mother-in-law is up to the task of keeping your plans a total secret, then it can be a great idea to ask her advice. She might even be able to ask your partner directly, without raising any suspicions.
If not, a sister or best friend could prove key – but, again, only do it if you're sure they won't blurt it out next time they see your partner.
Pros: There's a good chance your partner's mother/sister/friend will know, or have a clever plan for finding it out. Most people will be capable of keeping this secret bottled up, too – at least for a while.
Cons: Once again, they might have it wrong. Also, by involving more people, you're increasing the risk of the secret spilling before you get the chance to get down on one knee.
The Is Your Ring Size the Same as Your Shoe Size? Approach
First off, no, there is no relationship between ring size and foot size, so put aside the urge to go and check the soles of her favorite pair of pumps.
But, while the saying that holds no water, it can be a pretty useful trick to getting the exact information you need. Tell her it's something you read online – and make sure you look like you believe it – and nine times out of ten she'll jump to investigate, or just to prove you wrong.
Pros: You don't have to involve anyone else, and there's a pretty good chance she'll be too busy investigating the claim to catch on.
Cons: It's one of the oldest tricks in the book, so she might be aware of it and know instantly what you're trying to do.
Ring Resizing
If all else fails, and you wind up with a ring that is too big or too small for your partner's finger, then it is possible to go back to your jeweler and request for the band to be resized. This is not always as simple or straightforward as it might sound, however, so it's important you understand the process before you commit to guesstimating a size for your partner.
Can I get an Engagement Ring Resized?
Potentially. Plenty of people can and do get their engagement rings resized, but certain styles and metals make it incredibly difficult for jewelers to alter the band's circumference without undermining the structural integrity, beauty, or symmetry of the ring.
Before you start to panic, you can read our full guide to ring resizing here.
Our Summary: How Do You Pick the Right Ring Size?
From measuring her finger in the middle of the night to working the topic of ring sizes into the conversation naturally, there are plenty of options for anyone who would rather make the proposal (and the ring) as much of a surprise as possible.
Any good tactic starts with an appreciation of quite how important the ring size is. Sure, the chances are that it can be resized by your jeweler, but that means handing the ring back for a couple days right when your fiancée is eager to celebrate, take photos, and stare contentedly into her perfect diamond.
In short, it's a disruption no one wants to deal with during the first flush of engagement, even if it's not the end of the world.
So, how do you get it right? With planning. Don't jump straight into any of these approaches before you've got all you need, or got a gameplan in your head regarding what you'll say, or what you'll do if she looks like she's starting to catch on.
While it's not the most exciting aspect of designing an engagement ring, it is just as important as making a solid choice on the diamond, the metal, or the overall design, and it's not something you want to rush through – or, worse still, guess at.
Get it right the first time, and you'll have one less thing to agonize over as the day of the proposal draws closer and closer…