Key Takeaways
Inheriting a diamond that has been passed down through the generations of your family is an incredible moment, but it can also be filled with a lot of trepidation and uncertainty.
These diamonds often have a lot of emotional significance attached to them, and it can be hard to figure out what you can (and, more importantly, can't) do with them while they are in your possession.
Talking to your family is the best route forward. They may be happy with you having the diamond re-set within a new ring design, or they may not.
Also consider your partner's feelings. While the diamond has a lot of meaning for your family, if it's set in a ring design they won't like, you can't expect them to be thrilled at the prospect of wearing it day-in, day-out, for the rest of their life.
Finding a compromise isn't easy, but it's always possible.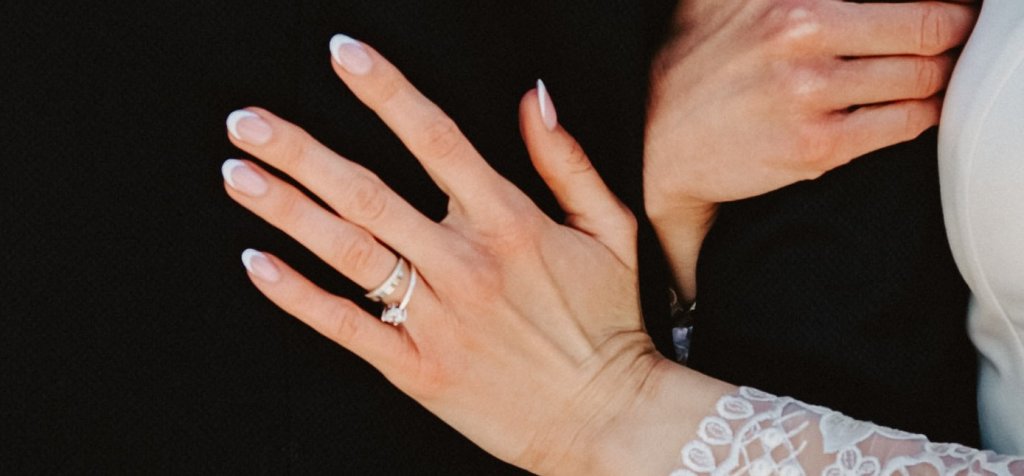 One of the reasons diamonds are as important to proposals as they are can be attributed to their strength. Already more than a billion years old, these sparkling stones are capable of sparkling on the fingers of generations (and generations) of the same family, and what better way to symbolize love and commitment than through something as strong and durable as that?
For some of us, those diamonds are passed through a long chain of brides and grooms until they fall into our hands, ready to stand as a symbol not just of the family you're going to start – but also of all the families that came before. It's about as personal as it gets, and a very meaningful way to bring someone new (AKA, your partner) into the family.
But inheriting an heirloom diamond isn't always a walk in the park. Navigating your family's expectations for how the diamond is taken care of and worn is one thing, but you've also got to navigate your partner's expectations, too.
The good news? A lot of people have been in the exact same boat as you, so take a look at our pointers for using and caring for your heirloom diamond.
Heirloom Diamonds
Totally unique, and just as sentimentally valuable as they are financially. Inheriting an heirloom diamond is a great moment, but it's only the start of a new journey for you, and for the stone…
What makes a diamond heirloom?
If it has been passed down through one or more generations, then you can consider it an heirloom diamond.
Just looking at it, there's no way of knowing whether it's an heirloom or not. It's not like, after passing between two or three different owners within the same family, a certificate appears commemorating it as an heirloom piece.
The diamond's significance and meaning is part of the family history, and you can be sure it has a lot of stories behind it.
What do you do with an inherited diamond?
If it's a loose diamond, then having a new piece of jewelry designed to showcase it is the best way to keep it safe and appreciated.
For a lot of people coming into heirloom pieces, this is an ideal scenario. If the diamond is already set within a special, sentimental piece of jewelry, then it can be difficult (if not totally impossible) to broach the subject of re-setting it within something newer and more suited to your partner's tastes.
But, if you've inherited the loose diamond, then the world is your oyster, and you can feel confident about consulting on brand new designs with your jeweler. This will be like any other consultation – your jeweler will want to see the diamond, and figure out how to create an engagement ring around it, rather than just helping you pick out a pre-made setting. This will give you the opportunity to explore your partner's style and preferences, and to create something totally unique (and totally new) for your diamond.
Heirloom Diamond Ideas
If you're currently sitting in front of an heirloom diamond, wondering what to do next, here are some pointers intended to spark your imagination.
Heirloom Rings
Things get a little more complicated when you're talking about a diamond ring with special significance for the family. While an heirloom diamond gives the new owner a little more freedom, it can be hard to figure out what to do with a vintage ring – especially if your partner isn't sold on it.
What do you do with an inherited diamond ring?
Start by getting it professionally cleaned and inspected by a jeweler, and professionally appraised in order to sort a good insurance policy for the ring.
All jewelry will take on a layer of oil and grime over the years – particularly if it has been worn regularly. Even a simple clean can breathe new life into the metalwork, and the diamond itself, and make it feel more like your own, rather than a part of someone else's collection.
Next, the ball is pretty much in your court. If (or when) you're ready to propose, you might want to bring up the subject of heirloom jewelry with your partner – gauge whether or not they would be happy with an older, heirloom piece. While the ring will have a lot of meaning in your family, it is important to remember that your partner may not be able to attach the same sentimental value to it. Even if they recognize the significance of owning such an important part of your family's history, they may feel uncomfortable or unhappy about being proposed to with something that will never truly be 'theirs'.
And, from a practical standpoint, they may not like the design. Heirloom pieces will have been designed decades in the past when styles were different. Vintage engagement rings are always popular, but not with everyone – some people prefer a more contemporary or unique design.
What if my partner doesn't like the ring?
Then work together to come up with a solution. You can't expect your partner to wear a ring they don't like, even if it has a lot of significance for your family.
This is why it's important to have the conversation before you propose, rather than after the fact.
One solution is to propose using the heirloom ring, but to also invest in a new engagement ring – something your partner loves – that they can wear day to day. You might decide to pick out together after the proposal, or for the design of the new ring to be a surprise. Either way, don't propose with the heirloom ring unless your partner already knows about your plans for getting a different ring for them to wear day to day, or the entire proposal could go up in flames.
How do I propose with heirloom ring?
Don't even consider going down on one knee until you're sure your future fiancée will be happy with an heirloom ring, then plan your proposal around them – just as you would with a brand new ring.
The meaning behind an heirloom ring is incredibly romantic, but even if you're sure your partner will be thrilled to see that ring, make sure the proposal is planned around your relationship.
You might want to include something about the ring's history and significance while popping the question, but try not to linger on it too long. Every engagement is between two people, not an entire family, so keep your mind on your partner.
Our Summary
Diamonds are there to be kept, loved, worn, and passed down for decades. Their strength and ability to endure years upon years of wear are part of the reason why they were chosen to represent love and commitment, and why that hasn't changed for thousands of years of human history.
Even so, figuring out how to integrate an heirloom diamond or diamond ring into your own proposal isn't always totally straightforward. There's a lot of emotion at stake, and not just between you and your partner. Adhering to your family's wishes, while planning the ultimate proposal and engagement, can be a juggling act.
Then again, there are always options – solutions to what seem, at first, like impasses. Keep your mind focused on what's most important, and enjoy being a part of a longstanding tradition – and, ultimately, welcoming someone new into that tradition, and the family.
As always, you'll want an expert jeweler by your side to do right by your family's legacy. Don't take the risk of mailing your diamond off to some internet jeweler to get it set – take a look at our extensive list of recommended jewelers to find something working in your local area, ready to embrace this next step in your heirloom diamond's journey.