Key Takeaways
The skinny band engagement ring is an elegant and feminine option. It can make a diamond look a little larger than it is, and suit smaller fingers that would otherwise look overwhelmed by a thicker band.
A strong metal is, of course, very important for a skinnier band, which will be more vulnerable to warping or denting. Platinum, or a 10k or 14K gold will be the strongest options available to you.
Most jewelers won't like to go thinner than around 1.5mm, since the safety of the diamond is paramount.
Skinny band engagement rings can be the best option if your partner intends to wear a wedding band and an eternity band on the same finger as the engagement ring.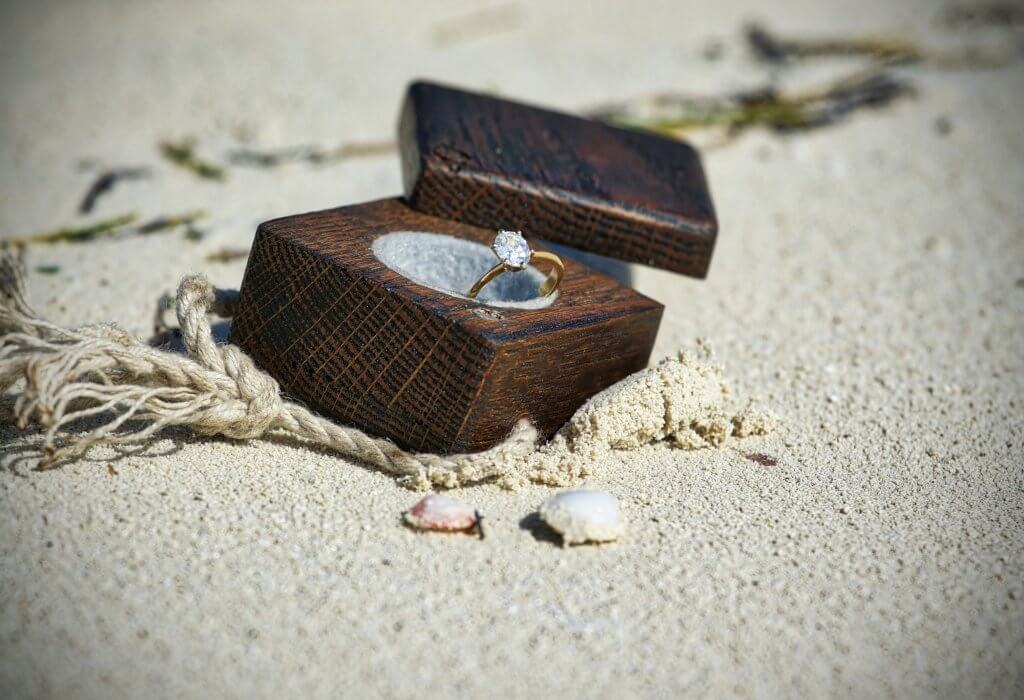 Skinny band engagement rings are, as the name suggests, rings featuring only an incredibly slender and elegant band of metal to be worn around the finger. They represent the perfect opposite to highly ornate bands, which are wide enough to accommodate much more ornate detail.
As with any aspect of your chosen engagement ring, whether or not you choose to pursue a skinny band will depend entirely on your bride-to-be's tastes, style, and lifestyle. While it may not be as big a choice as the diamond itself – or even the type of setting – a skinny band makes a strong statement, and will have a considerable impact on that all-important first impression.
So, should you choose a skinny band engagement ring? Read our complete guide below.
How Thin Can an Engagement Band be?
To be considered 'skinny', a ring band will feature a width of no more than 2mm – about .5mm smaller than the average ring on the market today. This can go as low as 1.5mm; any lower, and the band could become too vulnerable to bending and breaking.
What is considered 'safe' will depend entirely on the carat weight of your chosen diamond, and the side of your chosen setting. Naturally, a heavier diamond will require a more robust band in order for you and your jeweler to feel sure that it is secure – just as a more elaborate setting will require the same.
Are Skinny Band Engagement Rings in Style?
Yes – not only are skinny band engagement rings popular right now thanks to the attention they have received from celebrities like Jojo fletcher and Jordan Rodgers, but their subtle and simplified look ensures that they will never stop being a classic choice among happy couples.
A diamond speaks for itself, and what better way to let it make its own impact than to let it represent the sole focal point of the ring? A plain, skinny band of white or yellow gold, for instance, offers the perfect underpinning for the true showstopper.
So, if your bride-to-be is fond of elegant simplicity, then look no further. Remember that luxury does not necessarily depend on complex and ornate detailing – it can be as simple as a stunning solitaire diamond, and very little else.
That's not to say that you can't make any statement with the diamond's setting. While solitaire will never go out of style, a pave, halo, or cathedral setting can add an additional touch of something special without detracting from the clean, simple look of the skinny band.
Provided the band's metal is suitably strong – say, a platinum or 14K gold – then you can easily encase the diamond within a pave setting. Your jeweler will be able to offer the best advice on this.
Does a Thinner Band Make a Diamond Look Bigger?
Yes. While it won't make a 1 carat diamond look like a diamond twice its size, a skinny band is a great way to play with perspective and dimension, and give a more impactful appearance to the gemstone.
Certain diamond cuts, such as pear or oval, can also pull off a similar effect for lower carat diamonds. You may also wish to opt for a halo setting, provided your budget allows, and a white gold metal band – both of which can bring your diamond to the forefront, and give it greater impact on the finger.
Finally, if you wish to make your diamond stand out more, your jeweler may recommend opting for either yellow or rose gold over platinum or white gold, or, for great cohesion, a mixed metal band. This creates more contrast between the clear diamond and the band – great for making an impact.
Is a 1.5mm Ring too Thin?
1.5mm is certainly manageable, but it is about as thin as many jewelers are happy to go.
Consider how many years' worth of use your bride-to-be will get out of this ring. Even if she works an office job and prefers reading to rock climbing, the wear and tear any ring goes through on a daily basis will add up over time.
Thin bands could easily get misshapen by pressure from, say, heavy lifting. Furthermore, if you're looking to engrave the ring, then a band thinner than 1.5mm is probably the wrong choice for you.
As we mentioned above, it all depends on what other features you want to include – or omit – from your ring, and whether or not your jeweler feels confident bringing them altogether on a super skinny band. Let them have the final say on the design, or you could be leaving the security of your diamond to chance.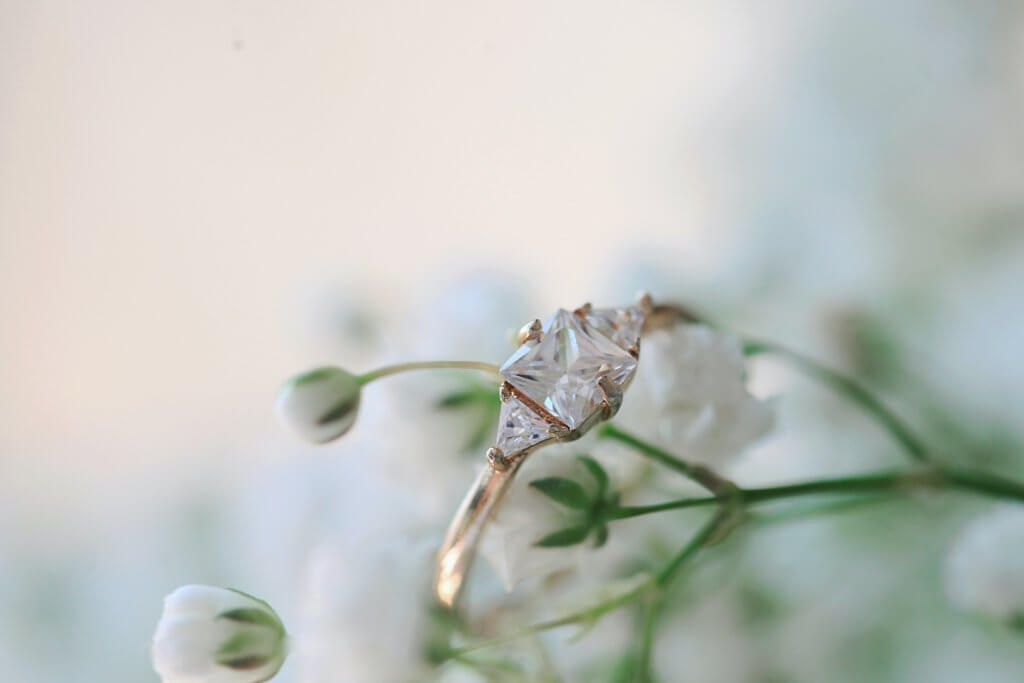 Can the Wedding Band be Thinner than the Engagement Ring?
Traditionally, a wedding band will be the same thickness as the engagement ring band, even if they were not designed to match. This balances the two bands, which hold equal importance for the wearer.
Of course, one of the biggest selling points for skinny band engagement rings is their ability to sit elegantly alongside your future bride's wedding band – and, potentially, an eternity ring, too.
If you are already opting for a skinny band engagement ring, then you might want to make it a priority to find a wedding band of the same size – any thicker, and it may overshadow the engagement ring's dainty, feminine appearance. Any thinner, however, and you could be taking a risk. While it may not feature a diamond, the metal is still vulnerable to being dented out of shape over time.
Skinny Band Engagement Rings: A Few Things to Consider
The most important factor for anyone considering a skinny band to remember is that their jeweler knows best – particularly when it comes to altering the structure of the ring itself.
You can easily connect with a local, reputable jeweler using our Store Locator – but, while we can take the guesswork out of that first hurdle, only an expert craftsman can tell you whether or not your chosen diamond and setting can be combined successfully on a skinny band.