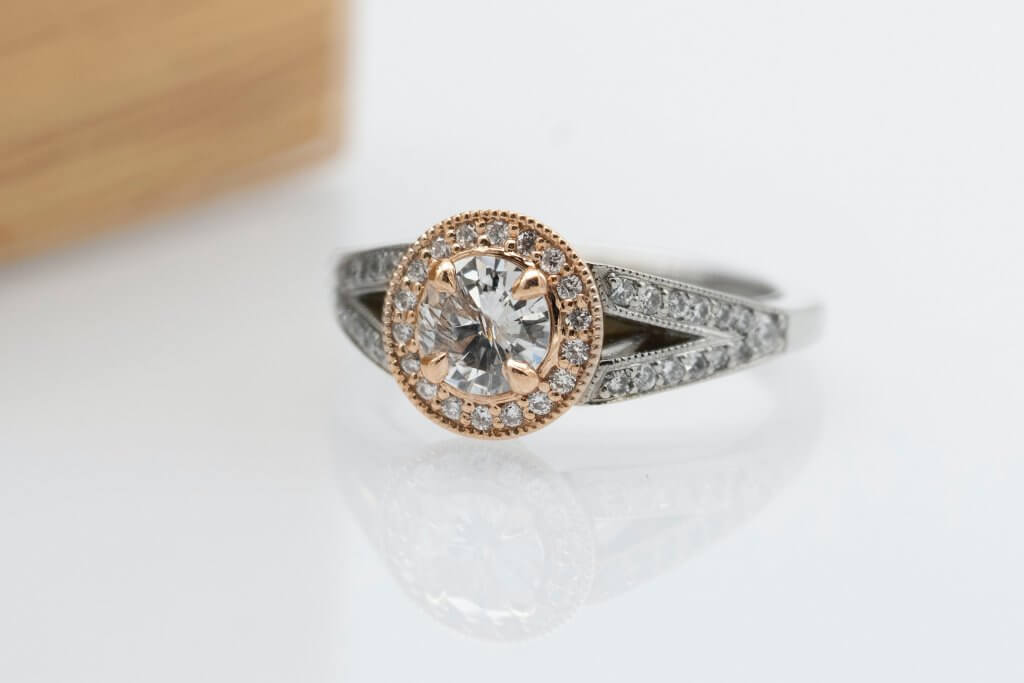 In spite of the fact that most engagement rings given and worn today remain steeped in tradition, jewelers continue to find new ways of reimagining those classic designs. That familiar shape of a solitaire diamond ring is a story that can be retold in countless ways, countless times, between countless happy couples.
Mixed metal engagement rings offer a perfect example of the flair jewelers continue to add to their designs. These rings do away with the more conventional approach, which encourages us to choose one or the other – a warmer toned yellow or rose gold, or the cooler sheen of platinum or silver – and, instead, combine different colors together to create something much more unique and modern.
But is it the right choice for your bride-to-be? We answer your questions below.
What Metal Should an Engagement Ring Be?
Any precious metal, whether gold, silver, or platinum, can be used for an engagement ring. These metals offer both strength and beauty, meaning your ring can last many decades to come without ever losing its luster.
There are no hard-and-fast rules around this one – and, even if there were, it's more important that you pick or design a ring that suits your bride-to-be, rather than convention.
Each metal offers its own benefits. Silver's bright shine creates an elegant, cohesive setting for a clear diamond, while a contrasting yellow or rose gold can make even a smaller diamond pop all the more. Platinum is prized for its incredible white luster, and, of course, its strength.
Do Wedding and Engagement Rings Have to Be the Same Metal?
No. While many women stick with tradition and keep them matching, recent years have seen plenty of trend-setting brides opt to mix and match metals and colours for a more eclectic, modern look.
Mixed metal engagement rings actually offer the perfect opportunity to go against the grain. Utilising at least two contrasting metals, these rings will look at home alongside either a warm or cool toned wedding band.
What is the Best Metal For a Wedding Ring?
If you're a traditionalist, then gold is the traditional choice. Whatever your choice, however, strength is key. It needs to be capable of withstanding years' worth of daily wear and tear without showing scratches, dents, warping or, worst of all, breaking.
For gold, a lower karat is often preferable here. Naturally soft, 24 karat gold is simply too pure to survive regular wear on the finger. 14 or 18 karats offer a great middle point between gold's natural beauty, and the strength necessary for a wedding ring.
Platinum is considerably more expensive, but also incredibly strong. Alternatively, for white gold or silver can offer a similar look, although you'll have to sacrifice some of the strength and bright white shine.
Is Platinum Better than Gold?
Not necessarily. Like gold, platinum has a lot of prestige attached to it, and your preference will depend entirely on whether you prefer a warmer tone, or a cool, white tone. Alternatively, you can combine the two together for a more unique band.
Plenty of people have an opinion about which colours suit different skin undertones better, but the beauty of gold and platinum is that they are both so uniquely striking that they will stand out on any finger.
Platinum is known for being the stronger of the two – and, while this is true, it is actually easier to scratch.
So while it may seem impossible to choose between that unrivalled golden luster or that dazzling white blaze of light, we can't give you any definitive answers here.
Is Platinum Better than White Gold?
Yes and no. If you have an unlimited budget, then we would recommend platinum's slightly superior shine. White gold is, however, a close second – and far more affordable.
In pictures, you probably won't notice much difference between platinum and white gold. Only when you head over to your jeweler and see both in person, side by side, will you be able to identify the incredible, dazzling way platinum reacts to movement and light.
Still, platinum is rarer and stronger, which means that it is considerably more expensive. It is also hypoallergenic, which can make it the best option for some couples, and can be used at a high purity.
White gold, on the other hand, is combined with nickel and zinc at a ratio of 4:1. Less pure, this makes it a far more affordable choice, and achieves a similar coloration, although a slightly warmer undertone than platinum.
Neither one is better than the other – it all depends on your budget, your eye for detail, and the future wearer's ability to wear the metals used to create white gold.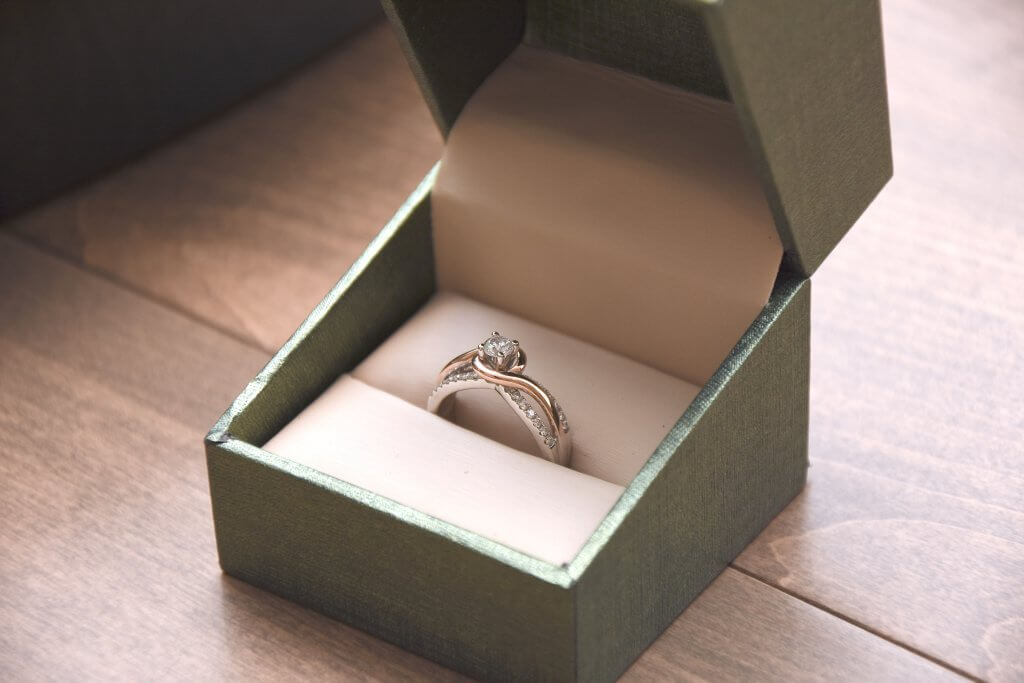 Which is Better: A Gold or Silver Wedding Ring?
We would recommend gold or white gold, but the answer really depends on your budget, since gold is naturally stronger than silver, but silver is the much more affordable choice. For jewelry, both gold and silver are strengthened using other metals like copper or nickel, so don't focus on purity when making your decision.
When it comes to the wedding ring, durability is no doubt every bride or groom's top priority. This band will see plenty of knocks, bumps, and scrapes over the years, but the key is to choose a metal that will be less likely to show those signs of wear and tear.
Gold is not infallible – particularly at higher purities – but it is stronger than silver.
Why Choose a Mixed Metal Engagement Ring?
One word: versatility. So many women feel as though they should match their jewelry, and commit either to a cool or warm tone across the board. A mixed metal engagement ring proves that the beauty and cohesiveness are not two sides of the same coin, and that there is something to be said for stepping outside of the usual parameters for design.
You've probably noticed that we're reluctant to conclusively rank one metal against the other, and this is because so much of the decision comes down to personal preference. Each precious metal is considered precious for a reason: it has a unique appeal, an unrivalled beauty, and a whole lot of prestige.
This is probably one of the main reasons why mixed metal engagement rings have proven so popular. Not only do they stop us from having to choose just one of the precious metals, but they also let us appreciate a pretty underestimated beauty: the beauty of combining them together, rather than keeping them apart on the assumption that 'they don't match'.
At the end of the day, you know your bride-to-be better than anyone, and the final decision comes down to you. Remember not to make your mind up before you see them in person – your jeweler will be able to show you these styles in-person, where the biggest impact will be felt.