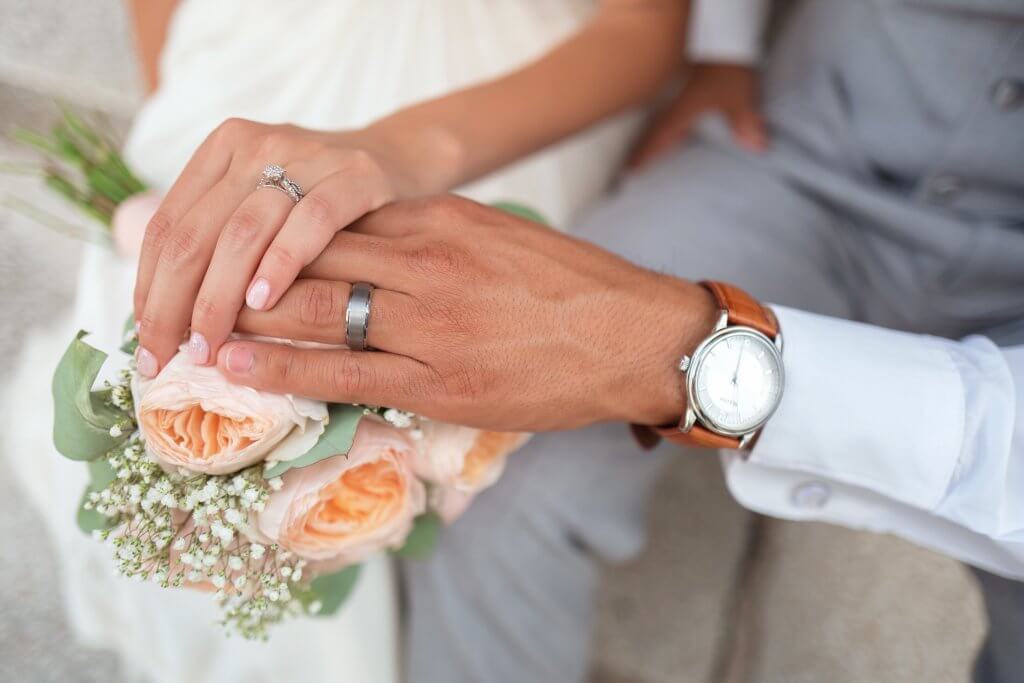 The wedding ring and the engagement ring are pretty much two halves of the same love story, representing both the time before and the time after you make your vows. Each one is wrapped up in plenty of traditions – old traditions spanning thousands of years, and much more recent traditions, too.
For instance, did you know that, according to the GIA's History of the Engagement Ring, these rings were first made of bone and flint? Or that wedding bands were once used as 'proof' of a financially-stable man?
It's safe to say that times have changed, but not so much that these two rings have lost any of their significance for so many couples around the world. It doesn't take a professional jeweler or a diamond buff to know that getting it right, and choosing the perfect rings, is an incredibly important part of any proposal and wedding.
What's the Difference Between an Engagement Ring and a Wedding Ring?
An engagement ring is typically given during a proposal, as a symbol of that couple's intention to marry, whereas wedding rings are typically exchanged during the wedding ceremony itself, as a symbol of that couple's eternal bond.
The exact meaning and use of both of these rings has evolved and changed, and there are plenty of differences around the world. In the US, we typically wear the wedding ring on the fourth of the left hand, with women also wearing their engagement ring on the same finger.
It is also tradition for brides to remove their engagement ring during the ceremony, and to replace it on the 'correct' finger after, so that the wedding ring can be worn closest to the heart.
Visually, these rings tend to be pretty different. Since the 1940s, engagement rings featuring one or more diamonds has represented the most popular choice, while the wedding band tends to be a little simpler.
Both tend to be cast from the same precious metal (or metals) – either gold or platinum or, to a slightly lesser extent, silver. Some couples choose to match their wedding rings together (this is known as a wedding set) while others prefer to choose differing designs that suit their unique styles.
Does the Wedding Ring Replace the Engagement Ring?
No, not according to tradition – and most brides. These two rings hold entirely different meanings, and are most commonly worn side-by-side following the wedding ceremony.
Some brides may keep their engagement rings for special occasions, particularly if their job or lifestyle makes wearing the engagement ring 24/7 inconvenient, or too risky.
However, as we mentioned above, the wedding ring does usually replace the engagement ring's position at the very base of the finger – although this is purely for symbolic reasons and, again, remains open to personal preference.
Is the Engagement Ring or Wedding Ring More Expensive?
Generally speaking, the engagement ring will be considerably more expensive than the wedding ring. This does depend, however, on the design of each ring.
Diamonds are a pretty luxurious commodity for most of us, and since the diamond is almost always used within the engagement ring, this part of the bridal set will probably represent the biggest investment for you. Consider the fact that an engagement ring comprises one or more diamond, and a setting suitable for keeping those precious gemstones in place – this may be relatively simple, or a pretty ornate halo or pavé diamond setting – whereas a wedding band tends to be a little more understated.
A good diamond makes for a strong investment – and, of course, a beautiful engagement ring makes for a strong proposal – so most shoppers are keen to create a much more substantial budget for this ring. How much you spend on your wedding band depends on many different factors.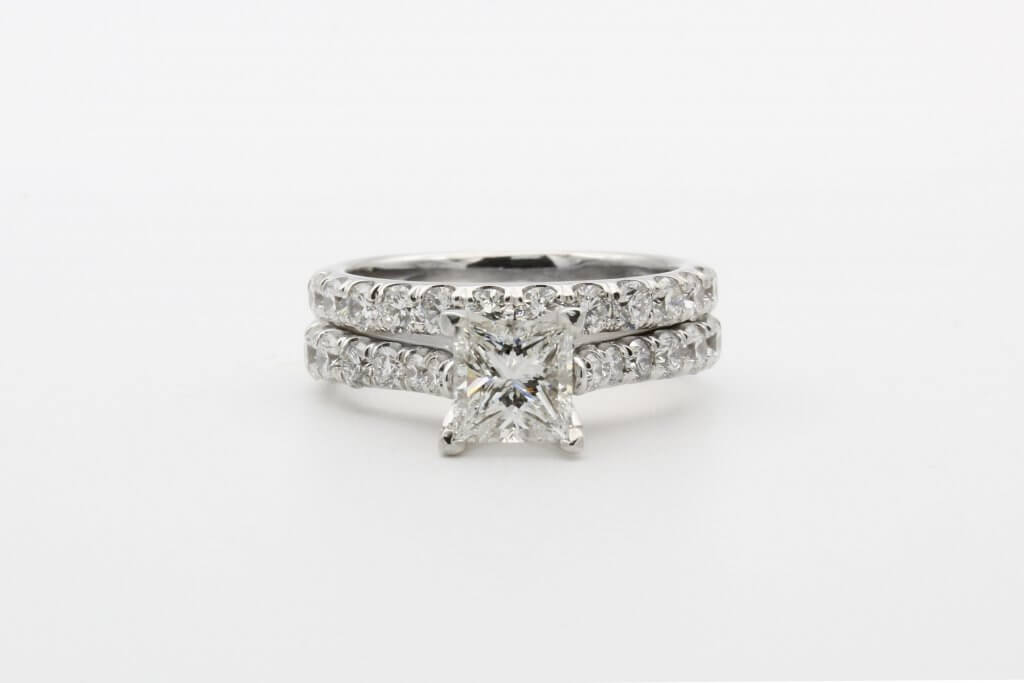 What Metal Should the Wedding Ring Be?
There is no definitive answer on this subject – it's about budget, personal preference, and lifestyle. Most couples like the wedding ring to be cast from the same metal as the engagement ring. Other than that, a strong, durable precious metal is by far the best choice, since it will last the longest.
We said above that you'll no doubt want to budget more for your engagement ring, but that's not to say that you should go 'all out' on the engagement ring, and leave yourself peanuts for the wedding rings. These bands will be worn for decades to come, which means that they need to be cast from a strong enough metal that they won't show every little scratch, bump, and scrape on their surface.
This is why platinum, while expensive, has become such a popular choice – it's incredibly strong, and, while it will lose some of its shine over the years (known as patina) it can be polished back to its former glory by a jeweler. Other popular choices for wedding bands include gold – which, historically, is seen as the 'purest' metal for couples – and white gold, for its beautiful (and more affordable) sheen.
When it comes to gold, karat type is the most important consideration. A higher karat type is the purer choice, but a purer gold is also a little more vulnerable to damage – not to mention considerably more expensive.
Sterling silver is also a stunning choice, but it's less durable and may begin to show signs of wear a lot faster than platinum or gold.
Can You Add Diamonds to a Plain Wedding Band?
Absolutely – wedding rings don't have to be plain. Your jeweler can help you to design a wedding band that perfectly complements the design of the engagement ring.
Many people like to think of the wedding ring's circular design as a representation of their endless bond, but that's not to say that has to go without any special design features. You might choose to draw inspiration from flush setting engagement rings, or to opt for a pavé design. Just be careful to make certain that your engagement and wedding bands can be worn comfortably together, or you may run into some trouble.
Alternatively, you might prefer to work with your jeweler to design a bridal set, and echo the design of your chosen engagement ring within this second band. That way, you can be sure they'll fit together like puzzle pieces when worn together on the finger.
Do the Bride and Groom's Rings Have to Match?
No, not at all. In fact, it's only in the last hundred or so years that the majority of American men started wearing a wedding ring – before then, these bands were typically only worn by the bride – so there's no age-old rule stating the man and woman need to match.
They say opposites attract. We don't know if that's true, but, if it is, making it a rule that the bride and groom need to choose matching – or even complementary – bands would be pretty inconvenient.
In fact, booking a consultation with at your local jewelry store and both working to design something that suits your unique tastes can be a great way of expressing your individuality. Remember – it's going to be on your finger for many, many years to come, so you've got to enjoy wearing it.
Can You use Your Engagement Ring as Your Wedding Ring?
Yes, some brides do choose to wear their engagement ring as wedding ring, while others prefer to wear two separate bands on the same finger – or even wear their engagement ring on a different finger.
This is a discussion that you and your bride-to-be can have further down the line, as you begin to prepare for the wedding itself. It's important to remember that there are no rules, and that it all comes down to preference. The style of ceremony itself determines whether or not a marriage is legally binding – not the rings.
If you would prefer to wear one ring, then you could consider suggesting a twisted or split shank engagement ring to your jeweler. These two separate pieces could represent the two separate meanings held by the wedding and engagement ring, and offer the perfect compromise if you'd like to use your engagement ring as your wedding ring.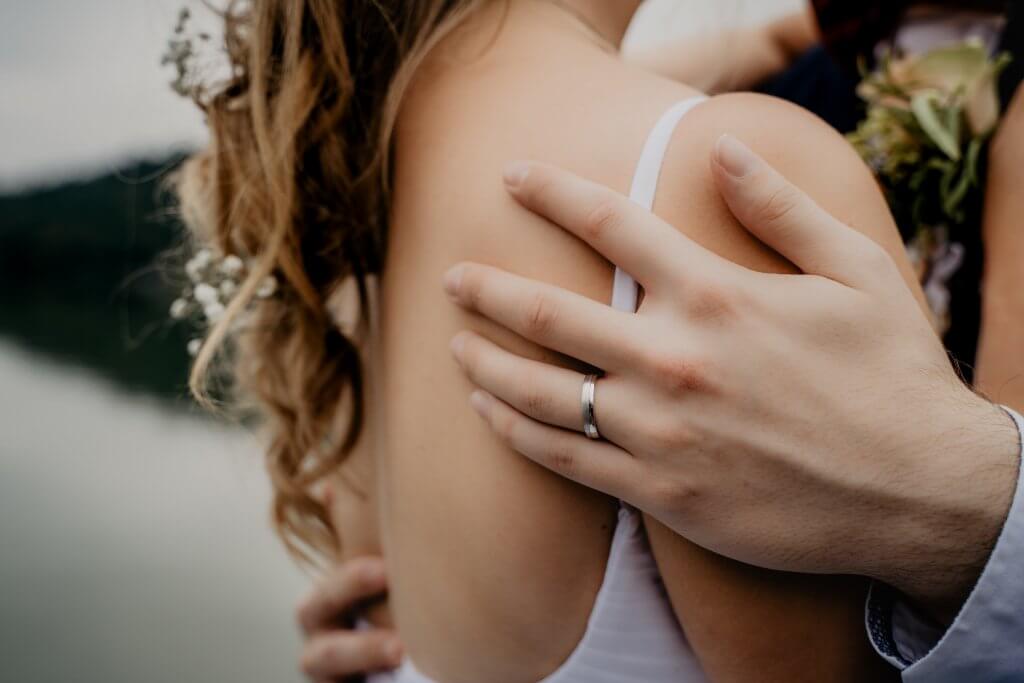 Do You Choose Your Wedding Rings Together?
Yes, the majority of couples will choose their wedding rings together, whether they choose to match or not. It is traditional for the bride and groom to buy one another's ring – another great reason to head to the jeweler together.
It is a special moment for any groom-to-be when he returns to his jeweler – this time with his bride-to-be by his side – as the big day draws closer, and those months of deliberation over the engagement ring begin to seem pretty simple in the face of planning a wedding.
In our opinion, your original jeweler should always be your first port of call, since they will already have plenty of ideas on how to create or choose a complementary wedding band. Those long talks over the diamond, the setting, and the metal of your chosen engagement ring can be put to use once again, and you can be sure of the same high quality finish.