Key Takeaways
In order to make the most of the process of designing an engagement ring from scratch, you'll want to understand the anatomy of a ring, and how to find a great diamond at your price point.
You will also want to make sure that you're bouncing ideas off an experienced master jeweler, who will be able to view your ideas from a different perspective and help you to turn a vision into a reality.
Online ring designers can be useful for gathering ideas, but you should never commit to a ring you haven't seen in person, or discussed with an expert in their field.
Jewelers are artists, capable of turning some of the world's most coveted and resilient resources into unique pieces that will be worn and shared across generations. They understand how to match the design to its wearer, how to shape the metal around its diamond, and how to meet the expectations of a customer who may not even know what he wants yet.
For this reason alone, choosing to work with your jeweler during this design process is one of the most rewarding things you can do as you prepare to propose.
Some people can be scared off taking this route, since, barring a small number of people, none of us have any idea how to design an engagement ring. Here's the good news: you don't need to, provided you know your partner – her tastes, style, and expectations – and that you have true craftsman by your side.
How Do You Design a Ring?
Start early. Research and gather ideas, get to know the separate components of an engagement ring, make a few preliminary designs then connect with a local jeweler capable of turning your idea into something you can finally hold and bring home.
There's no use beating around the bush: finding the perfect ring for her is a process, and it's pretty unlikely that you're going to roll with the very first ring you lay eyes on. Not only is it unlikely, but it's something we would always strongly recommend against. Simply put, you have to know what's out there, or you won't be making a choice – you'll be baling.
At Willyou.net our philosophy of connecting our users with local jewelers who possess the experience and skills to turn the seed of an idea into an unforgettable diamond ring makes it simple for you to write this next chapter of your love story. You can browse styles and diamonds, then submit your own ideas to a jeweler in your area, verified by our team.
In more practical terms, creating a ring is a procedure of two separate parts: finding a diamond (or a number of diamonds, if that's what you've got in mind), and designing a setting beautiful and strong enough to hold that diamond and set her heart racing when she finally sees it.
You need to know the different types of settings, the difference between carat and clarity – and which one matters more – the pros and cons of gold or white gold, rose gold, or platinum, her ring size, and her style.
It's a process, but it's absolutely worth it in the end.
How Much Does it Cost to Design Your Own Engagement Ring?
While you will pay a premium for the jeweler's time and expertise, the cost of a custom engagement ring generally won't be all that different to the cost of an existing design.
It is possible to get a custom ring on a budget, although you will have to make some sacrifices – like picking out a lower karat gold for the band, a simpler setting, and a diamond of a slightly lower quality. You can read more about that in our guide to affordable diamond engagement rings.
It is also possible to create a ring worth thousands of dollars. Your biggest expense will still be your diamond, but, provided you're open with your jeweler from the outset about your budget, there's no 'set amount' anyone has to pay for a bespoke piece.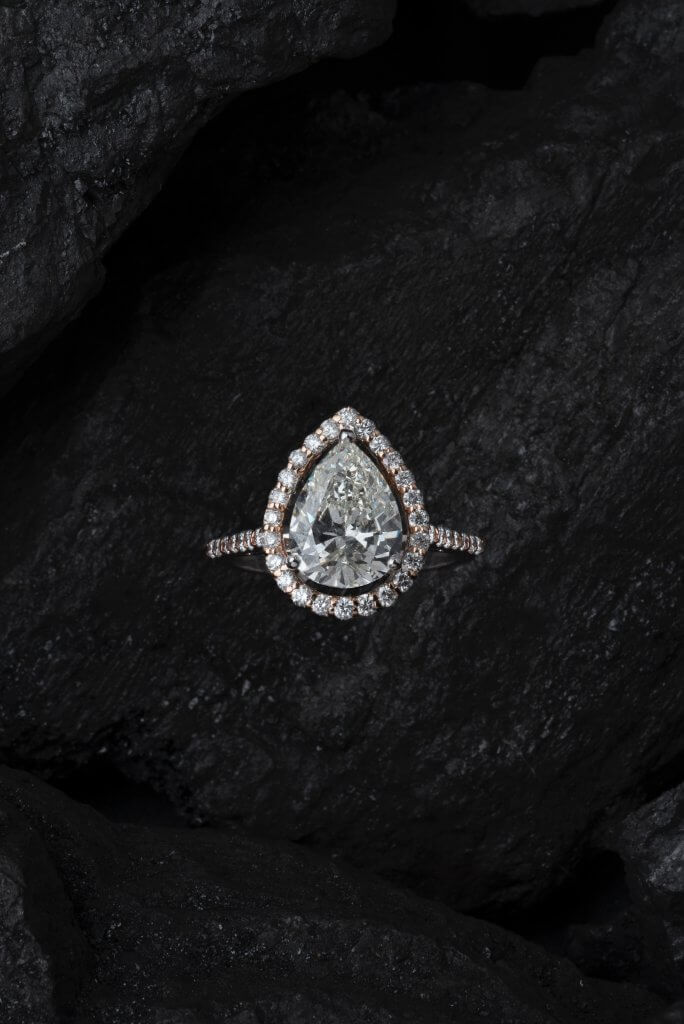 Should You Use an Online Ring Designer?
That depends. When it comes to designing a ring, the internet is a great place to start. You can take your time, combine different settings and diamonds to see what appeals to you, and get to know the different options available. The issue? Completing the entire process without contacting a real-life jeweler who can offer their own input and guidance.
Online stores miss out on one key element – and it's a pretty obvious one. They can show pictures and videos, but they can't put that ring or diamond into your hand until it arrives in the mail.
Why is this an issue? For starters, diamonds photograph well, but they don't photograph perfectly – their incredible sparkle, which just so happens to be their most coveted trait, can only be experienced to the fullest when it's in your hand. Similarly, any flaws or inclusions may look considerably more or less noticeable in a photograph – you might end up over-spending, or, alternatively, settling for a diamond that falls flat in person.
Consider how similar silver and platinum look in photographs, and believe us when we tell you that, in real life, they're worlds apart.
What's more, you'll miss out on all the expertise a jeweler can offer – expertise which may help turn a good idea into something you could never have dreamed up.
Online ring designers introduce you to the length and breadth of the world of engagement rings, and they introduce you to the concept of how to design an engagement ring. What they can't do is replace the experience of going into a brick-and-mortar jewelry store and learning what it feels like to see those elements in person.
Is it Possible to Design a Bridal Set?
Yes, this is another benefit to working with a skilled jeweler – they will be perfectly placed to create a complementary band it you'd like to invest in a matching set.
Bridal sets are a highly popular alternative to investing in an engagement ring and a wedding band separately. They offer you an opportunity to coordinate the two designs, draw upon certain features and echo them across the unique pieces, and to make sure that wearing the two rings side by side will be as comfortable as inserting one puzzle piece into another.
One issue brides can encounter is finding a wedding band that won't rub or push against the larger setting of the engagement ring, and a bespoke bridal set is the perfect solution.
Even if you haven't made your mind up just yet, this is definitely something to run past your jeweler. From designing a wishbone ring instead of the traditional circular band to replicating the solitaire diamond in a smaller flush setting within the wedding ring, your jeweler will have plenty of ideas for an original bridal set.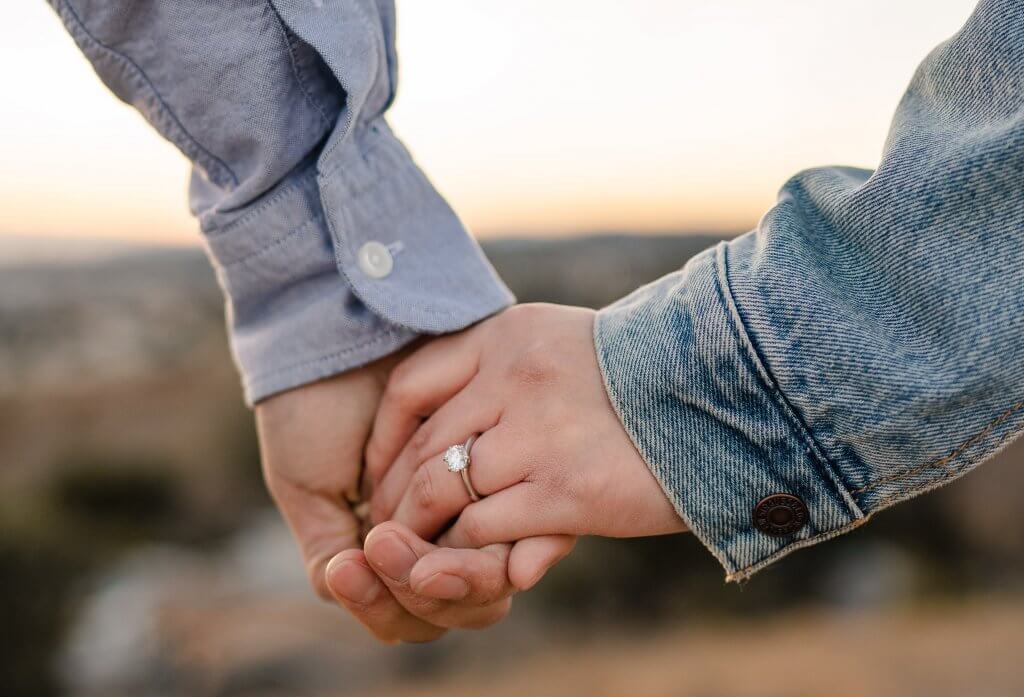 So, Should You Design Your Own Engagement Ring?
If you're prepared to put in a little extra legwork, then yes. Whether you want something totally original, or to put your own stamp on a classic style, designing your engagement ring with a jeweler is an experience like no other, and will give you that extra boost of pride when you open the box for the first time.
Still, does that mean designing an engagement ring is the only way to impress your bride-to-be? Absolutely not. There are so many incredible designs out there, and shopping from a local jeweler means you'll always get that all-important human touch, and a ring that has been created with expert hands.
The design process will take plenty of time, research, and probably a longer wait as your jeweler works out the finer details, and begins turning that design into a reality.
Your best bet? To start researching and reaching out to your jeweler several months before you plan to actually pop the question. That way, you can take your time, roll up your sleeves, and get involved in this incredible part of the journey – either alone, or with your bride-to-be at your side.