Key Takeaways
A bar setting is a great alternative to the more common pavé setting, and can be used with a variety of melee diamond shapes.
It is susceptible to scratches and resizing can be an issue, but this can be an issue with all decorated shanks, and band settings can be even more difficult to resize.
A channel setting might house diamonds more securely to prevent against damage, but a bar setting can be the most effective way to expose the diamonds and get as much light dancing through them as possible.
It's a great idea to keep in your back pocket if pavé doesn't quite do it for you.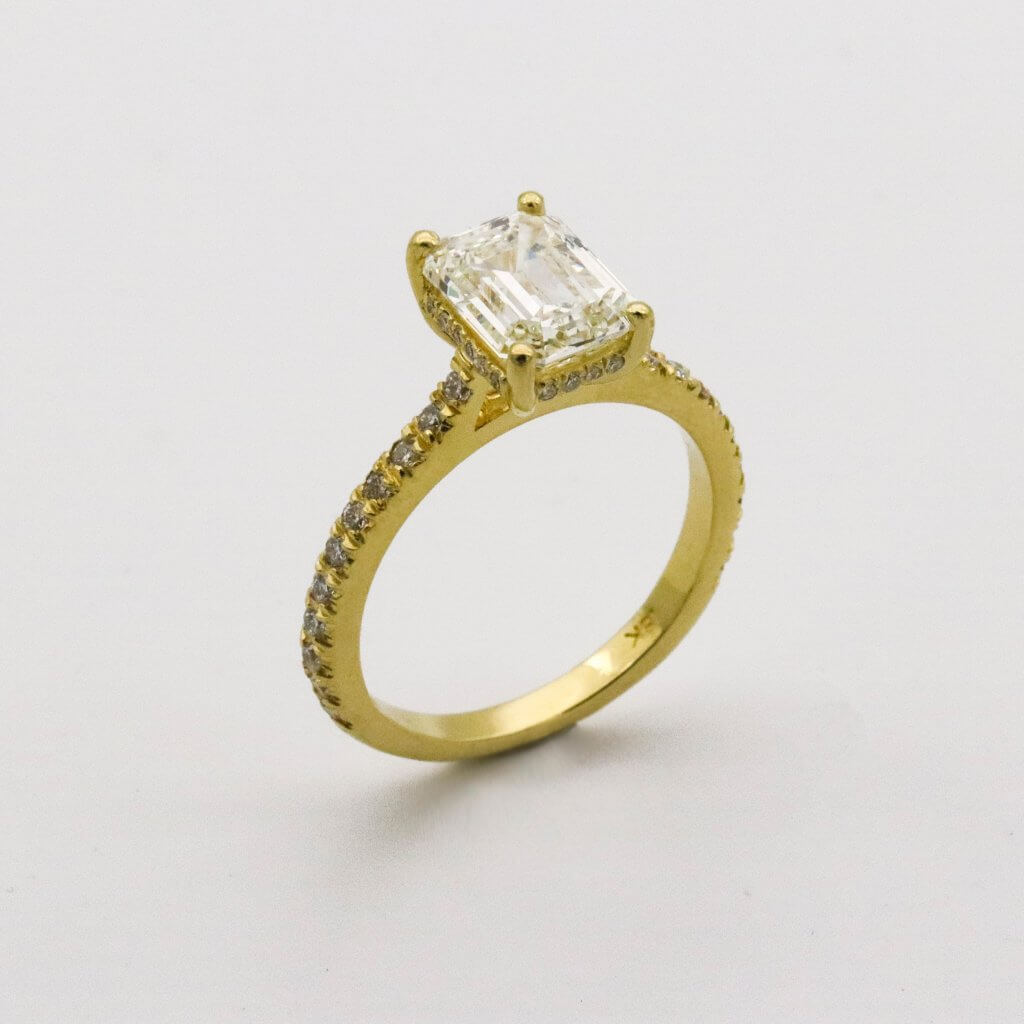 The key to any stunning diamond ring is sparkle – and that means that the key to any great setting is subtlety. Any of the most popular styles of ring settings must be able to balance the task of securing the diamonds within the metal band, with the task of optimizing the light performance of those diamonds.
In other words, a setting needs to take on two roles: it needs to be practical, and it needs to be beautiful without infringing on the diamonds' own beauty.
Given the highly complex way light travels through diamond, this is rarely easy, and experienced jewelers dedicate thousands of hours to figuring out the best way to display a diamond. However, the bar setting is one example of the jewelers' success. Capable of securing many smaller diamonds alongside one another without limiting sparkle, this setting has represented a firm favorite among buyers for many years.
What is a Bar Setting?
A bar setting refers to a striking design that places just two parallel metal bars on either side of the diamond, in order to leave as much of the diamonds exposed to the light as possible.
These bars run vertical – or, in other words, they follow the line of the finger when worn. This means that they leave the top and bottom of the band open, allowing light to enter the diamond from many different angles at once.
What does this mean? It means more opportunities for the light to enter and exit the diamonds, which means that each one will sparkle and flash in a different way as the wearer's hand moves through the light.
In a bar setting, the diamonds may be placed directly alongside one another, similar to how they are arranged in a pavé setting, or they may be spaced further apart, depending on your preference.
The bar setting is a popular design for wedding bands and eternity rings, but has also proven popular in engagement rings. The many smaller stones create a beautiful complement to a large, center diamond.
Is a Bar Setting Secure?
Yes, an expertly crafted bar setting is certainly secure enough to hold your diamonds firmly in place. They shouldn't wobble or fall out, provided they are properly crafted and cared for.
This is where the jeweler's skills are really put to the test. It takes an expert eye to figure out how to make those diamonds look as though they're floating on the wearer's finger, rather than tightly secured within the metal.
In the absence of a prong or bezel setting, invisible grooves within the bars prevent the diamond from moving or working itself loose. The effect is as stunning as it is secure – as though these small gemstones are capable of defying gravity.
What is the Difference Between a Bar Setting and a Channel Setting?
The bar setting features two bars, while a channel secures the diamond creates a box around each diamond, effectively enclosing those gemstones from all angles.
In both designs, the diamonds sit flush with the setting. While they may sound similar at first, these two settings create pretty different effects in terms of sparkle, though both offer their own beauty.
A channel setting does offer a little more security to the diamonds since it offers that additional layer of protection against knocks and scrapes. For this reason, you might want to make regular trips back to your jeweler to ensure every diamond is as secure as possible, and that none of them need replacing.
So, if you're looking to choose a ring that offers the most security possible, a channel setting could turn out to be your preferred choice. Don't rule out the elegance of the bar setting, though – while it takes a dedicated and experienced jeweler to pull this style off, it's more than worth it when those diamonds appear to float around the finger with the least interference from the band.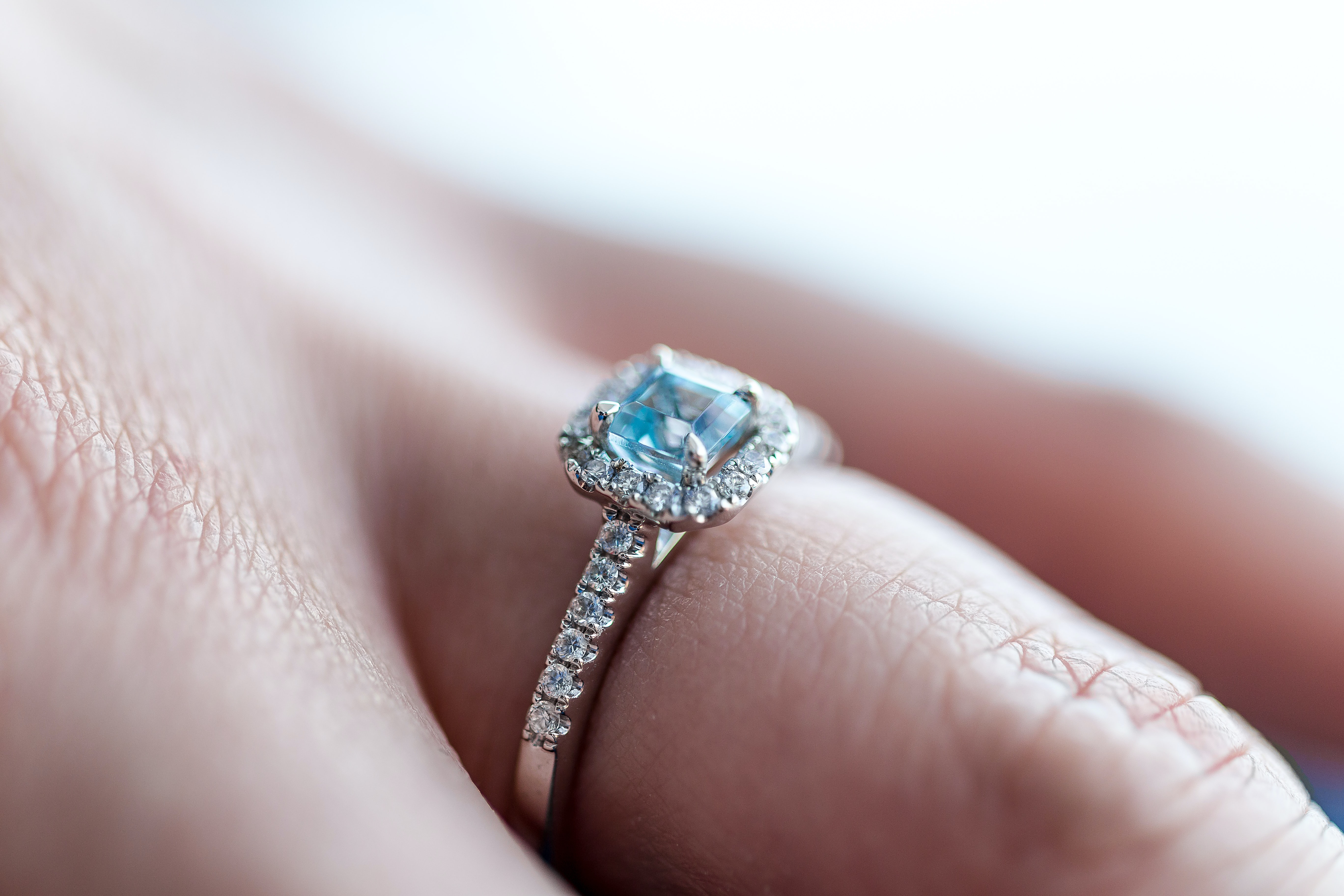 Can You Get a bar Setting Resized?
Yes, but it may be difficult and expensive – particularly if the diamonds cover the full circumference of the band. Ring sizing tends to rely on there being a section of plain metal, which may be stretched or narrowed depending on the wearer's size.
In some designs, the diamonds will be used to accent the shoulders of the ring. If this is the case, then reducing or stretching the ring will be a relatively simply process.
If, however, the band setting features all the way around the ring, then it can be incredibly difficult for a jeweler to make the ring smaller or larger. It may take a long time, and a larger investment on your part, as the jeweler works to alter the ring's circumference without interrupting the ring's very precise design.
If you have opted for a band setting, then you should make doubly sure that you've got the correct ring size for its intended wearer in order to avoid the additional cost of getting it resized. If the band setting is intended for an engagement ring, and you're finding it hard to get a definitive ring size, then your jeweler will recommend that your band setting does not cover the full circumference of the ring, so that there is still room for sizing down or up.
What Diamond Cuts Are Used in Bar Settings?
While round cut diamonds are the traditional choice, bar settings can be used to hold many different shapes in place for a unique design. This will, of course, depend on the jeweler's skill level, and their ability to secure more complex shapes using just two bars.
Whether we are investing in a large, center diamond for an engagement ring, or the smaller gemstones to be used within the bar setting, the first question on anyone's mind is likely to be which diamond cut sparkles the most?
This is why you will see plenty of examples of band settings featuring round or oval cut diamonds – the buyer will get the most sparkle for their money.
Still, it's not all about sparkle. A more unique cut has the power to transform this setting into something truly exceptional.
A band setting featuring emerald cut diamonds, for instance, creates the stunning, geometric lines of the Art Deco era of Gatsby and classic Chanel. While it won't sparkle from infinite angles like the round cut, the light will glide and flash across this setting in a truly unique way.
The bar setting can be used for almost any diamond shape, although some will prove harder than others. Head to your jeweler with your ideas, and watch the design process unfold.
What Metals Can Be Used in Bar Settings?
Any precious metal will offer the perfect combination of strength and beauty. The metal you choose should be dictated by your preference for color, and how that color interacts with the diamonds themselves.
While the point of the bar setting is to let the diamonds speak for themselves, and to ensure that the setting does not intrude on their ability to sparkle, your choice of metal will still play a key role in altering the appearance of the ring.
Consider the fact that diamonds set in metals featuring 'warmer' hues, such as yellow or rose gold, will feature a slight tint. This can look very striking, but is not for everyone. Some people prefer the sleek, bright look of a clear diamond set against white gold or platinum.
As your jeweler to demonstrate the different ways certain metals 'react with' the diamond. When it comes to diamonds, photographs and videos can only tell a part of the story. This means that the styles and colors that appeal to you on your computer screen may take second place when you get to see them in person.
So, Why Choose the Bar Setting for Your Ring?
It's a beautiful, classic, and unobtrusive setting for your diamonds. While subtle, your chosen precious metal will still shine through in its own way, without infringing on the diamonds' sparkle.
Not only are the results truly something to behold, but the bar setting is one of those designs which truly draws upon the expertise and dexterity of the jeweler who created it. Like many things, its simplicity is only achievable with talent, and many years' worth of practice.
Furthermore, it's ideal for anyone looking to create a bridal set with their jeweler. The bar setting can be echoed across the shoulders of her engagement ring, and the band of her wedding ring, too, in order to create the ideal set.
Just remember that resizing is not as simple as it is with other rings, and that the bar setting's less obtrusive design can mean that those little diamonds are more vulnerable to getting chipped or scratched over years of wear.
Don't let this be a dealbreaker, however. With the right jeweler to craft it – and no question over the wearer's ring size – the bar setting stands out as one of the jewelry world's most striking and complex designs, and will certainly live up to the hype when it is finally placed on the wearer's finger.