Key Takeaways
There are plenty of ring styles and options that are flattering to wider or chubbier fingers.
A larger center setting is a great choice, whether you've got the budget to accommodate a higher carat weight for your diamond, or whether you choose instead to embellish your center stone with a halo (or even a double halo).
A slightly thicker shank will also look more flattering. A skinny shank can look as though it's cutting into the finger, rather than complementing it.
Ultimately, the most flattering ring will be the one that your partner loves more than any other. Don't pick a certain style just because you think you should.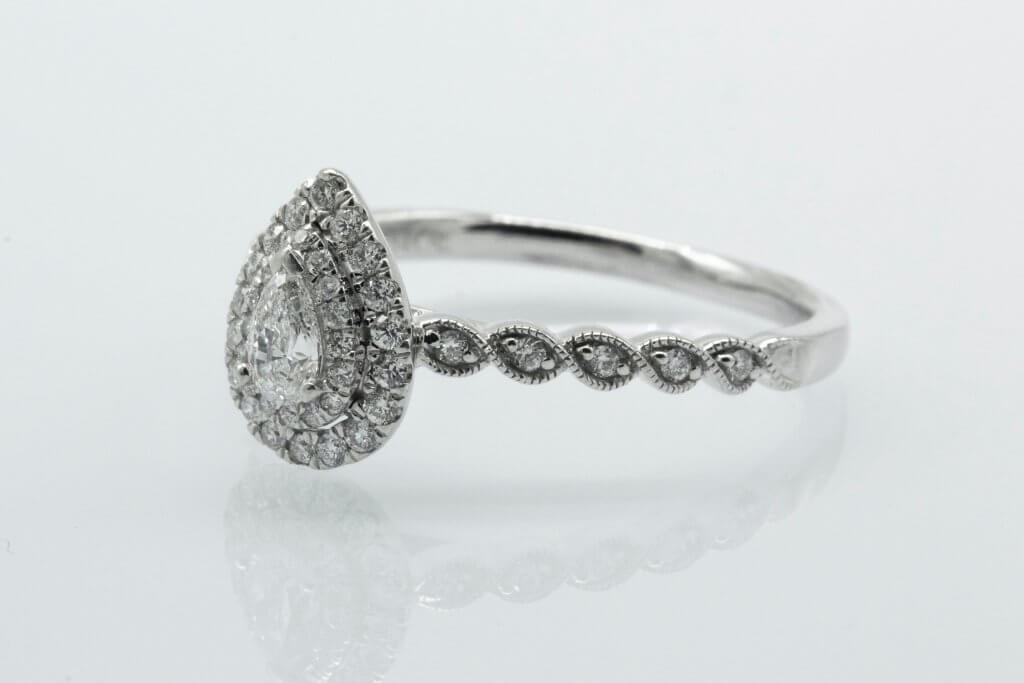 An engagement ring is a highly personal choice. We need to think about what our partners would love – what they might have hinted at – and what sorts of styles and shapes fit best with their unique personalities.
Then again, knowing our partners means knowing their hang-ups, and trying to work out how to accommodate any insecurities or inhibitions they might feel over the way they style and dress themselves.
It's pretty difficult for any wearer not to be flattered by a classic diamond ring, but there are a number of style choices you might want to consider if you know your bride-to-be will be eager for her ring to complement her short or chubby fingers as much as possible.
What Diamond Shape is Best For Fat Fingers?
Many people find that the most flattering shapes are those that appear elongated, rather than those that are perfectly square or round in appearance.
Take a look at this Round Cathedral Engagement Ring, then compare it with this Oval Solitaire. While both rings are pretty stunning examples of 'the classics' – and the Round diamond has the edge when it comes to sparkle – the Oval cut diamond certainly wins out when it comes to flattering wider or stubbier fingers.
It's a pretty common trick in fashion and jewelry – playing with proportion to create a grow or shrink one part of the body.
The same goes for the Marquise cut and the Pear.
Similarly, if you're looking at the more geometric cuts, then we'd recommend you look at the Emerald diamond rather than the Asscher (square Emerald).
What Kind of Ring Looks Best on Fat Fingers?
A halo is an incredibly popular setting choice for flattering wide or chubby fingers since it adds extra weight (and width) to the ring without forcing you to drop tens of thousands of dollars on a much higher carat weight.
As well as using proportion to your advantage in the diamond, you can intentionally design the setting to work with your fiancée-to-be's fingers. After all, while the diamond solitaire is the classic choice for engagement rings, smaller diamonds can have the unwanted effect of making the finger look wider than it is. Sure, a 4 or 5 carat diamond will be big enough to work with a wider finger, rather than against it, but not everyone can accommodate that in their budget.
This Pear Halo Engagement Ring, for instance, makes use of the extra weight and sparkle provided by the halo, which creates a silhouette significantly larger than the diamond alone.
Alternatively, you might want to consider a pavé band, like this Radiant Cut Pavé Engagement Ring in White Gold, as this feature will spread the sparkle across the full width of the top of the finger, rather than keeping it solely at the center.
Some people also find that split shank settings are highly effective at slimming the finger, since they take up more space rather than carving a single line across what is generally considered the widest part of the finger.
Do Rings Make Your Fingers Look Thinner?
Yes, they can be very flattering, but one of the most important things to remember is the importance of a good fit.
Sure, you can angle your choices toward the most flattering shapes and styles, but there's no escaping the fact that no finger will be flattered by a ring that doesn't fit properly. Whether your bride-to-be's fingers are on the short and 'stubby' side, or long and slim, a ring that is too tight will distort the edges of the wearer's finger, and detract from its own beauty.
For that, you'll want to accurately measure the intended wearer's finger before telling your jeweler to go ahead with the design. Start off by reading our full guide to choosing a ring size, then work out your approach to getting that vital number without letting the cat out the bag.
Just remember that you could pick the most flattering ring style and diamond cut on the planet; if the shank is tight enough to bite into the fleshy part of the finger, however, it won't do the wearer any favors. Plus, you'll have to return to the jewelers for ring resizing – something no newly engaged couple wants to have to do.
Does Metal Matter?
Only for personal preference, since both platinum and gold – whether white, yellow, or rose – are considered highly flattering on for any skin tone or body type.
Again, ensuring a good fit really is key here. Other than that, your partner's preference for a specific color of metal should be your guiding light – and, of course, your budget.
Whether you opt for a vibrantly yellow 18 karat gold or a bright platinum, the metal is bound to create a certain amount of contrast between the wearer's finger and the ring itself – and, of course, the diamond. Remember that picking a ring that flatters the finger, and picking something that stops the wearer's finger from standing out, are two totally different things, and it's far more likely that you would both prefer the former, rather than the latter.
Our Summary: Do Rings Look Good on Fat Fingers?
Yes! For starters, nobody ever looks worse when they're wearing diamonds. Furthermore, if you are keen to pick something out that intentionally flatters your partner's finger shape, there are plenty of ways to do that.
From playing with proportion to using shapes that elongate, rather than widen, some of the most popular and prized engagement ring designs naturally favor unique finger shapes. You don't necessarily need to go out of your way to flatter your partner's wide or chubby fingers – and, if you know a classic Round Brilliant Solitaire is what she's always dreamed of, you definitely shouldn't do that.
At the end of the day, people look their best in what they love, so focus on designing something you know she will fall for at first sight. Focus on ensuring that you get a great fit for her finger first time around – and putting a smile on her face that lasts until bedtime.