Key Takeaways
An Anniversary Band is a great excuse to shower a little extra love on your partner during a special milestone, whether you have been married for a year, ten years, or more decades than you care to mention.
While they are both significant to your relationship, there's a major difference between the wedding band and the anniversary band.
There's no specific 'look' required for an anniversary band. A lot of shoppers like to pair the wedding band with something sparkly and special, like a full or half pavé, or a channel setting.
In general, it's best to avoid having a single, prominent diamond at the center, since this could 'compete' for attention with the engagement ring – particularly if your partner is wearing the full set on one finger.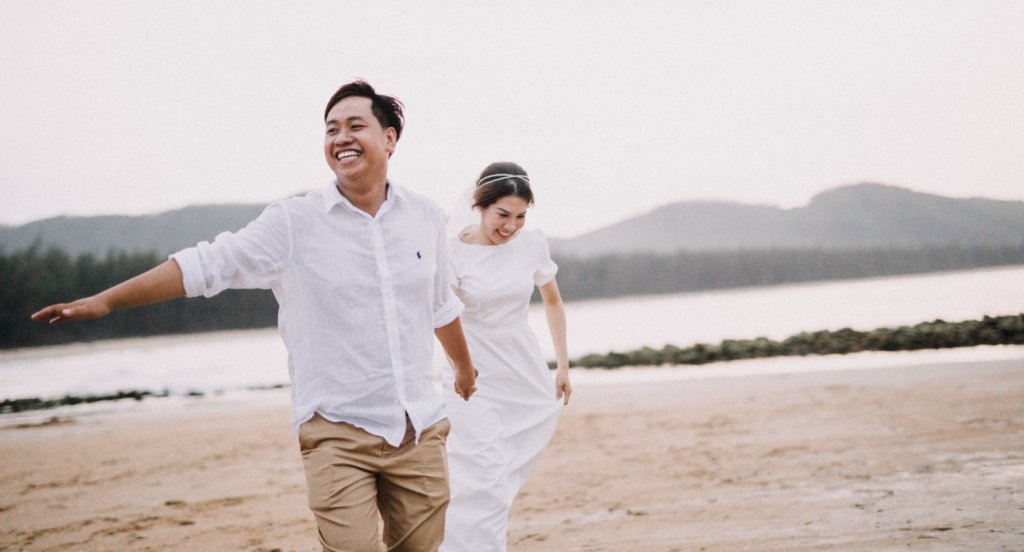 Engagement, wedding, anniversary – that's the way it's always gone. We can try to come up with a pneumonic to help you remember it, but it probably won't be as memorable as the real thing. Eels Watch Anacondas? Engagement, wedding, anniversary.
But, if you're here, then there's a good chance you're not struggling with the order these events' corresponding rings are purchased, but what the actual, fundamental difference between one band and the other is.
The engagement ring is easy enough to distinguish, thanks to that great big rock sitting front and center on it. It's pretty hard to miss, or confuse with any other piece of jewelry you have (or will) ever purchase. At least, that's the idea.
But what about the other two? How do you keep them different – not to mention special – enough to mark and celebrate each moment to the fullest? Here's what you need to know.
What is the difference between wedding and anniversary bands?
A wedding band is traditionally plain, whereas an anniversary band (also commonly referred to as an eternity band) often features a row of pavé or channel set diamonds.
The obvious differences are that a wedding band is given during the wedding ceremony, as a symbol of your eternal bond and commitment to one another, while the anniversary band is later – sometimes a lot later.
An anniversary band can be given for any anniversary, but they're most commonly saved for the big milestones: 1 year, 5 years, 10 years, 25 years, or even 50 years. For some couples, they're given after the birth of their first child – although, in this case, they're more commonly referred to as an eternity ring.
Another major difference is location. Wedding and anniversary bands aren't vying for the same real estate on your partner's left ring finger, since there are no rules (read: traditions) about where the anniversary band goes.
Does an anniversary band replace a wedding band?
No. An anniversary band holds a totally different meaning and can't replace the meaning and sentimental value of a wedding band.
In fact, a lot of people choose to wear their anniversary band on the opposite hand. It's more comfortable, and it creates a better sense of balance between the left hand and the right. After all, why wear all your diamonds on one hand when you can spread them between both?
Don't see the anniversary band as something that's competing with other pieces of bridal jewelry. It marks a big milestone – one that echoes the meaning of the wedding band, but in a totally different, life-affirming way.
What is the point of an anniversary ring?
To celebrate your marriage, and the time that has passed between the 'I do' and right now. It's another beautiful token of your love and commitment – and who can argue with that?
One of the great things about the anniversary ring is there's no specific time you have to give it to your partner. It makes for a great, landmark gift during a special year of your lives, whether you wait until a birthday or Valentine's Day to give it, or put it on their finger on the exact date of your wedding.
There are not rules, just guidelines, for the anniversary ring.
Can you wear an anniversary band on your right hand?
Of course. The anniversary band doesn't have to go on the left hand ring finger, although some people do choose to wear it there.
It all depends on what you find comfortable, and what you find beautiful. If you've got a thick engagement ring band (as well as a wedding band), then fitting another ring onto the stack will probably prove pretty uncomfortable.
Anniversary bands can go on the left or right hand, and on any finger that's comfortable. True, they're part of a set, but that's not to say there are any rules governing placement.
Picking a Wedding Band
The process of picking a wedding band is typically done together. Most wedding bands are made from plain, solid gold or platinum. Sometimes, partners choose to pick out matching rings, although it's becoming increasingly common for brides and grooms to pick out rings that suit their own, personal styles, rather than trying to coordinate.
This often comes down to your individual tastes, but also practicalities. For brides with larger, bulkier engagement rings, it may be necessary to design the wedding band around the engagement ring. For instance, some wedding bands are better for halo settings, while others will rub and clash uncomfortably.
Some wedding bands will feature one or two small embellishments, like a flush set diamond, a subtle feature in the metalwork like milgrain, or an engraving (usually located on the inside of the band, so that it sits close to the skin).
After the I Dos, the traditional way to wear the wedding ring is at the base of the left ring finger. A lot of brides move the engagement ring to the right hand for the wedding ceremony, then move it back to the ring finger once the wedding band is there, so that they're stacked.
Picking an Anniversary Band
Since they're often given as surprise gifts, anniversary bands are usually chosen without the wearer's input. For this reason, we always recommend that you go back to the same jeweler you purchased your engagement ring from, since you'll already have that rapport and trust that will help you work together on the perfect design.
To distinguish an anniversary band from a wedding band, it's customary for them to feature diamonds (or a combination of diamond and other colored gemstones, like sapphire or emerald).
You'll want to consider a pavé setting, or a half-pavé (which will cover just the top half of the band). If you're interested in incorporating a different cut of diamond (other than the Round Brilliant) into the design, then talk to your jeweler about channel settings instead.
The baguette cut, for instance, offers a great alternative – particularly if the rest of your bridal set has a vintage, Art Deco vibe to it.
Unless your partner has an intentionally varied jewelry collection, stick to the same metal that the engagement ring and wedding band are made from. If it's gold, try to stick to the same karat type, or you'll end up with varying shades of yellow or pink.
How do you give an anniversary ring?
Pick a special, meaningful moment. An intimate restaurant, a vacation, a hike to your favorite spot, or even just your home, when the celebrations are already underway.
There are no big, grand traditions for the anniversary band. While an engagement ring has the classic down-on-one-knee moment, and the wedding band has an entire ceremony built around it, the anniversary ring is a little more open to interpretation.
Obviously, you want it to be special. It's not common for the giver to go down on one knee over an anniversary ring, so consider planning something totally different. Wrap it up and pretend like it's a normal gift, or put it on their finger when they're least expecting it. Put on your wedding video and, while you're reliving the memories, bring it out.
Alternatively, if you're planning on renewing your wedding vows, you could give it to your partner then.
There are hundreds of different ways to give an anniversary ring, so enjoy the challenge of thinking up something memorable.
When is the diamond wedding anniversary?
Sixty years of marriage marks the diamond wedding anniversary, when diamonds are the customary gift.
It's a great tradition, but there's no rule stating you have to hold-off on getting an anniversary ring until then. Diamond earrings, or a diamond necklace or bracelets, are all popular choices for a sixtieth wedding anniversary, whereas the anniversary band tends to arrive on the scene a lot sooner.
Why? Because it's considered part of the bridal set – the three rings that, together, represent every aspect of your relationship and commitment to one another. Many brides like to get their anniversary band designed by the same jeweler who designed the rest of the bridal set, and that's why a lot of couples choose to add it into the mix well before their sixty years have passed.
Our Summary
There's a big difference between a wedding band and an anniversary band. Put simply, the anniversary band is intended to celebrate what the wedding band represents – a long-lasting and happy marriage.
From when they are given to how they are worn – and, even, what they look like – the wedding band and the anniversary band are as different from each other as they are from the engagement ring.
While you probably picked out (or are planning on picking out) your wedding bands together, there's a good chance the weight of finding the perfect anniversary band has fallen on your shoulders alone. Our best advice for nailing it? Go back to your jeweler, or find a trusted store in your local area so that you don't have to feel like you're going at this alone.