Key Takeaways
The best way to ensure that every detail of your engagement ring is perfect for its intended wearer is to work on a custom design with your jeweler.
Your jeweler will be backed by years and years of experience and creativity, and you will be backed by your knowledge about your partner. Together, you will be able to combine ideas and figure out the perfect design – something unique, and tailored to your future spouse.
This also gives you the opportunity to see your diamond in the flesh before you commit – something you can't do if you work through an online vendor.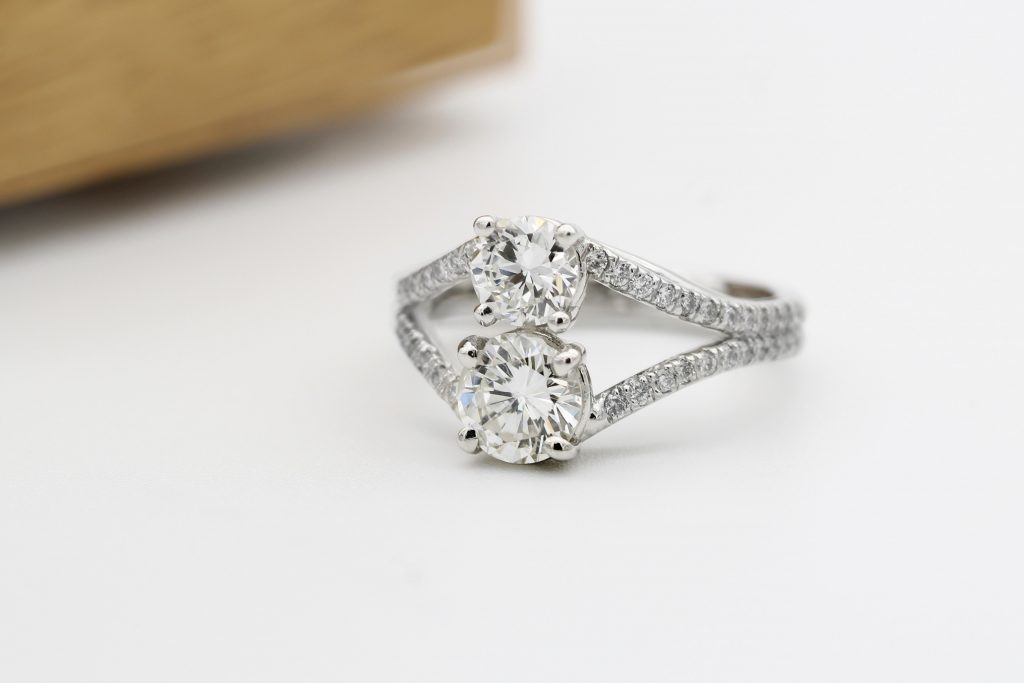 When beginning your quest for the perfect diamond engagement ring, get ready for a ton of decisions that need to be made right off the bat. There's so much out there that it can be hard to separate the wheat from the chaff – to follow objective advice subjectively, and to ensure all your bases are covered by the research you manage to cram in when your partner is out of the room.
The best way to do this is to find your very own local jeweler so that they can lead you towards quality and away from junk. Your trust in your local diamond jeweler is imperative for making sure that you avoid all the pitfalls modern shoppers can fall into and, just as importantly, for collaborating throughout the design and creation of a custom-made engagement ring.
Custom-made diamond engagement rings are becoming more and more popular. Gone are the days of 'point and pick' a ready-made ring at a jewelry store's window display – or, of course, an online webpage's usual assortment.
Maybe it's at the hand of our personalized coffee orders or next-day cross-country delivery services that we've grown accustomed to getting exactly what we want, when we want it. Either way, custom-designing a ring from scratch is no longer reserved for the likes of the rich and famous. It's easy, especially once you're paired with a pre-approved trusted local jeweler.
So, where to begin?
How Can I Get a Custom Engagement Ring?
You'll want to have three things on your side: a skilled local jeweler, a vision for what your partner would want, and a pretty solid understanding of the basics of diamonds and diamond rings.
First, you'll want to connect with a trusted local jewelry store. Make sure you ask around and get personal recommendations, or even better- have someone else do the pre-screening for you. Willyou.net, for example, only works with top local jeweler partners, so you can be sure they're well-reputed. Your jeweler will walk you through their step-by-step custom designing process so that you can create her dream ring.
Can I Design My Own Engagement Ring?
Of course! Even if you're just adding a subtle detail to one of the more traditional engagement ring designs, designing your own ring with your jeweler is a beautiful way to celebrate your love.
You'll be able to send your local diamond jeweler some visual inspiration, like a joint Pinterest board, and give them an idea of what style you're looking for.
Throughout the process, you'll choose a setting, a metal to work with, a diamond, and cut, and together, you'll design the perfect ring using your jeweler's diamond expertise. Having a ring custom-made is a way to guarantee that nobody else will have the exact same ring because it will have been personally handcrafted just for her.
Is it Better to Customize an Engagement Ring?
While beauty lies in the eye of the beholder, customizing an engagement ring is inarguably the best way to give your future bride the ring of her dreams. A custom engagement ring is personal, irreplaceable, and totally unique.
Everyone thinks their engagement ring is better than anyone else's, whether it features a design that has been seen thousands of times before, or a design that is totally unique and personal to the couple whose love it represents.
If you're browsing engagement ring styles on Pinterest or staring at the designs in your local jeweler's window, however, and can't seem to find anything that sets the wedding bells ringing in your head – or just wish you could combine that bandwith that diamond and that metal – then a custom engagement ring is probably going to be the better choice for you.
The Materials
There are many different ways to make a ring, and you're going to want to review them all before you settle on any design specifics. From the showpiece to the 'wings', you'd be surprised to learn how much a relatively simple change can alter the entire look and feel of your engagement ring.
Diamonds
Sure, this screams 'starting off in the deep end', but is there really any better place to start? When you're down on one knee, pulling the lid off that ring box, the first thing your partner sees is going to be the diamond at the very center, and not the finer details.
Plus, from a more pragmatic standpoint, the diamond will be the biggest investment you make. Sure, gold or platinum are both pretty valuable, but they won't cost anywhere near as much as your diamond – and neither would you want them to.
To put it in simple terms, we recommend you earmark around 80 to 85% of your budget for this part. We'll talk more about the costs of designing a custom engagement ring below, but this is a great ballpark figure to start off with – especially if you already have a rough figure in mind for the entire ring.
When it comes to design, the first two things that'll come to mind are shape and size…
Shape
There's nothing more sparkly than a Round Brilliant diamond – but, then again, there's nothing more stylishly feminine than the Princess cut diamond, or classically elegant than the Emerald cut. For brides expecting to be dazzled by fire when they look at their diamond, then the Cushion is second to none – but, for brides with an edgier style, the Marquise could be the perfect choice.
If you're feeling dazed, then don't worry – that's pretty much expected at this point. The point is not to overwhelm you with options, but to prove quite how much scope there is for personalization.
Even the simplicity of the diamond solitaire engagement ring can be reinterpreted with some pretty drastic results just by changing up the diamond placed at the center. For instance, this Marquise Diamond Cathedral Engagement Ring puts an unexpected twist on a traditional silhouette, while remaining elegant and, in many ways, pretty understated, too.
If you can't choose, you could opt to incorporate more than one diamond shape into your ring – and take advantage of the unique characteristics of each. For instance, this Emerald Cut Pavé Engagement Ring benefits from the incredibly dynamic sparkle brought by the Round cut melee diamonds along the shank, which offer the perfect complement to the more restrained shine of the Emerald at the ring's center.
Size
Even if you've never read a single article about engagement rings in your life, you probably know full well that, for a lot of future brides, big diamonds represent the ideal. As a result, you probably already know that you want to go as big as possible, budget permitting.
While it might seem like a vague starting point, it's a starting point, nonetheless. Once you nail down the kind of carat weight and shape you want for your diamond, your options for the ring's overall design will start to get a lot clearer.
For that, it's best to start by reading our guide to carat weight, and how it (typically) influences the overall size of your diamond.
Metal
Most shoppers fall into one of two camps: gold or platinum engagement rings. Gold is a little more versatile, since you'll have your pick of white gold, rose gold, or traditionally yellow gold – and, of course, the karat type, too.
Platinum is the stronger and more expensive option, but it's got a few benefits you'll want to know about if you're in the market for this precious metal.
For a more unique feel, you could opt for a mixed metal engagement ring, combining the traditional look of yellow gold, for instance, with the more modern look of white gold.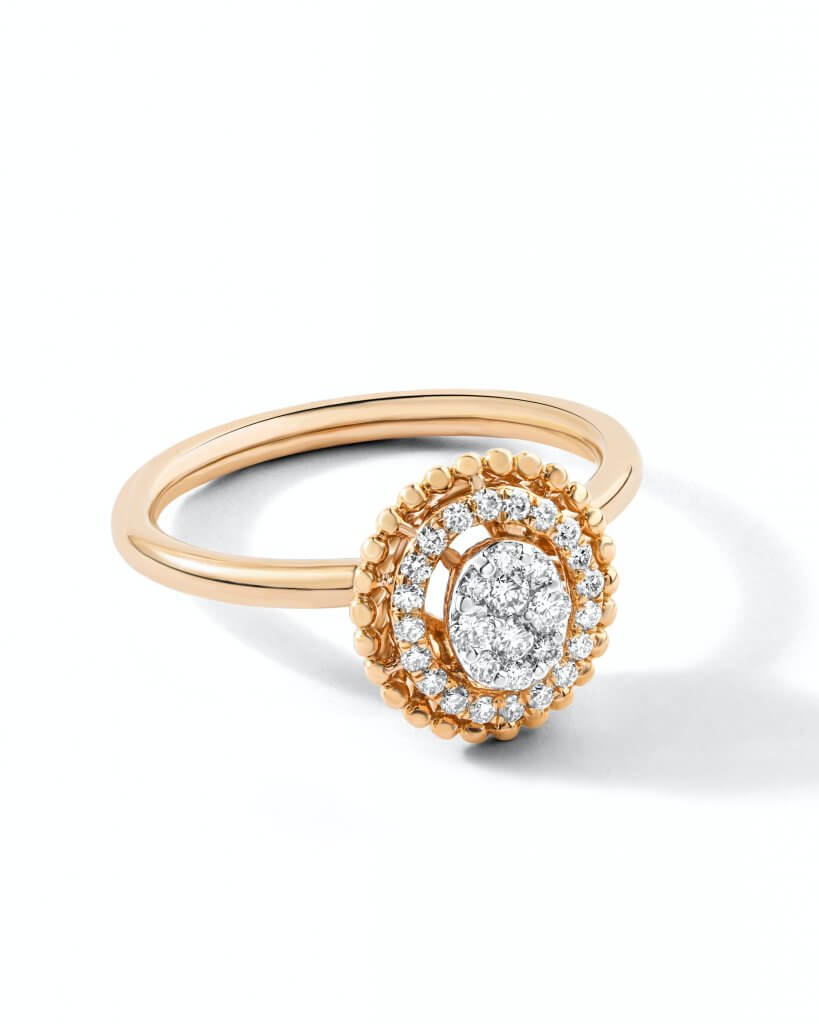 Engraving
Engraving a ring is a beautiful way to add a unique touch that only you and your partner will know about, whether you're commemorating a date or adding a line of poetry.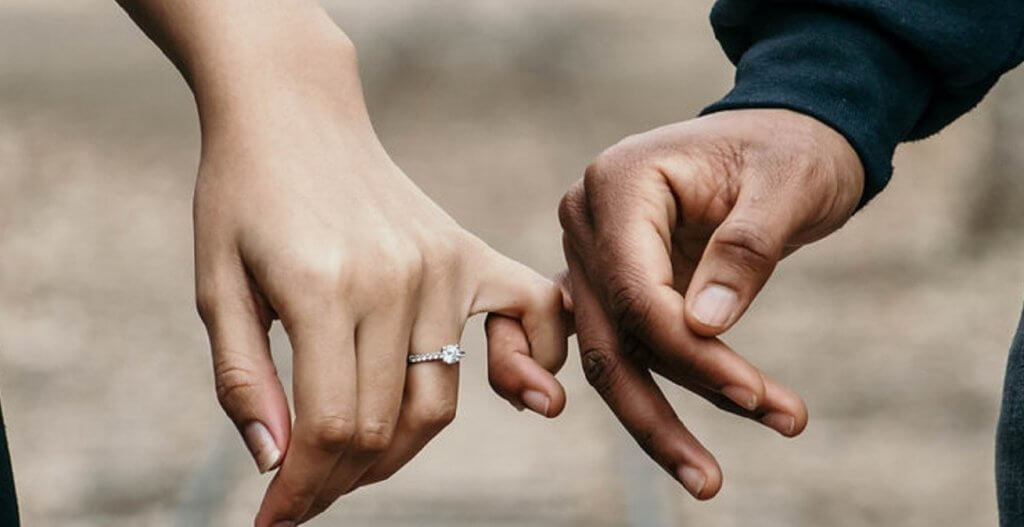 FAQs
In case you need that little bit more persuading that a custom engagement ring is the perfect way to say, 'I love you', we've answered some of our readers' most pressing questions below.
How Much Does it Cost to Customize an Engagement Ring?
Anywhere from around the $10,000 mark plus, depending on the complexity of the design, the metal used and, most important of all, the size and quality of your chosen diamond or diamonds.
The cost of customizing a diamond engagement ring with your local diamond jeweler can widely vary based on a number of factors. In the past, it was common to go by the "three-month's-salary" rule but that has long been forgotten. You can find a ring that's within your budget and refrain from breaking the bank. A trusted local jeweler will gladly work with you and your financial plan to create a beautiful ring without cutting corners.
Your center stone's carat weight, or size, for one, will greatly affect the price of your ring. If it's a rarer diamond then, naturally, this will drive up your ring's price – and, as you can probably imagine, larger diamonds come at a premium cost. If you're working with a diamond already in your possession, say, a family heirloom, then you're looking at a lower cost.
If your diamond is 1-carat, then you're looking at the $10,000-$15,000 price range. If it's more intricately set with lots of added detail, again, you're looking at a greater sum. A larger center stone, accent stones with more carat weight, and more overall intricacy in your setting will take you to the $15,000-$30,000 price range. Using more costly metals like platinum will also increase cost.
How Long Does it Take a Jeweler to Make a Custom Ring?
Your timeframe for your custom diamond engagement ring will all depend on your specific local diamond jeweler, their schedule, and store policy. Generally speaking, custom-designing a diamond engagement ring, from start to finish, should take something like 2-4 weeks.
Of course, you're going to want to book your first (of two or three) appointments far in advance of when you're planning to pop the question. Willyou.net streamlines the custom diamond ring creation process by having you choose a setting and diamond online after having chosen your local diamond jeweler. This means your first appointment with your local jeweler will likely be a crash course in the 4 Cs– carat, clarity, cut, and color, but what's more is that they'll already have options for you to look at.
Once you go over your exact vision together, you'll have a second appointment to see the completed ring and make any last changes before picking it up and taking it home!
Should You Tell a Jeweler Your Budget?
100%, yes. Your jeweler isn't going to want to start giving you any concrete ideas or designs until that know that they're working to a price point you're comfortable with.
It's a widely known fact that some jewelers – most independently run businesses – are open to negotiation, but knowing that can make shoppers' heads spin at the prospect. For some, the answer is to be cagey – to play coy with money until the jeweler gives them their best price.
This isn't the way to do it, though. A good jeweler will be one who wants to know the parameters they have to work with. If you're working to a $10,000 budget, for instance, then it would be your jeweler's worst nightmare to propose a design that'll set you back at least $20,000. Why? Because, after that, they probably wouldn't see you for dust.
You don't need to play games with your jeweler. The more you are able to practice honesty, the more personalized their approach can be. Sure, naming your price isn't always easy, but it's the only way to get the very most out of that magical number.
Bottom Line: Should You Customize Your Engagement Ring?
If you're willing to do your research and exercise just the right amount of bravery to stray from the norm, then you will no doubt find that customizing an engagement ring – or designing it totally from scratch with your jeweler – is one of the most rewarding things you can do for your partner.
Custom engagement rings at your local jeweler are a perfect way to personalize your diamond ring. Proposing with any diamond ring will, of course, be sufficient, but custom designing and creating a ring made specifically for her by you (with the help of your trusted local diamond jeweler) will undoubtedly knock her socks off.
Any engagement ring will take on a tremendous amount of sentimental value from the moment you bring it home from the jewelry store – and particularly after it's found its way onto your partner's finger – but personalized engagement rings have that extra sentimentality about them, simply because of the time and effort that their makers put into them. Whether you worked on the design yourself, or simply added a meaningful line of text onto the inside of the band, 'making it special' is totally down to you and your jeweler's combined efforts.
Begin planning your custom-made engagement ring today by finding a reputable local jeweler from our list of hand-picked Jewelry Stores, all personally recommended by WillYou.Net.