Key Takeaways
Sam's Club definitely isn't what most people will think of when we say the phrase, 'buy an engagement ring'.
The store offers a little of just about everything you can think of, however, so it was only a matter of time before they started to make a dent in the engagement ring and bridal jewelry market.
While you might write it off on sight, Sam's Club is actually pretty far from the worst store we've encountered for purchasing an engagement ring.
Finding the right diamond (eye clean, GIA certified, with a great cut and no visible color) will be a challenge, however, since plenty of their diamonds are graded with the IGI instead. Steer clear of these, and consider a more traditional experience with an expert jeweler.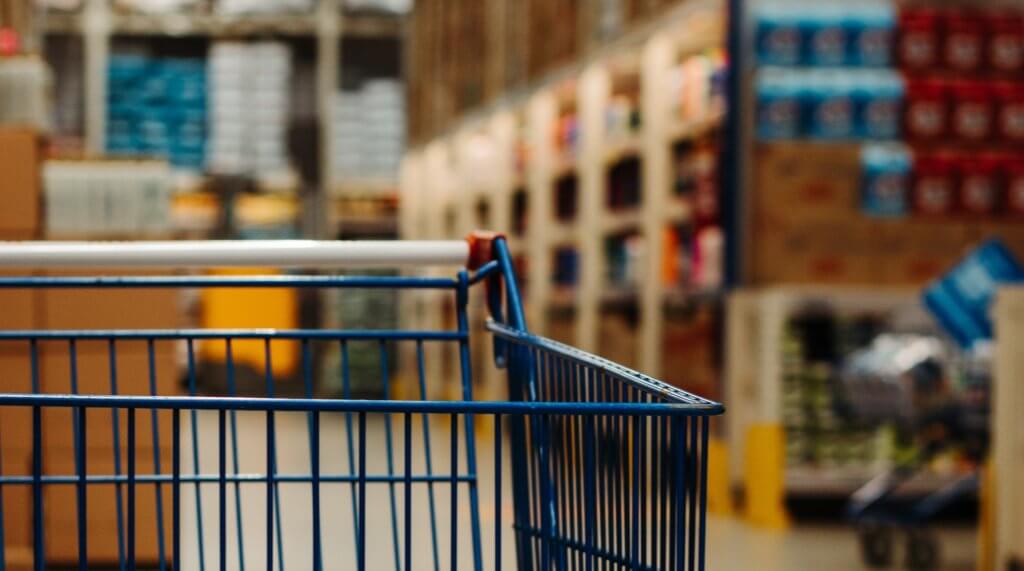 What's not to love about an excursion into Sam's Club? As a paying member, it's your prerogative to lose at least a couple hours to the big box, finding out just how many products can handle the flavor of 'everything', how many ten-packs of paper towels you can cram into a single shopping cart, and how many flavors of Gatorade and Ramen there really are. For the cash-conscious adult, it's not only practical, but enjoyable.
After all, it's pretty rare for any club member to dash into Sam's for 'just a couple things'. There's something irresistible about sniffing out the most bizarre, niche, or interesting items they've got in stock.
If that sounds familiar, then you've probably found yourself staring at their engagement ring section with a look of intrigue and skepticism on your face. If not, we wouldn't be surprised to find out you're already considering a trip over there just to see for yourself.
But, if not, we can save you some time. Sam's club has some redeeming features, although we're far from convinced that those features are enough to make it a serious contender for your engagement ring.
Our rating: two stars
The positives: shoppers have the opportunity to pick out their ring in-store, and some of their premium diamonds are accompanied by GIA reports.
The negatives: a lot of IGI graded diamonds, cheap 'composite diamond' settings, and no particularly exciting deals on their higher quality selections.
The Brand
Sam's Club is one of a small number of big box stores designed to sell items in bulk, at incredibly thin margins, to club members. It's a lot like Costco, with the main difference being the fact that Sam's Club is owned and operated by Walmart. It's been around since the early 1980s, and operates around 600 locations across the country.
As in Costco, the jewelry counter at Sam's Club is located somewhere in amongst the pallets and shelving units. In other words, it stays true to the vibe of the rest of the store, and doesn't put on any airs and graces for customers, even if they're preparing to drop thousands of dollars on a single purchase. They don't have staff with special training in fine jewelry and diamonds, simply because they don't need to.
We're not going to criticize Sam's Club for this, since it's in-line with the brand's entire business model, but we're also not going to say it's anywhere close to the ideal for shoppers – and for obvious reasons. Even if you don't care about buying a diamond in front of a crate of dog food, you should care about buying a diamond without any guidance from someone who knows more than you…
The Experience
So, you've put aside your inhibitions and accepted the shortfalls of visiting Sam's Club instead of an actual jewelry store – now what? You're probably going to want to stand next to the jewelry counter and wait for someone to come and unlock it for you.
This is pretty much on a par with the experience at Costco, so why have we rated Sam's Club a whole star lower?
The answer lies in what's inside the jewelry case, rather than the strength of the experience itself.
At Costco, a number of their diamonds are accompanied by a GIA report, provided they're over 1 carat in weight. The ring selection is broad, and the quality is strong. We're not saying it would make the list for 'Best Places to Buy an Engagement Ring', but it's not without redeeming features.
At Sam's Club, however, the choice seemed more limited. There were a lot more cluster or 'composite diamond' rings, which are designed to give the illusion of bulk and opulence, while ensuring a much higher profit for the seller, since the small diamonds required to make a center setting are far, far less expensive (and often lower in quality) than a single, larger diamond on its own.
From the selection we looked at, most of their diamonds are certified by the IGI – a gemological lab we do not consider to be anywhere as reliable or consistent as the GIA – and, for that reason, poor choices. Confusingly, at least one of the diamonds we encountered had been graded by both the IGI and GIA, which is totally unnecessary; if you're already getting a report from the GIA, you don't need to 'fact check it' against the IGI.
One of the biggest issues was Cut – namely, the fact that it was rarely mentioned. Color and clarity were consistently provided, but Cut – the most important of the Four Cs – was overlooked, despite the fact that a poor cut can make or break an investment.
The Cost
Sam's Club's prices aren't anything spectacular, and are usually reflected by the quality of their diamonds, the certification, or the style of the ring. They've got diamond rings for less than $500, while the most expensive we saw was around the $10,000 mark.
It's often the case that larger stores opt for an inferior lab, like the IGI, in order to keep costs low. For Sam's Club, which has garnered a reputation as a low-cost alternative to the traditional stores, the ability to undercut jewelers (even if just by a small amount) probably comes in very handy. The trouble is, IGI certification offers no benefit to customers. Sure, IGI diamonds tend to be a little cheaper, but there's a high risk that you're overpaying on quality that isn't really there.
Costco has its faults, but it's possible to find a good GIA certified diamond there. At Sam's Club, it seems significantly less likely – and, unless you're fluent in everything diamond-related, there's a strong possibility that you'll overlook something. This is totally normal when you're in a new environment, shopping for something you've never shopped for before. The big difference between Sam's Club and a traditional jewelry store, however, is the fact that, in the jewelry store, there's an expert standing right in front of you, ready to bring up each detail in turn.
You can't expect anywhere near the same level of service in a big box store like Sam's Club, where the staff aren't there to offer specialist knowledge on relevant to each section of the store. It's simply not going to happen, and may mean you wind up making a bad decision.
FAQ
Still on the fence? Here's everything else you need answered…
Are Sam's Club Diamonds good quality?
Yes and no. They offer a pretty big range of diamonds, so the quality of the diamonds you find in your local store is down to the luck of the draw.
Are all their diamonds poor quality? Probably not – but the sort of price you'll pay for a high quality diamond negates the potential benefit of shopping from a big box store like Sam's Club.
Are Sam's Club diamonds certified?
Many of the diamonds we looked at were certified by the IGI, but some of their premium options were GIA certified.
Their GIA graded diamonds didn't seem to offer any real savings compared with the prices we're used to seeing at reputable, local jewelry stores.
Our Summary
The idea of Sam's Club being a genuine destination for diamond rings is surprising to most shoppers for a very good reason: its business model is simply not geared-up for offering shoppers a high quality experience, or a particularly strong range of options. It's business model is geared-up for giving shoppers excellent deals on a wide variety of products, most of which need to be purchased in bulk to offer the best value for money.
It's impossible to criticize Sam's Club for their approach to selling diamonds in store, since they're not trying to pretend they're offering any valuable services to people shopping for engagement rings but, as we mentioned above, that's not to say we're recommending the experience. Sam's Club will be Sam's Club and, while we're not going to try to stop you from picking up a six month supply of cashews or printer paper there, we're also not going to make it sound like a good replacement for an actual jewelry store.
The biggest issue for us is the fact that Sam's Club's reputation as a great place to nab a deal without sacrificing on quality means shoppers with no background knowledge about diamonds may assume they'll find that same experience at the jewelry counter. And, sure, there are some cheap diamond rings to be found – but, when it comes to diamonds, their inherent value means that even a brand like Sam's Club will have to make some sacrifices over quality, size, or certification in order to significantly undercut other vendors.
As we mentioned earlier on in the article, if you're able to stump up the money for a diamond ring from Sam's Club that is accompanied by a GIA report, and of a high enough quality that it is eye clean, symmetrical, and effervescing with brilliance and fire, you're far better off going elsewhere, where you'll find more choices, stronger service, and better customization options.