Key Takeaways
Macy's is a useful store for a long list of reasons, but, for us, it falls way short of being useful for anyone in the market for bridal jewelry.
The main trouble with Macy's is a lack of options, and an emphasis on uncertified diamonds, or diamonds certified by a lab that really doesn't serve the buyers' interests.
Plus, Macy's unique approach to pricing and discounting items – coupled with potentially unreliable diamond reports – means that shoppers can never be sure whether they're getting a great deal, a mediocre deal, or making a truly terrible investment.
Our advice? Look elsewhere, even if you're a fan of the store.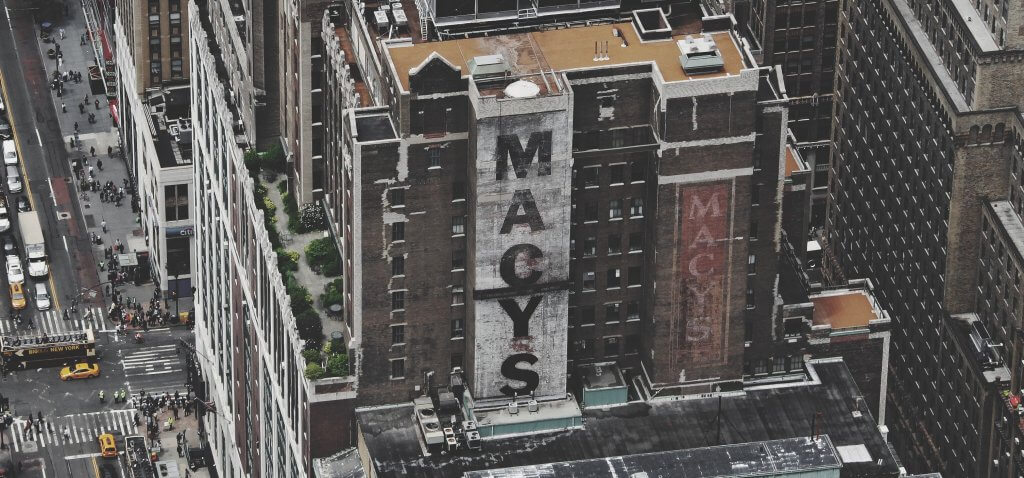 Pretty much everyone has found themselves in a Macy's at least once in their lives, if not for any other reason that, if you find yourself at the mall and in need of (pretty much) anything, Macy's probably have it.
As one of the largest, oldest, and most successful department stores in America, Macy's has long-since made its name as a one-stop shop for a very long list of products. Heading into one of their stores amid the Christmas rush, wiling away an entire morning in there picking out appliances, silverware, and bedding for your starter home, and going hand-in-hand through the departments filling up your wedding registry are all rites of passage for many couples. Sure, internet shopping is big now, but tradition is bigger, and Macy's no doubt prides itself on being a part of that American tradition.
That's why it should come as no surprise that Macy's can seem like an obvious choice for a lot of people getting ready to buy an engagement ring. And, while their stores check a lot of boxes, we're hesitant to say they check the box for fine, diamond jewelry…
Our rating: one star
The positives: some options for shoppers on a very restricted budget, or looking for a placeholder while they save for a diamond ring.
The negatives: limited options, many diamonds uncertified or certified by an inferior lab and generally lacking in quality, potentially misleading discounts.
The Brand
Macy's started out as a 'dry goods' store in Haverhill, MA, in the mid-nineteenth century. Business got off to a rocky start but, eventually, started to take off. Macy's started to sell a wide variety of products, to expand, and to grow into the widely trusted household name that it remains to this day, more than one hundred and seventy years on.
Even now, the store manages to stand apart from its competitors – both online and offline. From their impressive window displays to the Macy's Thanksgiving Day Parade, there's something a little more upmarket about the brand. They're trusted, and they're generally known for having staff and stock that meet a certain level of quality across their departments – two factors that mean they're a definite consideration for bridal jewelry.
The trouble is, Macy's isn't what we'd consider to be a traditional jeweler. Saying that they're a department store may be stating the obvious, but it's a key consideration here. The brand's specialty doesn't lie with fine jewelry and expert craftmanship; it lies in curating products that will sell, and knowing how to price them in a way that makes shoppers feel like they're coming out on top.
After all, are Macy's discounts real? Yes, but it's also complicated – and something that numerous brands have found themselves in hot water over in the past. A lot of Macy's products are frequently discounted. In fact, for some items, it's pretty rare for them not to be discounted – a fact which has led to some people questioning the true retail price of those items.
But we'll talk more on the costs below. For now, here's what you need to know about Macy's engagement rings in the first place.
The Experience
Chances are, we don't need to describe to you in any great detail the experience of venturing into a Macy's department store. The jewelry department is easy to spot and, particularly around the big holidays like Christmas and Valentine's, pretty busy, too.
Their offering seems pretty restricted, and tends to center on cluster rings rather than big center stones. This is often used as a low cost alternative to, say, a traditional solitaire, since melee diamonds significantly cheaper than larger stones. In a similar vein, they also offer a variety of different gemstones, including common diamond simulants, like moissanite and cubic zirconia. It's good that they offer options for people with restricted budgets, but we'll be focusing on the diamonds themselves.
For starters, some of their diamonds aren't certified, while others carry inferior certification, such as IGI. While color wasn't so much of an issue, we primarily came across diamonds with a clarity grade of I1-I2. Worse still, their website states that the majority of their diamonds have been treated and enhanced, meaning they're not really worth the price listed.
So, even if you can find a ring that's right up your alley in terms of design, and the diamonds specifications, you can't really be sure that it's worth the price listed – even that price is currently discounted by 20, 50, or even 60%.
The Cost
Macy's engagement rings differ drastically in price but, for the most part, it's difficult to see any great deals in there.
When it comes to their real diamond rings, prices generally fall under $5,000, although, from what we saw, they do run as high as $50,000. Even at these dizzyingly high prices, however, their selection is peppered with diamond clusters, which seems like an odd choice given the fact that shoppers with that kind of price range can afford a significantly larger and more impressive diamond instead.
Then again, a budget between $5,000 – $10,000 is still a great starting point for a truly beautiful diamond that checks all the boxes in terms of carat weight, cut, eye cleanliness, and light performance. Shoppers don't need to limit themselves to the few diamonds on display in Macy's jewelry counter, or the drawbacks that seem to go with the territory of entrusting this purchase to Macy's in the first place.
For starters, you can take a look at our guide to spending your $3000 – $5,000 budget wisely. While it's a little more restrictive, it's still entirely possible for you to find a diamond with a stunning appearance and light performance, without narrowing your options down to what Macy's put in their displays.
FAQ
Does Macy's sell real diamonds?
Yes, Macy's sell real diamonds, although many are uncertified and suffering from poor clarity.
It's also pretty limited when it comes to real diamond jewelry. Some pieces feature lab grown diamonds, while others feature lesser gemstones that are inferior in terms of sparkle, strength, and durability – and inherent value.
Are Macy's diamonds good quality?
In our opinion, no. They are often graded I1, I2, or even I3 for clarity (if they're graded at all), and lacking the quality assurance of a respected certification lab.
The limited choice makes it increasingly unlikely shoppers will find a worthwhile deal.
Are Macy's diamonds conflict free?
Yes, Macy's diamonds meet with the requirements of the Kimberley Process.
They are not sold to fund conflict anywhere in the world.
Is Macy's gold jewelry real?
Yes, but you'll want to check each piece individually to find out whether it's solid gold, or gold plated.
This matters a lot for bridal jewelry. While cheaper, fashion pieces designed to be worn occasionally can be gold plated, sentimental jewelry intended to be worn a lifetime generally need to be solid 10K, 14K or 18K gold.
Why is Macy's jewelry so expensive?
Real diamond, and precious elements like gold and platinum, will all raise the price of a ring significantly. Also, keep in mind that Macy's marketing tactics often revolve around regular discounts and sales.
As we mentioned above, this has caused controversy in the past.
Our Summary
Macy's diamond engagement rings aren't anything to write home about. Cluster rings can look impressive to shoppers who don't have the faintest idea about diamonds but, compare a cluster with a solitaire, and you'll see the areas where the former is lacking – particularly when it comes to light performance which, for most shoppers, sits at the very top of the list of priorities when they head into the store.
The same can be said for discounts and sales. Those red banners and stickers look impressive to shoppers who don't really know how much a beautiful, high quality diamond engagement ring should cost but, break it down, and you'll start to see where those savings are really going.
Engagement rings are highly specialized items, and, in general, department stores operate as a sort of 'jack of all trades' of the retail world. Their staff training isn't as robust as it is in established jewelers, and you simply can't expect the same level of service from a Macy's jewelry counter as you can at the counter of a jewelry store that's been creating beautiful, bespoke engagement rings for years, decades, or even more than a century.
In some ways, Macy's large selection of cubic zirconia, moissanite, and other gemstones makes more sense than their selection of engagement rings. The prices are considerably lower – often below $500, or even $100 – meaning shoppers aren't going to mistake those pieces as being made from considerably higher quality (and more valuable) components.
The much higher prices of their diamond engagement rings, many of which do not appear to be certified (or, in the very least, aren't certified by very reputable labs) runs a much higher risk of misleading shoppers who aren't up to date on their facts.