Key Takeaways
Simon G is a relatively well known brand across the United States, and it has successfully scaled up its operations to meet with a growing demand.
However, this process of scaling up does not come without its disadvantages for customers.
Operating through affiliate jewelers, rather than its own stores, Simon G's status as a prominent B2B brand is what lets it down.
We'd much sooner recommend to shoppers that they work directly with the jeweler responsible for their ring's creation – from start to finish – rather than a jeweler who will then liaise with the ring's creator.
The traditional route remains our preferred option for purchases this important.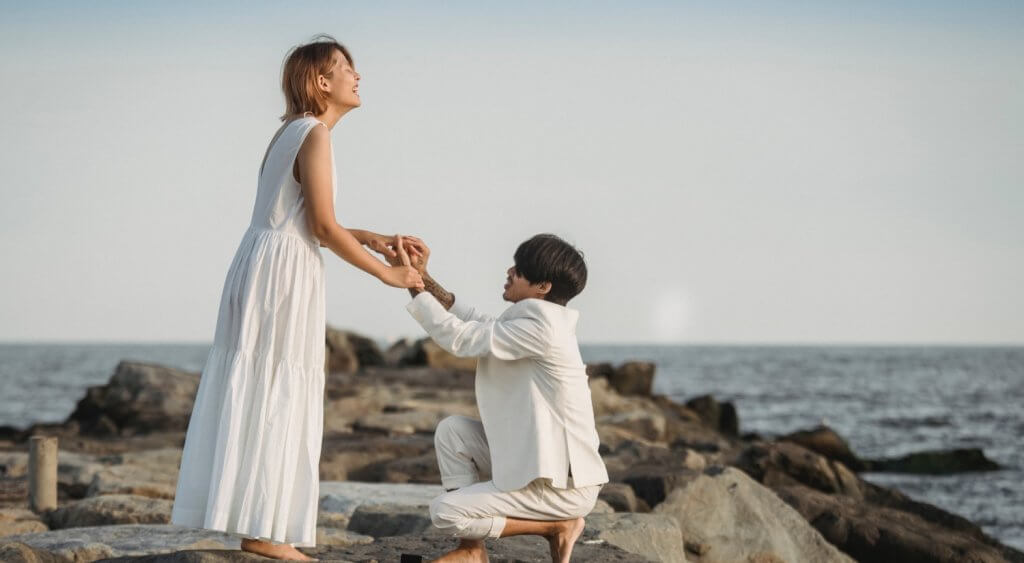 Whether the sum total of your engagement ring research is half an hour spent on Pinterest, or you've actually started putting the pedal to the medal in terms of gathering ideas and inspiration (and getting your head around the terminology), you've probably come across Simon G. already.
Why? Because, when it comes to 'big names in the bridal business', Simon G.'s is one of the very biggest. The brand has been operating for more than forty years now, and in that time they have released an extensive range of collections – collections with modern-romantic names like 'Underhalo', 'Flourish', and 'Supernova'.
The brand is widely available at many jewelry stores across the US – more than 900, as of 2022 – making it a pretty easy and obvious choice for anyone looking to buy an engagement ring, but is it right for you? Here's what we think…
Our rating: two stars
The positives: some interesting and unique designs, and a strong brand philosophy.
The negatives: their pieces are created for the mass market, and you can't consult directly with the ring's creator.
The Brand
Simon Ghanimian came to the United States with $200 to his name, and dreams of studying engineering in New York. To fund his classes, he started working for a relative in New York's Diamond District and, somewhere along the way, discovered a passion for the craft of jewelry making. Eventually, he put down roots in Los Angeles, and opened his own business. The name 'Simon G.' is the result of a City Hall clerk insisting that 'Ghanimian' was too long to register.
What started as a small operation manned by Simon and his wife, Silvia, has grown into one of the largest and most prominent B2B ring manufacturers in America. Simon G. rings represent a common sight at jewelry stores, and it's safe to say most of us known at least one person wearing one of his designs on their finger.
Like so many fine jewelry brands, Simon G. is backed by a compelling story – one that definitely works for romanticizing his collections. The brand puts across a clear philosophy centered on taking a careful and meticulous approach to the design process, although, at the same time, it's important to remember that the sheer scope of Simon G.'s operations will mean that the way each ring is produced will differ tremendously from the way a ring is designed and created by an expert jeweler.
The Experience
As with all of the B2B brands we've reviewed, shoppers won't deal directly with a Simon G. jeweler. Instead, they'll have to track down a jewelry store that has been authorized to stock Simon G.'s designs, so your experience is totally dependent on the location you settle on.
The designs themselves are wide-ranging and attractive, although the brand's signature use of four prongs per melee diamond did look a little bulky. Nothing in particular jumped out as being totally new and unexpected, save for the Lightning Bolt collection, which features asymmetrical and tension-style settings that step far outside of the usual mold.
Unfortunately, many of our reviews of B2B designer brands tend to go the same way – even a prestigious name like Vera Wang left us a little lukewarm, simply because of the way their influence alters the traditional ring-buying process.
There's a big difference between picking a local jewelry store based on recommendation, rather than what names they stock, and forming a connection with your jeweler as you look at diamonds, and talk through your ideas for the ring's design – then waiting a few weeks while they make it to your specifications – and simply browsing a number of premade designs, picking one, and waiting for it to get shipped to the store.
Of course, one of the selling points is the name itself – but, if you've spent much time on WillYou.Net, you'll know that even names like Tiffany & Co. and Cartier leave us leaning in favor of the smaller, more traditional jewelry store.
The Cost
Simon G.'s ring designs are definitely at the higher end of 'affordable'. That is to say, they're nowhere near as expensive as the high-end, luxury designers are but, at the same time, they're significantly more than we would expect to pay for a beautiful and high quality setting.
Remember that Simon G.'s rings are sold as the setting only, so you'll need to find a diamond through your chosen jeweler. We generally recommend that the diamond takes up around 80% of your budget, and you don't want to push your ideal diamond out of your price point, so take that into consideration as you browse.
Some of the more intricate designs come in at more than $5,000, but there are engagement ring options around the $1,000-$2,000 mark.
For us, however, the disadvantages of purchasing a ring from a big, B2B brand – one that produces rings for hundreds of jewelers up and down the country – outweigh the benefits significantly, and we would rather recommend that our readers take advantage of the skill and expertise of local jewelers, rather than limit their options to premade designs produced for the mass market.
Our Summary
We're not denying that brands like Simon G. have some beautiful designs – nor that they invest a lot of time, skill, and detail into drawing up the initial designs. The image of Simon G.'s designers sitting over a sketch, working through every detail, is probably accurate – but it doesn't dispel our fears over ordering a pre-made ring from a brand that processes such a high volume of orders each and every year.
We're also reluctant to introduce any extra steps into the process. When it comes to choosing a B2B brand, you've got to use your chosen jewelry store as a communicator between you and the brand itself. While this remains preferable to a total disconnect – i.e., shopping through an online vendor, where you won't have any opportunities to see the design or diamond before paying – it's not exactly what we have in mind when we advise our readers to take a more traditional approach to finding an engagement ring.