Key Takeaways
Chicago's diamond district isn't quite like New York City's. Importantly, it's more spread out, though still compact enough to develop an atmosphere. This atmosphere is not as chaotic and thrilling as NYC. Rather, its calm, with vendors being far less pushy.
Due to the 'district' covering a larger area, Chicago's diamond district is known as Jeweler's Row. Located on Wabash Avenue between East Washington and East Monroe, its home to independent stores. Larger, luxury brands like Tiffany & Co. and Harry Winston are found elsewhere in the city.
The generational, institutional knowledge on-hand in Chicago's Jeweler's Row shouldn't put those looking for engagement rings off, thinking they'll be conned. Rather, the local, family-run stores in this area of the Windy City can make the process of finding the perfect ring simple and more fulfilling.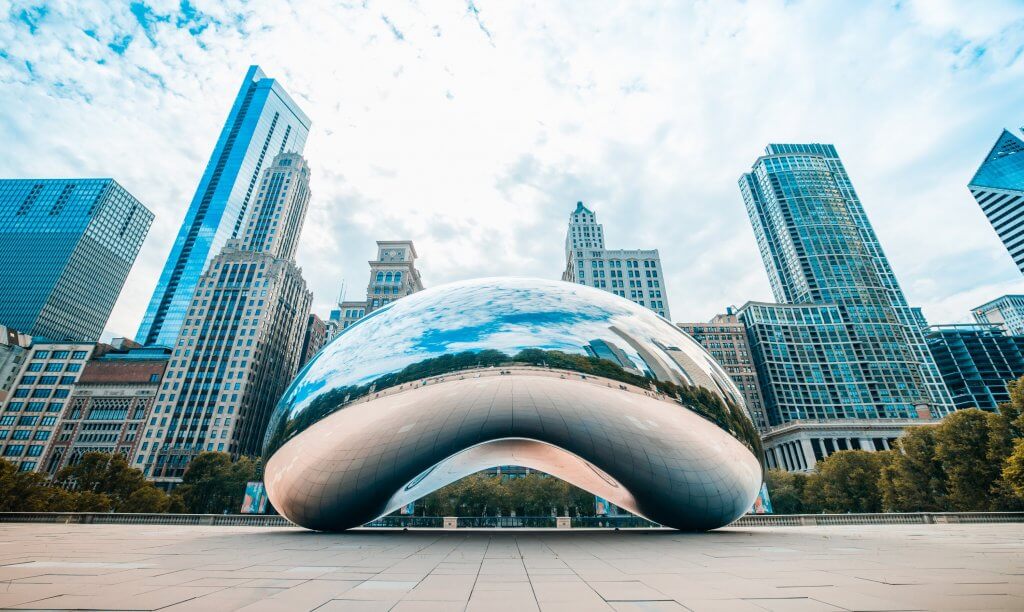 Chicago is one of the few cities in the country to feature a diamond district – a highly concentrated area of the city that has, over decades, been overrun with master jewelers, gemologists, diamond sellers and master craftsmen.
In New York City, the diamond district is far more concentrated: a single block between 5th and 6th, featuring around 2,500 diamond sellers working hard to stand out, catch the eye of a passing customer, and make a sale. The result is a pretty intense atmosphere – one that catches a lot of first-time visitors off-guard if they haven't properly prepared themselves with research beforehand.
In Chicago, however, the diamond district – Jeweler's Row, as it's called – is a little wider spread, although still compact enough that the area carries a vibe of excitement and heady competition between one store and the next. True, thanks to the extra legroom, it's a lot calmer – and plenty of people come to Jeweler's Row not to shop, but to soak up the atmosphere, meaning you're less likely to be overwhelmed with vendors deploying their sales tactics from windows and doorways.
But, for anyone who wants to find a diamond with a fascinating backstory, Jeweler's Row remains one of the best options that the country has to offer.
Where is Jeweler's Row?
Wabash Avenue, in a two block stretch between East Washington and East Monroe, and about five minutes' walk from Cloud Gate.
Over the years, more and more jewelry stores have set up shop in the surrounding area. For instance, Leo A. Bachrach Jewelers is located on South Michigan Avenue, and a branch of Kay Jewelers is sitting on State Street, about a one minute walk from Jeweler's Row.
You'll notice there's a distinct lack of luxury stores on Jeweler's Row. Tiffany& Co., for instance, is located in the Magnificent Mile. We wouldn't recommend you shun the diamond district for a luxury store like this one (or Harry Winston, which is even further north. This isn't because of quality of service or product), but because the quality they're offering is something you will find in any reputable jewelry store, and for a fraction of the cost.
If you're looking for the real Chicago Diamond District, then you'll want to keep your feet firmly planted on Wabash.
How Does the Diamond District Work?
The stores in the Chicago Diamond District work like any other store – they're just a lot more concentrated into a single, relatively small area of the map.
We've mentioned already that the atmosphere is pretty unique, and it is. This is an area that is totally steeped in its own history – an area that still features a strong connection to those early merchants who first set up shop there.
Architecturally, it represents one of Chicago's most fascinating historic landmarks. And, if you happen to be in the market for a diamond or custom engagement ring, it doesn't take much for the history – the vibe generated by so many diamond experts and gemologists working elbow to elbow – to go to your head, and make it an experience to remember.
Is the Diamond District Worth it?
Yes, but only if you prepare yourself beforehand with the right knowledge.
It's a total urban legend that, by walking into any city's diamond district, you're readying yourself to get conned. Reputable and knowledgeable sellers are the lifeblood of these areas, and heading to a well-known chain location like Macy's is a way worse decision with far sketchier sales' tactics than the ones you'll find at many of the stores on Jeweler's Row.
For instance, Wedding Bands & Co., has been doing business from Jeweler's Row for more than twenty years. The experience they offer each one of their customers is highly personalized; intimate, private, relaxed and without any of the pressures you might associate with NYC's Diamond District.
Half a block south, you'll also find Windy City Diamonds on the corner of Madison and Wabash. Passed down through four generations over the course of more than ninety years, and offering a wide selection of GIA certified diamonds, we're sure shoppers are in very safe hands with their team of jewelers.
Nevertheless, as with anywhere in the world, buying a diamond necessitates a good amount of research beforehand. You don't want to wander into any Jewelry Store, whether it's located in the back of a Costco or standing resolutely in the Magnificent Mile, without knowing the basics of buying a reasonably priced and high quality diamond.
Of course, one of the most obvious alternatives is to go online, where you don't need to worry about finding your feet in an unfamiliar world. The thing is, with the right jeweler, that unfamiliar world will start to feel familiar from the moment you step foot through the door. The right jeweler will talk things through, connect with you and help you figure out what you might not even know you want. None of that is being replicated by the online vendors, and we don't think it ever could be.
What Do You Need to Know?
At WillYou.Net, we understand that walking into a jewelry store for the first time is a daunting prospect for many people. Not only are you making a major purchase, but you're doing it in an environment you may not have ever experienced before.
The good news is that deciding to visiting a real, bricks-and-mortar jeweler has already made your job significantly easier – and, by doing the groundwork online first, you've saved yourself a lot of anxiety on the day of.
To make the process even simpler, you can pick out a diamond online first, then help us find you the perfect jeweler in your area to view it in person before you spend anything.
Your Budget
We're not talking about a ballpark figure; you need a clear number in your head – an absolute maximum that you're comfortable spending, but not comfortable surpassing.
It's pretty obvious why a purchase as big and (potentially) expensive as this one needs to be handled with plenty of prior planning, but it's worth mentioning. Diamond prices can increase either incrementally or by hundreds (or even thousands) of dollars with the slightest change in size or quality, and if you don't have a clear number in your head, it could be very tempting to let that number creep up and up and up.
Also, your jeweler will want to know your budget. There's no value in playing it coy; you'll want to be upfront about what you can spend, so that they can limit your options accordingly.
The Four Cs
There's a lot more to any diamond than the Four Cs alone, but they're arguably the most important thing any shopper should know before they start looking. Knowing how much the color grade matters, how clarity impacts cost, and what cut graded you should be focusing your search on (and why) is imperative.
Your jeweler will be able to explain things to you, but knowing the basic terms – and what they mean for your diamond – ahead of time can only help you to get more out of the situation, and stop yourself feeling overwhelmed.
Knowing what matters means knowing what questions to ask, and asking the right questions means covering all your bases so you don't have to worry later about dropping $10,000 on a diamond.
Certification
We've written a full guide to diamond certification (and why you cannot justify buying a diamond without it) here, but the key takeaway is that there's more to it than making sure your diamond is accompanied by a valid report.
Why? Because no two grading labs are the same, and some are far more trustworthy (and fair for consumers) than others. We frequently talk about the value of the GIA (Gemological Institute of America) and why a GIA report is significantly better than any other.
At a push, we'd also recommend the AGS, but jewelers carrying GIA diamonds are always preferable.
Eye Clean vs Flawless
Sure, this probably falls under 'The Four Cs' in a roundabout way, but we think it deserves its own spot on this list.
As a shopper, you want to be looking for eye clean diamonds – diamonds that appear to be free from any inclusions, regardless of what clarity grade they've been given.
Checking the diamond over is one of the most important steps at any consultation, and a good reason why we can't imagine investing in a diamond over the internet. As a non-expert, you're perfectly placed to appraise a diamond's visual appearance, so don't overlook the role you play during that consultation.
Should You Buy a Diamond from Chicago's Diamond District?
Absolutely. The experience is unlike any other, and it'll mean that your engagement ring is suffused with even more history.
If you live in or near Chicago, it's a great way of celebrating one of the most unique features the city has to offer – and, of course, to support a local industry that has been thriving on Wabash Avenue for generations.
As always, you'll want to go prepared. You can search through our full list of recommended jewelry stores in Chicago to find a store that that we have personally approved for our readers. That way, you can be sure that your diamond, and everything that's riding on it, are in the right hands.