Key Takeaways
Blue Nile are the innovators in the online diamond vendor space, pioneering the model at the earliest beginnings of ecommerce. James Allen are a younger outfit, built on very similar ground to Blue Nile, but they've become recognizable for their marketing campaigns, as opposed to being frontrunners.
James Allen's presentation of their diamonds goes the extra distance that Blue Nile doesn't. A 360-degree view and a '40x superzoom' allows customers to get as close as digitally possible to a diamond. Blue Nile rely on and emphasize the grading report, rather than the photos and product listing. Both use the same three-step process for designing and buying a ring.
Blue Nile boasts a larger catalogue of diamonds and settings. However, although the figures do seem separated by a notable number, it'll likely be negligible for a customer, as the options are already vast enough.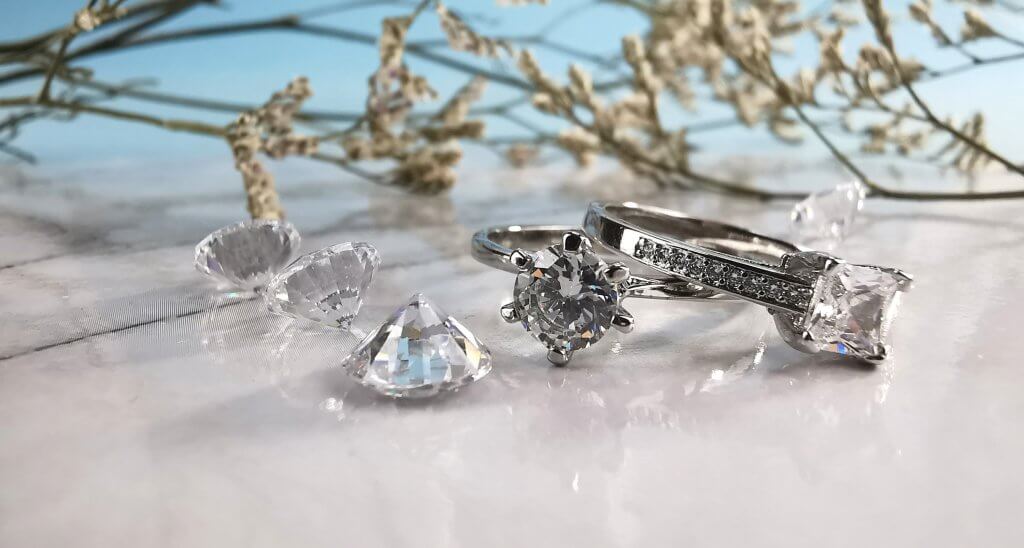 While the world of online jewelers represents just one part of a much larger whole, it's a pretty prominent one right now. The ability to avoid having to make up an excuse for leaving the house on a Saturday afternoon, or to avoid spending your lunch break at the jewelry store, is one that appeals to a particular subgroup of shoppers; it's quicker, easier, and less daunting to go online, and to navigate the entire, unfamiliar process without getting anyone else involved.
While it's not for us, we can see why it appeals at face value to people who don't have much (or any) experience in buying jewelry of this value or significance.
That's why a few big players have found a pretty strong position online. We are talking, of course, about James Allen and Blue Nile, to of the most easily recognizable names in the business.
From James Allen's memorably witty marketing campaigns to Blue Nile's long and innovative history as an online jeweler (a history that reaches almost as far back as the history of the internet itself), it's pretty hard not to be aware of their existence at this point.
What's more, at face value, they not only appear to be the solution to all your anxieties over buying the perfect ring, but they also appear to be pretty much one and the same. So, what are the differences – and which one comes out on top?
Blue Nile
Blue Nile is widely regarded as the frontrunner of online jewelers. Started before the turn of the century, it came about not only from an admirable desire to bring a greater sense of transparency, clarity, and ease to the process of buying a diamond, but also from a keen eye for the remarkable potential the internet held for commerce.
If you've read our comprehensive review of Blue Nile, you'll know that we agree with their philosophy of transparency and ensuring shoppers are equipped with the right understanding of diamond quality to make a strong choice, but that this can only carry them so far in our estimations, since the notion of buying a diamond online remains a non-starter with us.
Nevertheless, it's clear to us that Blue Nile is one of the most reliable of the online jewelers – and offers a much more carefully curated diamond selectin than, say, Brilliance.
James Allen
James Allen has been around the block a few times, but it's a few years younger than Blue Nile. Over the past fifteen years or so, however, it's made itself very prominent – and a first choice for plenty of shoppers, thanks to their dogged marketing campaigns. After all, it's marketing team have mastered a tone that will resonate with a lot of their customers: a down to earth, no-nonsense approach to nailing your partner's expectations in three easy steps.
Like Blue Nile, they're very aware of the type of shopper they're catering to – and we can't deny that it works on that particular market.
You can read our full review of James Allen here for a more comprehensive rundown on their site, and their diamonds.
User-Friendliness
This is a pretty tricky one to judge, since both sites create a very similar journey for the buyer: pick a diamond, then a setting, then complete your order. If you've managed to navigate one, you'll certainly know how to navigate the other.
James Allen is a little more welcoming – it really, really spells out the process, and we imagine even the most flummoxed soon-to-be-affianced shopper could breeze through the process.
Still, the difference is marginal. Both James Allen and Blue Nile rely on the same basic process to replicate (as best as they can) the traditional approach to buying an engagement ring. For that reason, it's understandable why so many of the online jewelers seem so similar – save for a few minor quirks and differences…
The Presentation
One of the reasons we find James Allen to be a little more user-friendly is that, when it comes to presenting their diamonds, they go the extra mile to make everything clear.
Why? Because James Allen have invested a lot of resources into ensuring that shoppers can enjoy diamonds in the best, most 'true-to-life' quality possible. Their diamonds are presented in "40x superzoom", available to view in high definition and from 360°, and ready for real-time diamond inspections. This is specifically designed to mimic one of the key advantages to visiting a bricks-and-mortar jeweler: the ability to look at the diamond from every angle, to turn it over in your hand a really get a feel for its unique characteristics.
Does it work? No – because you're still only seeing the diamond through a computer, and zoomed in so closely that you can't possibly judge eye cleanliness properly.
However, at least James Allen is recognizing the importance of actually looking at the diamond properly – rather than setting too much store by the diamond's report. Blue Nile offer 360° views on some diamonds, but not others – and, as we mention in our review, plenty of their diamonds are still awaiting any sort of photograph at all.
Even a GIA report – the most reliable document you can get for a diamond – can't tell the full story. Unless you're looking at the very top color and clarity grades, it can't offer any guarantee that the diamond will be eye clean – or, at the other end of the scale, that it will be visibly included.
The trouble is, Blue Nile's emphasis remains with the diamond's report – a risky approach if you're not focusing your search on the highest graded diamonds out there, since one SI1 diamond, for instance, is not necessarily going to look as high quality as another.
The Cost
From what we can tell, Blue Nile tends to work out to be the cheaper option. This is down to their particular business model, which sees them listing diamonds straight from the wholesaler rather than buying them for their own inventory. In doing so, they can get away with much smaller margins – even smaller than James Allen – and pass those savings onto their customers.
For anyone on a particularly tight budget, we can see why this would appeal. Both companies have made waves in the industry by undercutting the prices traditional jewelers are able to offer – but, as we always say, those savings come at their own expense.
The Selection
At the time of writing, James Allen has just under 325,000 natural diamonds listed on their website, with prices ranging from $200 to $5 million.
At the same time, Blue Nile has more than 580,000 diamonds ranging from <$200 to more than $3.4 million.
Sure, in terms of choice, Blue Nile wins this round, but it seems fair to say that both stores have far more choice than one shopper could ever need. Plenty of diamonds will turn out to be beautiful, others won't – although it's not always easy to tell from the listing alone.
In terms of the rings themselves, James Allen is currently able to boast 619 setting styles, while Blue Nile has 736. A difference of 117 sounds like a lot, but, again, it's unlikely any shopper will need (or want) to look at anywhere near that number of options.
That's not to say that they'll find their dream ring on either of these sites, despite how many bases both stores have covered.
What we mean is this: it's vital for shoppers to know what's out there, to understand the sheer variety they have at their disposal, but finding the perfect combination of features and finishing touches is a conversation best had between you and your jeweler, not you and your computer screen.
Is Blue Nile or James Allen Better?
We wouldn't recommend either of these online jewelers to our readers, although, if we had to pick, James Allen's approach to selecting a diamond is a little more valuable to their customers than Blue Nile's.
One of our least favorite things about online jewelers is the fact that they are often guilty of 'glossing over' the importance of a visual inspection. It's pretty easy to do this, seeing as a lot of shoppers are doubtful of their ability to distinguish one diamond from another – although, if you've taken a look around our site, you'll know this is far from the truth.
Nevertheless, if you've never bought a diamond before, it's easy to assume that it's a much better idea to put your faith in the pros and just go with the options presented to you.
James Allen do seem to acknowledge that the buyer plays a pivotal role in selecting a diamond – that eye cleanliness is something that can't be judged from a report – and that shoppers really do need to be able to see their chosen diamond as accurately as possible before they can commit that amount of money to it.
Obviously, the solution to this issue is about as simple as it gets: go see it in person. True, James Allen have got the edge over Blue Nile in terms of presentation, but it's still overcomplicated a matter than doesn't need to be complicated at all.