Key Takeaways
There aren't many jewelry brands as revered and exclusive as Cartier.
With that distinctive red box with gold trimmings, and an A-list clientele, it's no surprise that plenty of shoppers consider going all out on a Cartier engagement ring.
But it also shouldn't come as a surprise that most shoppers find that a much broader array of options will be found elsewhere, and that even a pretty robust budget will struggle to find a Cartier ring that lives up to their expectations.
The premium you pay for a luxury brand is, in our opinion, not worth it in the long run.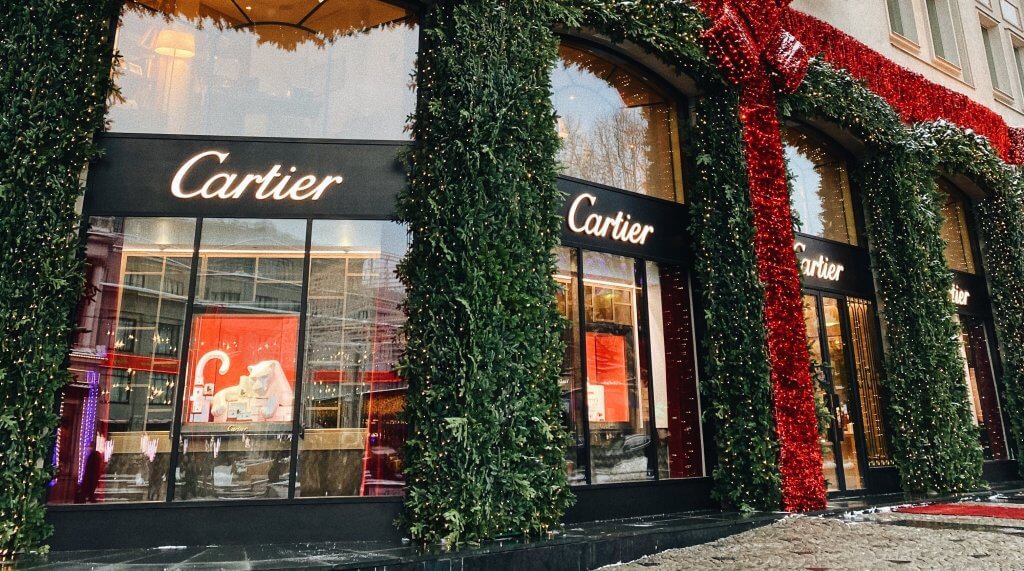 There aren't many jewelers capable of matching the notability or appeal of Cartier. One of the oldest, most recognized, and exclusive fine jewelers the world has ever known, anyone with an interest in the jewelry world will be familiar with the unique appeal of Cartier's doorway.
A favorite among celebrities, royalty, and VIPs across the globe, Cartier continues to define the concepts of romance, elegance, and luxury to this day, and to set a high bar for jewelers everywhere.
It's easy to romanticize. Like Tiffany & Co. and Van Arpels, Cartier is shrouded in its own history and reputation – in the stories told by the countless men and women to cross the threshold, and find the treasure inside. The stores themselves, overlooking some of the world's most elegant streets and squares – the Champs-Élysées in Paris, Fifth Avenue in New York City, Via Monte Napoleone in Milan – are enough to set the mood for anyone strolling past.
Then again, the high-end jewelers of the world all have their own ways of doing things, and it's not always to the express benefit of every shopper who walks through the door…
Our rating: three stars
The positives: world-renowned, with a fascinating history and a customer base composed of royalty and VIPs from across the globe.
The negatives: their pieces come at a premium and, for most people, that premium isn't worth paying. We're confident that the quality offered by Cartier can be matched by a true master of the craft, and they happen to be working in jewelry stores across the country.
The Brand
Like most good love stories, Cartier's begins in Pari. While his grandfather founded the business, twenty-four year old Louis-Francoise Cartier opened the first Cartier boutique on the Rue de la Paix, in the city's 2nd arrondissement, in 1899.
Louis Cartier was a creative. He introduced a number of exquisite pieces to the shoppers of Paris, including a clockface that appeared to float within its case, powered by invisible forces, and jewelry featuring some of the most vivid gemstones ever seen.
Over the years, Cartier grew far beyond the city of Paris. It caught the eyes of numerous dignitaries, starlets, princesses, and princes. One of its most famous creations was designed for Prince Rainier III of Monaco and Grace Kelly, who would become Princess Grace of Monaco following their marriage in 1965. The ring featured 10.48 carat Emerald cut diamond, set between two smaller Baguette cut accent stones, and made an appearance in Grace Kelly's final movie, High Society.
Cartier now operates more than 200 boutiques across 125 countries. They are located in some of the most fashionable and affluent shopping districts the world has to offer, and operate twenty-seven stores in the US alone.
Anyone who has purchased a Cartier piece (or pressed their nose close to the glass) will know that the brand is easily recognized by its distinctive red ring boxes. While Tiffany & Co. have the 'robin egg blue' arena covered, Cartier's packaging is equally recognizable and equally coveted – so much so, in fact, that empty Cartier boxes can occasionally sell for hundreds of dollars online.
Keep in mind, however, the same thing we discuss in our review of Tiffany's: the blue box premium. There's something seductive about the idea of bringing home a ring in one of those distinctive boxes, fastened with a ribbon or, in Cartier's case, a wax seal. We'll look at this in more detail below but, for now, keep in mind that the privilege of a box that is ingrained in pop culture is pretty expensive – and that's before you even consider the cost of the diamond itself…
The Experience
While Cartier operates three 'Temples' – one in Paris, one in New York, and another in London – the rest of its stores are veritable palaces, and instantly strike anyone passing by as a cut above the rest. All at once, they appear classic but modern – elegant and exclusive but also welcome to those who do feel confident walking beyond the window displays.
The experience they offer is, in many ways, a performance. It's a little like witnessing one of the world's longest-running plays or operas first-hand; a slice of history, as much as it is an enjoyable experience in and of itself.
So far, this entire review comes across as pretty reverential – and, in a way, it is. Seeing a Cartier store in the flesh is like climbing the Eiffel Tower, or walking through the Louvre. It's history, in bricks and mortar.
But, as you can see from our rating, we're pretty unlikely to recommend Cartier as a top destination for buying an engagement ring. This isn't a result of flaws we've found with the service, or with the diamonds and ring settings themselves – it's with the simple fact that almost everyone shopping for an engagement ring has some kind of budget to accommodate.
If you've got no qualms whatsoever about spending any number of digits on your engagement ring, then Cartier is certainly a great place to go to, particularly if you're keen on experiences.
But even those with a large budget will find that shopping from Cartier naturally slims down the list of options considerably, purely because of the massive premium Cartier's customers are willing to pay for their branding.
And, again, there's nothing wrong with paying a premium for Cartier. It is, however, a poor decision if it's possible for you to find a very similar ring, made to the same high standards and using the same quality materials, with a much better diamond for the same price (or considerably less).
The Cost
It probably comes as no surprise that the cost of Cartier's diamond rings can easily run into six figures, although the majority of their diamond rings. We did encounter a diamond ring below the $5,000 mark, but the center stone was 0.18 carats, and the CTW of the entire ring was 0.28 carats – a long ways off the national average of 1 carat.
While a budget of $5,000 or less may be on the modest side when it comes to finding an engagement ring, there are still plenty of beautiful (and impressive) options for shoppers who understand how to balance diamond quality with carat weight, and cost.
And the case remains the same even if your budget is a little (or a lot) higher than the sub-$5,000 range, simply because of the fact that the Cartier name has inherent value, like diamond or gold. They do not have competition in the way that most jewelry stores do, and they can charge what they like for the privilege of walking out the store with that signature Cartier packing in-hand.
Is it worth it? Not if you're working to budget, or feel like you've got to temper your expectations to accommodate Cartier's prices. For all but a select few, that's very likely to be the case.
But what if it is the case? Sure, owning a piece of history (one that will no doubt hold its value, and spark envy wherever you go) can be worth it, but only if you're sure you're not making any sacrifices on the quality or size of the diamond. Once that ring is out of the box, and the Cartier stamp hidden from view between the wearer's finger and the inside of the shank, hardly anyone will be able to tell where it came from.
Our Summary
Any jewelry enthusiast will feel a little flutter at the thought of walking into a Cartier boutique and having the opportunity to spend a good hour pouring over their jewels – but a lot of the charm possessed by Cartier stems from the fact that most of us will never find ourselves in that position. It's not the kind of store you wander into on a whim, and it's not the kind of store that's willing to entertain casual browsers.
In other words, unless you go in there with the right gameplan, you'll probably find the experience pretty uncomfortable.
The truth is that Cartier has a reputation to uphold. But, at the same time, you as a customer have a mission to get the very best money can buy – whether your priorities lie in finding the biggest diamond for your budget, or the most unique ring imaginable. Don't waste energy wondering whether you should shrink down your expectations to be able to afford one of Cartier's more modest options – it's simply not worth the heartache.
Cartier's work is exquisite, but we're not of the belief that a reputable jeweler – one that is operated by true craftsmen and women – can't match that level of quality and creative flair, for a much lower price. For that reason, we've put together a long list of recommendations, gathered from across the United States, of jewelry stores we would happily recommend to our readers. Click here to find one of our favorite jewelry stores near you.
It's easy to fall for a prestigious name with devotees scattered across the globe, but that doesn't mean you should feel compelled to go for it.