Key Takeaways
Van Cleef & Arpels, like Harry Winston, like Tiffany & Co., is in the upper echelon of diamond vendors, designing and delivering stunning pieces to literal royalty and Hollywood royalty. This craftsmanship extends beyond these singular pieces to its engagement ring offerings too.
In-person consultations are central to the Van Cleef & Arpels experience. With stores across the globe, you'll be met with GIA-graded diamonds – rather than those graded in-house like Tiffany & Co. and Harry Winston. They only accept diamonds between FL and VVS2 clarity and D and E color. This leaves out plenty of viable diamonds. However, the customer knows what they're getting.
The prices are high. Only book a consultation if you're aware and comfortable with them.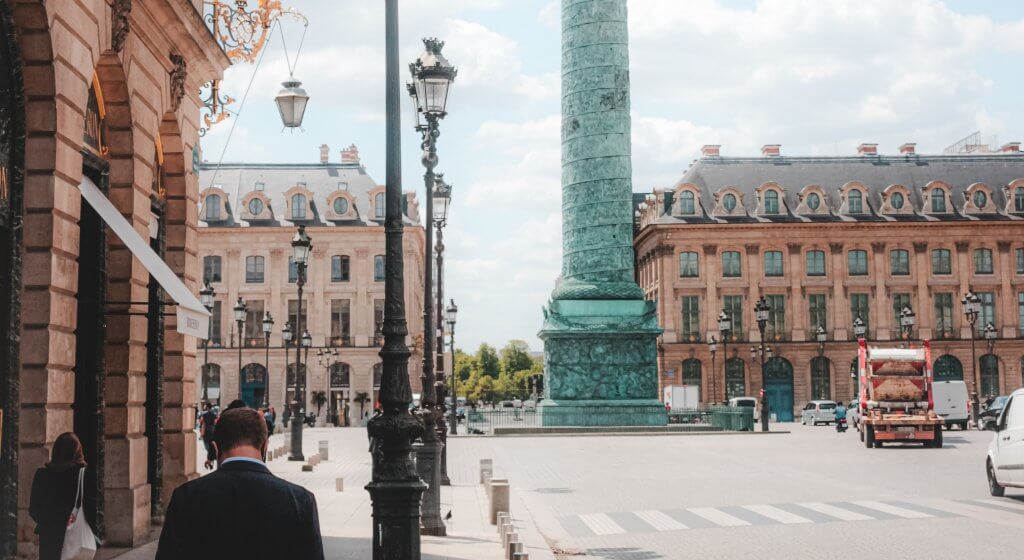 Could you turn down the opportunity to browse the diamonds selected by one of the most celebrated jewelers around the world? If you're anything like us, then the answer is probably a resounding, 'No'.
Van Cleef & Arpels is a little like a jewelry enthusiast's fairytale – chandeliers, black silk gloves, glass bell jars holding some of the most luxurious pieces we've ever seen, the kind of imposing, art deco doorway that we imagine only the most important of VIPs can cross without feeling a slight sense of imposter syndrome.
It's all part of that same breed of magic cast by the likes of Tiffany & Co., Cartier, and Harry Winston – an exclusive world that we can't help but want to step into, particularly for something as life-altering and important as an engagement ring.
Where our enthusiasm begins to get a little less confident is when we start asking the question, 'Could you turn down the opportunity to buy one of the diamonds selected by Van Cleef & Arpels?'
Our rating: 3 stars
The positives: legendary innovators of exquisite jewelry, and just about as luxurious as you can get.
The negatives: incredibly high prices, not a wise choice for anyone with any sort of budget to accommodate.
The Brand
With so many of their designs centered on flora and fauna, and their story beginning in one of the most famous squares of the first arrondissement of Paris, the fairytale of Van Cleef & Arpels just keeps growing richer. Esteemed royalty from across the globe, including Princess Grace of Monaco and Queen Nazli of Egypt, have passed through their doors, as well as some of the most influential people in history, such as Elizabeth Taylor herself.
The jeweler is also the mastermind behind the infamous zipper necklace – a piece that requires thousands of hours to complete, and one of the most iconic diamond jewelry designs every made.
But we're here for the engagement rings – and they're more than worth the journey. Featuring excellent craftmanship, a level of attention to detail worthy of one of the most revered jewelers in the world, and, of course, only the very best diamonds.
The Experience
We will always be advocates of the in-person consultation – a sales approach that remains central to the true Van Cleef & Arpels experience. Their boutiques are scattered across the world, although going past the front doors of any one of their stores is not advised unless you've done your research on the jeweler's price tags first.
Fortunately, their website isn't nearly so exclusive – there, you can find a relatively modest but stunning collection of both classic and innovative designs. Still, even with a jeweler as reputable as this one, you'd want to see your choice in person before the sale is made final.
Unlike some of the other high end jewelers, Van Cleef & Arpels use the GIA's diamond grading system, rather than their own in-house lab.
They offer diamonds as small as 0.3 carats, but shoppers won't get a lot of opportunity to find a great diamond at a more respectable carat range – say, 0.9 – 1.1 – since Van Cleef & Arpels' gemologists only accept diamonds between FL and VVS2, leaving out many clarity grades (VS1, VS2, SI1 and even SI2) that prove ideal for shoppers who don't want to limit themselves to a very low carat weight.
In a similar vein, they state on their website that they only utilize D and E color diamonds for the centers of their engagement rings – a shockingly narrow range that doesn't even include the full scope of Colorless diamonds (let alone the visually-perfect Near Colorless grades G and H.
The Cost
Once again, don't do yourself the disservice of booking a consultation with Van Cleef & Arpels unless you're totally au fait with their prices. After all, being one of the most prestigious jewelers in the world entitles you to some pretty exclusive prices, and even a beautiful-yet-modest 1.0 carat diamond solitaire we encountered cost upwards of $20,000.
The high cost of their pieces stems largely from their reputation. True, there is also exquisite craftmanship, but the notion that such skill and attention to detail is only available from the most famous and respected jewelers is one we would urge all our readers to get out of their heads as soon as possible.
Unless you've got half a million to spend on a ring, you'd be severely limiting your options if you paid the high, high prices for a Van Cleef & Arpels engagement ring. There are many more skilled jewelers working outside of the fairytale, and their prices make a lot more sense.
FAQ
Still on the fence? Here are your questions, answered.
Is Van Cleef and Arpels Worth it?
If money wasn't an option, then yes – but, for most of us, it is, and choosing Van Cleef & Arpels over a more reasonably priced (though equally skilled) jeweler makes infinitely more sense.
You can (and should) still opt for a personalized consultation at your chosen jewelry store, just as you can (and, again, should) still opt for a jeweler with the skills and experience to produce a ring to an incredibly high quality.
Limiting yourself to the high prices of near-flawless diamonds and Van Cleef & Arpels branding isn't worth it if you've got any sort of budget to stick to. Chances are, you'll wind up having to compromise on something – probably the size of your center diamond.
Why is Van Cleef So Popular?
Since the late nineteenth century, Van Cleef & Arpels have been creating exquisite and unique pieces seen on red carpets and royal portraits by millions around the world.
There is no denying the appeal of owning an engagement ring made by a jeweler who has been decorating the fingers, wrists, and necklines of the world's elites: the royals, actresses, singers, and fashion icons of the last 120 years.
Is it Cheaper to Buy Van Cleef in Europe?
It can be, although this only tends to be a minor difference.
Plus, some states do not require sales tax, meaning prices can be lower there, too.
How Can You Tell a Fake Van Cleef?
Look for the maker's mark – also known as the Maison's Hallmark – which should read 'Van Cleef & Arpels& or 'VCA'.
In rings, you'll find this on the inside of the band, along with another stamp indicating the metal type used. Fakes will often be stamped with 'Van Cleef', or be noticeably lower in quality than the precise lettering made by Van Cleef & Arpels' jewelers.
Our Summary
Van Cleef & Arpels is one of just a handful of classic jewelers whose collections have shaken up the world of fine jewelry many, many times since the late 1800s. You'd struggle to find anyone with any level of interest in jewelry who doesn't want to step beyond the threshold and experience the fairytale for themselves.
But the reality of buying an engagement ring is very different, and most of us need to stick to a price point, whether $10,000 or $100,000. The premium Van Cleef & Arpels can add to their pieces means that even those with a substantial budget will probably need to make compromises to accommodate that Maison's Hallmark – and we'd always rather go for a bigger and more impressive diamond than a small slice of history.