Key Takeaways
Shopping local is always more advised than shopping online, and that's why, despite Portland having no recognizable diamond district, Portland still offers the opportunity to get the best engagement ring.
Congress Street, Exchange Street, and South Portland are the go-to places for diamonds in Oregon's largest city. On Congress Street, Cross Jewelers has been operating for more than a century, keeping valuable knowledge not only in-house, but within the family. D. Cole Jewelers represents Exchange Street to the fullest, with its intimate setting. In South Portland, just beyond Maine Mall on Philbrook Ave, is Day Jewelers, an exclusive stockist of Forevermark Diamonds.
Clarity, Certification, Cut, and Carat remain what you should be judging diamonds by in Portland.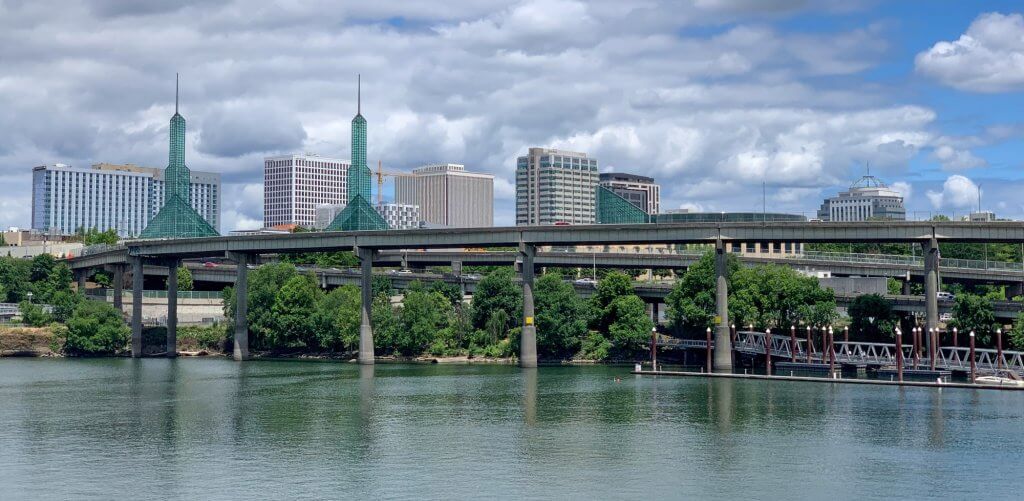 Portland is famous for plenty of things – even beyond the weird and wonderful. It rivals Amsterdam for the sheer number of bikes you'll find there and, between the Saturday Market and the food trucks (so many food trucks), it's one of the best destinations for foodies flying in from across the country – and outside of it.
But, while a walk through Portland is almost guaranteed to see you crossing the path of at least one cyclist and getting lost following the smell of Blue Star's blueberry bourbon basil donuts, it's not quite so common for you to stumble across a massive selection of diamonds, waiting to be snapped up by the next wannabe fiancé.
Still, we'd caveat that previous statement with the fact that there are plenty of great options for buying a diamond engagement ring in Portland – and, even better news, our experiences makes us pretty confident you'll find the perfect engagement ring in Portland. The Ring.
Why Portland?
If you've visited our site before, then you'll know that we're strong proponents of shopping close to home – but not so close to home that you don't have to get up off your couch, or look further than your phone screen.
For those living in Portland, exploring the city's best bricks-and-mortar jewelry stores opens up a world of possibilities, and means you can actually get the most out of your experience.
Online stores are able to lay claim to some pretty determined marketing campaigns, meaning that, by the time you're actually ready to buy a diamond and propose, those ubiquitous names are stuck pretty firmly within your head. But the fact that they're 'everywhere and nowhere' all at once is not a reason to take the bait and buy your diamond online.
The main selling point for shopping online is the convenience, but we're not sure that the phrases 'quick and easy' and 'most important purchase you'll make in your life' go together all that well.
In a real, bricks-and-mortar, reputable and local jewelry store, you get time – much-needed time – and guidance. You get to knock heads with a jeweler, talk through your ideas for the diamond (and actually see it in person) before work starts on creating the ring itself.
You get to take advantage of generations' worth of knowledge and experience, passed down through families or trained craftsmen.
Portland has a lot to offer anyone who is getting ready to pop the ultimate question…
Congress Street
What better place to start looking than the heart of the city itself? Amid the restaurants, the State Theatre and the college of art, there are some golden opportunities to find a diamond on Congress Street alone.
Between OTTO pizzeria and Moody Lords, you'll find Cross Jewelers, which has been creating pieces for the people of Portland – and its visitors – for more than a hundred years. Family owned, and run by a tight-knit team of passionate jewelers, their jewelry store represents an oasis for anyone who is starting to feel overwhelmed at the prospect of investing into a diamond for the first time.
Just a couple doors down is Springer's Jewelers. With two stores in Maine (one is located in Bath), and another in Portsmouth, New Hampshire – not to mention more than one hundred and fifty years' worth of history – Springer's has a lot to offer a new generation of couples looking to get engaged and married (or just celebrate a great moment) in Maine.
Exchange Street
If you prefer to hang around in the Old Port District, then the changes are that you've passed by D. Cole Jewelers plenty of times already – after all, it's been there since Dean and Denise Cole first put down roots in 1981.
D. Cole Jewelers epitomizes the intimate, laid-back atmosphere that we love in local, bricks-and-mortar stores. With three expert jeweler's on staff, the store has won the title of Portland's Best Jeweler not once, not twice, but twelve times.
D. Cole specialize in custom pieces, and are more than willing to spare the time to talk through your ideas for your bride-to-be.
South Portland
If you're willing to drive a little further South, then South Portland is another great place to find some excellent local jewelry stores – and one of our top places in the country to find a beautiful diamond, and have a master craftsman draw up a custom engagement ring design for you.
If you know the city well, then an obvious port of call for anyone shopping in South Portland is the Maine Mall. These days, a lot of shoppers are pretty quick to write-off the mall, but it's still a preferable option to going online. If you've spent much time on WillYou.Net in the past, then you'll know that Kay Jewelers and Jared Jewelers (both of which have a branch located in Maine Mall) is not the ideal choice for getting high quality at a good price but, just outside Maine Mall on Philbrook Ave is Day Jewelers.
Day Jewelers comes highly rated as the exclusive stockiest of Forevermark Diamonds
You can see our full list of recommended jewelry stores in South Portland here.
What to Look for
Wherever you shop – whether it's a luxury brand or a local, independently owned jewelry store – there are a few things you should consider to be 'essentials'. It's easy to let one thing slip out of your mind when you're busy taking it all in, and, obviously, a good jeweler will be sure to make you aware of everything you need to be made aware of. But, however good and informative your jeweler is, it's always worth knowing what you cannot sacrifice (and, of course, what you can sacrifice).
Eye Cleanliness, Not Top Grades
Diamond clarity isn't the most straightforward subject, but the basic premise is this: don't overspend on a higher grade, if a lower grade still offers a diamond that looks free from inclusions and blemishes. This is something only you can judge for yourself – and only in person.
The same goes for color. Aim for Near Colorless (grades G, H, I and J) rather than Colorless.
Diamond Certification is essential, and no good jeweler will try to sell you an ungraded diamond (with the exception of melee diamonds, which are particularly small stones found in pavé and halo settings). We always recommend the GIA, since it is the most consistent, and you can be very sure of the level of quality you're paying for. The AGS is a strong choice too, but we wouldn't recommend any other lab.
Cut Quality and Proportion
If you want to make sure you're picking a winning diamond, then cut is absolutely essential. It's what influences the diamond's ability to produce fire and brilliance (sparkle) and is more than worth paying for.
Read our guides on Cut and diamond proportion to get your head around these concepts in plenty of time for your consultation.
Most of us want to impress with a big diamond, but it's a mistake to focus your search on finding the biggest diamond possible within your price range. If you find a 2 carat diamond, for instance, significantly cheaper than any other 2 carat diamond you've encountered, then it stands to reason that there's something wrong with it – something that makes it a non-starter for customers looking for 2 carat diamonds.
At the same time, however, it would be a mistake to narrow your parameters to find only the highest quality diamonds in your budget, since you'll wind up overspending on features you can't see or appreciate.
It's a juggling act, and it's only done right when you understand the other considerations we mentioned above.
So, Should You Buy a Diamond in Portland?
Go for it! If you live in or near the area, then there are no better places (or people) to turn to than the ones that call your city home.
We could talk for hours about the reasons we'll never change our minds about the value of the local, bricks-and-mortar jewelry stores America has to offer – and how, whatever their reputation, none of the online vendors can compare when it comes to the level of service and reassurance a jeweler can make during this major life decision.
For us, it's a no brainer, and, given the long list of jewelry stores the city of Portland has to offer, it's a top recommendation for anyone living in the area. Plus, what better way to feel reassured than knowing you'll never have to entrust your diamond to the mail – and that you'll always have someone to turn to if your ring needs a clean, or tune-up? At WillYou.Net, we want to take the guesswork out of finding a reputable and reliable jeweler, which is why we have searched high and low to create our full list of recommended Portland jewelry stores for our readers to put to use when they are ready to take the plunge, and invest in a diamond.