Key Takeaways
How you decide to celebrate your love is totally up to you, and a proposal can be about blending tradition with your own beliefs and style, or totally doing away with tradition and creating your own path.
For lesbian couples, choosing an engagement ring (or a pair of engagement rings) is about knowing your girlfriend and what will set their heart fluttering.
For gay couples, engagement rings can be whatever you want them to be – it's about figuring out what will give your boyfriend the best surprise.
In either case, you don't have to match. You don't even have to both wear rings. Do it your way, and enjoy every second.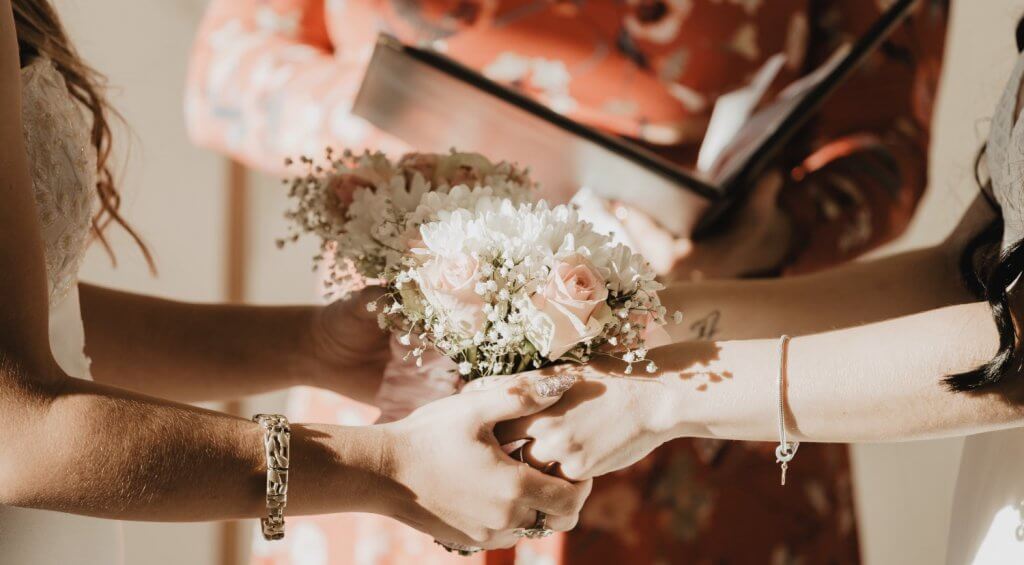 There is nothing in this world like the moment you realize you have found the one. It's a feeling that poets, songwriters, and authors have been trying to put into words for thousands of years but, however close they seem to get, capturing it is still just out of reach.
Ultimately, what it boils down to is that powerful phrase, 'Love is love'. Whoever you are, the beauty of being able to feel that feeling once in your life – to know that you're about to embark on the best journey of all – really doesn't need any more explaining than that.
Some of the very best love stories come from the LGBTQ+ community, where reinventing tradition, forging new paths, and underscoring what it really means to fall in love and make the biggest promise anyone can make to another person. We love to hear our readers' stories, and how they chose to stick with (or break from) tradition for their proposals.
But, as much as we love a good down-on-one-knee moment, it's the engagement rings themselves that we're most preoccupied by – for obvious reasons. So, to get you on your way, we have put together a complete, round-the-houses guide to gay and lesbian engagement rings – from the trends and inspo to the practicalities of finding the perfect ring for your love.
Read our full guide below, and prepare to make that ultimate leap with us.
Lesbian Engagement Rings
The entire purpose of an engagement ring is to place that tangible symbol of your love and commitment right there on your partner's finger. There are some clear, lasting trends in the engagement ring world – the Round Brilliant solitaire, for instance, which is pretty much the symbol of the proposal – but there are also plenty of jewelers working to create designs that are new, fresh, unique, and authentic to the couples who invest in them.
For lesbian couples, the sky is the limit. As with the wedding itself, you're free to stick as close to tradition as possible, to cherry pick the traditions you want to follow, or to turn everything on its head and do things in a way they've never been done before.
For that reason, we're going to take you through everything you could possibly need to know, starting with that key question: are you going to chase the classics, or go for something totally new?
Classic or unique?
There's no point in forcing yourself to go with a particular style if it doesn't suit you – and that rule is the same whether you're feeling compelled toward tradition, or like you have to break from it in order to find a fitting symbol for your love. The only good choice is the one that makes your heart flutter, whether it's a simple solitaire or a one-of-a-kind design.
The trick with the classics is to find a way to put your own spin on it, even if that's as simple as an engraving or peekaboo stone beneath the center setting.
The trick with the more unique designs is to create a design you love, rather than a design that excites you just because it's different. The first will age much better, and keep you from feeling buyer's remorse five years down the line.
Your best bet? To combine classic and contemporary design elements within one ring. There's no need to go to one extreme or the other, and that 'middle ground' is usually where you'll find or create the most exciting designs.
Should you both have a ring?
There's no definitive answer to this. It's all down to you and your partner, your personal styles, and your budget.
While we're not going to tell you what to, our love of engagement rings means that we can't help but lean toward 'yes'. Having a ring each means you both get to share in the excitement of looking down at work, while you're riding the bus or doing the weekly grocery shop, and having that heart-skipped-a-beat moment when you remember you're officially a fiancée. It means a beautiful proposal where you can share an equal ground, and both enjoy the surprise of seeing what your partner picked out for you.
There's absolutely no rule that states both of you have to wear an engagement ring. If you'd rather stick to the tradition of 'one ring box per couple' then no one is going to step in and tell you that you're doing it wrong. But, at the same time, the choice is always there – and the possibilities are endless.
Should they match?
No, not unless you want them to.
While the idea can sound cute at first, remember that these rings are intended to be worn for life, and that, first and foremost, they need to be suited to you. Matching rings can be cute, but remember that they're no more romantic or meaningful than two totally different rings that are suited to (and chosen specifically for) the wearer.
Can both partners propose to each other?
Absolutely! While it may take a little more prior planning (and fewer secrets) to pull it off, there are plenty of different ways a 'double proposal' can take place.
The most literal interpretation of this is the hardest to pull off. It would require both of you to be on the same page in terms of dates and times, and both of you to have a ring ready and waiting (if you're both having a ring), for that special moment. Doing it this way will mean that the surprise is taken out of the equation, but there will still be plenty of anticipation and excitement for the big moment. It also means you'll be able to pool your budgets together for a photographer, a fancy dinner, a weekend away, or a big 'We're Engaged' celebration with friends and family after.
The alternative is, of course, to stagger your proposals. That way, whoever proposes has the option to make it a surprise, which can be a little more exciting. After that, you can go shopping for the other ring together, or make that second proposal a surprise, too.
Otherwise, you can take the traditional route and have one proposal, with one person down on one knee and one person totally dumbfounded by the appearance of a ring.
If you're only getting one, who gets the ring in a lesbian relationship?
In all likelihood, whoever plans and carries off the proposal.
You can decide for yourself whether you want to get the ring before the proposal, or pop the question before going ring shopping together. If you decide to do that, you may want to purchase a less expensive temporary engagement ring – a sort of 'placeholder' for the actual ring, so that you're not going down on one knee empty handed.
Other than that, the answer is totally dependent on your relationship and the dynamic between the two of you. Nobody's going to appear out of the bushes and tell you you're doing it wrong.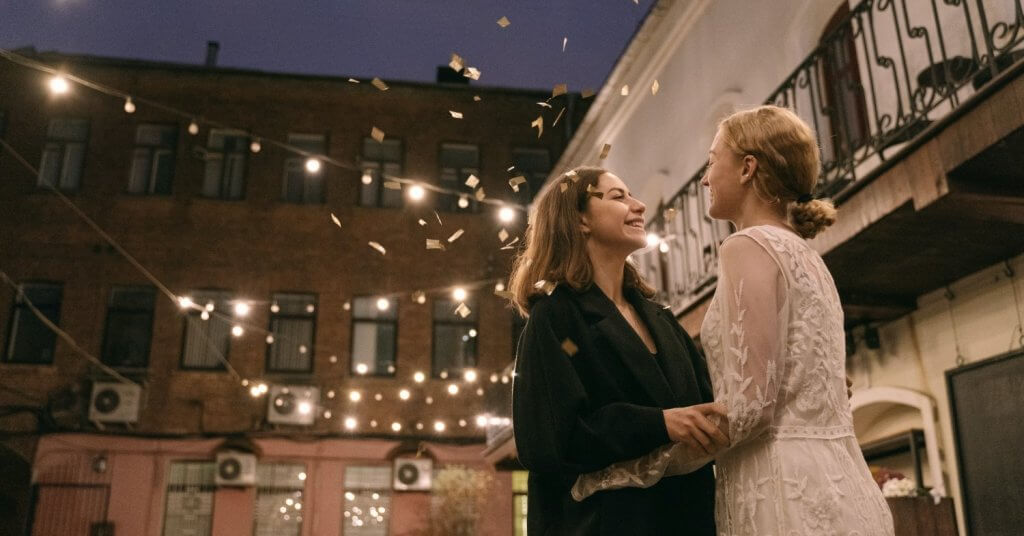 Lesbian Engagement Ring Inspiration
In terms of inspiration, there are as many ring designs out there as there are couples in the world, and there's definitely no 'one type fits all' rule to follow when you're looking. It may be that none of these ideas appeal to you, but that you can pull elements from one and elements from another together to create something that does.
The trick is to keep an open mind, to think about your girlfriend's personality and sense of style, and to remember that there are no right or wrong answers here.
A hyper-feminine Princess hidden halo engagement ring
The Princess cut is one of the most feminine cuts out there. It was popularized in the 80s, when styles were all about excess and glam, but don't worry – it's not a prerequisite for big perms and even bigger wedding dresses. The Princess has moved on from its roots, and now represents an ultra-sparkly, ultra-modern option that stands out from some of the more traditional diamond shapes.
A runner up to the Round Brilliant in terms of sparkle, it's bright and vibrant enough to look incredible on its own – but we love the extra light created by a hidden halo, placed just beneath the center setting. It's more understated and timeless than a full halo, but it adds something extra to an otherwise simple ring design.
Perfect for: Someone modern and feminine, who loves to add a hint of luxury to their wardrobe.
An edgy Marquise cut platinum bezel engagement ring
The Marquise cut may not be the most popular shape for engagement rings, but what it lacks in prevalence it more than makes up for in beauty, originality, and excitement. For the right person, it is the perfect blend of romance – it is said the shape is modelled on Louis XV of France's paramour – and boldness, with those two sharp points giving it a crisp, streamlined edge over the Oval.
The Marquise's sharp points do make it a little more vulnerable to chipping. Jewelers can place protective prongs at those points, but we love the look of a bright and bold Marquise held within a full bezel setting.
In platinum, the ring takes on such a sleek look – very flattering on the finger and any skin tone. It also looks great in gold if your girlfriend prefers warmer tones, but the most modern look is achieved with icy platinum.
Perfect for: Someone who likes to run against the grain and be a little daring in their style choices.
A romantic toi et moi that literally combines the traditional with the modern
The toi et moi ring has plenty of variations, but all are united by the fact that they feature two center stones, rather than one. The phrase 'toi et moi' is French for 'you and me', so you can see why this style is hailed as one of the most romantic and meaningful designs you could pick out for an engagement.
A two-stone engagement ring gives you a lot of options, but they're not always the easiest rings to get right. But, when things do fall into place, the toi et moi ring looks incredible. If you need proof, Ariana Grande was given a toi et moi ring, featuring a large Oval set off-kilter and a smaller pearl, by now-husband Dalton Gomez. The ring caused quite the stir online.
But you don't have to pair two different elements in a toi et moi. We love the fact that having two center stones allows you to get twice as much sparkle for the same real estate – and, of course, combine the traditional with the modern, all in one ring.
For this, you'll want to pick a classic shape – say, the Round Brilliant or the vintage Emerald cut – with something a lot more modern, like the Princess or, if you think you can pull it off, the Heart. It's a great way to fuse the two sides of romance together – the old and the new.
Great for: a romantic at heart who is happy to explore both sides of their personality.
An Emerald cathedral of architectural elegance
There is something about the flapper-era of the 1920s that none of us can bear to turn our backs on. From the romance of Gatsby to the decadence of that roaring decade, the era gave rise to some of the most inspiring and timeless in fashion, interior design and, you guessed it, jewelry.
The Emerald cut is great because, while it's not as 'out there' as some of the other shapes on this list, it's got a quieter, calmer elegance that really suits the people who wear it. The unique structure of its facets work with the architectural design of the cathedral setting perfectly to create something simpler than your average engagement ring, but incredibly tasteful and chic.
Great for: Someone with more understated tastes. The style can be as feminine or as neutral as you want it to be, depending on the wearer's own style.
Gay Engagement Rings
Whether you have a complete vision for your engagement ring, or absolutely zero idea how you're going to pick out or design an engagement ring for your boyfriend, we've got your back. There is so much that can be done with just a few ingredients – gold, platinum, diamond, and elbow grease – and, provided you know your partner's style inside and out, you will absolutely be able to find a ring that knocks their socks off.
That old rule about men not needing engagement rings? Totally outdated, wrong, and missing the entire point of the classic, picture book perfect proposal: engagement rings say 'I love you' in a language we all know how to speak.
The best part? There are countless options out there – and they don't have to adhere to the stereotypes in order to make the biggest promise you will ever make to anyone.
Traditional or totally different?
You've got two options here. On the one hand, you can stick with the jeweler's tradition and go for a classic engagement ring design – say, a solitaire or a tension set diamond – or you can break from the usual routine and come up with something a little more masculine and different.
Either way, your choice doesn't matter. What does matter is that you made that choice based on your preferences, style, and dreams for your big moment – not what you think you should choose.
These days, jewelers across the country are getting more and more creative. Even if you're struggling to get a coherent image in your head, a consultation could be all you need to go from feeling creatively stumped to feeling like you've unearthed the treasure.
Do gay men wear engagement rings?
Definitely! We have seen so many couples embracing the tradition of buying engagement rings to celebrate this next phase in their journey together. Some put their own spin on it, while others go with tradition.
Part of the joy of being in a relationship is being able to pick and choose how you follow, or how you break from it. Ever since the Marriage Equality act was passed by the Supreme Court, couples across the country have been calling the shots – figuring out what they want to embrace, and what they want to do differently from everyone else.
What better way to celebrate this individuality than through your engagement rings? Even the most traditional solitaire diamond ring is special if it was chosen because you and your partner love it, and can't picture getting engaged with anything else.
Do you each need a ring?
No – it's up to you whether you go for one ring each, or whether just one of you wears a ring.
Leave it up to one another to decide whether or not you both want a ring. Remember that, if you're not a big jewelry wearer, it can be a big change to get used to – especially if you wind up with a wedding band, too.
If one of you wants a ring and the other doesn't, then that doesn't automatically derail or undermine your engagement. Personal preference matters more than appearances, and those promises you make to each other matter more than anything else.
What finger do gay couples wear rings on?
There are no hard-and-fast rules. In recent years, a lot of LGBTQ+ couples have chosen to wear their rings on their right hand's ring finger, rather than the left.
The left hand's ring finger is the 'traditional' place to wear an engagement ring and wedding band but, as mentioned, no couple should feel compelled toward tradition for the sake of it.
The ring finger is the obvious choice (the clue is in the name), and most couples prefer to stick to it, but whether you go for the right or left is totally up to you.
Who proposes?
Whoever gets there fastest.
True, you might talk between yourselves to figure out who wants to be the proposer and who wants to be the propose – or, alternatively, whether you want to do a double proposal. This can be a useful conversation to have, even if it feels like it's draining the excitement and anticipation out of the event. We promise it'll be there when the day arrives, whichever side of the ring box you're on.
Joint proposals are gaining a lot of traction amongst gay and straight couples, as they play to a more modern notion of equality and reciprocation. They can be beautiful, and having twice as much manpower behind the planning can mean that they are even more showstopping than a more traditional proposal would have been.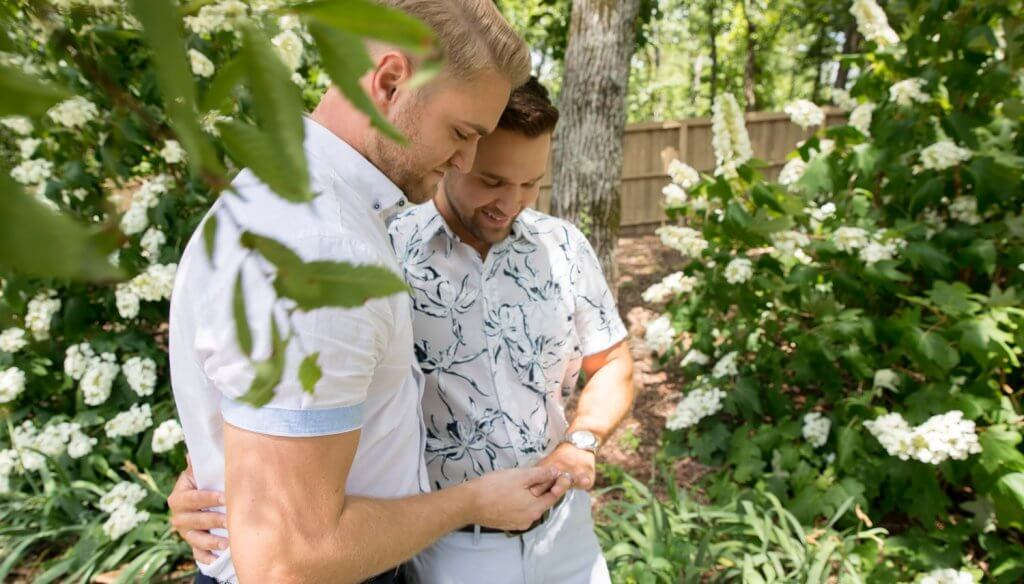 Gay Engagement Ring Inspiration
While you could pick out any style in any jewelry store window and have it tailored to your tastes, a lot of gay couples do struggle to figure out where they want to land when it comes to engagement rings.
If your style is on the masculine side, then the traditional designs are not going to appeal at all. That's not to say, however, that you've got to wait until the wedding to get a ring on your finger (and a totally plain one at that). There are some great design options out there that don't stick to the usual 'engagement ring formula'.
Below, we put together some ideas to suit as wide a range of tastes as possible. You can easily mix and match different elements together, or use them as a rough guide for the kind of thing you'd like to see.
A flush set Round Brilliant diamond
The flush setting is a really popular design for men, anyone who leads a busy lifestyle – or, really, anyone who doesn't think they'll be able to cope with the impracticalities of wearing a big, standout diamond.
As the name suggests, flush set diamonds are placed in a small hold drilled into the ring itself, before a small lip is hammered over the very edge of the diamond to keep it in place. As a result, you have a very streamlined (and more understated) diamond ring that utilizes elements of the traditional solitaire, in a way that is a lot more masculine and wearable.
We love the idea of a Round Brilliant, since that's the most sparkly shape out there (and a flush setting will reduce sparkle significantly, since more of the light is blocked out from the diamond), but you could just as easily go for a different diamond shape.
Great for: Someone whose style falls on the easier, more laid-back side of fashion.
An Asscher cut tension ring in platinum
The Asscher is a beautiful, though often underrated, diamond shape. It is, put simply, a square version of the very popular Emerald cut, which means you get that gorgeous hall of mirrors effect through the table, but within a shape that tends to flatter larger fingers more than the slim line rectangle of the Emerald.
Something we find particularly seductive about the tension setting is the fact that, while it works by exerting a lot of pressure onto the diamond, it appears effortless – as though the diamond is just balanced there on your finger.
In a tension setting, you have the option to mess around with the diamond's orientation. Consider asking your jeweler to design the two ends of the shank so that the diamond is held off-center, rather than perpendicular to the edges of the finger.
Great for: Someone who loves the brightness diamond offers, but wants to keep the ring design modern and a little more unique than the usual solitaire.
A dots-and-dashes channel-set band
The channel setting is a great alternative to pavé – not just because it gives you more creative freedom in terms of diamond shape and size, but because it's a little less feminine, too, and suits a thicker shank.
Dots-and-dashes rings feature a pattern of smaller diamonds that alternates between the Round Brilliant and the Baguette cut, which is a simple, rectangular step cut reminiscent of the Emerald (but with fewer facets cut into its surface).
These diamonds are held within a 'channel' that runs through the center of the band. The very thin lip on either side of this channel holds the diamonds in place, which means they get a pretty good amount of light on them. The Round diamonds with produce a lot more fire and brilliance than the Baguettes, so you get an interesting and dynamic interplay throughout the pattern.
Great for: Someone who doesn't want to get too flashy with their engagement ring, but still wants it to stand out from their wedding band.
A bezel set Radiant cut diamond in gold
The bezel setting really is striking. While that extra metalwork does inhibit some of the diamond's sparkle, a Radiant will still create a beautiful display of fire and brilliance that lives up to your expectations from a diamond.
The Radiant is a pretty modern cut, and it's often passed over in favor of cuts like the Princess or Cushion. We love that unique interplay between the cut's abundant sparkle, and those straight, exact edges. It's a lot less 'princess-y' than the Princess, but more exciting than the Emerald if sparkle is still high on your priorities list.
The bezel just keeps the ring streamlined and comfortable. You might decide to position the Radiant diamond in an East-West configuration, so that it stretches across the finger rather than with it, for something more original.
Great for: Lovers of sparkle who want to turn the traditional idea of the solitaire engagement ring on its head.
Don't Forget About the Wedding Bands
A lot of couples find it useful to plan ahead, and start thinking about how their engagement ring will sit alongside their future wedding band before they commit.
If your choice of ring has any bulk to it – for instance, if the edges of your diamond project beyond the shank, as they would for a larger solitaire – then it's important to start thinking about whether or not your wedding band will need to feature a slight contour to accommodate the diamond's size.
For flush or channel set engagement rings, keep in mind the fact that most people prefer for their wedding band to be thicker than the band of their engagement rings. These settings tend to require a thicker band to accommodate the bulk of the diamonds, so ask yourself whether you'll want to wear that ring alongside another when you get married.
Our Summary
The worlds of gay and lesbian engagement rings are packed with creativity, exciting new trends, and original ideas worthy of the love stories they become part of. It can feel a little daunting at first as you figure out how close you want to stick to tradition – or how much you want to decide for yourselves – but it doesn't have to be.
Think about your partner and their tastes – your expectations and vision for the proposal – and focus on creating something that represents your relationship, rather than anyone else's.
To get you started, you can check out our guide to picking out a diamond here.