Key Takeaways
Unlike Philadelphia and New York City, San Diego doesn't have a diamond district. Instead, there are multiple pockets within the city where jewelry stores can be found, containing as much expertise and enthusiasm as you could find.
There are notable areas where you'll be able to find stores: The Gaslamp, where a store of the chain Zales resides, along with family-run stores like Brilliant Diamonds containing GIA graduates; Five Points, where you'll find The Diamond Connection which has been running almost one-hundred years; and Mission Valley, where the Mission Valley Mall has the less-revered Kay Jewelers and Ben Bridge, but, also, the high-quality Royal Maui Jewelers.
The tangible experience of shopping for diamonds in San Diego is what shines brightest. Being able to go into a store, talk to an expert, and see the diamonds available is fundamental.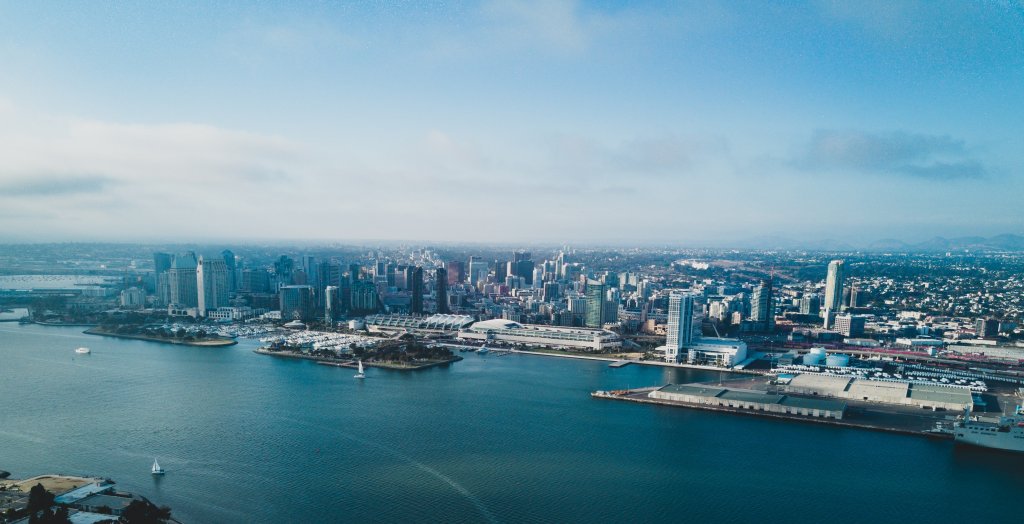 One of the most seductive things about life in the city is that, even for those who have been living there for years on end, they have a way of suddenly uncovering a whole other side to themselves – yet another reason for you to keep your roots firmly planted beneath their sidewalks.
San Diego has plenty of obvious selling points. From the Water Grill to the tacos; Mardi Gras to Petco; the three hundred sixty five days of good weather to the even better surf spots.
But, while San Diego is more famous for "The Jewel" (La Jolla itself) than its diamonds, it's certainly an excellent place to invest in a diamond.
Why Buy a Diamond in San Diego?
We're going to work off the basis that you're living in or near San Diego yourself, and use that as our first big benefit: it's right on your doorstep. Not just the diamonds themselves – although there are plenty – but the expertise and knowledge that no shopper (first-time or otherwise) can do without.
Diamonds are a complex thing, and diamond buying is a complex process. Vendors stock all kinds of diamonds – some that will be right up your alley, and some that may turn out to be a waste of money for someone with your particular budget and plans.
What's the alternative? Going online and ordering it from a website? Sure, your computer is even more local to you than the Gaslamp, but how do you feel about dropping thousands of dollars on a one-of-a-kind item you've not been able to look at in person?
This brings us to one of the first thing anyone shopping for a diamond in San Diego has to accept: that, even if you don't know the first thing about diamonds, the role you play in the process is essential.
Why? Because, while your jeweler will be able to talk you through the more technical aspects like clarity, table and depth, fluorescence, and symmetry – all of which matter a lot – how it appears to a non-expert (AKA, you) matters even more.
No two diamonds are exactly the same, and what you make of the one you choose matters more than you probably realize. So, first tip for buying a diamond in San Diego: pay attention to the jeweler, but trust your own opinion, too.
Where Should You Buy a Diamond in San Diego?
A reputable, established and highly trusted jewelry store that has proven its worth among the local community.
That's another thing that's so appealing about living in the city: they're able to boast some of the biggest communities imaginable – and what's better than a seal of approval from an entire community?
We mentioned above that San Diego is an excellent place to buy a diamond – and it is, thanks to an incredibly long list of jewelry stores operating in the area (some for generations).
At WillYou.Net, we've worked with jewelry stores up and down the country, whittling down our list of recommendations for our readers in order to make certain that shoppers are able to connect with the best jeweler possible.
The Gaslamp
We're starting downtown, since there's something undeniably appealing about shopping for a diamond with the sounds of live music overlapping one another – mulling it over with a cold brew at Roast Coach – then talking it through with someone who has inherited generations' worth of knowledge right in the heart of your home city.
If you've not paid a lot of attention to Downtown jewelry stores before, then we're betting that Zales is the most obvious choice. We've got some pretty lukewarm feelings toward Zales' diamonds (and engagement rings), although the fact that they're a real life store – rather than an online vendor – means they've still got plenty going for them in that regard.
About a block away, you'll find a family-owned store with over sixty years' combined experience – and more than a quarter of a century under its belt in the local community: Brilliant Diamonds.
Their jewelers are graduates of the GIA, and offer a lifetime craftmanship guarantee on all their pieces. Their showroom offers all the benefits we talk about when it comes to bricks-and-mortar businesses: the opportunities to see the diamonds and engagement ring designs for yourself, to talk things through with an expert, and to really understand the item you're purchasing before you bring it home.
A little further east on 6th Avenue, you'll also fine Diamond Empire, which boasts an extraordinary collection of diamonds.
Five Points
A little further north, you'll find The diamond Connection, situated on San Diego Avenue – which, even from the outside, perfectly captures the more intimate, relaxed approach to buying a diamond that so many first-time shoppers are looking for.
Family-run since 1924, they remain committed to ensuring that their customers have an expert to lean on – a big plus if you're starting off with no idea where, exactly, you want to end up. They specialize in GIA certified diamonds – another great plus if you want to get the best quality possible for your investment.
Another jewelry store with a strong, familial vibe is Leo Hamel Fine Jewelers – located about one minute's walk up the street. Open for more than forty years, and committed to a highly personalized experience for their customers, they're another great example of how important it is to get off your computer and turn to the professionals for your diamond.
Mission Valley
First up, Mission Valley Mall. We know that, these days, shoppers have some pretty mixed feelings about jewelers based in the mall, but there's actually a lot going in their favor – and a lot that makes them a significantly better choice than the online vendors. Sure, we're not sold on some of the big brand names and designers, primarily because they're able to charge a premium that doesn't reflect anything but their strong reputation, but there's still plenty of choice beyond those names.
At the Mission Valley mall, you'll find Ben Bridge, and, of course, Kay Jewelers, which we're just a little less likely to recommend. You'll also find Royal Maui Jewelers, initially established in Hawaii, and still family-owned and committing to a high level of quality.
But, if the mall isn't quite your thing, there are still plenty of other stores. Stuart Benjamin & Co. and Jared Galleria of Jewelry are both located in Mission Valley, and offer alternatives to the Kay and Zales you'll have seen passing down Camino del Rio North.
Grantville
Speaking of the Camino del Rio, if you follow it East you'll reach Enhancery Jewelers, which has been owned by Martin and Kathleen White (who is a graduate of the Gemological Institute of America) for more than forty years. Their diamonds are hand-picked, and their custom ring designs completed to impeccable standards.
La Jolla
In La Jolla, you'll find one of Brilliant Earth's few showrooms. Primarily an online vendor, they do have a few bricks-and-mortar locations scattered across the country. We have written a full review on Brilliant Earth in the past, and wouldn't recommend it to our readers. While visiting one of their showrooms is significantly better than using their website, there are other stores we'd be more likely to recommend our readers, meaning La Jolla doesn't fall high on our list of neighborhoods to shop in San Diego.
So, Should You Buy an Engagement Ring in San Diego?
Yes! San Diego is bursting with options for any shopper, of any budget.
True, San Diego doesn't have a 'diamond district' like, say, New York or Philadelphia, but that simply means you might have to travel a few minutes' down to the road, rather than having it all at your feet in one go.
As always, however, remember that every city has its high points and low points, whether you're shopping for diamonds, or anything else. And, while we're always going to consider the bricks-and-mortar jewelers to be infinitely better and safer options than any of the online vendors, we are still keenly aware of the fact that quality differs from store to store.
As a result, it's important you really do your research on where to shop from.
The right jeweler will carry diamonds that are accompanied by a GIA report, prices that reflect quality rather than any overpriced brands, and offer you plenty of time and help to make your decision. The whole point of visiting a real jewelry store is to make the most of the experience, so make sure that's what you're going to get before you head in there.
To help our readers, we've put together an extensive database of jewelers we trust and have worked with in the past. This means that you can take a look at our top jewelry store recommendations for San Diego, and pick a store you really feel confident in before you head out into the world and embark on your mission to find a beautiful diamond for your engagement ring.