Key Takeaways
San Francisco has no central diamond district. Instead, there are a few parts of the city you can go to find expert jewelers. Due to The Golden City being a place which values uniqueness, idiosyncrasies, and difference, there are plenty of worthy, local brick-and-mortar stores worth visiting.
Three key in San Francisco to find diamonds are: Downtown, which contains a mixed bag of recommended stores and non-recommended stores: Tiffany & Co., Shapur Mozaffarian, and Mei Wah Company are great, for instance, but Harry Winston and Cartier aren't; The East Cut, which has a good range of independent, family-run stores like Chabo's Jewelry; and The Design District, which has local shops like Opus Jewelers offering custom, never-before-seen pieces.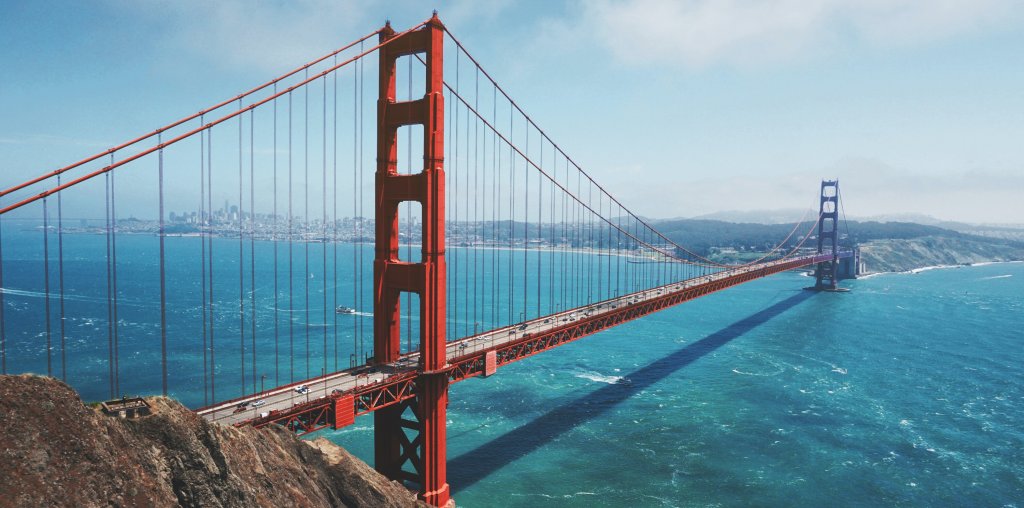 Who doesn't want a reason to spend time in San Francisco? And, in particular, who doesn't want a reason to spend time in San Francisco when they're on top of the world, having the time of their lives – and any one of those old chestnuts – preparing to ask their partner the ultimate question?
San Francisco is a city of inspirations, the ultimate backdrop to any love story – and, more practically, a great place to shop. It hasn't got the typical 'diamond district' that New York City, Los Angeles, and Chicago have to offer, but for the shopper willing to stand on his own two feet (or ride the Muni Metro, it's up to you) it's one of our favorite places to find bricks-and-mortar jewelers with decades of history within the local community.
Buying a diamond in San Francisco is a celebration – and one that any local or diamond-savvy traveler is invited to.
Why San Francisco?
Like any city, so much of San Francisco has been shaped by individuals and families, who started businesses years or decades – even generations – ago, and who have served the community diligently since that time. Sure, the big box stores get a lot of attention up and down the country, but one of the great things about this city in particular is that fact that, even now, its locals always seem to fall in favor of the unique, and the different.
It's no surprise, then, that San Francisco ranks high in our list of cities to explore for diamonds and fine jewelry.
But, why bother going out your door when there are so many online jewelers now dominating your ads online? Because these online vendors, however reliable and cheap, miss out on what we consider to be the most important aspect of buying a diamond: seeing it in person first, talking it through with an expert who has the time and knowledge to lend to you, and being able to make your decision based on what's in front of you, rather than what you can make out from a photo.
Diamonds are expensive, and engagement rings have a lot riding on them, and, for those reasons alone, we can't get our heads around the idea of investing so much money and significance into something you've never even seen before.
We have plenty of reasons for encouraging our readers to stay away from the online vendors – but, when you've got a city like San Francisco at your fingertips, do you really need any other reason?
Where to Buy a Diamond in San Francisco
You've got a lot of options and, while we will always recommend the bricks-and-mortar stores over anything else, there's still plenty of difference between one jewelers and another. This is why we're always working to educate our readers on every aspect of buying a diamond – so that they can really understand what to look for in a good jeweler.
But, if you're totally lost on where to start – and have never even paid attention to the jewelry stores in San Francisco – then here's how to find your bearings…
Downtown
Starting off with the obvious: Tiffany & Co., located in Union Square right between Williams-Sonoma and Saks Fifth Avenue – although, let's face it, it's pretty hard to miss. Possibly the first 'jewelry store' that comes to mind if you know the city well, but haven't shopped for fine jewelry much before, Tiffany & Co. falls a little further down our list of recommendations than you might expect.
A block east, you'll also probably be familiar with the façade of Harry Winston – another beautiful store that, in our opinion, is the wrong choice for a lot of shoppers. Read our review of Harry Winston for more information on this. Also, watch out for Cartier – a beautiful storefront and tempting brand for the prestige it offers, but also very expensive and, as a result, restrictive if you're looking to get the best your money can buy.
One highlight just off Union Square is Shapur Mozaffarian, which has been owned and run by five generations since 1850 – and present on San Francisco's Post Street since the 1960s.
Besides, beyond Union Square, there are some excellent options that are far more likely to accommodate your budget, without you having to sacrifice any of the quality of the big names.
If you head towards Broadway on Battery Street, you'll find the family-owned Mei Wah Company, which has been in operation for almost sixty years and specializes in custom pieces.
Further south on Market Street, La Bijouterie's state of the art showroom is located within sight of the Ferry Building. Family-run by third generation jewelers, La Bijouterie is great for showcasing what it really means to sit at the heart of a community, and are committing to celebrating some of the best moments in a couples' life together.
The East Cut
On Brannan Street, you'll find a long list of independently owned and family-run jewelry stores.
At 888, Chabo's Jewelry boasts more than twenty years' under master jeweler Rafi Chabo. You'll want to call ahead for an appointment here. Plus, in the same building, you'll find the Jewelry Art Center, which specializes in GIA diamonds and creating custom ring designs for their customers.
Finally, also located in 888 Brannan Street is Golden Crown Jewelry Co., and Yadav Diamonds and Jewelry, which offers customers an intimate and welcoming environment to talk through the specifics of their diamond and engagement ring – the importance of which we can't overstate, whatever your budget or vision for the diamond.
The Design District
It's no longer an unwritten rule that the Design District, which fills a relatively small space between South of Market and Potrero Hill – just east of Mission Bay – is reserved for those who are in-the-know about what goes on there, and, these days, it's a great place to find some locally run jewelry stores.
Opus Jewelers specializes exclusively in custom pieces, making it a great option if you're looking for something totally unique and un-seen before.
What to Know Before You Head Out
While, to us, buying an engagement ring from a bricks-and-mortar jewelry store is the polar opposite of buying one online, that's not to say that you should close your laptop this second, put on your jacket, and walk to the nearest jewelry store in San Francisco.
Sure, provided you picked a good store, you'd probably walk out of there having selected a beautiful diamond and an equally beautiful engagement ring, but that's not what we'd call the ideal route.
Better yet is to prepare yourself with the right baseline knowledge. That way, you and your jeweler can jump straight to the very heart of the matter, rather than finding a way to work yourselves in and find a common ground.
For that, we'd recommend you read our guides on the Four Cs of diamond quality, as well as diamond certifications (we only recommend shoppers look at GIA graded diamonds, or AGS), and our guide to understanding diamond proportion, too.
Beyond that, however, WillYou.Net offers plenty of educational guides for first-time shoppers. And, while you're going to be appraising your diamond and planning the ring design under the wind of an expert jeweler, it's always better to go into a situation like this prepared and educated, so that you can ask the right questions, and make sure you're getting the most out of your consultation.
So, Should You Buy an Engagement Ring in San Francisco?
Absolutely. This area is alive with history, and buying an engagement ring from one of the area's most reputable and respected jewelry stores means writing your own love story into that history book.
We talk a lot about the practicalities of purchasing your diamond from a local jeweler – the fact that it enables you to actually see the diamond before you buy it, and to utilize decades' worth of expertise held by real, master jewelers located right on your doorstep, and, of course, that talking things through can allow you to create a much more personal, unique design for your engagement ring. All are valid, and, on their own, reason enough to shop in person, rather than online.
But that's not the whole story. There's a lot to be said for investing this money into the local community, and continuing a legacy that has seen countless couples through multiple generations celebrate their happiest moments together.
History and creativity are alive on every street corner in San Francisco. They're what makes the city home for so many people, and make for the ultimate backdrop for any San Franciscan looking to make one of the most important purchases of their life.
We've listed some recommendations for the city here, but you can take a look at our complete list of recommended San Francisco jewelers here. Every recommendation we make is based on our own experience, and whether or not we think they meet a high enough standard for our readers looking to find the most beautiful diamond the city has to offer.