Key Takeaways
Stuller is a big name with an incredibly vast array of products to their customers.
But, as we often say about the online vendors, a vast selection doesn't necessarily make a store a great destination.
We don't recommend any diamond that has not been graded by the GIA or AGS to our readers, and Stuller's in-house grading lab is no exception to the rule.
Buying a ring from a B2B seller also adds a new complication to the process, and we convinced that the traditional, in-person experience with the jeweler who will make your ring is definitely the way to go.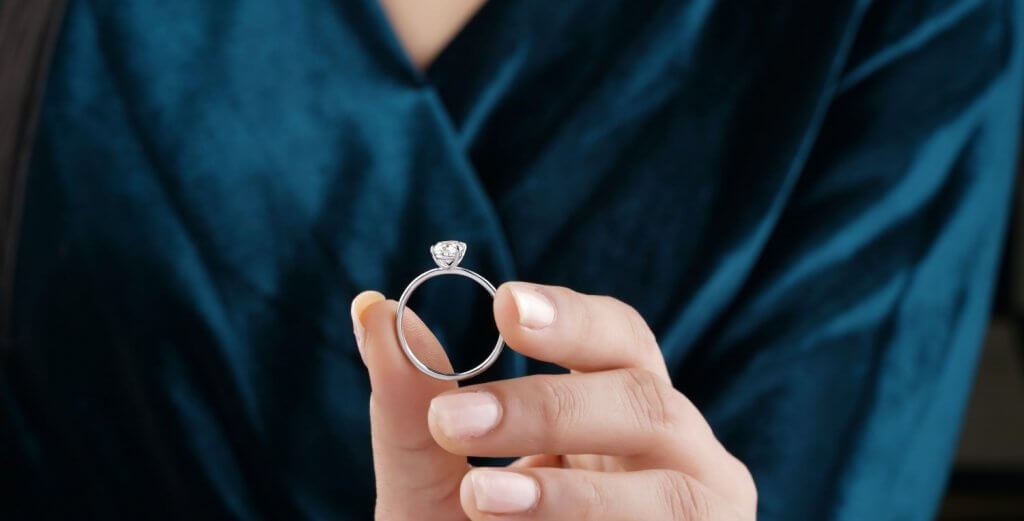 It's a fact of life that a lot of jewelry brands – even some of the biggest names out there – have a touch of romance about them. Most jewelry brands and stores are founded by people with an inexhaustible passion for it – or passed down through second, third, fourth or fifth generation jewelers who hold onto knowledge that can't be amassed in a single lifetime.
One of the more fanciful benefits to choosing a bricks-and-mortar jewelry store over some online vendor is that the ring you pick will forever be intrinsically tied to the history of the brand. For some, this clinches the deal for a luxury brand like Cartier or Tiffany & Co. while, for others, it further solidifies the value of making that connection with a local jeweler, and creating something truly special.
Nevertheless, some brands simply seem to grow beyond those original, storybook beginnings into something a lot less personal, and a lot more generic. For us, Stuller is one of those brands – here's why.
Our rating: two stars
The positives: still means you get that contact with a real, bricks-and-mortar jeweler.
The negatives: their pieces are produced on a mass scale, and you have no direct contact with the producer.
The Brand
At the age of sixteen, Matt Stuller got his first job working in a local Lafayette jewelry store, with no other intention than paying off his account after purchasing a ring for his girlfriend. While he started off with a broom and a polishing rag, he eventually wound up at the jeweler's bench, learning the craft for himself.
Stuller's passion grew, and he started selling his pieces from the trunk of his Winnebago, befriending local jewelers and forging networks that carried the branch across state lines.
Like Verragio or Ritani, Stuller is a B2B brand. It doesn't operate any stores or showrooms of its own but, instead, operates through a 'middleman' – or, in other words, an affiliated jeweler. Unlike Verragio and Ritani, however, Stuller has grown to offer a pretty comprehensive range of services, with engagement and bridal jewelry representing just one part of the wider business.
One of Stuller's primary goals is to ensure speed. That, coupled with the sheer scope of goods and services they offer, makes for a very different experience to what most people anticipate when they walk into a jewelry store.
In fact, Stuller state on their website that they provide more than 200,000 products. The rate at which they are producing designs is, in a word, staggering – and not an option we would recommend to our readers.
Unlike some of their competitors, Stuller offer diamonds along with their settings. Some are GIA or AGS graded, but they also offer some with EGL certification and some with a 'Stuller Report'. We never recommend that shoppers invest in any diamond not accompanied by a GIA or AGS report – and particularly not a diamond that has been graded in-house, by the sellers themselves.
You can read more about the importance of independent diamond certification here.
The Experience
Since Stuller operates as a B2B brand, it's hard to make any generalizations about the experience itself, since each shopper's experience will be totally dependent on the jewelry store they go into.
As we mentioned above, one of Stuller's primary concerns is speed. They churn out orders at an alarmingly fast rate, producing their work to meet a high demand while, at the same time, offering a lot more than many of their competitors.
Their engagement ring selection, for instance, is vast. When we looked, we struggled to find any concept or narrative behind the designs they list on their website. There's nothing wrong with choice, and we can't necessarily fault them for that, but there comes a point where a collection can lose all sense of personality. We touched upon this in our review of the website James Allen, where their pages and pages of ring designs can quickly start to feel overwhelming and lacking in personality.
Stuller does, however, still offer some major benefits over an online vendor – namely, that you're still getting that all-important contact with a jeweler, and the chance to see the ring in person before you take it home. For us, the better scenario is always to avoid introducing middlemen, and to simply work with a skilled and creative jeweler directly.
It would be impossible for a company Stuller's size to operate with the same time, care, and attention to detail as a smaller, independent jewelry store. For us, the choice between the two is crystal clear.
The Cost
To find out the cost of a specific piece, you'll want to locate one of Stuller's affiliate jewelry stores, as prices will vary depending on the seller, and their location. In general, Stuller are not considered to be a luxury brand, but jewelers are able to charge a slight premium because of how recognizable the name is.
Remember that, while you can't be sure of the exact price of any given piece until you reach out to one of their affiliate jewelers, you can be sure of how your ring would be made – and of the fact that Stuller's pieces are produced to meet mass demand.
Our Summary
We don't consider Stuller to be the ideal choice for anyone looking to invest in an engagement ring. In recent years, their reputation has taken a pretty significant hit from reviewers, and our overall impression of the brand is that they're lacking the finesse or consistency (both in terms of service, and the products themselves) that any good and valuable jeweler needs.
While choosing a brand like Stuller is still a slight improvement on using an online vendor, and investing into an engagement ring totally blind – after all, buying a Stuller ring means that your jeweler can still act as a final line of QA before you bring it home – it's still far from the ideal, best case scenario we often pitch to our readers.
For us, there's no way of improving upon the traditional experience of working directly with your chosen jeweler to pick out, customize, or create your ring – and settle on a diamond – together. Any of the alternatives are, for us, second-rate, particularly when it means getting a mass-produced ring at the end of it.