Key Takeaways
Much like Philadelphia, Seattle, and San Diego, Atlanta doesn't have a diamond district. But, what the city has instead, is a community of jewelers spread across The Big Peach, many of whom are master jewelers.
Four areas of Atlanta stand out to find excellent diamonds: Downtown, Midtown, Buckhead, and Cumberland.
Downtown and Cumberland have their malls, containing not just big names like Zales and Kay Jewelers (not our recommended spots), but independent stores like Masina Diamonds, Diamond View, and Cumberland Diamond Exchange.
Buckhead is filled with excellent stores, namely Solomon Brothers Fine Jewelry, Pickens, Inc., and Tiffany & Co. – a mix of family-run operations and globally renowned brands.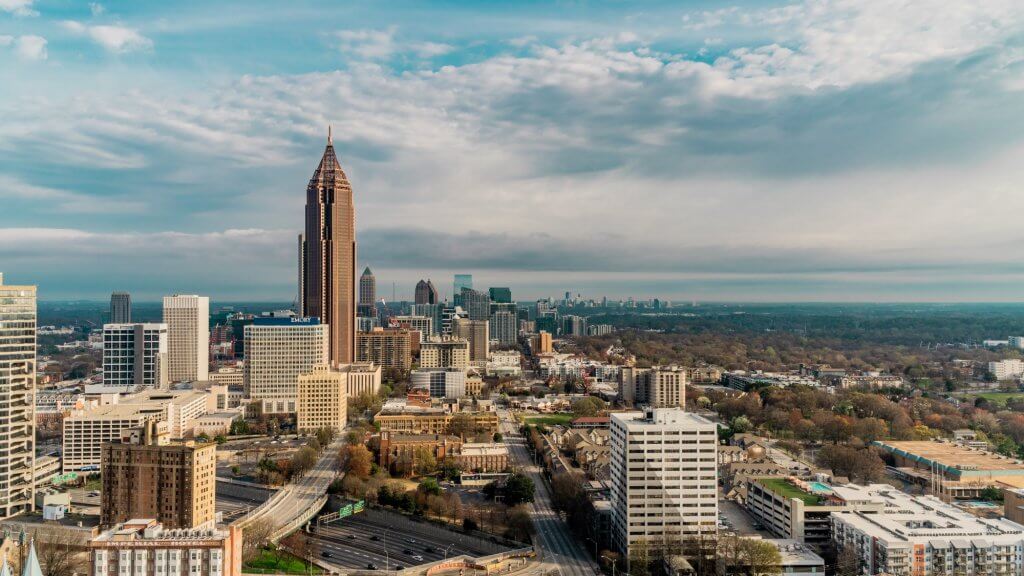 If you've never purchased a diamond before, then the whole process can sound pretty exotic – something that happens in a twenty stories up in a New York City high-rise, or with the white letters of H-O-L-L-Y-W-O-O-D glowing elegantly on the hills just over your shoulder. These gemstones are famous for their rarity – the luxury and opulence they capture.
And, while LA and NYC see a staggering number of diamond sales each and every year – primarily thanks to their thriving Diamond Districts, located in the hearts of the two cities – Atlanta remains an excellent place to buy a diamond, and find your engagement ring. Beautiful diamonds are a lot easier to find than you might think, and Atlanta has got plenty of tricks up its sleeves for the right shopper.
Of course, more recently, diamond buying has become increasingly associated with going online and ordering a one-of-a-kind, high value piece from a website. If you've spent much time on our site, then you'll know why we have so many reservations about ordering a diamond from the internet but, in case you're new…
Why Atlanta?
Even if you've been able to call this city home for years (maybe even decades) already, there's every chance you have yet to explore some of its oldest and most respected jewelry stores. Many of them are family-owned, passed down through generations, or entirely local to the area.
And, if you're comparing a visit to one of your local jewelry stores to going online, it doesn't take long before the real winner shows itself.
A local jewelry store can give you time. They can sit down with you, show you your choices and offer their own suggestions for details you may never have considered before. If you think a solitaire ring is the best option, for instance, but can't help feeling drawn to the more ornate settings, then a jeweler could suggest something like a hidden halo – something you may not have come up with on your own.
For the diamond, consulting with a reputable jeweler means getting to know every aspect of quality, and determining whether or not it's right for you. We talk a lot about the importance of eye cleanliness, and how this feature isn't conveyed in a GIA report. The only way to determine if your diamond is eye clean is to see it in person – if not, you could wind up under- or over-spending on the wrong diamond.
This is less obvious to first-time shoppers, who have yet to experience the unique quirks of a diamond when it's not being shown on screen. The key thing to remember is that there's a fine line between an excellent deal and knockout purchase, and a waste of money – and, as you might have guessed, which side of the line you find yourself on will depend on your own, in person appraisal of the diamond.
Online jewelers can't match any of these aspects of the experience. In fact, we'd be reticent to even call a spot of online shopping an experience in the first place.
Where Should You Buy a Diamond in Atlanta?
Find a local jeweler you can trust to help you create the diamond engagement ring of your dreams.
Atlanta doesn't have anything like a Diamond District. For that, you'd have to make a trip to Chicago, Portland, LA, or Philadelphia. But, despite the fact that the major diamond districts are fascinating places – with plenty of beautiful diamonds – there's no need to go that far from home just to find what you're looking for.
Instead, you'll want to spend time getting to know the city's jewelry community – where the very best stores are located, and which one is right for you.
Sure, it might mean you've got to drive around a little more than you would in NYC, for instance, but it'll be more than worth the effort once you find the right diamond.
Downtown
Starting off in (possibly) the most obvious place. Right on top of the Hotel District, you'll find AmericasMart Atlanta. This location features a long list of jewelers and diamond vendors – sort of like a miniature Diamond District – although some certainly come higher recommended than others.
Masina Diamonds, Diamond View and V.S. White Diamonds are all located in the AmericasMart – and, collectively, are backed by decades of experience in the world of fine jewelry and engagement rings.
Masina Diamonds, for instance, are certified members of the GIA, and offers more than 35 years' experience to their customers. A highly reputable store, they offer the sort of experiencing we're always recommending to our readers, over and above any 'easy' or 'ultra-convenient' alternatives to visiting a bricks-and-mortar establishment.
Midtown
Midtown is home to both Worthmore Jewelers, which is situated on Amsterdam Avenue, and Midtown Jewelers, which is located in Ansley Mall. Both offer a warm welcome to their customers, and an excellent level of service ideal for first-time shoppers.
Buckhead
While Downtown Atlanta has AmericasMart, Buckhead is definitely the part of the city we consider to be bursting with choices.
For starters, Buckhead is where you'll find the Solomon Brothers Fine Jewelry which, as you might have guessed is run by three brothers – Ivan, Howard, and Anthony – as it has been for more than thirty years. A true mainstay within the local community thanks to the warm welcome they extend to their customers, and the wealth of knowledge they're always ready to impart about their GIA certified diamonds. You'll find their showroom in Tower Place 100, on Peachtree Road.
It's within walking distance of Tiffany & Co. which, while undoubtedly a prestigious jewelry store, will probably cost you significantly more, primarily for the prestige of the blue box.
Also in the area you'll find Forever Diamonds, Icebox Diamonds & Watches and Laura Powers, which has been helping shoppers create beautiful memories with their engagement rings for more than two decades.
The family-owned and -operated Pickens, Inc. is based a little further south in Buckhead Village, on the East Paces Ferry Road. A mainstay of Atlanta residents' most special moments for around forty years, and boasting an extensive range of GIA certified diamonds, they come highly respected by the local community. Their showroom is everything you would expect from such a respected retailer, but retains the warm, welcoming vibe so many shoppers feel more comfortable in.
Buckhead Village is also host to Cachet Fine Jewelry, which has been one of the most respected jewelers in Atlanta since its opening in 1988. With an elegant and welcoming showroom, and an incredible portfolio of engagement rings under their belt, they are more than capable of seeing you through the process to a beautiful, unique diamond ring at the end.
Cumberland
Cumberland Mall is home to a couple of big names – both Zales and Kay Jewelers. While we're definitely not against the idea of visiting a mall for your diamond – we've reviewed Ben Bridge, for instance, quite favorably in the past – you should consider reading our separate reviews of Zales and Kay Jewelers before you make a decision. We're less 'sold' on these jewelers' offerings, and don't consider them to be among the best choice Atlanta has to offer.
Right over the freeway, however, is Cumberland Diamond Exchange – a first-generation, family-owned business ranked in the top 5% of the United States' independent, specialty jewelers. You'll want to book an appointment beforehand but, once there, you'll be able to see quite what earned this store such a high reputation not only among locals, but also visitors from across the country.
So, Should You Buy Your Diamond in Atlanta?
Certainly. There are some incredible jewelry stores backed by generations' worth of knowledge, and true masters of their craft, located all around Atlanta, and, in our opinion, here is nothing better than taking advantage of so much expertise.
One of the reasons we were inspired to create WillYou.Net is because of how daunted so many first-time shoppers were about making this decision on their own – but, at the same time, led to believe that it was fine to handle it solo, via a website built on a database of thousands and thousands of diamonds. It simply didn't add up – but, understandably, shoppers who chose to go the traditional route were still at a loss over where to begin.
If you're looking to buy a diamond in Atlanta, then you can browse our own selection of reputable and trustworthy jewelry stores in Atlanta. Our list is compiled based on experience, and our own high standards for service and customer care.
You can also browse diamonds online first, then head into your chosen store to see your choice before you spend any money, or make any commitments to it.
If you've never bought a diamond before, then it's easy to talk yourself into believing that you've got to shop significantly further afield in order to find one. In reality, you've just got to know what you're looking for – what you want to find – and, put simply, where to find it.