Key Takeaways
No recognizable diamond district exists in Seattle, but there is plenty of choice in other areas of the city.
As with most cities, downtown represents a key area of the city to find jewelry stores. Ben Bridge remains an establishment to avoid unless the other option is an internet vendor. Turgeon Raine's, Fox's Seattle, and West Diamond & Gem are stores that offer a more intimate and expert-filled experience when looking for engagement rings. Elliot Avenue, Northgate, and Fremont Place are other places to find the kind of stores we would recommend, and you shouldn't turn your nose up at Seattle's Malls either.
Seattle's independent, family-run jewelers have earned a strong reputation and are able to compete with the larger, national, franchise-based jewelry stores.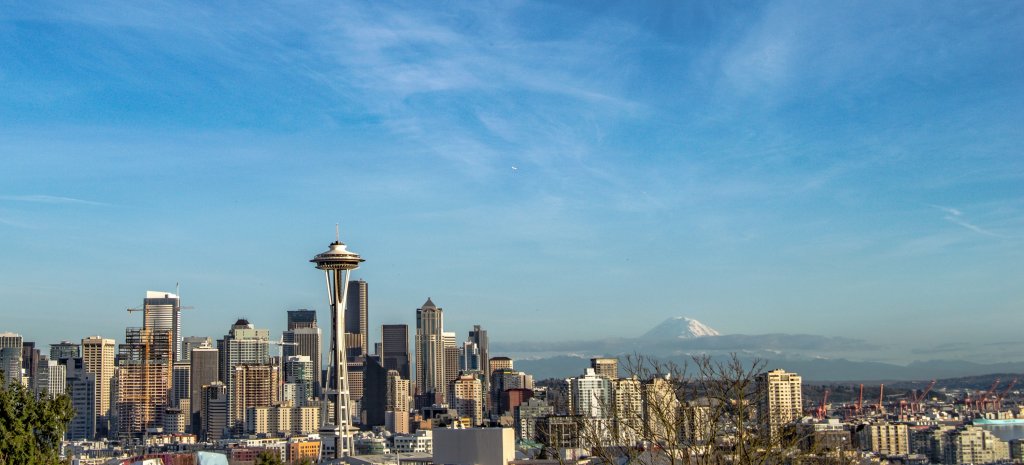 The city of flowers, goodwill, the 'Seattle Dog', that coffeehouse, and…diamonds? While it might have become famous for plenty of things, Seattle is an excellent place to buy a diamond, and have your ideas for a stunning engagement ring turned into a reality.
And, while 'there's no place like home' is a phrase more commonly associated with Kansas than Washington State, we're willing to allow creative liberty when it comes to this – one of the most significant, momentous, and downright daunting tasks you've ever taken on: finding the perfect diamond with which to pop the question.
After all, if you're living within arm's reach of Seattle, then there are a lot of benefits to staying put on your search, rather than going halfway across the world or, worse still, going online. This way, you can ensure that the experience is totally unique to you – as it should be when you're making one of the most important investments you're ever going to make in your life.
There's a lot riding on this one, and why not put it into the hands of the city you love?
Why Seattle?
Seattle isn't like New York City, LA, or Chicago, in that it doesn't have a diamond district – or, in other words, a concentrated area within the city's limits dedicated to jewelers, gemologists and diamond traders.
This can be off-putting to first-time shoppers – after all, if there's no specific point on the map to aim for, then where are they supposed to go? – but it's no big deal. Seattle offers just as much choice as one of the fashion capitals, although it might take slightly more legwork to do a circuit of them all (not that you'll need to).
Why? Because, with the right preparation, the perfect jeweler could easily be the first store you mark on your map. You'll just want to make sure of a few key things – that they have a great reputation among locals and past customers, that they offer GIA certified diamonds and that their prices are reasonable, for starters.
But, while all that is useful to know, where do you mark on your map? Here are our top suggestions, from downtown to the city's biggest malls.
Downtown
Starting off in the very heart of things, Downtown Seattle has a great selection of jewelry stores – from names you'll recognize instantly to independent and family-run establishments.
An obvious starting point is Ben Bridge, which, despite the fact that it's now a chain boasting more than 70 locations across the country, found its start in downtown Seattle. Their store sits on the corner of 5th and Union – although, if you've spent any time downtown, you'll be able to picture its green window awnings pretty clearly already.
We've reviewed Ben Bridge in the past. For a store that's so often associated with the mall, we think it's got some great points working in its favor – particularly their Supplier Code of Conduct. While there's plenty more to Seattle than a big name like Ben Bridge, we also see plenty of benefit to picking this store – particularly if you're on the fence between Ben Bridge, and a big online vendor.
Also on 5th Avenue is Turgeon Raine's luxurious showroom. A family-owned business founded in 1982, they represent a mainstay of Seattle's jewelry world.
Head down to University Street, and you'll find Fox's Seattle, which carries a strong collection of GIA certified diamonds in their elegant showroom, and more than a century's worth of history in Seattle.
Next, turn onto fourth for West Coast Diamond & Gem – another family-run operating in the heart of the city. There, you'll also find Tara Nash, which specializes in custom (and often off the wall) pieces.
Elliott Avenue
If you find yourself on the waterfront, then you'll be well-placed for Pacific Gem – a store that remains wholly committed to the personalized, intimate consultations we're always promoting to our readers. With GIA graduates and master jewelers on hand, this store's values represent the polar opposite to the large, faceless online vendors we're always warning our readers against.
Northgate
If you've driven down Northgate Way recently, then you'll probably have laid eyes on Green Lake Jewelry Works. Their jewelers specialize in custom designs and exemplary craftmanship, offering a highly personalized approach to buying a diamond, and the setting it's intended to sit within.
Seattle's Malls
We're not sure when – or, exactly, why – we all started turning our noses up at the mall as a great place to find a beautiful diamond or engagement ring. It might be because they've suffered in recent years because of the mass-movement towards online shopping, or because they tend to be overrun by the same 'big' names wherever you go, or because the weekends tend to be overwhelming for parking – or a little bit of everything. Whatever the overriding reason, we've written about it thoroughly in our guide to jewelry stores in the mall, and why we think they're certainly worth a second chance.
You don't have to limit yourself to Zales or Kay Jewelers either – Seattle's malls have got plenty more to offer. At University Village, you'll find another, highly-rated branch of Ben Bridge, while Frey Meyer Jewelers is located in Northgate Mall.
Fremont Place
A couple minutes' walk from Fremont Mall, you'll also find Olympic Jewelry – a legacy more than it is a store. Owned by the Basoglu family, which has passed master jeweling through five generations, and dedicated to ensuring that their customers are all given the same time, attention to detail, expertise, and guidance. Inarguably one of the best jewelers in the area
What to Know Before You Go
Yes, we will always, always recommend bricks-and-mortar jewelry stores over online vendors – and, in particular, for the level of expertise offered by the very jewelers running those stores – but that's not to say we think the best course of action is to head straight through the door, without a clue what you're looking for.
A good jeweler will, of course, see this as nothing more than a challenge, and will be capable of getting more and more clues out of you by asking about your partner, her tastes and style, and your budget, too. They'll introduce you to a lot of words and phrases in one go – things like cut, VVS2 vs VS1, and 'G diamond' vs 'I diamond', as well as words like halo, bezel, 14K vs 18K, and cathedral.
Still, as you might have already guessed, there's a much better way of doing things.
While we're firmly against actually buying your diamond online, we think the internet is an excellent place for you to find your feet in the world of diamonds and engagement rings. From getting some of those seemingly obscure terms straight in your head, to preparing yourself for the sorts of questions your jeweler is going to need answers to – even finding a diamond and ring setting you want to talk through in more detail with your jeweler – it's much, much better to be prepared.
Being prepared means you're ready to jump to the heart of the matter, rather than skirting around the periphery for a good half hour first.
Also – and we can't stress the importance of this enough – get these numbers memorized: your budget, and your partner's ring size. Your jeweler will thank you for that.
So, Should You Buy a Diamond in Seattle?
Yes, Seattle is an excellent place to buy a diamond, thanks to the many, many jewelers – some family-run, some independent – operating locally.
There's a lot to be said for earning a strong reputation and high standing in a community like Seattle's – particularly when so much noise is being generated by the big, online jewelers. It's testament to the value they offer that the jewelry world still represent a thriving community in the city – and far beyond – and a sure sign that any Seattle resident looking to propose should strongly consider heading out and building a strong relationship with a local, master jeweler.
At the end of the day, remember that this is one of the most momentous investments you will make, and that you have a choice between putting it into the hands of someone who has worked hard to create a strong reputation within the city – and, in some cases, beyond it – and an online entity you who can't recreate some of the most important aspects of a consultation, but promises to do so anyway.
A business that has been nurtured from the ground up will, in our opinion, always offer the very best option to customers – and we can't imagine turning the opportunity to consult with a master jeweler down for any of the convenient alternatives. At WillYou.Net, we recognize that it's hard to know where to go when you're looking for a strong, reliable, ethical, and trustworthy jeweler to buy a diamond from, wherever you are in the country. For that reason, we began work on compiling our favorite jewelers across the country, in order to offer you the best list of choices possible. Click here to see our full list of recommended jewelry stores in Seattle.