Kay Takeaways
Tacori operates directly with jewelers, rather than customers. So, if you set your heart on getting a Tacori ring, you'll have to visit an affiliated jeweler and effectively using them as a middleman.
For obvious reasons, we feel like this route is 'second best' to working directly with the jeweler who will create your engagement ring.
This business model also means that Tacori produces rings for a much, much larger clientele than a traditional, standalone jeweler, which is also far from ideal when you consider the benefits of staying local.
Going into a jewelry store is still preferable to going online, but we can think of better options than a B2B producer.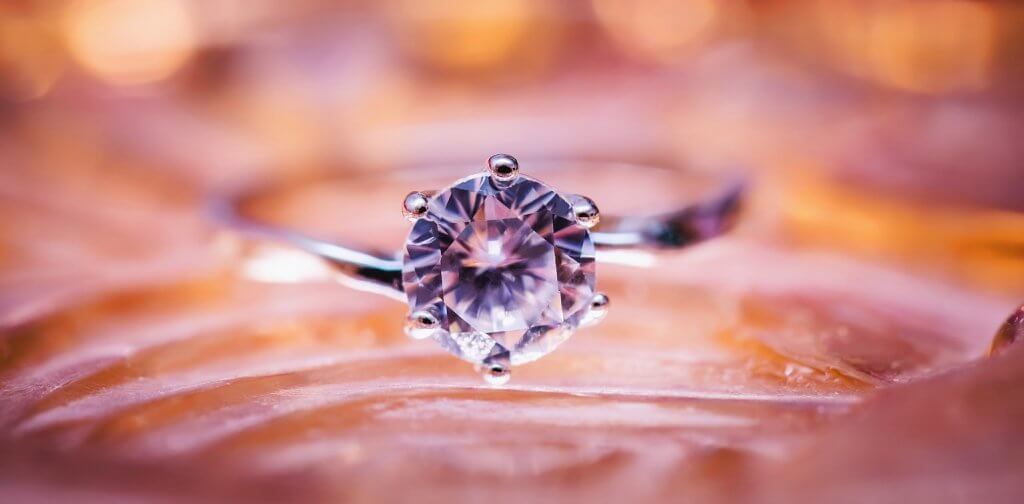 Like Vera Wang, Verragio, and Simon G., Tacori is a name that frequently pops up when you're researching engagement rings. They're another brand found in big name stores like Jared Jewelers and Robbins Bros, as well as the online-vendor Brilliant Earth, operating through those jewelers to reach their market.
These names are pretty recognizable, and many have a certain amount of prestige attached to them – a little like wedding dress designers, who command a pretty good level of respect in bridal boutiques.
Like all of the names we mentioned above, Tacori rings tend to feature some pretty distinctive features. While, for Vera Wang, it's the peekaboo sapphire, and for Verragio it's the intricacy and opulent detail of each design, Tacori is typically recognizable for its crescent shape settings…
Our rating: two stars
The positives: intricate and distinctive designs suited to brides interested in classical techniques and detailing.
The negatives: as a B2B brand, there is no direct contact between shoppers and the jeweler making the ring. These pieces are produced for a substantial market size, and we don't think this is the ideal way to buy an engagement ring.
The Brand
Tacori is a California-based, B2B ring supplier for a long list of jewelry stores across the United States. Originally founded by Haig and Gilda Tacorian, a husband and wife team from Romania, the company's philosophy centers around both the effortless beauty of California, and the classic, vintage elements so characteristic of European design. What began as a modest enterprise based in LA's Diamond District grew into something much bigger – and, throughout that growth, the brand developed.
Just before the turn of the century, the crescent setting became something of an emblem for the brand – a pattern resembling the two curves of a heart, typically worked into the shank of the ring, or added more conspicuously as a final detail.
Perhaps one of the biggest turning points for the brand occurred in 2003, when their work was featured in an episode of The Bachelorette. Their designs are also common sights on Netflix's 'Say I Do'.
The Experience
For a Tacori ring, you'll have to visit one of their affiliate jewelry stores. This shouldn't be too difficult – plenty of stores stock their designs – but, if you're used to our opinions on engagement ring shopping, it's definitely not what we'd recommend. It means using your jeweler as a middleman between you and the ring's actual creator, and feels like the inferior choice compared with picking a jeweler you can build a rapport with, and working directly with them on your diamond and setting choices.
Keep in mind that, while some branches will specialize in bridal jewelry, others won't. For instance, while one branch of Jared may specialize in Tacori's fashion ranges, another will specialize in engagement rings. This is the trouble with shopping from a B2B brand with an extensive collection – it would be impossible for every affiliate store to stock the brand's full collections.
Our biggest issue, however, applies more generally to a pretty substantial list of B2B ring designers meeting a high level of demand for their work. It's simply impossible for a company to offer the same experience to shoppers that they could get by working directly with a master jeweler in their local area. Often, shoppers think it's a lot more expensive to take this route but, in reality, designing your own engagement ring doesn't need to cost any more than the alternatives.
In fact, purchasing your ring direct from your local jeweler means you aren't paying any premiums for a brand name, or making a poor choice of diamond. While Tacori don't tend to provide the center stones (you pick and buy the diamond through the affiliate jeweler) but state that their smaller, accent stones are generally G color or better, and VS2 quality or better. This seems unnecessarily high for accent diamonds – and seems to be reflected in their prices.
The Cost
Like most designers, Tacori's prices differ pretty significantly. We found a highly decorated halo featuring their signature Tacori crescent, and a CTW of 0.98 (not including the center stone, of course) for just shy of $10,000. If you're following our guide of spending 80% of your budget on a diamond, then it's easy to see how Tacori's prices could run up into some pretty dizzying heights.
We saw some more understated designs – solitaires featuring a more subtle ode to Tacori's signature crescent – that were significantly less expensive but, for a non-luxury brand, their prices struck us as occupying the higher end of 'mid-range'.
The brand do a good job of talking up their commitment to each ring. The pieces, while produced for the mass market, are still handmade in California.
We're not totally sure about this being the major selling point that it sounds like. Many, many jewelers – countless skilled, passionate men and women – are handcrafting beautiful engagement rings to an incredibly high quality across the country as we write this, and, if you opt for them instead of a big B2B brand, you get to consult with them on the specifics of the design directly.
Our Summary
There is a lot to like about Tacori's designs. Not only are they intricate and unique in their Romanian-Californian inspirations, but they're also highly distinctive. We can appreciate them in a similar way to how we appreciate one of the signature pieces on sale at Tiffany & Co. or Van Arpels. There's a lot to like, but also plenty of reasons why, ultimately, we'd rather shop elsewhere.
The traditional experience between a customer and a jeweler is, for us, something that can't be improved upon. While a brand like Tacori is certainly a better option than shopping online, where you can't even choose your diamond in person, it's still a ways off the 'ideal scenario' we recommend to our readers.
Picking a good jewelry store means picking a jeweler who can create something truly spectacular for you to present to your partner. Use our Jewelry Store Locator to find a list of personal recommendations for your local area.