Key Takeaways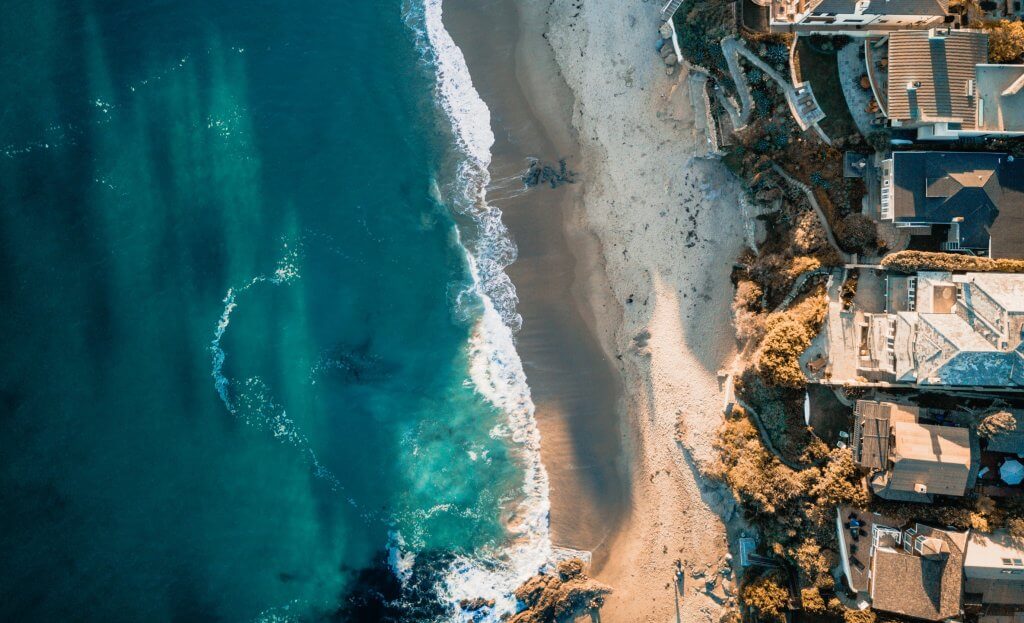 We're pretty sure almost any Orange Countian would agree with us when we say that life doesn't get much better than settling down, falling in love, and creating your roots in OC – and what better way to celebrate than to get down on one knee, and ask your partner-in-crime the ultimate question?
Actually, we can think of something: getting down on one knee and asking the ultimate question with a beautiful diamond, picked out with the help of a master jeweler based right here in Orange Country.
There are a lot – and we mean a lot – of benefits to buying your engagement ring from a bricks-and-mortar jewelry store in your area. While, from the moment you start doing your research on engagement rings, you'll see a lot of high-profile marketing campaigns designed to make buying an engagement ring online sound like a breeze, there's no way they can fill the shoes of America's experienced, skilled, and knowledgeable jewelers – including those located right on your doorstep.
Does Orange County Have a Diamond District?
No, but it's home to a very long list of jewelry stores with some incredible diamonds and ring designs.
Some cities, like Philadelphia and New York, are home to 'diamond districts' – pockets of the cities that have, over the years, been taken over by masterful jewelers looking to put down roots, and serve the local community. They represent hubs that shoppers can make a beeline for in order to benefit from expertise which has, in many cases, been passed down through generations.
In other words, for the first-time jewelry buyer, they're ports in a storm, there to ensure you get even more out of the experience than you imagined.
Then again, while diamond districts offer convenience, you can find exactly the same level of care, attention, and expert knowledge in a place like Orange County – provided you know where to look. And, while you might not be able to spend an afternoon browsing window after window to find the right store, a little research will ensure you pick the perfect place.
At WillYou.Net, the list of jewelry stores we've been impressed by over the years is already impressively long – and still growing…
Aliso Viejo
While more famous for its watercolor sunsets, mountain views, and laid-back approach to life, the area has plenty to offer for any starry-eyed shopper looking for a beautiful, GIA graded diamond. Take a look at our rundown of recommended jewelry stores Aliso Viejo if you're living in the area.
Anaheim
What better place to start your fairytale than in the foothills of OC's very own Disneyland? Or, if you're not into that, how about away from it all in the Nature Center?
But, while the city has plenty of picturesque locations just made for popping the question, Anaheim's jewelry stores are what truly inspired us.
And, seeing as you're in the area, take a look at jewelry stores in:
Brea
One of the more obvious choices if you know Brea Mall well already is Ben Bridge, and, if you're asking us, that's a strong choice. You can click here to read our review of Ben Bridge, and their engagement ring selection. In the mall, you'll also find Fred Meyer And Kay Jewelers
Beyond that mall, however, Brea has more to offer. Check out the jewelry stores in the area here.
Also, check out our guides for:
Buena Park
Buena Park is perfectly located to take advantage of the stores on offer in neighboring Cypress, Fullerton, and Cerritos. Take a look at the full list for the best jewelry stores near Buena Park .
Fullerton
Check out our top recommendations for buying a diamond in Fullerton, and remember Brea is right on your doorstep for a wider selection, too.
Garden Grove
Garden Grove is ideally placed for reaching out to one of the jewelry stores located on Huntington Beach, like C & R Diamond Jewelers, which comes highly regarded by the local community, or highly popular Simone & Son.
Check out Willyou.net's recommended jewelry stores near Garden Grove and Los Alamitos.
Huntington Beach
Anyone who's passed through the Bella Terra Mall will be able to recognize Huntington Beach's Princess Bride Diamonds on sight – and a great place to stop if you want to be treated like family, rather than another customer. Huntington Beach is, however, filled with plenty more options – take a look here.
Also, if you're willing to go a little future, check out the stores in Seal Beach.
Irvine
While La Vita Vital has been in Irvine for almost thirty years, they've got some pretty spectacular, modern technology at their fingertips. The store is, however, younger than another great store, Liberty Diamonds, which sits on the Sky Park Circle – although you'll want to book an appointment rather than just dropping in. Check out other jewelry stores in Irvine, and consider brushing up on your knowledge of stores in nearby:
Laguna Beach
Laguna Beach is a great place to find some independent, family-owned jewelry stores – and, of course, to get that personalized treatment we're always talking up to our readers. Rock Martin Jewelry, which is located on Forest Avenue, has been a part of the community for forty years. Just a few doors down, another family-owned jewelry store, Fredric H. Rubel Jewelers, offers excellent service to local and not-so-local customers.
If you're in Laguna Beach, you're also within easy reach of jewelers in:
Newport Beach
From the biggest names like Blue Nile (you can find our full review of Blue Nile here) to the contemporary designs of Twila True Fine Jewelry and the more intimate feel of a family-run jewelry store like third-generation-run W.M. Harold & Sons. It's also minutes from Westminster Mall, and within reach of Fountain Valley, too. Click here for the full list.
Also, check out our recommendations for nearby Corona del Mar.
Santa Ana
The city of Santa Ana might be better known for Knott's Berry Farm – which, by the way, sees its fair share of proposals each year – it's also played host to plenty of beautiful diamond and engagement ring sales over the years. Take a look at our top jewelers in and around Santa Ana for the full list.
To broaden your search, consider nearby Costa Mesa, too.
Tustin
Tustin's got plenty to offer anyone in the market for a beautiful diamond, complete with expert guidance and a beautiful custom ring design. AA Jewelers is located just off Main Street, while Park Avenue is home to a number of establishments, including Forever Faithful and Sam Jewelry.
Also consider taking a look at your options for Villa Park.
Westminster
The most obvious choice for Westminster is, of course, the Westminster Mall – and we'd urge you not to write off the mall for the sake of it just yet. While we're not so sold on the quality available at Kay Jewelers, the Asian Garden Mall five blocks east is home to Precious Jewels by Ngoc Bich, which has been a part of Orange County for more than forty years'.
Also, take a look at our recommended jewelry stores in nearby Cypress.
So, Should You Buy a Diamond in Orange County?
Yes! Home is where the heart is – and, if your heart is set on buying the perfect diamond and proposing to your partner, we really can't suggest anywhere better than the place you call home: Orange County.
A lot of people who have never purchased a diamond – or maybe even fine jewelry – assume that, in order to get the very best, you've got to travel much further afield, or use the internet as an alternative to actually being there in person.
And, while the country's diamond hotspots lie outside of OC – in LA, NYC, Chicago, and Philadelphia – you don't need to put yourself in the heart of a diamond district just to find a beautiful diamond.
Neither do you need to resign yourself to an impersonal online experience, where you won't even get to see the diamond until it's been set within your ring and mailed to your door. Trust us when we say that it's not worth the risk of being disappointed, or missing out on a consultation guided by you.
Plus, by picking a local, bricks-and-mortar business, you get to enjoy a relaxed, intimate, and highly personalized consultation with your jeweler – someone backed by generations' worth of knowledge and passion for the subject.
At WillYou.Net, every jewelry store we recommend has been carefully chosen by our team, based on our own experiences of working with them in the past and, as a result, our agreement that they meet the right standards for shoppers who want to get the best ring at the best price.
Orange County has a lot more to offer than sun, surf, and Knott's Berry Farm (although there's no denying they're a great bonus). We're sure you'll find the perfect diamond there.